Page < 1 2 3 4 5 6 7 8 9 10 11 12 13 >
Are we heading towards a Christian India? - By Francois Gautier

Mahatma Gandhi (1869-1948) was the Father of the Nation and among India's most fervent nationalists, fighting for Indian independence from British rule. A devout Hindu, he has remarked:
" I am a Hindu because it is Hinduism which makes the world worth living."
"Hindu Dharma is like a boundless ocean teeming with priceless gems. The deeper you dive the more treasures you find."
source: Young India 1-12-26). For more refer to chapter on Quotes). (source: Outlines of Hinduism - By T. M. P. Mahadevan - p. foreword). (source: The Essence of Hinduism - By M. K. Gandhi p. 205).
Robert M Price writes that:
"Jesus Christ" functions as a symbolic cloak for several hidden agendas."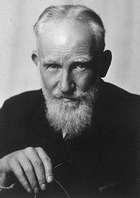 George Bernard Shaw (1856-1950) a vegetarian and Nobel Laureate in Literature. He was an active socialist on the executive committee of the Fabian Society along with Annie Besant. Famous British Author and Playwright, of books such as Pygmalion. He has remarked:
"Beware of the man whose God is in the skies."
(source: Famous Quotes - crusadewatch.org).
***
I am a little uneasy when I see how much Christianity is taking over India under the reign of Sonia Gandhi: according to a 2001 census, there are about 2.34 million Christians in India; not even 2,5% of the nation, a negligible amount.
Yet there are today five Christian chief ministers in Nagaland, Mizoram, Meghalaya, Kerala and Andhra Pradesh.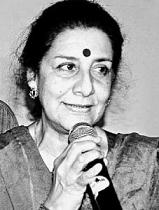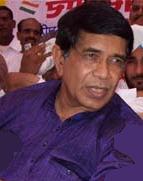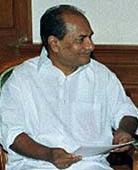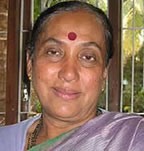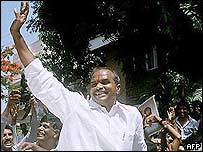 Ambika Soni, Oscar Fernandes, M K Anthony, Rev. Valson Thampu, Margaret Alva and CM Samuel Reddy are all Christians.
A majority of politicians in Sonia Gandhi's closed circle are either Christians or Muslims.
***
One should add that the majority of politicians in Sonia Gandhi's closed circle are either Christians or Muslims. She seems to have no confidence in Hindus. Ambika Soni, a Christian, is General Secretary of the Congress and a very powerful person, with close access to Sonia Gandhi. Oscar Fernandes is Union Programme Implementation Minister.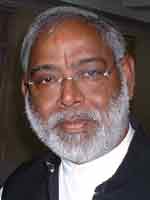 Margaret Alwa is the eminence grise of Maharasthra. Karnataka is virtually controlled by A K Anthony, whose secretaries are all from the Southern Christian association. Valson Thampu, a Hindu hater, is Chairman NCERT curriculum Review Committee, John Dayal, another known Hindu baiter, has been named by Sonia Gandhi in the National Integration Council; and Kancha Ilaya, who hates Hindus, is being allowed by the Indian Government to lobby with the UN and US Congress so that caste discrimination in India is taken-up by these bodies.
Refer to Amen - an autobiography of a nun and Mote and the beam - By Sandhya Jain.
Since Sonia Gandhi a Roman Catholic is at the top, Christian conversions in India seem to have gone in overdrive.
More than 4,000 foreign Christian missionaries are involved in conversion activities across different states. In Tripura, there were no Christians at independence, there are 120.000 today, a 90% increase since 1991. The figures are even more striking in Arunachal Pradesh, where there were only 1710 Christians in 1961, but 1,2 million today, as well as 780 churches! In Andhra Pradesh, churches are coming-up every day in far flung villages and there was even an attempt to set-up one near Tirupati. Many of the North-East separatist movements, such as the Mizo or the Bodos, are not only Christian dominated, but also sometimes function with the covert backing of the missionaries. In Kerala, particularly in the poor coastal districts, you find "miracle boxes" put in local churches: the gullible villager writes out a paper mentionning his wish: a fising boat, a loan for a pukka house, fees for the son's schooling… And lo, a few weeks later, the miracle happens ! And of course the whole family converts, making others in the village follow suit. During the Tsunami, entire Dalit villages in Tamil Nadu were converted to Christianity with the lure of money.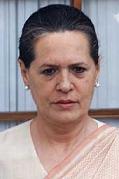 Belgium historian Konenraad Elst laments that " When over a thousand Hindus are killed and a quarter million Hindus ethnically cleansed in Kashmir, the world media doesn't even notice, but watch the worldwide hue and cry when a few local riots take place and a few missionaries are killed by unidentified tribal miscreants. Christian Naga terrorists have been killing non-Christians for decades on end, and this has never been an issue with the world media, except to bewail the "oppression" of the Nagas by "Hindu India" ".More than 20,000 people have lost their lives to insurgency in Assam and Manipur in the past two decades. As recently as last week, four paramilitary Assam Rifles soldiers were killed in an ambush yesterday by the outlawed United National Liberation Front (UNLF).

In my country, France, a Christian majority nation , it would be unthinkable to have Hindus - or even Indian born French for that matter - in so many positions of power. Impossible also to find a non-elected, non French, non-Christian person being the absolute ruler of the country behind the scene as Sonia Gandhi is in India. Indians like to say that the greatness of India is that it accepts a foreigner and a Christian like Sonia Gandhi. But is'nt it rather a weakness, and an aberration ? Can't we find a worthy leader amongst one billion Indians ? This is an India where you see today Swami Avimukteshwarananda Saraswati of Dwarka Peeth, made to disembark from an Indian Airlines flight for carrying his holy dand, a thin bamboo stick which is a symbol of their spiritual designation, inside the aircraft cabin.

Are we heading then towards a Christian India under Sonia Gandhi's helm? It would be a tremendous loss not only to India, but also to the world. For in India, you find the only living spirituality left on this planet.

(source:

Are we heading towards a Christian India? - By Francois Gautier).
---
Sacrilege at Tirupati hills
Creating a Christian oligarchy in India ?
W. Somerset Maugham (1874-1965), English playwright and novelist wrote: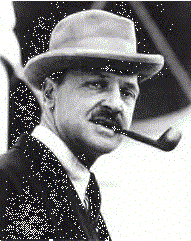 "...I couldn't but surmise that the devil, looking at the cruel wars that Christianity has occasioned, the persecutions, the tortures Christian has inflicted on Christian, the unkindness, the hypocrisy, the intolerance, must consider the balance sheet with complacency. And when he remembers that it has laid upon mankind the bitter burden of the sense of sin that has darkened the beauty of the starry night and cast a baleful shadow on the passing pleasures of a world to be enjoyed, he must chuckle as he murmurs: give the devil his due."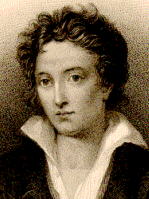 Percy Bysshe Shelley (1792-1822), English poet:

"The same means that have supported every other popular belief, have supported Christianity. War, imprisonment, assassination, and falsehood: deeds of unexampled and incomparable atrocity have made it what it is."

(source: What Some Famous People Have Said About Christianity - burningcross.com and Famous Dead Nontheists).

Refer to chapter on European Imperialism and Islamic Onslaught.

***

Church fears Indian/Hindu Nationalism and Secularism?

Thomas Fanshawe Middleton (1769 - 1822) Anglican Missionary remarked

'the surrender of the Christian Church to the rising powers of nationalism is the major betrayal of Christ'

'The nationalism of India, China and Japan, of India in particular, rankles in the heart and eyes of both the Christian capitalism and imperialist Christianity'

Rufus Matthew Jones (1863 - 1948) an American Quaker declared that,

''the greatest rival of Christianity in the world today is not Mohammedanism, Buddhism or Hinduism or Confucianism but a worldwide secular way of life. (Jerusalem Meeting Report Quoted by Bharti p. 37). For Rufus Jones, the world conflict was between Christianity and secularism.

(source: Challenges from Christianity - hindujagruti.org and Edinburgh to Salvador: Twentieth Century Ecumenical Missiology - By T.V. Philip

***

It is almost Midnight for India's Hindu Community ?

The current initiative of Sri Swarupanandendra Swami of the Visakhapatnam-based Sri Sarada Peetham to mobilise Hindu seers to protect dharma in the face of rising depredations by evangelists has not come a day too soon. While religious conversions are innately offensive, the rising political eminence of an Italian-born Roman Catholic has witnessed a corresponding growth of aggressive proselytising at famous Hindu pilgrimages and holy sites.

Ms Sonia Gandhi a Roman Catholic, has reinforced missionary muscle by sponsoring the rise of Christians in Congress State Governments and party units on an unprecedented scale. Non-Christian Congress Chief Ministers have been made to acquiesce in missionary activities, and outrageously 'leaky' welfare schemes have been floated for the benefit of the tax-free NGO industry, most of which is anti-Hindu.

The latest affront to India's civilisational ethos comes from missionary activities at Tirumala and Simhachalam, where police were compelled to take the offending preachers into custody. This has forced the normally quiescent authorities of Tirumala Tirupati Devasthanam (TTD) to urge Chief Minister YS Rajasekhara Reddy to enact legislation to prohibit propaganda by non-Hindu faiths on the seven Tirumala hills, traditionally regarded as the sacred body of Sri Vishnu.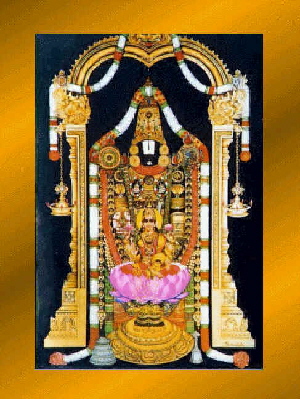 Sri Venkateswara. The ancient and sacred temple of Sri Venkateswara is located on the seventh peak,Venkatachala (Venkata Hill) of the Tirupati Hill.
The temple of Sri Venkateswara has acquired unique sanctity in Indian religious lore. The Sastras, Puranas, Sthala Mahatyams and Alwar hymns unequivocally declare that, in the Kali Yuga, one can attain mukti, only by worshipping Venkata Nayaka or Sri Venkateswara.The benefits acquired by a piligrimage to Venkatachala are mentioned in the Rig Veda and Asthadasa Puranas. In these epics, Sri Venkateswara is described as the great bestower of boons.
All the great dynasties of rulers of the southern peninsula have paid homage to Lord Sri Venkateswara in this ancient shrine. The Pallavas of Kancheepuram (9th century AD), the Cholas of Thanjavur (a century later), the Pandyas of Madurai, and the kings and chieftains of Vijayanagar (14th - 15th century AD) were devotees of the Lord.
***
It is inconceivable that the TTD authorities are unaware that the Chief Minister avidly promotes the activities of his Seventh Day Adventists sect, and has even built a church upon his family lands.
The coy usage of the term "constitutional benefits," instead of specifying caste or community-based reservations, suggests that the NCRLM's real objective is to recommend a blanket extension of all constitutional benefits of Hindu SC/ST groups, to Dalit Christians. This will provide backdoor political reservations for Dalit (Oppressed ?) Christians by helping them to contest from and grab the existing SC/ST parliamentary and Assembly seats.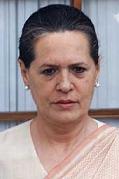 This would be consistent with the UPA agenda of fragmenting the nation by privileging non-Hindu social groups. It also explains Ms Gandhi's indiscreet overtures to the Muslim community on the issue of reservations in Government (Andhra Pradesh's failed attempt), educational institutions (Aligarh Muslim University), and armed forces (Mr Sachar's infamous but aborted head count). Worse, like Minto-Morley, she recently instigated Muslims to demand greater representation in public life, which certainly suggests communal reservation in Parliament and the State Assemblies.
Of course, Ms Gandhi does not actually intend to empower the Muslim community. Repeating the familiar Western political subordination of Muslim communities all over the world, her intention is to create a Christian oligarchy in India, with Muslims serving as beasts of burden (captive vote-banks). Hence the mollycoddling of the Muslim community in a manner designed to raise the hackles of Hindus, with obvious repercussions for the 'winability' of Muslim candidates. This is expected to drive the community back into the Congress embrace. An NCRLM recommendation to extend SC/ST constitutional guarantees to converts will, therefore, mainly benefit the Christian community.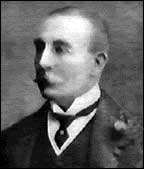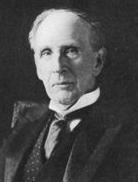 Lord Minto (1845 - 1945) Viceroy of India and Lord Morley (1838 - 1923).
He and his colleague John Morley sponsored the Morley–Minto Reforms Act (1909). The act moderately increased Indian representation in government but was criticized by Indian nationalists because of its creation of separate electorates for Hindus and Muslims.
***
If there is no resistance to this diabolical scheme, Ms Gandhi could soon have a significant Christian lobby in Parliament, through a fraudulently procured amendment altering the basic structure of the Constitution.
An East Timor-like situation (one of the two predominantly Christian country in Asia, the other being Philippines with 90% Christian population) could develop in any part of the country where Western Christian nations have a geo-strategic or purely economic interest. Their lust for the mineral-rich north-east predates independence and is fostered by insurgency movements backed by various church denominations.
Indians need to acknowledge the abiding kinship between the Church and political power in the West. Christianity underwrites Western civilisation, a fact its ruling elite never loses sight of, unlike India, where it is fashionable to use Euro-centric slogans to undermine the native ethos. Little wonder Ms Gandhi's Indian ascent has seen the appointment of Indian Catholic theologian Ivan Dias as ex-Cardinal Ratzinger's heir to the (renamed) office of Grand Inquisitor.
It is almost midnight for India's Hindu community.
(source: Sacrilege at Tirupati hills - By Sandhya Jain - dailypioneer.com - Edit page June 27'06).
Latin mass and Perfidious Jews?
Last week, Pope Benedict XVI gave his OK to use the Latin mass that was forcibly retired in the 1960s. Its return raised the possibility of a comeback of a once-a-year prayer to God to "lift the veil covering the hearts of Jews so that they may recognize Jesus Christ our Lord." The Vatican had hinted at the move for weeks, time enough for Jewish leaders to express concern. It's hard to forget that the Latin mass used to refer daily to "perfidious Jews," although the phrase was removed in 1959.
(source: That Old Time Religion - By Carol Towarnicky - Philadelphia Inquirer July 18, 2007).
Proselytizing disrupst society
Cambodia bans Christian proselytizing
Cambodia has banned Christian groups from door-to-door proselytizing and is seeking to limit other religious activities by non-Buddhist organizations, which it says disrupt society. A directive from the Ministry of Cults and Religions obtained by AFP on Tuesday said: "Christians are prohibited from visiting people's houses by knocking on the door and waiting to say 'the Lord has arrived'."
Christian missionaries are reportedly offering cakes and other sweets to children in exchange for abandoning Buddhism, local media said. Food, clothing and free English lessons are also offered by many church groups, which then introduce religion into their activities. "It is prohibited to use money, materials and other means in order to convince followers of a religion to convert to another one," the ministry directive said. The groups' tactics "disturb the daily lives of the people and can cause other insecurities in society," it added.
(source: Cambodia bans Christian proselytizing - chinapost.com).
---
It's the Religious Diversity of our World, Stupid, Celebrate it !
Religious Conversion continues to annihilate Ancient Cultures around the World
Any resistance to Conversion is immediately dubbed as a "Hindu Nationalist conspiracy etc. in the Media.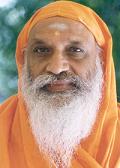 "Religious conversion destroys centuries-old communities and incites communal violence. It is violence, and it breeds violence"

- Swami Dayananda Saraswati 1999. distinguished, traditional teacher of Vedanta.
Refer to Our Druid Cousins
"The spirit of bigotry increased in the West only after Christianity became organized by the Catholic Church."
- Sir Sarvepalli Radhakrishnan (1888-1975) philosopher and President of India, Eastern Religions & Western Thought p. 149
..

"Christian proselytism has done irretrievable harm to native races by disintegrating their culture and by the unrest and antagonism the process evokes. "
- Augustus Henry Lane Fox Pitt-Rivers (1827 - 1900) anthropologist, The Clash of Culture and Contact of Race p. 240. Refer to Memoirs of Goa - By Alfredo DeMello
I stood beside him; on the torturing cross
No pain assailed his unterrestrial sense;
And yet he groaned. Indignantly I summed
The massacres and miseries which his name
Had sanctioned in my country, and I cried
"Go! Go!" in mockery.
Despite a freedom-loving outer lifestyle, Western civilization largely fails to pursue spirituality with freedom.
Religious conversions have always generated tremendous social tensions. The reason for this is that such conversions become successful only when the people are rooted out of their ancient traditions and are made to think that their ancestors were evil people. The converts are made to say awful things to the non-converts. Converts are also asked to ignore the local traditions and to act contrary to them. For example, in Orissa (India) it is considered to be inauspicious to plough the land on a particular day. The missionaries insist that the converts disregard this ancient tradition. The Church of England has asked its members to stay away from meditation practices and yoga since they come from traditions that the Church of England says are inferior to Christianity.

Thomas Jefferson (1743-1826) a liberal Christian President of the US, recognized very early the deleterious impact of religion on a pluralistic America which was then getting established. Writing about religion, he said that its negative potential "has been severely felt by mankind, and has filled the history of ten or twelve centuries with too many atrocities not to merit a proscription from meddling with government"
He said:
"I have examined all the known superstitions of the world, and I do not find in our particular superstition of Christianity one redeeming feature."
'The Christian God is cruel, vindictive, capricious and unjust'

Elaine Pagels (1943 - ) writer, professor of religion at Princeton University, Biblical scholar, feminist. At Harvard, she was part of a team studying the Nag Hammadi library scrolls.
She is the author and Beyond Belief and writes in The Origin of Satan:
"Christians have taught - and acted upon-the belief that their enemies are evil and beyond redemption."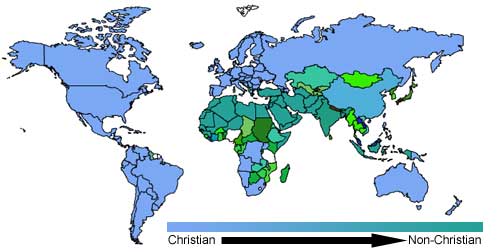 Evangelizing the globe: Intolerance and domination of Christianity.

The relentless march of Christianity is causing destruction of centuries old native cultures around the globe.

Refer to Hinduism under Threat

Also refer to Our Druid Cousins and The Christianizing of the Americas

and The Christianising of Europe. Refer to The Bible Unmasked - by Joseph Lewis. Refer to Christianity Dying In The West?

- By M S N Menon - organiser.org

***

Ethically-Challenged Christian Missionaries Piously bent on destroying Ancient Culture of India

The doctrine of racial superiority that the Europeans used to justify their colonial rule is gone, but the attitude of Christian religious superiority continues. Such religious exclusivism is backward and prejudicial, just like racism.
If one believes, as the Church teaches, that his/her non-Christian neighbors will go to hell, it doesn't do much for communal harmony. Conversion belongs to the times of colonialism. We have entered the era of Unity, of coming together, of tolerance and accepting each other.

Karen Armstrong ( ) writes in her book 'A History of God':
"Conversions became a central preoccupation, a violent, tortured drama in which the "sinner" and his spiritual director "wrestled" for his soul. …..The heavy emphasis on hell and damnation combined with an excessive self-scrutiny led many into clinical depression: suicide seems to have been prevalent. Puritans attributed this to Satan, who seems as powerful ….as God..…. The Puritans God inspired anxiety and a harsh intolerance of those who were not among the elect".
(Note: The 2005 edition of the World Christian Database (http://www.worldchristiandatabase.org/) says that India is now 6% Christian. The recent data suggests that the rampant and aggressive conversion by Christian missionaries is much more widespread than previously acknowledged).
***
The State of Rajasthan passes Anti-Conversion Bill
Jaipur: Amid a noisy walkout by the Congress-led opposition, the Rajasthan Assembly on Friday passed a bill for prohibition of religious conversion "by use of force, allurement or fraudlent means".
The Rajasthan Dharma Swatantrata (religious freedom) Bill, introduced by the BJP government, was passed by a voice vote after a stormy walkout by the opposition Congress and CPI(M) members following 90 minutes of deadlock in the House. Trouble started with a Congress MLA, Mahipal Singh Yadav, making some derogatory remarks against Hindus. Angry ruling party MLAs did not allow the other members to continue the debate on the bill and also tried to move a motion against Mahipal.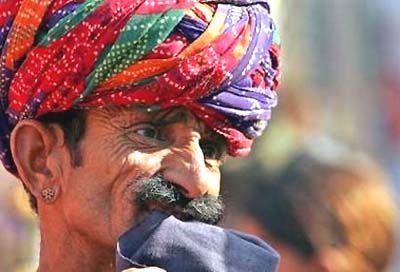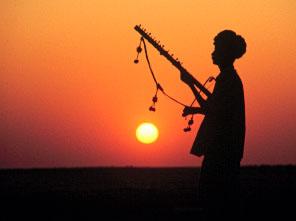 The colorful faces of Rajasthan.
"Religious conversion destroys centuries-old cultures and incites communal violence. It is violence, and it breeds violence"
***
The Congress objected and requested Speaker Sumitra Singh to pardon Mahipal, but the Speaker ruled it out saying it was the "biggest crime" to use such "defamatory words in respect of Hindus and no Hindu would tolerate such things."
Despite Leader of Opposition R N Choudhary tendering an apology on behalf of Mahipal, the ruling party members continued to protest.
Staging a walkout, Choudhary said if the BJP government wanted to pass the bill on the "game of numbers" and without a serious debate, it was not good to stay in the House. CPI (M) member Amraram also staged walkout alleging that the government brought the bill to "appease the RSS and promote the hidden agenda" of the party.
Defending the provisions of the bill, Home Minister G C Kataria said Rajasthan would be the sixth state after Madhya Pradesh, Orissa, Tamil Nadu, Gujarat and Chhattisgarh to prevent "forceful religious conversion." Without naming a Kota-based minority institution, Kataria alleged it was getting huge funds from the US for "forceful religious conversion as is evident from past incidents."
This kind of religious conversion would not be allowed at any cost, he asserted.
(source: Rajasthan passes anti-conversion Bill - sifynews.com). Refer to The Question of Conversion in India - By Sarah Claerhout, Jakob De Roover
.
Vasundhara Raje not to backtrack
Congress again plays communal card
Last year, about 500 children between the age group of 10 and 15 years, landed at Kota railway station from different parts of the country. Accompanied by some Christian missionaries, they were being taken to a church at Kaithun Road, just on the outskirts of the city. The local activists of the Bajrang Dal got the tip that the children have been brought to convert to Christianity by Emmanuel Mission International (EMI), a mission founded by Dr. A.M Thomas, and currently headed by his son Samuel Thomas.
Vasundhara Raje was of the firm view that illegal activities of these missionary organisations could be checked only by enacting an anti-conversion legislation, which several others states have already enforced.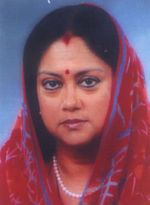 Rajasthan Chief Mininster - Vasundhara Raje. She is the daughter of H.H.Rajmata Vijayraje Scindia and H.H Jivaji Rao Scindia of Gwalior.
Of late, Rajasthan had become a major centre of Christian activities. They have been distributing literature, criticising the Hindu religion and gods in a big way. Congress again plays communal card.
For Christian Hate Literature criticizing Hinduism, refer to chapter on Glimpses XVII and refer to After green doves, it's white pigeons!! - By V Sundaram - newstodaynet.com.
Refer to Luigi Cascioli - "The Fable of Christ" and The God Who Wasn't There. Also refer to Lurid drama of proselytism after 1947- Part I - By V Sundaram - newstodaynet.com and Christianaggresion.org and European Imperialism.
***
In Rajasthan, the Christian population, which was less then one lakh till 2001, has become more than double. Interestingly, there is an increase in number of Christians in Vanvasi-populated districts of Dungarpur, Banswara and Udaipur. Many Christian organisations had selected these areas as they found them the most easy hunting ground to spread Christianity among the vanvasis.

According to an intelligence report, after doing conversion work in Madhya Pradesh, Chhattisgarh and Jharkhand the Christian organisations have made Rajasthan their next target.
Of late, Rajasthan had become a major centre of Christian activities. They have been distributing literature, criticizing the Hindu religion and Gods in a big way.
(source: Vasundhara Raje not to backtrack - organiser.org). Refer to Christian Conversions and Terrorism in North-East India
Conversion: A Fraud on Humanity
An Astonishingly ill informed Pope and a Timid, Secular Indian establishment ?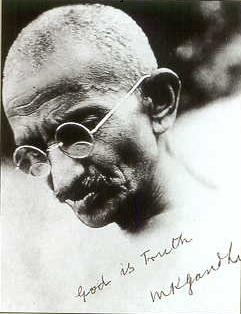 Mahatma Gandhi (1869-1948) the Father of the Nation was a devout Hindu and had called religious conversions a fraud on humanity.

He said:

"I am a Hindu because it is Hinduism which makes the world worth living."

He also considered missionaries as "a clear libel on Indian humanity."

"Conversions are harmful to India. "If I had power and could legislate, I should certainly stop all proselytizing". "I resent the overtures made to Harijans."

"Stop all conversion, it is the deadliest poison that ever sapped the fountain of truth." Poverty doesn't justify conversion.

As is clear from the Mahatma's polemic against the Christian missionaries, he was first and foremost a Hindu, who opposed all designs to destroy Hindu culture.

(source: The Collected Works of Mahatma Gandhi Volume 46. p.110 and Volume 61, p. 46-47 volume 64, p. 37 and 400 New Delhi 1968). For more refer to Mahatma Gandhi on The Christian Missionary Menace

- Compiled by Swami Aksharananda source: Young India 1-12-26). (source: "A Repudiation," Young India, 4 March 1926, in Collected Works, vol. 30 (1968), 70).

For more on Mahatma Gandhi refer to chapter on Quotes). Refer to chapter on European Imperialism and Islamic Onslaught.

India does not come under the jurisdiction of Christendom

Pope Benedict, in unusually strong words, condemned the Hindu nationalist attempts to curtail religious conversion in India, in his second declaration this week defending religious freedom in countries with Christian minorities. Stating that anti-conversion laws were contrary to the highest ideals of India's founding fathers, the Pope informed New Delhi's new ambassador to Vatican, Amitava Tripathi that, "discriminatory restrictions on the fundamental right of religious freedom, must be firmly rejected."

(source: India does not come under the jurisdiction of Christendom - centralchronicle.com).

***

Pope should not interfere in another country's affairs

"Popes maimed & were maimed, killed & were killed... Without question, these pontiffs constitute the most despicable body of leaders, clerical or lay, in history. They were, frankly, barbarians. Ancient Rome had nothing to rival them in rottenness."

– Peter de Rosa - Vicars of Christ p 48.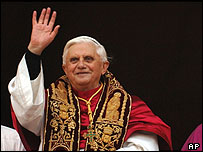 Pope Benedict's unwarranted remarks on the constitutional merit of anti-conversion laws in some Indian states and the alleged religious intolerance in this country have evoked an understandably sharp response from the Indian government. The Pontiff's comments are not based on a correct reading of the situation in India.

Some states in India have even introduced legislation banning forced religious conversions. The argument that missionaries are offering the poor inducements to convert their religion is not reason enough to ban religious conversion. But this is an issue for Indian citizens to debate, not for the Pope to comment upon. This is not the first time that a Pope is giving India unsolicited advice on conversion. In 1999, Pope John Paul II told India that religious conversion was a human right and it would be unconstitutional for the country to ban it.

There is also the question of diplomatic propriety. As head of state of the Vatican City, it was improper of the Pope to make comments that interfere in another country's internal affairs.

(source: Pope should not interfere in another country's affairs - deccanherald.com - edit page). Refer to Unprovoked, unwarranted Papal assault on India-I - By V Sundaram - newstodaynet.com

.

Refer to Europe for Christ and Pope Calls Europe Back to Christ
Decoding The Pope
what is mine is mine, what is yours should be free for evangelisation?
In this age of clashing civilisations and rattling religions, Pope Benedict's message is clear: what is mine is mine, what is yours should be free for evangelisation. Asia is the fertile ground for harvesting new souls, and Indian clergy has his backing.
In this age of clashing civilisations and rattling religions, the Pope is slowly but surely drawing lines. He is guarding his shrinking flock of Catholics, fighting against secularisation and falling birth rates in Europe, surveying Asia as fertile ground for new recruits, sternly watching any dilution of the church's conservative creed and putting other religions in their place, as it were. The highly controversial directive declared that Christ is the only saviour of mankind, thereby shutting the lid on romancing with other religions. The inter-religious dialogue, which liberals in all religions believe is necessary for peaceful co-existence, was essentially deemed a dialogue of unequals where the Catholic church was superior..
In short, all other roads to Nirvana were blocked except that guarded by the pope.
Behind Dominus Iesus was a fear that Hinduism and Buddhism were proving too attractive to many westerners tired of the consumerist culture and hankering for spiritual solace. The church saw the secularism already rampant in Europe as a perfect fit with the philosophical dexterity of Hinduism. It feared contamination.
(source: Decoding The Pope - crusadewatch.org).