Page < 1 2 3 4 5 6 7 8 9 10 11 12 13 >
Proselytization In India
"He had no business to talk about the legislation passed by the democratically elected governments in India. He has no such authority....There is complete religious freedom in India.." - J Jayalalithaa, Chief Minister of Tamil Nadu, at a press conference, following the Pope's remarks on the anti-conversion law passed by her government.
***

Proselytization In India: An Indian Christian's Perspective - By C. Alex Alexander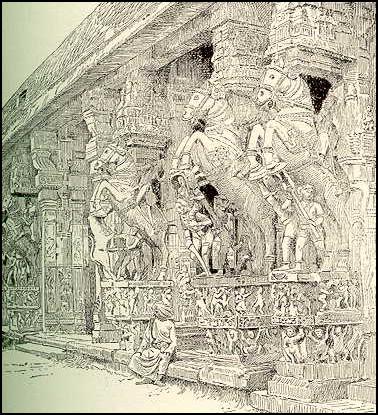 Over seventy years ago, Mahatma Gandhi stated that: "proselytizing under the cloak of humanitarian work is unhealthy, to say the least. It is most resented by people here." The resentment that Gandhi alluded to has increased in India over the years, mostly due to the persistence of religious conversions engineered by Christian evangelists who derive their financial support from foreign sources. Fundamentalist Muslims too have entered the fray in recent years with substantive financial contributions from Muslim countries interested in furthering the spread of Islam in India. Some Hindu groups have resorted to reverse conversions. All these trends are destructive to India's time-tested culture of religious tolerance.
The muteness of liberal Indian Christians, both in India and overseas, is indeed surprising.
(source: Proselytization In India: An Indian Christian's Perspective - By C. Alex Alexander - sulekha.com). For more refer to chapter on European Imperialism and Christian Aggression. Refer to Jesus Christ: Artifice for Aggression - By Sita Ram Goel
***
Outgoing, yet careful witness can reach Asian-Indians in U.S. - Reaching the World in Our Own Backyard
A Guide to Building Relationships with People of Other Faiths and Cultures
"Most Asian-Indians yearn for community. Coming from a collectivist society, they have a tough time adjusting to the American individualistic culture. This is where Christians can step in, and the church can become the community they are seeking. One thing that turns off many Asian-Indians is when Christians in this country just share the Gospel but are not interested in them in any other way. So if they say "no" to the Gospel, the same Christian friends and acquaintances disappear from their lives. Christian Asian-Indians who used to be Hindus say the most convincing argument for following Christ came through the love Christians showed toward them."

(source: Turning Point - Baptist press).
Pope Prods Catholics: Time to Evangelize

In support of his drive to increase the global influence of the Roman Catholic Church, Pope Benedict xvi is calling upon all baptized members of the church to participate in the church's missionary work.

Missionary work, the pope states, is "the church's primary service to humanity today"—in other words, he considers the church's most important job to be to convert the world.

Lest one confuse the church's universal missionary duty of conversion with merely humanitarian goals, Benedict "stressed that the mission cannot be reduced to some kind of humanitarian voluntary service or social work. In other words, for Benedict, humanitarian work is more a means to an end: conversion of peoples to, not just any religion, but Catholicism.

(source: Pope Prods Catholics: Time to Evangelize - crusadewatch.org).

Religious Imperialism

Conversions subvert cultural plurality - By Sandhya Jain

Conversions are objectionable because they invariably involve loss of identity. This is unavoidable because the religions that proselytize are those that have aggressively destroyed the heritage and roots of the societies whose adherence they won, usually by violence. A cursory glance at the European, African, North and South American and Australian continents will testify to the veracity of this statement.

(source: Conversions subvert cultural plurality - By Sandhya Jain - saag.org). For more refer to chapter on European Imperialism and Christian Aggression.

Hindu leaders see "alarming" growth of religious minorities

New Delhi, Sep. 07 2004 - Hindu groups in India are expressing alarm that the country's Muslim and Christian populations are growing, while the Hindu population declines. Venkaiah Naidu, president of the Hindu nationalist Bharatiya Janata Party (BJP), said the "imbalance" in the growth rate of different religious communities is "not good for the country."

Naidu's reaction follows the release of statistics showing a breakdown of India's population by religious affiliation. The figures showed a decline in the rate of population growth among the country's Hindus, who now account for 80.5 percent of the population-- as opposed to 82 percent at the last national census in 1991. Muslim population has grown at an increasing rate in India, so that Muslims now make up 13.4 percent of the overall population-- against 12.1 percent in the last census.

The ratio of other smaller religious minorities like Sikhs, Buddhists, and Jains has remained static in the 2001 census.

Vishwa Hindu Parishad, described the increasing growth rate of religious minorities, and particularly Muslims, as "alarming." The Hindu group said this was a "conspiracy to convert the Hindu-majority India into Muslim-majority."

(source: yahoo.com and seattlepi.com and deccan.com).

New census data in India show an increase in the proportion of Christians in that country-- and a much more marked increase in the number of Christian women. India's 24 million Christians now account for 2.34 percent of the country's population-- up from 2.32 percent at the last previous census in 1991. The rate of population growth among the country's Christians also rose slightly, from 21.5 percent to 22.6 percent.

(source: India's Christian population creeps up-- especially among women).

Refer to Joshua Project: Bringing Definition to the Unfinished Task- Country India - http://www.joshuaproject.net/countries.php?rog3=IN). For more refer to chapter on European Imperialism and Christian Aggression.

Jews for Jesus to hit streets of D.C.

More than 600 people took an evangelism-training course last month at the 10,000-member McLean Bible Church to prepare for the "Behold Your God" campaign. The blitz also will involve radio and newspaper ads. "We want to make the messiahship of Jesus an unavoidable issue to Jewish people in the Washington area," said Stephen Katz, Washington director of Jews for Jesus. "We want to ask them: Is He our Messiah or not?" Jewish leaders are retaliating with counterevangelism workshops and countermissionary efforts on downtown streets, college campuses and Jewish nursing homes. "The best defense against Jews for Jesus is education," said Ron Halber, executive director of the Jewish Community Council of Greater Washington.

The "Behold Your God" campaign in Washington, part of a five-year effort to reach 66 cities around the world — each with a Jewish population of more than 25,000, runs Aug. 18 to Sept. 18. It will overlap the High Holy Days, the holiest part of the Jewish year beginning Sept. 15.

"When you dress up fundamentalist evangelicals in Jewish clothing and tell them this is Judaism, we find that problematic." "These aggressive and deceptive tactics demonstrate a lack of religious tolerance and respect," said Rabbi David Bernstein, director of the Washington office of the American Jewish Committee. "Jews for Jesus uses what we consider deceptive practices: Jewish garb and symbols to attract Jews into a different religion."

(source: Jews for Jesus to hit streets of D.C. - washingtontimes.com).

Christian Evangelist Groups buys Cruise Liner for Global Conversions

MOSBACH, GERMANY (ANS) -- OM Ships International has purchased the Norrona I from Smyril Line at a cost of 3.6 million Euros. The ship will be renamed LOGOS HOPE, and is expected to begin active service during 2005. (Pictured: New ship "LOGOS HOPE").

Guelker explained: "Hundreds of thousands of Christians, in more than 85 nations, have also been praying for the purchase of OM's new ship. On Monday, March 29, at 5:15 pm, after prayer at our head office in Germany, a memorandum of agreement was signed for the purchase of Norrona I for 3.6 million Euros. The Norrona I will become the LOGOS HOPE!"

(source: http://www.kentaxrecords.com/iaca/php/item_display.php?id=1081464459&type=news

).

Ram Gidoomal - A Christian Evangelist From UK

Ram Gidoomal is really a leading Christian evangelist who is attempting to fool the Hindu community into becoming Christians. He runs an organisation called the South Asian Concern, which is part of the EMA (Evangelical Missionary Alliance) and backs Christian missionaries here and in India to convert gullible and vulnerable Hindus. He is also a member of the Christian People's Alliance.

In Gidoomals other book, Chapatis for tea which is "a practical guide for the western missionary on how to infiltrate into Hindu families and subsequently cheapen their Hindu heritage.

(source: Ram Gidoomal - A Christian Evangelist From UK - swordoftruth.com).

Ram Gidoomal CBE, leader of the Christian Peoples Alliance in the UK, has warned policy-makers in the American capital that civil strife and religious violence in Gujarat state could be repeated elsewhere in India if it is not dealt with.

(source: http://www.worthynews.com/news-features-4/gujarat-india.html and Christian Peoples Alliance - http://www.cpalliance.net/index.asp

***

Sikh and Destroy

Holding fierce pride in their identity, Sikhs have for decades been seen as "off-limits" by the missionary machine but not anymore. In a alarming trend, evangelism has begun to tread on the Sikh faith as well. Every aspect of Punjabi society is being overwhelmed with this new wave of assertive Christianity. Besides nationwide programs in Hindi, Punjabi television channels have been deluged by Christian programs even though the Christian population of Punjab is less than 1%. Taking aim at Sikh youth, animated films and children's books on Christianity are freely distributed by missionaries.

Because of the strong adherence to tradition by Sikhs, missionaries have attempted to repackage Christianity. Jesus is called "Satguru", church is referred to as "Satsang" and choir singing is called "Kirtan". Choir boys in Punjabi churches wear turbans to attempt to minimize the variation between Sikhism and Christianity.

While there have been some cases of genuine conversions, economically disadvantaged and illiterate Sikhs often complain that missionaries are using extortive practices such as bribing them with material possessions to change their religion. A young boy whose friends had converted to Christianity explained, "When I asked the boys as to why they have converted to Christianity, they said they had been given cash and free education. In our village alone, 5 to 6 people have converted and, of course, their generations to come would also be Christians."

Gurbachan Singh Bachan, former Secretary of the Shiromani Gurudwara Prabandhak Committee and a proud Sikh, says "People who are converting from Hinduism and Sikhism to Christianity are those who have lost understanding of their own religion… Khalsa [Sikh] institutions and the Government need to educate the people about the values of a religion, and tell them that all religions are equal and no religion teaches us to fight with each other."Such provocative evangelism in Punjab does not always go unnoticed by the local community. The Open Door Church run by Pastor Harbhajan Singh, a landlord who converted to Christianity from Sikhism, has aggressively converted over 2,800 members of the Khojewala village community. In February of 2004, Singh made derogatory remarks against several Sikh gurus including Guru Granth Sahib. This led to several protests by Sikh youths in front Singh's church in the. The conflict was ultimately resolved by police intervention and an unconditional apology by Harbhajan Singh. Meanwhile, Christian media painted this incident as an example of "Christian persecution."

A recent study showed that at least 800,000 are converted to Christianity every year throughout India. In the coming years, this number can significantly increase with attacks on the Sikh faith.

(source: http://www.kentaxrecords.com/iaca/feature_sikhism.htm).

Pastor to spread the Gospel throughout India and save 1 Billion souls from Damnation

Pastor Paul Crouch looked into the camera and told his flock that Trinity Broadcasting Network needed $8 million to spread the Gospel throughout India and save 1 billion souls from damnation. Crouch, head of the world's largest Christian broadcasting network, said even viewers who couldn't afford a $1,000 pledge should take a "step of faith" and make one anyway. The Lord would repay them many times over, he said. "Do you think God would have any trouble getting $1,000 extra to you somehow?" he asked during a "Praise-a-thon" broadcast from Trinity's studios in Costa Mesa. The network's "prayer partners" came through once again, phoning in enough pledges in one evening to put Christian programming on 8,700 television stations across India. TBN was not short on cash. In fact, it could have paid for the India expansion out of the interest on its investment portfolio. But at TBN, the appeals for money never stop. Nor does the flow of contributions.

(source: Pastor's Empire Built on Acts of Faith, and Cash - yahoo.com).

***
No conversions, Israel warns its Missionaries
The Anti-Christian offensive in Israel.

Anti-Christian forces led by a wide-ranging group of high-ranking Israeli officials won a major victory on March 30.Representatives of 50 different international Christian evangelical groups entered into what was described as an "unprecedented" joint statement promising not to carry out Christian missionary work in Israel.

In response to the surrender by the Christian groups in the face of the anti-Christian legislation, one American Christian evangelist, Rev. Dale Crowley Jr., expressed great shock and dismay. "Betrayed our Lord." Crowley says that purveying the Gospel of Christ to nonbelievers is integral to the Christian faith and stems from the biblical great commission directing Christians to share their faith.

At the time the anti-Christian bill was first introduced in the Israeli parliament, even Rev. David Allen Lewis, president of the pro-Israel group, Christians United for Israel, admitted that there were some very real problems with the legislation. "This bill means great hardship for Zionist evangelicals like myself," said Lewis, who worried that the action would revive the argument of those who question Christian support for Israel, saying, "How can you support the Jewish nation when they are against Christianity?"

When I contacted the offices of Christian evangelists Jerry Falwell and Pat Robertson, both of whom are loud advocates of pro-Israel policy (despite the anti-Christian stance of the Israeli leadership), neither would comment on the anti-Christian legislation. Sen. Jesse Helms (R-N.C.) another vocal supporter of Israel (and ally of the so-called "Christian Right" in the United States), likewise refused to provide me any comment on the anti-Christian offensive in Israel.

Rabbi A. James Rudin, the AJC's "director of interreligious affairs," said that the agreement is "a strong refutation of those Christians who sadly still target Jews as possible converts to Christianity." Rudin says that he hopes the statement will be "a model for others to emulate throughout the world." Virtually the only national news publication in America to report on the Israeli war on Christianity was us on March 17, 1997.

(source: No conversions, Israel warns its Missionaries).

For more refer to an excellent book - Harvesting Our Souls - Missionaries, their design, their claims

- By Arun Shourie).

Evangelists' move raises a storm

It is no secret that evangelist groups and missionary organisations have always targetted the coastal districts of Southern Tamilnadu for their various activities including religious conversions. Many times, such organisations have been deliberately provocative in their approach.

So it was little surprise when the always-on-the-overdrive 'Jesus Calls' scheduled its 'Good News Prayer Meeting' at Tuticorin from 14 to 18 January, knowing full well that the period coincided with the Hindu festivals of Boghi, Pongal, Mattu Pongal and other important functions like Tiruvalluvar Day and Uzhavar Thirunal. Understandably, the locals are up in arms over the timing of the meeting organised by 'Jesus Calls' which is spearheaded by D G S Dinakaran. The locals, rallying around Hindu organisations, today went on a fast at Tuticorin. The fast not only took exception to the timing of the prayer meeting but also criticised the authorities for giving permission to the same.

The locals have also approached 'Jesus Calls' with a request to either postpone or advance the meeting. 'But our efforts have failed as they are adamant in organising the show,' a leading member of the trading community at Tuticorin said. 'They seem to be bent on hurting our sentiments,' Tuticorin residents say. The locals, for their part, are harping on the news about Dinakaran getting himself admitted in hospital for a knee operation even while conducting 'miracle' healing programmes for others. Locals point out that missionaries have always targetted the coastal belt in Tamilnadu. They point to the example of the nearby Kanniyakumari district where the conversions activities have been so rampant that the Christian population has now crossed the 50 per cent mark there.

(source: Evangelists' move raises a storm - newstodaynet.com).

Lanka Buddhists on a ''fast unto death'' against unethical conversions

More than a hundred buddhist monks are on a 'fast unto death' here demanding the United National Front (UNF) government to bring in laws to curb 'unethical religious conversions'. '

'We would continue the fast until the government took action to enact laws with immediate effect to prevent unethical means to convert Buddhists and Hindus in the island nation,'' Jathika Sangha Sammelanaya head Ven. Ellawala Medhananda Thera said.Thera said and added more than 7,000 Hindus have already been converted unethically.

Praising the steps taken by Hindu affairs Minister T E Maheshwaran as 'timely action' in demanding the government enact laws against unethical conversions, the thera charged that the ministry of Buddha Sasana was neglecting its duty stipulated in Article 9 of the constitution, which provides for state patronage for fostering and protection of the Buddha Sasana.

(source: Lanka Buddhists on a ''fast unto death'' against unethical conversions - newindpress.com).

Christian Conversion at Full Momentum in Hindu Nepal

Kathmandu, Nepal, June 27, 2004: While on one hand abject poverty and illiteracy have led the Maoists to strengthen their hold over Nepal, on the other, Christian missionaries are trying to convert innocent and poverty ridden Nepalese by offering them enticements of monetary assistance and other aid. According to the Himalayan Times, the strength of Christians is consistently increasing and as many as 100 churches have been built in Makwanapur district of Nepal. The local people say that nearly 60,000 people of Tamang community have already become Christians. Apart from them, people from Praja community too have become Christians in large numbers. The local population has revealed that both these communities are being converted to Christianity by tempting them with food, clothes and economic assistance.

It may be noted that the majority of population in Makwanapur belongs to Tamang community and the people of both Tamang and Praja communities are quite poor and illiterate. The minds of the converts have been filled with the belief that Christianity will bring them relief from disease, hunger and poverty. A pastor named Bholan, of a local church, has said that all the churches in the district do not belong to any one community and they have been established with money received from different countries. A citizen named Hari Gopal Rimal from Kalikatar region of the district has said that about 10 to 15 years ago, any person who read the Bible was sent to prison, but today the situation is such that in Kalikatar area, nearly more than a dozen churches have sprung up very recently. Rimal's complaint is that the people of the region are promptly taking to Christianity because they are very impressed with the aid they receive from the missionaries during their times of severe crises.

(source: http://www.hinduismtoday.com/hpi/2004/6/23.shtml#3)
---
Do evangelists have the right to deny people of other religions or other Christian denominations the right of religious freedom?

Do evangelists have the right to destroy different cultures and societies?

Do evangelists have the right to destroy or alienate families?

Do evangelists have the right to degrade people by calling them unreached people or other degrading terms.
(source: Exposing TV Evangelism - By David Kostinchuk and The Rape of India). Refer to Crimes of Christianity - By G W Foote and J M Wheeler Progressive Publishing Co. London. 1887.

Top of Page
---
How to destroy a people in god's name - By Dr. Gautam Sen
Church's Diabolical plot to destroy Hinduism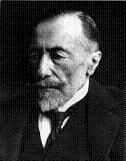 Joseph Conrad (1857-1924) Polish-born English author had written:

"Christianity has lent itself with amazing facility to cruel distortion . . . and has brought an infinity of anguish to innumerable souls on this earth."

(source: Famous Dead Nontheists).

Herbert George Wells (1866-1946) British author and historian and a bitter critic of the Roman Catholic Church and author of several books including A Short History of the World and Crux Ansata: An Indictment of the Roman Catholic Church and The Time Machine.

He had observed:

"The greatest evil in the world today is the Christian religion."

(source: What Some Famous People Have Said About Christianity - burningcross.com and Famous Dead Nontheists).

Refer to chapter on European Imperialism and Islamic Onslaught.

A fearful and persistent chorus of hostility is widespread on numerous Internet sites. They purvey rancid hatreds that amount to a call for the 'destruction' of Brahmins. Virtually all of it is ultimately orchestrated intellectually and financially by the American Christian Right. However, the demand for the elimination of Brahmins cannot end with their ethnic cleansing and legal restrictions on their human rights, which are already enshrined in the Indian Constitution and successive amendments to it. These policies and attitudes have become so deeply entrenched that very few, including Brahmins themselves, question their wider connotations and intrinsic legitimacy. Eventually, pogroms and mass murder are the most effective way of expelling large numbers of people because only the better off flee in response to mere legal discrimination and threats alone.

On the latter course of action, south India has become the experimental laboratory of the Church where it now has a political leadership of its choice ensconced in most places, i.e. Hindu-baiters one and all. The Church is therefore able to pursue the first element of a broader strategy of severing India from its Vedic Hindu past that it associates with India's upper castes in general and Brahmins in particular. This is the same way polytheistic pluralism was violently extirpated in Byzantium, Europe and Latin America. And mass murder to achieve Christian ascendancy was not merely a medieval stratagem. The 'final solution' occurred in the twentieth century and the ancient aspiration to end the Jewish presence in the midst of Christian communities was largely achieved.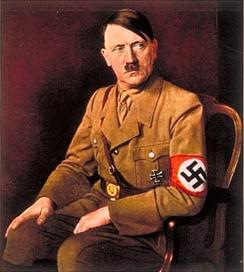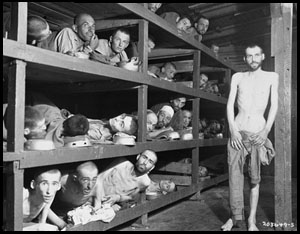 Hitler and Jews in prison camps.
Adolf Hitler (1889 - 1945) Hitler was a Roman Catholic, baptized into that religio-political institution as an infant in Austria. He became a communicant and an altar boy in his youth and was confirmed as a "soldier of Christ" in that church.
Hitler seeking power, wrote in Mein Kampf, "... I am convinced that I am acting as the agent of our Creator. By fighting off the Jews. I am doing the Lord's work." Years later, when in power, he quoted those same words in a Reichstag speech in 1938.
Three years later he informed General Gerhart Engel: "I am now as before a Catholic and will always remain so." He never left the Church, and the Church never left him.

(source: Hitler Was Not An Atheist – By John Patrick Michael Murphy – Free Inquiry Magazine – vol. 19).
***
The shedding of copious tears now that Jews are largely gone adds insult to injury. It doesn't seem to prevent unctuous concern for those seeking to destroy what remains of Jewry, tragically incarcerated in the midst of the Arab world.
The political instincts for the Nuremberg laws enacted by the Nazis, against alleged Jewish 'pollution', are resurfacing virulently in India in a distinctive guise against the upper castes, irrespective of their socio-economic status.
It is being propelled by the global Christian Right and a swathe of Indian studies departments in universities across the world, especially the US and the UK.
And these machinations coincide with the dreams of world imperial domination and racial primacy that are the historic hallmark of European empires. The Church and the imperial State have always been engaged in an embrace that may not be readily apparent today, but it has ancient roots.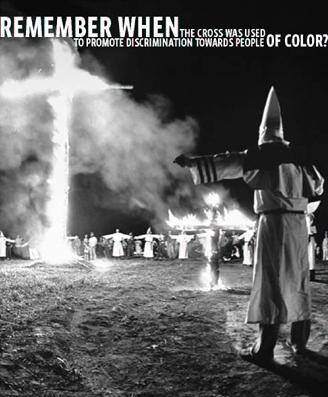 Religion based Racial bigotry in USA.
The descendants of those who invented the grim cruelties of plantation slavery and established the Southern Baptist Convention to provide it with Christian justification should have hesitated to preach equality.
***
Underlying the mundane dispute over the portrayal of Hindus in California's school textbooks the crude message of the Church and its academic co-conspirators was the determination to destroy Hinduism, which they openly describe as an abomination. The descendants of those who invented the grim cruelties of plantation slavery and established the Southern Baptist Convention to provide it with Christian justification should have hesitated to preach equality.
The Church is the most lethal enemy of Hindus precisely because it is conjoined politically with powerful imperialist nations, led by the US, but including Russia and most European Union countries.
The Church in its various denominational incarnations worldwide astutely concluded long ago that the enslavement of Hindus requires the destruction of their intellectual leadership, identified as Brahmins by them.
There is a vast corpus of Christian writing against Hindus in general and Brahmins in particular that dates back to the colonial conquests of the Portuguese, the British and the French. Hunting and murdering upper caste Hindus, with priority being accorded to Brahmins, was a sport that Islamic invaders and Christian proselytisers engaged in with great gusto.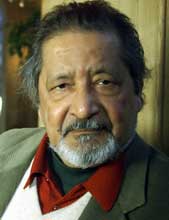 As the astute Sir V. S. Naipaul observed, you cut off the head of a conquered people by first killing its leadership.

This is why, presumably, the Portuguese unfailingly engaged in feasts of blood lust for which their imperial ventures were notorious.

And Andhra Pradesh is their principal experimental laboratory right now, where irreversible facts are being created on the ground with barely a response from supposed Hindu leaders. But a 'final solution' to the world's Brahmin problem could be achieved in much the way Europe 'solved ' its Jewish problem through mass murder and expulsion. For the present, the flight of some of these Hindu communities is the dominant reality. Like that of the post-WWII Jewish Diaspora it is deviously portrayed as 'voluntary'.

Sowing seeds of discord among Hindus has remained a diabolical ploy of the Church from colonial times. The determined dissemination of vicious propaganda about upper caste perfidy continues unabated, with various racist academics active in the fray in recent months. A numerically insignificant, but influential group of mainly Dalit Christians have become the standard bearers of the criminal enterprise of the global Church to sort out upper caste Hindus once-and-for-all. They are now being actively abetted by various organs of the Indian State.

A significant minority of Brahmins themselves have also turned collaborators in this project at the destruction of Brahmins and the alleged horrors of Hinduism they nurture. Many Hindus are eager to sell their grandmothers for money and recognition accorded to them by whites, no matter how demeaning it is in reality. Significantly, every renowned Indian radical alarmed by oppression of what they pathetically describe as 'the people' ends up finding a well-paid niche in some US university.

(source: How to destroy a people in god's name - By Dr. Gautam Sen - india-forum.com). Dr. Gautam Sen, London School of Economics & Political Science, Member Indo-UK Roundtable).

Refer to Christianity and Violence - atheism.about.com and Christians have no monopoly on truth

***

Examples of Christian Intolerance - Missionary Impossible

Evangelical Protestants, who now number over 75 million in North America, devote more than $250 million per year and a tremendous

amount of energy to promote their faith among Jews. These Evangelicals fund over 900 different ministries in North America alone, that specifically target the Jewish community for conversion. Jews for Jesus is the largest and best-known of these groups.

Why do Evangelical Christians seek to convert us?

Evangelicals assert that the only way to have a relationship with G-d is by embracing Jesus. They feel driven to "save" all non-Christians who they believe will be doomed to an eternity in hell unless they convert.

Jews for Jesus and similar groups claim to be Jews who have come to believe in Jesus.

Actually, many members of groups like Jews for Jesus and even their leadership are gentiles. They are not and have never been Jews.

They claim that it is "Jewish" to believe in Jesus and that Jews can retain their Jewish identity even after becoming Christians.

Regardless of their superficial attempts to appear Jewish, "Jews for Jesus" is an oxymoron and a theological contradiction. Putting on skullcaps or sprinkling their conversations with Hebrew or Yiddish expressions doesn't change the fact that they are following a religion that is not Jewish! A Jew who converts to Christianity is like a vegetarian who begins to eat meat. Even if he continues to eat vegetables, his diet can no longer be considered vegetarian.

But isn't it true that Evangelical Christians are very supportive of Israel ?

Yes. Many Evangelicals are lending important political and financial support to the State of Israel . However, most of them also engage in, or support, efforts to convert Jews.

Are these missionary groups really a serious threat?

Yes. Unfortunately, these groups have become increasingly successful. Of the 1.4 million Jews who have converted more than 275,000 Jews have been converted by these deceptive and aggressive groups.

(source: Missionary Impossible - Jews for Judaism.org).
---
Can Hinduism face the onslaught of Project Thessalonica?
Theodosius I (378 - 395)
The Christian monarch who introduced the world to religious totalitarianism.
"The first Spanish Inquisitor"

–
Hugh Trevor Roper
the author of The Rise of Christian Europe
and is best known as the author of
The Last Days of Hitler
(p 36).
The world's earliest totalitarianism – of Catholic Christianity – was inaugurated by Theodosius. No wonder to Christian scribes he became 'the Great.' In short order, the Roman world was compelled to be Christian – on pain of death! The fall of empire in the west was an acceptable price for the triumph of the Church of Christ.
Refer to The First Missionary War: The Church take over of the Roman Empire - By Michael Routery dedicated to all those who have died because of the cross.
Refer to Religious conversion is God's work, but is it? - By Hilda Raja and This Church is a Cruel Joke - By George Augustine
***
I was born to Catholic parents and raised by a missionary Catholic mother and an abusive, born-again Christian, who I will refer to only as "my mother's husband". I was raised in an "ideal" Christian environment, and would have followed my parents' footsteps and would have spread hate against other religions, if it weren't for a fortuitous meeting I had with a Chinese friend of my dorm roommate. Little did I realize then that the chance encounter would end up being a turning point in my life.

The Chinese student was Buddhist who talked about meditation and its advantages. Finding it curious I checked with my University library for some books on meditation. After some searching, I found a book on Transcendental Meditation (TM), a meditation technique founded by Maharishi Mahesh Yogi. That book sparked a profound spiritual and emotional transformation in me and I have never looked back. My thirst for knowledge led me to read more about TM and its roots in Hinduism. I started reading every book on Hinduism I could lay my hands on. In the Ramayana, I came across the life of Lord Rama and his only wife Sita. Hindus consider Rama and Sita to be the ideal couple and the path shown by them as the perfect man-woman relationship. It was a refreshing change from the abusive relationship I had witnessed and experienced in my own Christian family.

The wisdom and spirituality that I found in Hinduism has no parallels. There is practically no aspect of life that is not dealt with in detail by the innumerable texts that are a part of Hinduism. There are texts which deal with the mundane aspects of day-to-day living and those which deal with more profound questions such as those about life and death. To me, the most fascinating aspect of Hinduism was that it was inclusive, respectful and tolerant of all people and their various beliefs, in stark contrast to the exclusivity that pervaded my native religion. Unfortunately the adherents of the latter seem to be on a mission to destroy Hinduism.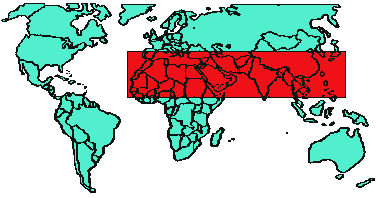 Destruction of ancient cultures? Magnificent obsession of the Church.
Watch video - Christian Missionary Misdeeds in India
Refer to Hinduism under Threat and Christianization of Andhra Pradesh. Refer to Searching for "God" in the Catholic Church - By Krishen Kak. Refer to Amen - an autobiography of a nun and Mote and the beam - By Sandhya Jain. Refer to Religious conversion is God's work, but is it? - By Hilda Raja and This Church is a Cruel Joke - By George Augustine
10/40 window. This window includes the world's great unreached people for the Church. It encompasses the majority of Muslims, Buddhists, Hindus, Jains, Parsis, Sikhs and many others. Joshua Project II set the scope and strategy for converting the "heathen" of the world in 10-40 window (regions that lie between the latitudes of 10 and 40 degrees north) whereas project Thessalonica (called PT) prioritizes the tasks to be taken. Joshua Project II strategized the methodology called 'Adopt-a-peoples' wherein every mission agency or church adopted a 'people group'. Tribals were the first and easy missionary targets.
The 2005 edition of the World Christian Database (http://www.worldchristiandatabase.org/) says that India is now 6% Christian.
***
Project Thessalonica is a sub-project of Joshua Project II. Joshua Project II set the scope and strategy for converting the "heathen" of the world in 10-40 window (regions that lie between the latitudes of 10 and 40 degrees north) whereas project Thessalonica (called PT) prioritizes the tasks to be taken. Joshua Project II strategized the methodology called 'Adopt-a-peoples' wherein every mission agency or church adopted a 'people group'. Tribals were the first and easy missionary targets. Unfortunately the missionary activity didn't weaken Hinduism as the church strategists had anticipated - many of the converts still celebrated and attended Hindu festivals and continued to follow Hindu traditions. As a counter measure Project Thessalonica was started in 2004. Before getting into the details of Project Thessalonica it will be useful to look at the origins of the name of the project.
Thessalonica was a major port city strategically located at the junction of the main land route from Italy to the east and the main route from the Danube down to the Aegean Sea. It was the capital of the Roman province of Macedonia, a free city ruled by a popular assembly and magistrates. The people of this city were rich, technologically advanced and culturally distinct. Paul and Silas, during the Apostle's second missionary journey, visited Thessalonica to preach the Gospel and propagate Christianity. However, Paul's teachings received a lukewarm response from the people. Some locals irritated by Paul's teachings got a hold of Jason and his brothers, who were hosting Paul, and took them to city officials. They were charged with harboring traitors, but faced no physical harm. They were eventually made to post a bond and set free. In 390 AD, the Christian ruler Theodosius the Great, punished a revolt by the inhabitants of the city by massacring more than 7000 people. Much of the city was eventually converted to Christianity.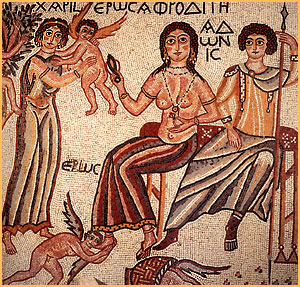 (Note: In AD 391 pagan temples were closed and all of their worships were forbidden by threat of harsh punishment, then what followed was a enforced Christianization of the empire. During all his reign Theodosius took severe measures against the surviving remnants of paganism. In 388 a prefect was sent around Egypt, Syria, and Asia Minor for the purpose of destroying temples and breaking up pagan associations; it was then that the Serapeum at Alexandria was destroyed).

Project Thessalonica aims to stop or limit Hindu activity by converting people who form the pillars of Hindu culture, festivals, traditions and activity. Traditionally missionaries hate any public expression or display of heathen religions in the form of festivals and temples. Missions want to ensure that no new temple construction activity starts. With this objective they are converting masons, craftsmen and others involved in temple construction activity.
The First Baptist Church of Nashville, Tennessee adopted towns where the annual Kumbh Mela takes place and has been actively converting the locals so that visitors face extreme hardship during their next visit trying to find services and supplies. Another mission group is adopting boatmen of Kasi where Hindus drop rice balls in river Ganges as an offering to their forefathers. The boatsmen are being trained in other fields so that they abandon this profession. They are making environmental groups raise the voice so that Ganesh processions, Kumbh Melas and Jagannath Rath Yatras are limited. One big worry seems to the extremely popular Hindu television programs. Christian agencies have decided on buying these prime slots at a premium and are actively working with programming sources. Over the past 20 years, missionaries also appear to have invested a lot in handling the political leadership, so much so that their activities appear to be almost immune to the ruling political party. It seems that a good section of media is also on their side to such an extent that any group opposing their activity finds itself identified as a militant or extremist group in the news media.

With Christian Jihadis like Josh at the forefront of missionary activities in India, one can only hope that Hindus don't face the same fate as the people of Thessalonica.
(source: Can Hinduism face the onslaught of Project Thessalonica? - By Alex Pomero in a Croatian Newspaper). Refer to chapter on European Imperialism. Refer to Assault on Paganism - jesusneverexisted.com and Oklahoma City's Hindu Temple
***
Christianization of Asia's Heathens
Their Other "Dirty" Linen: Evangelism's Quest to Conquer the World

"The Bible is not my book nor Christianity my profession. I could never give assent to the long, complicated statements of Christian dogma."
- Abraham Lincoln (1809-1865) 16th president and the Great Emancipator, who opposed the expansion of Slavery.
Sir John Woodroffe (1865 -1936) the well known British scholar, Advocate-General of Bengal and sometime Legal Member of the Government of India. He served with competence for eighteen years and in 1915 officiated as Chief Justice.

"Conversion detaches Indians from their original faith. This in turn distances them from their past. In addition, Christianity is a religion closely intermingled with politics.."

(source: Challenges from Christianity - hindujagruti.org).
***
Catholic Churches Dogmatic Global Ambitions to destroy World Cultures
During his 1998 visit to India, for example, Pope John Paul II bluntly stated that the Christianization of Asia is "an absolute priority" for the Catholic Church in the new millennium. He openly likened the Vatican agenda for that region to its conquest of the Americas in the sixteenth and seventeenth centuries. His language, says Sanal Edamaruku, founder of New Delhi-based Rationalist International, leaves little room for interpretation, even among secular and progressive-minded Indian citizens. "It is, in fact, not the fantasy of [Hindu nationalists]," he states, "but hard reality ... nothing less than the conversion of ... the Hindus of the world is targeted."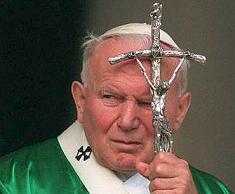 Pope John Paul II
The spread of "world" religions such as Christianity and Islam has destroyed most of the world's traditional religions.
Many beliefs once sacred have now been regulated to museums and anthropology texts. The loss of so many "living" religions is a profound blow to human culture. (The loss of languages and other cultural traditions due to increased secular homogenization is a similar issue). Beliefs such as a spiritual connection to dead ancestors, or a nature that is filled with spirits, or even much-maligned polytheism, have provided humanity with a rich and beautiful diversity of worldviews.
(source: God Wars: The triumph of Jealous Gods - crusadewatch.org).
***
The church's "soldiers" in the field get the message.
As a Mumbai (formerly Bombay)-based missionary whom we shall call Paul attests (he asked that his real name be withheld), he and his colleagues in India have been unequivocally instructed by their superiors to "work extra hard in the conversion process and choose any means possible to convert these heathens." With such marching orders, earthly consequences can be cavalierly disregarded. "It's not how we convert that matters," Paul insists. "Conversion is what counts."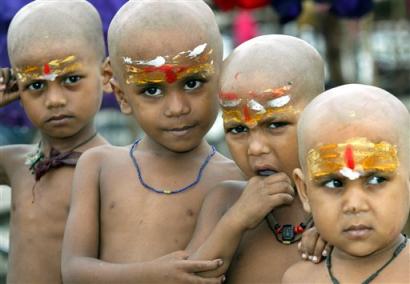 A Group of Hindu boys after their mundan ceremony.
Perhaps no mission tactic galls more bitterly than the intentional targeting of any society's most vulnerable members--its children.
***
In India, considered one of the richest "harvest grounds" in the Unreached Bloc, the methods employed by missionaries like Paul have stirred seething bitterness and resentment among the "heathen" public. Perhaps no mission tactic galls more bitterly than the intentional targeting of any society's most vulnerable members--its children. In a 1923 report to Rome gleefully titled "The Spiritual Advantages of Famine and Cholera," the Archdiocese of Pondicherry related how a famine had "wrought miracles" in a local hospital where "baptismal water flows in streams, and starving little tots fly in masses to heaven."
The practice of allurement, or providing "inducements" to the poor in return for their conversion to Christianity, is quite common, and one that many missionaries readily admit using. It is also nothing new. In the days of the Portuguese invaders, the Jesuits simply paid Hindus by the hundreds to participate in mass baptisms. Today's methods are more subtle: conversions are now "bought" with food, medicine, promises, and micro-loans.
(source: Their Other "Dirty" Linen: Evangelism's Quest to Conquer the World - By S R Welch - secularweb.com).
Page < 1 2 3 4 5 6 7 8 9 10 11 12 13 >