"India
the name which launched a thousand ships, and which has fired the imagination of explorers for ages, predates the emergence of Islam and Western Indology, by centuries, if not millennia.

"
***
Ancient nuclear blasts in India - By Alexander Pechersky

The great ancient Indian epic, the Mahabharata, contains numerous legends about the powerful force of a mysterious weapon.
The archaeological expedition, which carried out excavations near the Indian settlement of Mohenjo-Daro in the beginning of the 1900s, uncovered the ruins of a big ancient town. The town belonged to one of the most developed civilizations in the world. The ancient civilization existed for two or three thousand years. However, scientists were a lot more interested in the death of the town, rather than in its prosperity. Researchers tried to explain the reason of the town's destruction with various theories. However, scientists did not find any indications of a monstrous flood, skeletons were not numerous, there were no fragments of weapons, or anything else that could testify either to a natural disaster or a war. Archaeologists were perplexed: according to their analysis the catastrophe in the town had occurred very unexpectedly and it did not last long.
Scientists Davneport and Vincenti put forward an amazing theory. They stated the ancient town had been ruined with a nuclear blast. They found big stratums of clay and green glass. Apparently, archaeologists supposed, high temperature melted clay and sand and they hardened immediately afterwards. Similar stratums of green glass can also found in Nevada deserts after every nuclear explosion.
A hundred years have passed since the excavations in Mohenjo-Daro. The modern analysis showed, the fragments of the ancient town had been melted with extremely high temperature - not less than 1,500 degrees centigrade. Researchers also found the strictly outlined epicenter, where all houses were leveled. Destructions lessened towards the outskirts. Dozens of skeletons were found in the area of Mohenjo-Daro - their radioactivity exceeded the norm almost 50 times.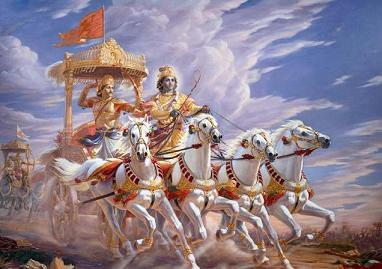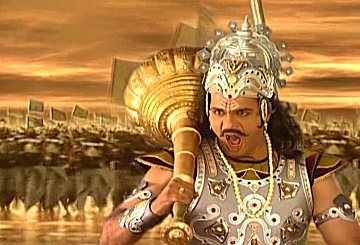 The great ancient Indian epic, the Mahabharata, contains numerous legends about the powerful force of a mysterious weapon.
(Artwork courtesy of The Bhaktivedanta Book Trust International, Inc. www.krishna.com).
***
The great ancient Indian epic, the Mahabharata, contains numerous legends about the powerful force of a mysterious weapon. One of the chapters tells of a shell, which sparkled like fire, but had no smoke. "When the shell hit the ground, the darkness covered the sky, twisters and storms leveled the towns. A horrible blast burnt thousands of animals and people to ashes. Peasants, townspeople and warriors dived in the river to wash away the poisonous dust."
***
Modern people divide the day into 24 hours, the hour - into 60 minutes, the minute - into 60 seconds. Ancient Hindus divided the day in 60 periods, lasting 24 minutes each, and so on and so forth. The shortest time period of ancient Hindus made up one-three-hundred-millionth of a second.
(source: Ancient nuclear blasts and levitating stones of Shivapur - By Alexander Pechersky - pravda.ru.com). For more refer to chapter on Vimanas and War in Ancient India). (For more refer to chapter on Greater India: Suvarnabhumi and Sacred Angkor).
---
"I am a Hindu because it is Hinduism which makes the world worth living." – said Mahatma Gandhi - source: Young India 1-12-26.

India's National Disgrace - Attack on Symbols of the Hindu Universe

Arrest of Kanchi Shankaracharya on Diwali - Secular duplicity?
An Unholy Mess

-

Shock, Anger across the World

"This is clearly a political vendetta by unspiritual people designed to denigrate Hindu Dharma. The consequences of it are grave for the spiritual future of India and of the entire world." - David Frawley.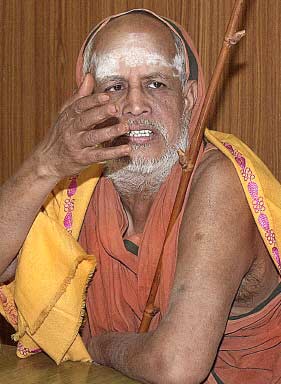 Kanchi Shankaracharya Jayendra Saraswati is one of the most respected figures for Hindus.
More than the individual, the institution of the Kanchi Kamakoti Peetham, of which he is the reigning pontiff, stands tall as one of the symbols of the Hindu universe as it was founded by Adi Shankara as the southern boundary of Bharatvarsha.
Therefore, his arrest on seemingly flimsy grounds amounts to unwarranted humiliation of a revered shrine as well as its presiding head.
(For more refer to chapter on Greater India: Suvarnabhumi and Sacred Angkor).
***
Kanchi Shankaracharya Jayendra Saraswati is one of the most respected figures for Hindus. More than the individual, the institution of the Kanchi Kamakoti Peetham, of which he is the reigning pontiff, stands tall as one of the symbols of the Hindu universe as it was founded by Adi Shankara as the southern boundary of Bharatvarsha. Therefore, his arrest on seemingly flimsy grounds amounts to unwarranted humiliation of a revered shrine as well as its presiding head. The Tamil Nadu Government does not realise that it is playing with fire by pushing the frontiers of minorityism. The usual excuses offered for arresting a person of relatively less political consequence (which are always forgotten in the case of those with the right contacts) are being advanced to justify the humiliation meted out to this savant. The murder of the Mutt's employee perhaps gave the J Jayalalithaa regime the entry point to competitive Hindu-baiting which promises to pay huge political dividends. To appease vote banks, she had withdrawn the order against conversion and had even toned down her earlier stated position on Ms Sonia Gandhi's legitimacy in Indian politics. The manner in which the DMK was baying for the Shankaracharya's blood in the aftermath of the murder may have raised the political temperature to an undesirable level, pushing Ms Jayalalithaa to a corner.
'Secular' revellers, meanwhile, are living it up.
The Imam of Jama Masjid has never appeared in court to answer more than half-dozen summons against him. In Kerala, Industries Minister Kunnhiali Kutty is accused of involvement in a sex racket, but his position in the State Cabinet is secure. To make doubly sure, Muslim League hoods are going about terrorising journalists of Mathrubhumi from carrying out their professional duty of questioning the double standards of 'secular' governance. The CBI has been asked to discontinue the prosecution of Congress leader Satish Sharma while the income tax department has been stopped from booking Mr Lalu Prasad Yadav in a disproportionate assets case. The undermining of civil society is getting more brazen with each passing day. The Shankaracharya episode seems just the beginning of a vendetta aimed at silencing the cultural opposition posed by Hindu self-esteem.
Shankaracharya tour programme was announced on the Peetham's website well in advance and he never travels abroad. So what was the necessity of putting him through a night-long ordeal, and that too on the auspicious occasion of Diwali?
(source: Secular duplicity - dailypioneer.com - November 15 2004).
Dalits angered at Seer's Arrest
Tamil Brahmins may or may not have come out in support of arrested Jayendra Saraswathi, but sections of the underprivileged Dalit classes have expressed anger at the treatment meted out to the seer.

Among the first to come out on the streets were members of the Hindu Munnani, a Hindu group primarily comprising Dalits. Activists of this group have also clashed with police outside courts in Chennai and Kanchipuram. They have also staked out in front of the Vellore jail where the Shankaracharya has spent a week for his suspected involvement in the murder of a former accountant of the Kanchipuram mutt. Four Dalit hamlets in Porayar of the Nagapattinam district, 600 km south of the Tamil Nadu capital, are stunned by his arrest. In the pontiff's birthplace, Irulneeki village, there is considerable anger among the 150 Dalit families over the arrest of the Shankaracharya who was reportedly in the process of making it a model village. Jayendra Saraswathi formed the Chandrasekara Rural Development Trust there to launch several development schemes.The trust is credited with constructing 40 model group houses and a health centre with two doctors and six paramedics to help. Supported by the mutt, the Tamil Nadu government has also taken up a pilot scheme for Dalit housing in the village.

Members of the scheduled tribe of 'Kattunanyakans', who are scavengers by profession, received financial help from the Shankaracharya to build a temple for the Amman mother goddess in 1992. Now Natesan, the village council chief, tells journalists with tears in his eyes: "Shankaracharya taught us to worship. When many still considered us untouchables, he treated us with dignity". Similar is the outpouring of protest in Rajivpuram, where another such temple is under construction, thanks to funds from the Kanchipuram mutt.

In the Bhudanoor village, 200 Dalit families have stories about the ways in which the Shankaracharya helped them.
The Shankaracharya has taken much flak for reaching out to Dalits. Critics accused him of breaking Hindu codes by blessing widows and Dalits and allowing general access to the mutt and temples.

(source: No reservations, Dalits back seer - timesofindia.com). For more information - refer to http://www.kanchi-sathya.org/
Kanchi Acharya first pontiff to mingle with Dalits'
Cuddalore, Nov. 27 - The Kanchi Sankaracharya, Sri Jayendra Saraswathi, is the first pontiff in the Sankara Mutt lineage to mingle with the Dalits and other downtrodden sections. Hence, his arrest is regrettable, Vai. Balasundaram, State president of the Ambedkar Makkal Iyakkam, said here today. He told presspersons that he did not want to go into the details of the arrest as it was sub-judice. From his association with the Acharya for the past several years, he had learnt about the humane side of Jayendra Saraswathi, who had contributed a great deal to the uplift of the downtrodden.
Without any inhibitions the Acharya had stayed in a hut of a Dalit, Chelladurai, at Ramancheri, near Thiruttani, recently and offered his blessings. The Acharya had also established the Ambedkar Maha Sabha for the welfare of the Dalits.
(source: Kanchi Acharya first pontiff to mingle with Dalits - hindu.com).
Dalit Hindu Peoples' Sabha Condemns
" Kanchi seer has to be released immediately. Arresting him at mid-night and throwing him into jail like an ordinary criminal is condemnable" said Dalit Hindu Makkal Sabha.
"Besides doing spiritual work. the Swamigal was carrying on the work of consolidation of the society, Education, and health .the arrest has been carried out just to put hurdles in this work and to tarnish the image of the Mutt. The other reasons are to appease the other religions the threats of the anti-Hindu parties". "Arresting a Hindu religious leader on false charges ,arresting him at midnight and putting him in jail as an ordinary criminal has evoked the opposition of the entire Hindu community. Hence he should be released immediately. To show our opposition we had demonstrated twice under the leadership of our state leader Ganesh. If the seer is not released immediately a massive demonstration will be organized." the release of the Dalit Hindu Makkal Sabha said. (Dinamalr: 21.11.04).
***
India Desecrated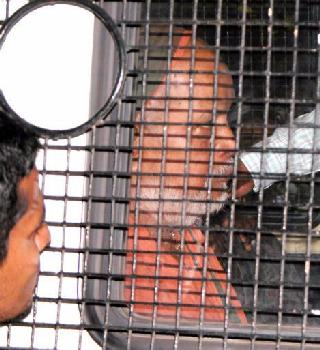 Can the Pope be arrested like this?
The illiterate cub reporters of various Indian TV channels are having a field day, mouthing inanities against all that India has held sacred for millennia.

Refer to The Criminal History of Papacy and Sex, lies and videotape: turmoil at the Vatican and Vatican forced to acknowledge debauched behaviour of priests and nuns and Victims of pedophile Christian priests and Pedophiles and Priests: Anatomy of a Contemporary Crisis - By Philip Jenkins.

***

One of the greatest institutions of India that has stood for several centuries as a bright symbol of the continuing authority of dharma on this land has been desecrated. The event was meant to be a slap in the face of all those Indians, who believe in dharma and the civilisational traditions of India. It is a sad commentary on the state of India, that in spite of this great desecration, the nation continued to behave as if nothing has happened.

Except for token protests from certain foreseeable quarters, the nation has not stirred. The reigning Sankaracharya of Kanchi Kamakoti Peetham is behind bars. The illiterate cub reporters of various channels are having a field day, mouthing inanities against all that India has held sacred for millennia. Mr. N. Ram, (Editor of The Hindu) that arch-enemy of Hinduism, is gleefully pontificating about the majesty of law. That epitome of the superciliousness of modern educated Indians, the Congress spokesman, Mr. Abhishek Singhvi, is pompously announcing the great dictum that the Sanakaracharya has not only been arrested, he shall also be punished if found guilty at the end of the trial. The leader of the anti-Hindu atheistic movements, Sri Karunanidhi, is saying that the occasion should be used for making laws restraining all saintly persons in general.

(source: India Desecrated - Center for Policy Studies). Refer to The Criminal History of Papacy and Sex, lies and videotape: turmoil at the Vatican and Vatican forced to acknowledge debauched behaviour of priests and nuns and Victims of pedophile Christian priests and Pedophiles and Priests: Anatomy of a Contemporary Crisis - By Philip Jenkins.

Can the Pope be arrested like this?

Nischalananda Saraswati, the Shankaracharya of Puri

"It is a sad news for the country. It is a blow to the existence and ideology of Hindus. The very existence of Hindus is at stake. Who will be responsible for the humiliation meted out to the pontiff if he is exonerated tomorrow?"

Ashok Sampath, president, Hindu Makkal Kakshi, Chennai

"I strongly condemn the action. The Sankara Mutt is a 2,500-year-old institution. No Shankaracharya would commit a murder in the garbhagriha."

Praveen Togadia, international secretary, Vishwa Hindu Parishad

"Can the Pope be arrested like this? Will they arrest Imam Bukhari of the Jamma Masjid on Eid as there are so many cases pending against him?"

(source: Can the Pope be arrested like this? - rediff.com).

Can anybody in India imagine the Cardinal being arrested on the X-mas eve or a Muslim cleric being arrested on Eid day. We all know that Imam Bukhari of Jama Masjid could not be touched despite half-a-dozen non-bailable warrants of a serious nature. In a country where even terrorists enjoy human rights, a Hindu seer is subjected to extreme inhuman treatment. If the conspiracy is not defeated, the loser will not be Jayendra Saraswati or the Kanchipeetham but the entire Hindu society and India as well.

(source: Unholy Conspiracy - By Dina Nath Mishra - dailypioneer.com).

Refer to The Media Reality - haindavakeralam.org.

Secularism as a Tool of Adharma - By Satya Sarma

None of the human rights activists who keep their eyes peeled for even the faintest transgression against the practice of faith can spot religious persecution in India today. Such is their secularism.

"The law is the law," they shrug their shoulders to say. What law? Our secular laws are treacherous: full of loopholes for those who harm society, but stern to punish those who work for its benefit. Professional thieves, habitual murderers, rabble-rousing rowdies, thugs and goondas – secularism allows all these to write its laws, even laws that confer them immunity. Now, when a fragile old man who has given up all possessions and all allegiances except to the path of truth is imprisoned arbitrarily, these very looters will point out to us that it is all very legal. Who are these people to judge a jagatguru? What are their bonafides? How clear are their minds, how clean their hearts? What good have they done in the world to show their credentials to sit in judgment of our Swamigal? They are the talking puppets of a blindfolded woman with empty scales.

(source: Secularism as a Tool of Adharma - By Satya Sarma - sulekha.com).

Tarnishing the reputation of Hinduism and Indian culture

None of our politicians, both Hindu and atheist, seems to care about tarnishing the reputation of Hinduism and Indian culture, by this inane display of vote bank politics. They openly call the Shankaracharya names and demand the extinction of a 2500-year tradition – that the Kanchi Mutt signifies. The public prosecutor is especially vicious in calling the Acharya 'a criminal who deserves no sympathy'. Pardon me if I sound dumb but our law does presume everyone innocent until proven guilty. Then why this witch-hunt? A cursory look at some of the facts surrounding this drama makes for interesting reading.

(source: The Kanchi Mutt Controversy - By Thenali Raman - sulekha.com). Refer to Pope Benedict Solves Mystery of Pedophile Priests . . . Sort of

- By Robert Weitzel.

Outrageous assault on Hindu Honour

Shankaracharya's arrest has pained for many reasons. That the charges were cooked up, flimsy and contradictory, that the concerned law enforcing personnel, including the Public Prosecutor were absurd, abusive and disparaging, that the victim was convicted and almost punished, even before trial, by the media and the Chief Minister's ill-advised statement in the Assembly were not the only reasons for this pain.

Shankaracharya is a symbol. He is an institution. He represents the sentiments of millions of Hindus whose respect for him cuts across religious definitions, as he is a pious, unassuming, and progressive savant. He is heading a mutt founded by Adi Shankara and is its 69th Shankaracharya. He succeeded Pujaniya Paramacharya Chandrashekarendra Saraswati, whom many believed was a divine incarnation, indeed the greatest spiritual luminary of our time. The present Acharya is his disciple and like his guru, Shri Jayendra Saraswati's mission of restoring the Vedic Hinduism to its great glory is no less significant. He lighted millions of lives by his boundless compassion. He was one of the first Acharyas of this age, who came out of the orthodox confines of the mutt and worked among the people, in the Dalit bastis. He even pronounced against caste, declaring that chaturvarna had no Vedic sanction. He is a revolutionary saint. He trained Dalit youth in temple rituals and declared them archakas giving them the sacred thread. Unwaveringly he stood for the Ram temple at Ayodhya and of late, he had acquired a universal reputation as a messenger of peace and harmony. The arrest has shattered this image. The chargesheet is a bundle of contradictions. Everybody who knew the Shankaracharya and the mutt's standing and reputation will swear that he has been framed.

(source: Outrageous assault on Hindu honour - organiser.org).

Trampling Indian Culture under the guise of Secularism
Whither Human Rights?

The Shankaracharya's "crime" is yet to be established. But the "secular" cabal has already been proved guilty of following double standards. The entire "human rights" enterprise of the Leftists is to help their ideological cousins in their goal to balkanize India and rationalize the misuse of state against those who believe in the spiritual traditions, the civil society and integrity of India.

(source: Offensive, prima facie - By Balbir Punj - dailypioneer.com - November 18 2004 - edit page).

The indifference of the English-speaking intelligentsia to this State assault on a reputed Hindu religious leader, whose fundamental right to self-defence has been grievously violated, shows the country's secular ideology to be a travesty. For, a similar witch-hunt against an imam or priest of comparable stature would certainly have incurred the wrath of human rights watchdogs and radicals. The ascent to power of the Congress-led coalition, propped up by the communists, is marked by a return to minorityism, manifesting itself as Hindu-baiting. The Left, in fact, has made a career out of this. In today's intolerant climes, the sanctity of Hindu pilgrimages and beliefs has been sacrificed at the altar of arid secularism.

(source: Sinister stirrings of intrigue - By Anuradha Dutt - dailypioneer.com - December 2 2004).

The humiliating arrest of the Kanchi seer is testing Hindu patience.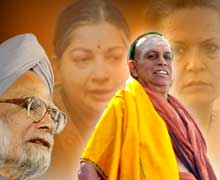 Why was the Shankaracharya humiliated in this manner, and why didn't the Centre intervene to tell the Tamil-Nadu government to adhere to Supreme-Court guidelines in the arrest and incarceration of religious leaders? Both prime-minister Manmohan Singh and Congress president Sonia Gandhi have separately and differently washed their hands off the matter, but it won't, frankly, wash.

The PM said the Centre was not in the picture, and anyway, it was of no concern to it. Only a non-politician, who has no understanding of the ethos of this country, and its deep wedding to faith, would make such a statement,...

Nor can Sonia distance the Congress from the episode, because the Shankaracharya was arrested in Congress-ruled Andhra Pradesh. "If the Andhra chief minister had insisted on the Supreme-Court guidelines being followed," said a Congress stalwart, "the Tamil-Nadu government would have been stopped in its tracks.

Starting from the Brahmin and Kshatriya leadership across all political parties, there is a deep sense of hurt and dismay. To this writer's knowledge, several upper-caste Congress leaders are aghast at Jayalalithaa's humiliation of the Shankaracharya to square off M.Karunanidhi and win the non-Brahmin votes in Tamil Nadu.

But they are unable to break out of the "secular" gridlock of the Congress and speak their mind.

(source: The humiliating arrest of the Kanchi seer is testing Hindu patience - indiareacts.com). Please refer to Kanchi Conspiracy by Christians? - saag.org.

Where is the US Council on International Religious Freedom?

Where is the international response to the arrest of the Kanchi Acharya? The USCIRF did not stir a little finger. This merely supports the contention that it is not meant for religious freedom per se, but for the advancement of Christian fundamentalism. The BBC called the Acharya a 'cleric'. Strictly speaking, this is true: a cleric is a member of a religious order. But I have never heard them call the Pope a cleric. It is always 'the pontiff' or 'the pope'. Why? I suggest that we should all call the Pope a 'cleric' from now on....

(source: Where is the US Council on International Religious Freedom? - By Rajeev Srinivasan).

The silence of the Western media over the arrest like Sherlock Holmes' dog that did not bark is eloquent ?

Shankaracharya hit the Conversion industry where it most hurt. He aimed at building a temple in every Dalit village and in giving personal darshan in each village. His Chandrasekharendra Maha Vishwavidyalaya, a Deemed University, controls several educational and medical institutions, which serve the villages and challenge missionary monopoly in these sectors.

In Tamil Nadu, the cognoscenti feel American evangelists planned the whole sordid affair. Certainly the silence of the Western media over the arrest like Sherlock Holmes' dog that did not bark is eloquent. The American organization that monitors freedom of religion abroad was upset with the anti-conversion law and was dialoguing with the State government to undo it. That President Bush (Evangelicals are crediting God with securing re-election victory for George W. Bush.) supports vigorous evangelism is no secret. His disrespect for Hindu dharma was on public display immediately after his re-election, when he hosted an Iftaar and Diwali dinner at the White House simultaneously, and attended only the former. The pathetic excuse peddled by his staff was an insult to the worldwide Hindu community and must be perceived as such by Hindus, regardless of ideological predilections.

(source: Justice must be seen to be done - By Sandhya Jain - dailypioneer.com - Edit page - November 29 2004). For more refer to chapter on Conversion).

Refer to Their Other "Dirty" Linen: Evangelism's Quest to Conquer the World

- By S R Welch - secularweb.org and Evangelicals for Bush - By Steven Waldman - nytimes.com).

This could happen only to a Hindu religious leader

Politically, this could happen only to a Hindu religious leader. It is unthinkable that an Imam could ever be arrested in this country, and never on Ramzan Day. An Archbishop could never be arrested on Christmas Day.

But a Shankaracharya could be arrested on Deepavali Day. This sums up the content of secularism in India. Someone said on television the other day, "There were no disturbances following the arrest".

Does this not imply that it is a disqualification for the Acharya that he has peaceful followers? Is the model for religious leadership that of Shahi Imam who dared the Government to arrest him and face the consequences?

(source: This could happen only to a Hindu religious leader - By S Gurumurthy - indianinfo.com).

George Fernandes who visited the Seer said, "All kinds of human rights had been violated with the Shankaracharya's arrest.

The way the pontiff was arrested and treated defies all norms. There has to be some decency and the arrest should be according to law."

He told reporters: "There is human rights violation in many ways. The Supreme Court has given a decision as to how to deal with such persons. Apart from the Supreme Court decision and his own status as a religious head, the way he has been arrested defied every norm of investigation."

(source: Seer's arrest defies all norms: Fernandes - sify.com).

For more refer to rightliving.net.
'Seer told us he was mentally tortured by police'
Kanchi Seer Jayendra Saraswathi, has complained of "mental and psychological torture" while in police custody and has denied making any confessional statement.

"Though I was not physically tortured, I was mentally and psychologically tortured during my police custody. The police officials induced me to speak over mobile to several persons, which I declined with folded hands," he was quoted as saying by a five member delegation of NDA MPs, which called on him at the Vellore Central Prison this afternoon.

They described reports that he made a confessional statement to the police as a "total lie."

Punj said that the police had unleashed a "reign of terror" in Kancheepuram and people were afraid of speaking even in a closed room. He charged the police with raking up many cases to create evidence against the Seer in at least one case. "In the Sankara Mutt at Kancheepuram and in that town, people are terrified, and unable to speak as there is an atmosphere of fear," Mutt officials were tortured by police, adding that under the present circumstances, no fair trial was possible in Tamil Nadu. The cases against the Seer should be transferred to some other State.

(source: 'Seer told us he was mentally tortured by police' - indiainfo.com).

Hinduism in Danger: The Humiliation of Kanchi Acharya

"Why on earth would the Sankaracharya order the murder of an accountant? That seems to completely defy logic. The Sankaracharyas live totally spartan lives and have no need for money. Besides, even assuming somebody in the Kanchi Matham wanted to sweep things under the carpet, it would have been so much easier to just bribe somebody, rather than go out and murder someone, especially murdering them in a temple and desecrating the place.

The sentiments of millions of Hindus do not matter to the Congress, just as the sentiments of Sikhs didn't when they went on a murderous rampage in 1984, nor when they appointed alleged gang-leader Jagdish Tytler as a minister. And where is the principal 'Hindu nationalist' party who should speak up? In complete disarray. The Congress is once again demonstrating that they are a party only for Muslims and Christians. The foolish Hindus who voted for them deserve what they get, I suppose. "

(source: Hinduism in Danger: The Humiliation of Kanchi Acharya - By Rajeev Srinivasan).

The episode itself, with the unceremonious arrest of the venerable religious leader on an auspicious day, after a yagna, by commandos, was a rude jolt.

The midnight arrest of Shankaracharya is against all norms of civilized conduct leave alone the code prescribed by the Supreme court for taking into custody any alleged suspect. The decorum and courtesy of civil behaviour that ought to be shown to respected religious head of one of the most venerated religious monastic institution of the hoary Bharat was not shown.

(source: H H Sri Jayendra Saraswathi – A Victim of Gutter Politics of Tamil Nadu – By Laura Kelly).

Denying Fundamental rights?

Mr Jethmalani observed that preventing the Kanchi seer from speaking to his lawyers after his arrest amounted to denying him his fundamental right. Noted Supreme Court lawyer and a former law minister Ram Jethmalani's arguments before Justice R. Balasubramaniam on Saturday failed to move the Madras High Court to even grant the Hindu religious leader house arrest or permission to be kept in hospital. A hurriedly convened meeting of the Bharatiya Janata Party's state core committee here on late Saturday demanded that public prosecutor K. Doraisamy be removed from his job for describing the pontiff in court "as a criminal" and "subjecting him to needless humiliations". Jethmalani had argued that the detention of the seer in jail for 24 hours was "like a death sentence".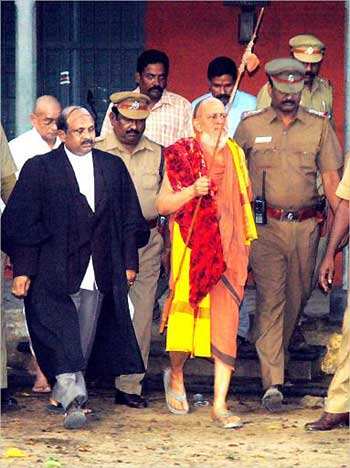 Politically motivated arrest - Denying Fundamental rights
"The manner of this arrest is like arresting the Pope during Christmas mass at the Vatican."
Refer to The Criminal History of Papacy and Sex, lies and videotape: turmoil at the Vatican and Vatican forced to acknowledge debauched behaviour of priests and nuns and Victims of pedophile Christian priests and Pedophiles and Priests: Anatomy of a Contemporary Crisis - By Philip Jenkins.
"The Shankaracharya was arrested in a Congress-ruled state on Diwali day. The Finance Ministry froze 142 bank accounts of the Mutt and not a single Congress leader from Sonia Gandhi down to their district level president uttered a word against the arrest. He was put in a jail with other criminals. It was pointed out to the government that when political leaders like Sheikh Abdullah, Jaiprakash Narayan and Morarjee Desai were arrested, they were not lodged in jail."
'The circumstantial evidence pointed quite clearly towards the Christian lobby that was working against him. The Shankaracharya had been going to Dalit enclaves and consecrating their temples and thereby restricting the influence of the Christians who had looked upon the Dalits as being a fertile ground for conversion. Obviously, all this had the blessings of Sonia Gandhi who is a nominee for the Christian lobby."
Refer to 'Aryan invasion theory is British-created falsehood' - interview with Subramanian Swamy. His latest book titled 'Hindus Under Seige'
Refer to The Media Reality - haindavakeralam.org.
***
"The accused was not informed about the arrest. Police whisked him away and local counsel was not allowed to meet him (Friday). The arrest was made in an objectionable manner in another state. He was arrested at 10 p.m. on Thursday, remanded to judicial custody at 6 a.m. on Friday and taken to Vellore jail. The procedures prescribed under law had been deliberately violated and the same was tainted and mala fide," Jethmalani had said.
After Saturday's scuffle before the High Court, the courts here fear that they will be the targets of agitating supporters of the Shankaracharya whose arrest has drawn the ire of Hindu groups and evoked protests from political leaders, including those like former prime minister Atal Bihari Vajpayee.
Arrest politically vindictive, says seer's counsel
Dismissing as "baseless" the charges against Kanchi Shankaracharya Jayendra Saraswathi, arrested on Thursday in connection with a murder, his counsel on Friday alleged that the action was "politically vindictive". "The math is no way connected with the incident (murder). The charges are baseless and based on the confession by third party. We will seek redressal in law," advocate Y Thiyagarajan told reporters soon after the Acharya was remanded to 15 days judicial custody by a magistrate in Chennai on Friday.
Janata Party president Dr Subramaniam Swamy today said the step was a reckless infringement of his personal liberty. "Therefore, if later the Sankaracharya is acquitted by court, then this arrest will not only be a reckless infringement of his personal liberty, but also an unforgivable affront to the Hindu community", he said. He also condemned DMK president M Karunanidhi for expressing "glee" in the episode.
Condemning Karunanidhi for his statement, Swamy sought to know whether the DMK chief would also support the extradition and arrest of LTTE supremo V Prabhakaran, "held guilty by the Supreme Court" in the Rajiv Gandhi assassination case.
Sonia Gandhi blamed for Shankaracharya's arrest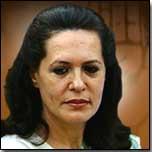 The Vishwa Hindu Parishad (VHP) leader Ashok Singhal has held Congress president Sonia Gandhi responsible for the arrest of Shankaracharya Jayendra Saraswathi of Kanchipuram. "It is quite apparent that the Shankaracharya has been framed in a criminal case. The fact that he was arrested from Congress-ruled Andhra Pradesh further exposes the political motivation behind it," Singhal said in Ayodhya on Friday night. "We are not going to tolerate this action, which is evidently motivated by none other than Sonia Gandhi who is presently the de facto super prime minister of the country," he said.

Drawing a comparison between the status of Shankaracharya and the Pope, Singhal accused Gandhi of attempting to "Christianise" Indian society and the Left of spreading an "anti-Hindu agenda" through the Congress chief. (Refer to Congress leadership cleared seer's arrest).

Indian English Language Media waging a sophisticated battle against Hindus?

A sophisticated battle to demean the Acharya (The Times of India under Of High Priests and their Lust for Power - timesofindia.indiatimes.c...923547.cms) and support this arrest began, as soon as the arrest happened - it seems very pre-planned and the din of this victimization through the media will only increase over the next few days.

The Real Shankaracharya

While the mainstream media sensationalizes the latest newsmaker, often indulging in misrepresentation, let us try to examine the Shankaracharya in the eyes of millions of his followers. The Shankaracharya is a sanyasi. Sanyas, as all history books will tell you, is the last stage prescribed by the Hindu way of life. The current Shankaracharya, however, like others in his monastic lineage, did not live the other stages before dedicating his life to asceticism. He was divined by the previous Shankaracharya as the successor to the title, at whose behest he was given away to the Math by his father.

As a 19-year-old boy, he stood in hip-deep waters and embraced asceticism, pledging detachment from every material pursuit. Ever since, he has eaten minimally for subsistence, not slept on a comfortable bed and not indulged in any sensual pleasure. He has no next of kin; he severed ties even with his parents. Austerity in the absolute sense. For more than 50 years, he has lived such a life in complete public view. He is a scholar of wide attainments and great versatility who has mastered the Rig Veda, the Dharma shastras, the Upanishads under all the Veda Shakas, Vyakarana, Vedanta, Nyaya and Tarka shastras through the course of his life.

(source: The Real Shankaracharya - By Shoba Vasudevan - rediff.com).

Travesty of Justice

The law usually considers an accused "innocent until proven guilty". However, in the case of Hindus -- and Hindus alone -- in India, it appears that the accused is "guilty until proven innocent". This is what has happened in the case of the Kanchi Acharya. In the case of others, it is "innocent even after proven guilty". This merely proves that if you are a non-Hindu, you are always innocent by definition.



(source: Media waging a sophisticated battle against Hindus - saag.org and The presumption of guilt - saag.org).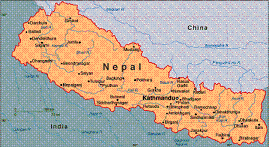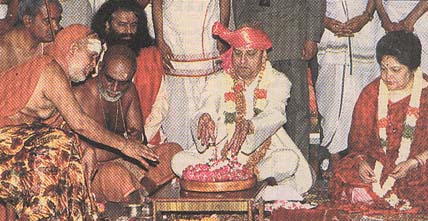 Nepal king Gyanendra Bir Bikram Shah and queen Komal Rajya Lakshmi performing 'guru pada puja' (a ritual worship of the preceptor) under the guidance of the Shankaracharya of Kanchi peeth, Sri Jayendra Saraswathi, at Kamakshi temple in New Delhi.

(For more refer to chapter on Greater India: Suvarnabhumi and Sacred Angkor).

***

Nepal's religious leaders from the Hindu community were unanimous in saying that a man like the Shankaracharya could not have committed the crime and urged India to accord him the respect during investigation that his stature demanded Prakash Sharan Mahat, Nepal's minister of state for foreign affairs.

Nepal greet Shankaracharya's arrest with disbelief

Kathmandu: Nepal's prominent Hindu leaders expressed shock and amazement at the arrest of a top Hindu religious leader in India, saying religion should not be mixed with politics.

"We say religion should guide all aspects of life, from politics to business," he said. "But in this case, it is politics that is guiding religion."

"We can't believe that a man of his stature would do such a thing," said retired army general, Bharat Keshar Simha, president of Nepal's World Hindu Federation (WHF), a Hindu group with close ties to India and elsewhere. Nepal is the only Hindu country in the world and its king is regarded as the sovereign of Hindus all over the world.

The arrested Shankaracharya came to Kathmandu in 1988 to attend the Second World Hindu Conference. He has paid several visits to Nepal and is revered by its royal family. "We can't believe that a man of his stature can even contemplate (murder)," said Basanta Chaudhury, head of the Pashupatinath Area Development Trust, the Kathmandu-based organisation entrusted with the upkeep of the shrine.

Nepal's religious leaders from the Hindu community were unanimous in saying that a man like the Shankaracharya could not have committed the crime and urged India to accord him the respect during investigation that his stature demanded Prakash Sharan Mahat, Nepal's minister of state for foreign affairs. "The Shankaracharya is a towering personality and commands Nepal's respect. But the law must be allowed to take its course." Leading Nepalese industrialist Rajendra Khetan, who heads the Nepal Britain Chamber of Commerce, said the business and industrial lobby in Nepal was concerned about the arrest and is likely to petition the Indian government.

Calling his arrest as a conspiracy hatched by "Christian" Sonia Gandhi, leader of the ruling Congress party in India, Indian communist parties and the Pope, the Hindu Jagran Manch, Nepal said a man of the Shankaracharya's stature should be treated with the deference he is entitled to until proved guilty.

(source: Nepal greet Shankaracharya's arrest with disbelief - newindpress.com and Hindu organisations in Nepal pray for Shankaracharya's release).

Muslim clerics rise to seer's defence, want him freed

Condemning the arrest of Hindu pontiff Shankaracharya Jayendra Saraswathi, various Muslim clerics on Monday came out in his support, demanding his immediate release and dropping of all charges against him. In their statement, Muslim leaders said putting a "senior religious leader" of this stature with other criminals in jail was "highly deplorable".

They referred to reports that he was not being provided his traditional food. "His age (70) factor has not been taken into account. Such treatment is not even given to hardened criminals. The Shankaracharya is a global leader," the statement said. They joined in demanding the immediate release and withdrawal of all cases against the pontiff.

(source: Muslim clerics rise to seer's defence, want him freed - newindpress.com).

Why Shankaracharya's arrest was in bad taste

I support the basic principle that everyone is equal before the law. But why is there one treatment for a Laloo Prasad Yadav and another for a Jayendra Saraswati? I hope the courts sort out the mess as quickly as possible, not just the murder of Sankararaman but also the original charges raised by the victim about criminal misuse of the Kanchi Kamakoti Peetham's funds. But given the way in which the prime minister, the Union home minister, and the chief minister of Andhra Pradesh rushed to excuse themselves, it seems those three worthies at least have no great confidence in the case against Jayendra Saraswati!

(source: Why Shankaracharya's arrest was in bad taste - By T V R Shenoy

- rediff.com).

'Kanchi seer's arrest has shaken Hindu psyche'

New age guru Sri Sri Ravi Shankar on Saturday said that the arrest of Kanchi Shankaracharya in a murder case has "shaken Hindu psyche" and appealed to the people not to turn it into a communal issue.

"His holiness has appealed to the people to keep calm and not to make the present crisis that Hinduism is going through into a communal issue. He said the news of the Kanchi seer's arrest on Diwali day has shaken the Hindu psyche", the guru's Art of Living foundation said in a statement from Rishikesh in Uttaranchal. "Saints cannot even think of committing such a crime. At a time when such an accusation has been made, all that one can say is that saints should keep a watch on people around them", the statement quoted the spiritual teacher as saying.

A blot on Indian Culture and Civilization
Kanchi Seer's arrest sparks nationwide protests

Terming the seer's arrest as "a blot" on the great Indian culture and civilization. "India is a religious country. Injustice and humiliation to religious gurus cannot be tolerated. We have the tradition of holding them in the highest possible esteem," Atal Behari Vajpayee said amidst thunderous applause from a 10,000-strong crowd at Parliament Street.

"Everybody is pained at the kind of treatment that is being given to the Shankaracharya. Can't we have a uniform set of yardsticks for all the religious heads?" Echoing a similar view, Asaram Bapu said the countrymen would no longer bow before injustice. "Hindu sahishnu hai, per kayaar aur moorkh nahi hain. (Hindus are tolerant, but that doesn't mean they are cowards and fools). History is a testimony to this fact. We are distressed but we will not let our distress last too long,"

Sudhanshuji Maharaj said: "Even in independent India, the institution of great religious belief and attachment has come under attack. It is a humiliation of the Hindu society. In such a situation, one can't give sermons for peace.

Speaking on the occasion, former Prime Minister Chandrashekhar said: "Whatever is happening is bad omen for the country's future. Let us face this grave situation jointly. One should not forget that any move to damage the country's tradition ultimately leads to the nation's disintegration. The arrest of the Shankaracharya should be seen in this context."

Recalling his meeting with the Shankaracharya, former Defence Minister George Fernandes said: "I have no words to describe the kind of mental agony he is passing through. He feels the Government finished in one hour what he got in 50 years. I was not allowed to talk to him much by the police and jail officials. We will, however, ensure the truth comes out. For this, we will go even for a movement." Joining the fast, former President R Vekatraman said: "The Shankaracharya of the Kanchi Mutt represents the most ancient tradition of India. A lot of social work is done by the Shankaracharya to help the needy from all religions. Shankaracharya Jayendra Saraswati preached and practiced religious co-existence. His arrest has agitated the people across the globe."

Numb stupefaction gives way to anger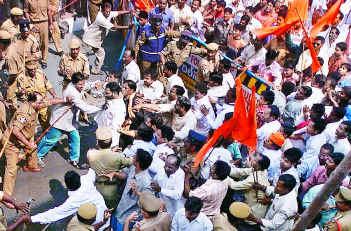 The arrest of Kanchi seer Jayendra Saraswathi in a murder case today sparked widespread protests across the country with saffron outfit VHP vowing to avenge the step terming it as a grave attack on Hindus. Enraged over Pontiff's arrest, several Hindu organisations staged sit-ins and day-long fasts, held protest marches and blocked traffic prompting police to use force to scatter protesters in Andhar Pradesh. In the national capital, VHP activists staged a demonstration vowing to avenge seer's arrest and seeking Presidential intervention to secure his release.

Addressing the activists, VHP working president Ashok Singhal termed the arrest of the greatest spiritual figure in the world as a "grave an attack on the Hindu community". He equated the action with the destruction of Somnath Temple centuries ago and said "we will avenge this attack."

The Kanchi Shankaracharya, Jayendra Saraswati, is clearly the victim of a deep conspiracy to stigmatise not just him but the institution of the Kanchi Kamakoti Peetham which he heads. Only time will reveal the extent of the compulsions which led the Tamil Nadu Chief Minister, Ms J Jayalalithaa, to sanction the vendetta against a seer who is held in great esteem by millions of Hindus.

Congress silence screams at a time when the Shankaracharya may be subjected to third degree methods by the police to extract "confessions" by a force focussed more on defaming the seer than in catching the real murderers of Shankaraman. In characteristic style, the Tamil Nadu Government has attempted a trial by media.

Refer to The Media Reality - haindavakeralam.org.

Character assassination

The way the polity, media and the police is handling Jayendra Saraswathi and more than him the revered Kanchi Mutt is vicious. It is no more an investigation. It has turned into persecution. The assassination complaint against him has descended into character assassination.

Never in the history of India has an institution of high reverence been so recklessly and disrespectfully dealt with. Compare this with what happened when the Islamic institution of Deoband at Nadwa revered by millions of Muslims was raided, by the Central and state police, in the 1990s for harbouring ISI agents, an act endangering national security. The raid was called off midway, yes midway, and Narasmha Rao, the then Prime Minister, had to send two of his senior ministers, one a Hindu and another a Muslim, to apologise to Ali Mian, the head of the Nadwa institution. So the law takes `its course' at Kanchi and `another course' at Nadwa.

(source: Will the Chief Minister have a look at what is happening? - By S Gurumurthy - newindpress.com).
'They were waiting for an opportunity to punish him' - Interview with Senior Supreme Court lawyer M N Krishanmani
Senior Supreme Court lawyer Krishanmani, who represents the current Shankaracharya of Kanchi, Jayendra Saraswati, in the Sankararaman murder case, believes the seer is being victimised by people who may not be in agreement with his unorthodox ways, including his involvement in areas like health and education. As far as the case is concerned, I sincerely feel that all the allegations are foisted on him. He is completely innocent. So far, there is no material (evidence) to prove his involvement. There is only one truth in the whole episode, there was some conflict between Sankararaman and the Kanchi Mutt. That is all. Everything else in the Shankaracharya matter is totally untrue -- lies to implicate him in the matter out of vindictiveness.
(source: Secular duplicity - dailypioneer.com - November 15 2004 and Arrest politically vindictive, says seer's counsel and Nepal greet Shankaracharya's arrest with disbelief and Shankaracharya incident hits headlines in Nepal and Muslim clerics rise to seer's defence, want him freed - newindpress.com and Kanchi Seer's arrest sparks nationwide protests and Numb stupefaction gives way to anger and Kanchi seer's arrest has shaken Hindu psyche and The Real Reason For The Arrest and Shame! and Seer's arrest premature, says Swamy and Seering slight - dailypioneer.com - Edit Desk - Sunday November 21 2004 and 'They were waiting for an opportunity to punish him' - Interview with Senior Supreme Court lawyer M N Krishanmani - rediff.com).
***
Trial By Media?
Giving him the benefit of doubt - By Tavleen Singh

Never in all my years as a journalist have I seen as shameful a trial by the media as that of the Sankaracharya of Kanchipuram. Obsessed as most Indian analysts are with our imaginary war between 'secularism' and 'communalism' most opinion on the subject of the Sankaracharya's arrest has been polarised into one or other of these camps.
Shoddy investigation
This is not about religion and it is not about secularism. It is about making sure that under our justice system people continue to be considered innocent till proved guilty.
If the police can use the media to try, and condemn, someone as important as the Kanchi Sankaracharya can you imagine what they could do to an ordinary citizen?
Why in the middle of the night? Why on Diwali? Nobody knows.
(source: Giving him the benefit of doubt - By Tavleen Singh - cybernoon.com). Refer to The Media Reality - haindavakeralam.org.
Ashamed To Be A Tamilan - By Prakash M Swamy
For the first time in my life, I am ashamed to be from the state of Tamil Nadu and a media person having trained and worked in the city of Madras, now called Chennai. I have always felt that I am a proud citizen of Tamil Nadu, land of great saints and savants, freedom fighters and scholars. The state is now going to dogs, literally.
(source: Ashamed To Be A Tamilan - By Prakash M Swamy).
Cry, my beloved India - By Francois Gautier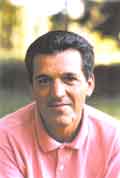 I am a Westerner and a born Christian, but even I am ashamed at what is happening in India since Sonia Gandhi, a Westerner and Christian, became the de facto ruler of this ancient and extraordinary country of 850 million Hindus and 125 million Muslims.
Something terrible is happening here. On the one hand, you have the Shankaracharya one of the most respected Hindu leaders, arrested like a criminal on one of Hinduism's most sacred days, even as politicians who have more corruption cases against them than anybody else and others who may even have blood on their hands are made ministers and strut around with security guards in tow.
The tarnishing of the Kanchi mutt's image is nearly complete. Will it ever be able to recover its sanctity, even if the Shankacharya is found not guilty?
On the other hand you see a quack like Benny Hinn, who has no standing even in the United States, come openly to India, a country with an overwhelming Hindu majority, to deride idol worship and paganism and convert the poor and the gullible. The beauty of it all is that Sonia Gandhi does not have to say or do anything. She does not have to instruct the Tamil Nadu police to arrest the Shankaracharya or tell Chief Minister Dharam Singh of Karnataka to attend Benny Hinn's show. Just being where she is, at the top of India's political hierarchy, is enough to ensure that her silent wishes are fulfilled. Everybody is bending over backwards to please her, even anticipating her wishes! The Benny Hinn show points to not only a renewed effort at Christianization of India -- something which even the British and the Portuguese could not do -- and a targeting of Hindu spiritual leaders, but also the Westernisation of the subcontinent.
(source: Cry, my beloved India - By Francois Gautier - rediff.com). http://www.francoisgautier.com/).
A Neurotic Chief Minister?



The Kanchi Acharya is confronting not just a neurotic Chief Minister and a hostile state but also a section of the judiciary which is, to put it mildly, not Caesar's wife. He is also confronting a section of the state police, specifically, the SP of Kancheepuram who has been damned by the Madras High Court itself and who has had a non-bailable warrant issued against him. The Chief Minister of course has several cases pending against her with regard to acquiring government property and amassing wealth disproportionate to her known sources of income. So, which among these worthies is qualified to judge the Acharya?

(source: Equal before which law? - vigilonline.com). Also refer to The Crucifixion of Jayendra Saraswathi – By Kalyan Sundaram - sulekha.com.

Silent Hurt of the Hindus - By S. Damodaran
Disgusting Double Standards

Millions of Hindus across the globe watched in disbelief the drama of the Kanchi Sankaracharya being arrested and sent to jail on alleged murder charges. However, the media, in India, has vaxed eloquent on "no one being above the law". But the reaction of the people at large was one of shocked disbelief. However, this time around, I think the media-secularist cartel have gone overboard and have made some serious miscalculations.

But like most educated Indians, I am disgusted with the double standards the country is used to witnessing. From the Nehruvian-Stalinist who masquerade as secularists to the communist & regional parties who survive only on caste politics, they have committed innumerable acts to destroy our collective heritage - the Hindu civilization.

If a politician of this species is arrested, he /she immediately gets admitted in a hospital and gets royal treatment. But it is perfectly legitimate to put a Hindu divine figure, worshipped by millions, in prison on mere suspicion. That is their brand of "secularism". It is the considered view of millions of Indians that if we apply the law on them, their breed would be extinct in quick time.

In post independence India, Hindu bashing is a favorite past time for almost every one in public life - including some Hindus themselves. There are too many instances to even recount. These pseudosecular politicians base their moves on the following logic. Hindu society is extremely selfish. Its innumerable subdivisions only make it easier to play the old "divide and rule" game. Secondly, Hindu bashing pays handsome rewards - from vote bank politics to media coverage and even "international respectability".

The politicians may have brilliantly schemed a theatrical event to divide Hindus. But they certainly did not foresee the response to the arrest. Conspicuously absent, however, were burning of public transport and closing down of business establishments. Millions of Hindus all over the world grieved in silence, praying for the ordeal to end. The arrest rallied people from all walks of life. Former president R Venkataraman who broke tradition, former prime Ministers Vajpayee and Chandrashekar, were seen voicing their protest against the arrest. People who were not directly associated with the Kanchi Mutt, former civil servants, students, professionals in every walk of life, young and old, men and women, high caste and low castes have expressed their disgust. Never before have the Hindus risen silently to grieve a violation of their heritage. Unwittingly, the arrest has catalysed the coming together of this disparate and often incoherent body. There is also another miscalculation. A very large portion of the electorate is young - post 1970 generation. These youngsters and have grown up being influenced more by economics than "anti-Brahmin" rhetoric. In hindsight, the arrest of the Seer has made a very important contribution to redifing Hindu identity. Never before has the silent hurt of the Hindus found such unified expression.

(source: Silent Hurt of the Hindus - By S. Damodaran. The author is a US based Banker).

Hanged Before Hearing

- By Balbir Punj

Outlook pronounced him guilty even before the trial! The report is based on half-truths and rumours. Innuendoes and baseless allegations levelled by known enemies of the math and the police have been produced with suitable exaggerations as part of a 'journalistic investigation'. The magazine has happily swallowed the Tamil Nadu government's version hook, line and sinker. Suddenly, the trigger-happy policemen who are devil incarnates while dealing with isi agents have turned into paragons of virtue.



The 'secularists' vie with each other to speak for the 'human rights' of Naxals, terrorists of various hues and Bangladeshi infiltrators. They quote the fine print of law to bail them out of tight situations. Here, a centuries-old, respected institution has been targeted. In the process, a 70-year-old diabetic seer (who is revered by millions) has been victimised for political ends. No questions are being asked. Why? Because all this has the obvious approval of the 'secularists'. Much to Outlook's disappointment, former president R. Venkataraman has condemned the treatment meted out to the seer. A host of religious and political leaders, across party, caste and ideological lines—including Prime Minister Manmohan Singh, ex-PM Chandra Shekhar, George Fernandes and Mulayam Singh Yadav—have expressed their anguish over the framing of the seer. Millions of Shankaracharya followers are hurt but they suffer in silence. If the Shahi Imam (against whom two dozen unexecuted warrants are pending) were arrested, his followers would have been on the warpath. Is having peaceful followers a disqualification? This is as presumptuous as saying the RSS is Brahmin-dominated. The RSS is less Brahmin-dominated than the IAS, the Marxist JNU, the 'secular' media or the Congress. It's vile to reduce Hindus to one caste. In fact, many of those working against Hindu interests with jehadi vehemence—from E.M.S. Namboodiripad to Nehru—have been Brahmins. But again, to use Brahmins as a disparaging epithet is to show disrespect towards India's spiritual and intellectual traditions.

From the disturbing demographic changes revealed in the last census to the humiliation heaped on the Shankaracharya, many 'great Hindu ordeals' are in the making. These can never be salubrious to the health of the pluralist/secular structure of India.

(source: Hanged Before Hearing

- By Balbir Punj - outlookindia.com). Clueless reporting by Western Press - Religious Leader's Arrest in Killing Incites Holy Men and Hindu Nationalists Across India – By Amy Waldman- nytimes.com - Note: Whatever happened to word alleged? This word is used by media when perpetrators are minority for sure. But it is conveniently left out in this headline).

Will the `secular' media heed Justice Reddy's warning?

Justice Reddy says that the "only provocation for the petitioner appears to be the recent unfortunate happenings in relation to a seer'' of Kanchi mutt. The judge describes the Matt as "an ancient, prestigious, glorious and reputed institution with almost 2500 years' history.'' He says that the petitioner was `swayed' by the media and ``did not want to lag behind in the unprecedented process of denigration of the religious institution.'' That is, the denigrating petition was provoked by the media.

The judge says further it is "sad and sorrowful that an institution of such glory that withstood foreign invasions and social revolutions'' over the past 2500 years "is virtually targeted and persecuted in an organised manner in an independent country.''

Who are all involved in the process of denigration? Justice Reddy answers. "Not only individuals, but also a section of the institutions, such as the State and the Press, appears to be determined to belittle and besmirch the Peetam.'' Justice Reddy also says "the role of courts, though indirect, is by no means insignificant.''

He notes that ``the proponents of human rights, fair play and dignity to the individuals and institutions have maintained stoic silence.'' He goes on to say that ``a powerful section is celebrating it or watching it with indifference.'' Justice Reddy says this `perfidy' against the mutt has `shocked' the country and beyond.

(source: Will the `secular' media heed Justice Reddy's warning? - By S Gurumurthy - newindpress.com).

Will Hindus ever rise?

- By Swapan Dasgupta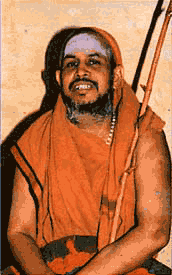 The Shankaracharya of Kanchi, a powerful symbol of the Sanatan Dharma, was arrested on the night of Diwali and charged with murder. He was produced in court the next day, dubbed an "undeserving criminal" by the Public Prosecutor and remanded in police custody. He was allowed no privileges and lodged in an ordinary jail. When he returned to court three days later, he was mocked for his aversion to rahukalam and his unwillingness to sign documents

. As devotees recoiled in horror, police sources fed a hungry media with "evidence" of his mendacity. He was accused of facilitating cash payments to supari killers, of being in telephonic contact with goons and even of plotting an escape by helicopter to Nepal.

Regardless of what happens in the trial, the anti-Hindus have proceeded on the assumption that there is no worthwhile Hindu sentiment. A Hindu nation, divided along caste, regional and denominational lines, it is believed, will stomach any indignity. There is disquiet that the Shankaracharya was treated shabbily and there is pain that a premier Hindu institution has been brought into disrepute. But equally, there is astonishing passivity.

What we witnessed last week is either a wake-up call to Hindus or proof that we can be kicked around with impunity. The lessons are up to us.

(source: Will Hindus ever rise?

- By Swapan Dasgupta - dailypioneer.com - Sunday November 21 2004).

Hindu sentiments under attack: said Puri Sankaracharya Nishchalanand Saraswathi

Bhopal: Puri Sankaracharya Nishchalanand Saraswathi on Tuesday launched a scathing attack on political parties and the media, alleging that "battering of Hindu sentiments has become an ideal principle of the day".

"Is anybody's image totally protected in this country? Is there one person who is safe from character assassination?" he asked, speaking on the Sankararaman murder case and the media coverage on Kanchi seer Jayendra Saraswathi's arrest.
The Puri Sankaracharya, who is on a two-day visit to Bhopal, said, "For political parties, the easiest way to remain in power is to attack Hindu sentiments. Their chief ideology is to batter Hindus and keep occupying the seat of power. This very attitude is a threat to the nation. A political party can rule only if the country survives. But who will rule, if the country does not survive?"

(source: Hindu sentiments under attack: said Puri seer - timesofindia.com). Refer to The Media Reality - haindavakeralam.org.

At last there is a judge with a conscience!

The Hon'ble Sri Justice L Narasimha Reddy – Writ Petition No. 23220 of 2004

It is rather sad and sorrowful that an institution of such glory, that withstood foreign invasions, and social revolutions from time to time spread over past 25 centuries, is virtually targeted and persecuted in an organized manner, in an independent country. Not only individuals but also a section of institutions, such as, the State and Press, appear to be determined to be belittle and besmirch the Peetham. The perfidy caused to it has shocked almost everybody in the society, cutting across the religions and borders of the country. The role of the Courts, though indirect, is by no means insignificant. Proponents of human rights, fair play and dignity to the individuals and institutions have maintained stoic silence. A powerful section is either celebrating it or is watching it, with indifference.

(source: At last there is a judge with a conscience! - saag.org).

Absolutely no evidence: says Supreme Court

Kanchi Shankarcharya Jayendra Saraswati is a free man again. Two months after he was arrested for his alleged involvement in the Sankararaman murder case, the Supreme Court on Monday granted him bail while criticising the nature of evidences around which the entire case was built. The apex court's decision, coupled with its serious observations against the approach of the police in the case, is a major setback to the Jayalalithaa Government.

"There is absolutely no evidence or material collected so far in the investigation which may indicate that the Shankaracharya had ever shown any resentment against the deceased for having made allegations against either his personal character or the discharge of his duties as Shankaracharya of the mutt", they said, adding, "apparently after keeping quiet for three years, it does not appeal to reason that he decided to have Sankararaman murdered."



(source:

Absolutely no evidence: says Supreme Court - dailypioneer.com and saag.com).

Refer to The Criminal History of Papacy and Sex, lies and videotape: turmoil at the Vatican and Vatican forced to acknowledge debauched behaviour of priests and nuns and Victims of pedophile Christian priests and Pedophiles and Priests: Anatomy of a Contemporary Crisis - By Philip Jenkins.
Central Government hoodwinked the nation by denying everything.
Centre must intervene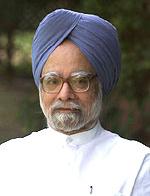 Eighty two crore Hindus had barely heaved a sigh of relief at the Supreme Court's order to grant bail to Shankaracharya Jayendra Saraswati on January 10, when they received another shock with the news of the arrest of the junior Shankaracharya, Vijayendra Saraswati, in the same case. Prime Minister Manmohan Singh's disclosure about the letter he wrote to Tamil Nadu Chief Minister J Jayalalithaa on the possible consequences of Vijayendra Saraswati's arrest proves that New Delhi was privy to Chennai's strategy.
But the Centre hoodwinked the nation by denying everything.
Clearly, the motive behind the arrest of the junior Shankaracharya soon after the release of the elder seer on bail, is to paralyse the mutt management, intimidate its employees and find approvers for the fake police stories. Not only the 820 million Hindu religionists but also people belonging to other faiths are disturbed at the highhandedness of the Tamil Nadu Government. In all likelihood, the people's anger may take violent shape, the responsibility for which will rest squarely with the Tamil Nadu Government and the Centre. Therefore, we the undersigned, feel that if the Central Government is not in tune with the State Government, it must at once intervene and get the junior Shankaracharya released so that the religious activities of the mutt may continue unhindered in the absence of the senior Shankaracharya.
Signed by - Ram Gopal, Maj. Gen VDS Karnik (Retd), DK Mittal, Shridhar Pant, RK Ohri, KR Phanda, Priyadarsi Dutta, Wing Commander SC Sahni (Retd), Atul Joshi, Anirban Banerjee
(source: Centre must intervene - dailypioneer.com - Letters received on Monday, January 17, 2005).
---
Petition and Protests Against the arrest of Shanakaracharya
Some Comments from the Petition:
"This is an offense to the great dignity and authority of the Shanakaracharya peeths. It means spurning and riding roughshod over an office that was sanctified and crowned by the most exalted saints of India and the Vedic Tradition.
"
"The manner of this arrest is like arresting the Pope during Christmas mass at the Vatican." It is only in India one dare to irritate majority communities. "
By keeping quiet on a matter of great national interest, the Prime Minister and the President are bringing disgrace to the position they are occupying. If the Tamil Nadu CM's personal vendetta against a person of highest purity and integrity is not nibbed even at this late hour, it may plunge the country into a immesasurable catastrophe. Please act now. This is the last straw on the camel's back. Instead of upholding Indian culture we are trampling it under the guise of 'secularism'! Please conduct the trials with the grace due to the Pope of the Vatican!' This is a 9/11 for all Hindus who believe in Sadgurus. This arrogant behavior of the police only smacks of total corruption shaping into vengeance by officials

George Barselaar - "The karmic repercussions of such actions will be the eventual downfall of the party, and all involved in this shameful act against a holy personage who stands in the lineage of Shankaracarya."

Mark Ciganovic - "As a Traditionalist Pagan I find the treatment of the Kanchi Shakaracharya to be reprehensible, this reminds me of the dark days of Europe in which pagan hierophants were persecuted under a newly established Christian regime. This should be seen for what it is, as an attack upon the Vaidika Dharma."

Michael L. Rayborn Jr - "I am also protesting the arrest of Sri Jayendra Saraswati. I hail to the Gods and Goddesses of the Northlands, whom are in my blood and bones. Sri Jayendra has not only the right but the DUTY to serve the Gods and teachings of his ancestors and I find it deplorable that he is being arrested by his own government for fullfilling his most honorable duties and commitment to his Gods and his Ancestors. Those that have arrested him are traitors to their own people, placing the teachings and beleifs of a Semetic god and his teachings before the ones of their ancestors. Its despicable."

Michelle (Sadhana) Foster has posted: "The way crimes are investigated and prosecuted in India is shocking--as in this case of the arrest of Sri Jayendra Saraswati Swamiji. The action of arresting him is clearly politically motivated, and especially shocking since he is a man of integrity and so much involved in trying to find a peaceful resolution to the temple/mosque situation in Ayodhya. Please note that your actions (and inactions) are being witnessed around the world--I live in California--and your actions are an embarrassment to the people and government of India in much the same way that President George W. Bush is an embarrassment to the American people. Try the truth for a change; it is both refreshing and healthy for all involved--especially in the case of such a holy man."

"This is a masked effort to besmirch and denigrate Hindu religious heads, and that way to demoralize the Hindus, demolish their self-esteem, make them feel small in their own minds. Thereby the process of de-hinduizing India would be deemed to have proceeded a significant step forward. The manner in which this arrest was done reeks of politics. This is an internationally planned and executed to undermine the Hindus. The attack on the Shankaracharya is not the attack on an individual but is a veiled political attack to degrade the Hindu society and its tradition. The Kanch Mutt and Seer has always been working towards the weaker sections of the society. This has made the religious conversions even harder for the Muslims and Christians. So, we all Hindus need to be united. Har Har Mahadev."

" Let all Hindus realize what the real issue is. Shankaracharya is only the immediate victim of a well-planned and systematic plot, which is to make all Hindus feel small, pitiful and despicable in their own eyes. That way De-Hinduization of Bharatvarsha is expected to gain some extra momentum. It looks as if North Indian Hindu common men and women think of this matter as nothing more than another 'madrasi' caper. Therein lies the Achilles heel of Hindu believers. They have little or no feeling of solidarity with their fellow religionists. For this reason therefore, Hinduism would slowly but surely wither away in India to be replaced in the not - too- distant future most likely be a polity at least partly Islamic or Christian."

Dr Rangesh S Gadasalli: "A super Catholic PM, a gutless PM and a battle scared President with the help of antinational Communists, Anti Hindu Dravidian slave parties are destroying India. Better get things under control before the Queen of Italy gets help from overseas to take India back to the year 1946!"

Ravinder Gupta: " It is a sorry state of affairs when the criminals become ministers and the most revered Hindu Spiritual leader is treated like a criminal. There are many criminal cases against Shahi Imam of Delhi's Jama Masjid but the government has no guts to arrest him. Perhaps India is the only independent country in the world where the majority community is treated like dirt. Govt controls many Hindu temples and diverts the donations to Mosques, Madrasas and Chuches. This is the height of unfairness. Oh my country-men, perhaps we are not really free. We need another independence movement so all citizens can be treated equally. Jai Bharat."

Dr. Satyanarayana Gavarasana: "Arrest of Sri Jayendra Saraswati Swamiji is an insult to the Hindus all over the world. He is a source of spiritual solace to the multitude and his contribution to the growth of Hindu charity knows no bounds and I wonder how he can be treated as an ordinary individual and branded unjustly as a "criminal." No one can be called a criminal till a court renders a judgement. A person is presumed innocent till proven guilty. How, then, the Public Prosecutor can characterise Swamiji as a criminal? If foisting a case in a court makes one a criminal, then how come a large number of Central Ministers, who are accused of crime, remain as honourable ministers?"

"The arrest and humiliation of a widely respected seer is reprehensible. He is not above the law of the land. But he, by the respect he has in the society and by the position he occupies as a religious head, sure deserves better treatment This is an outrage against Hindus, regardless of the innocence or guilt of Swamiji. "When Jayalalitha was arrested in broad daylight and Karunanidhi was arrested, the media called them an assault on Fundamental rights. They were accomplished politicians cum criminals. The media kept quiet now. The media is hand in glove with criminals in framing the innocent and the powerless."

If "no one is above the law" argument is used, then why have Laloo Prasad Yadav and Imam Bukhari not been arrested so far. Clearly in our "secular" India, some are more equal than others. "

Its a big shame on Indians, have we lost all our human values. I feel ashamed for what Tamil Nadu Government and police are doing."

(source: http://www.petitiononline.com/mod_perl/signed.cgi?dharma1&1

http://www.petitiononline.com/dharma1/petition.html. Note: Comments are no longer available at the above sites).
Please Sign Petition - http://www.petitiononline.com/dharma1/petition.html and rightliving.net and http://hccanadacom.nationprotect.net). Letter to Chief Justice of India: Request to Transfer the Shankaracharya case out of Tamil Nadu - indiacause.com.
A TIME TO FIGHT BACK. THE FIGHT IS ON!! - By Kalidasan - weblog-sulekha.com).

Supreme Court asks TN police to pinpoint evidence

New Delhi, Jan. 6. (PTI): The Supreme Court, which began hearing on the Kanchi Sankaracharya's bail plea in the Sankararaman murder case, today repeatedly asked the Tamil Nadu police to "pinpoint" the evidence linking the seer to the offence.

Repeated queries by a Bench headed by Chief Justice R C Lahoti evoked little response from the counsel for the Tamil Nadu Government which is opposing the bail.

"We only want to know whether you have a case against the Sankaracharya and if so, what are the pieces of evidence against him, apart from the motive arising from the letters written by the deceased levelling wild allegations against the pontiff," the Bench asked.

Appearing for Sankaracharya, senior advocate Fali Nariman sought to drill holes in the prosecution theory linking the seer to the murder and said even on basic facts like payment of money to the assailants, the Tamil Nadu police has been changing its stand.

(source: Supreme Court asks TN police to pinpoint evidence and hindu.com). Refer to The Media Reality - haindavakeralam.org.

***

Protests

Why was a 71- year old Holy Saint Shankaracharya (revered by a billion Hindus), sent to a prison cell on the night of Diwali (Hinduism's most celebrated and auspicious festival? Protest outside the Indian High Commission in London on Thursday 18th November 2004 13:30 to 16:30 hours.

Protest in New York about Kanchi atrocity, Nov. 30th. Protest Demonstration in New York City by Hindus in America Supported by VHP of America in front of the Indian Consulate, E 63rd St from 12:30 to 2:30 pm on November 30th, Tuesday to protest the mistreatment and arbitrary imprisonment of Kanchi Sankaracharya HH Jayendra Saraswati Swami. For more information: Narain Kataria 718-478-5735, Coordinator/Organizer.

(source: http://www.hinduhumanrights.org/ and http://rajeev2004.blogspot.com. More Facts about the arrest - http://www.saag.org/BB/view.asp?msgID=9043.

Kanchi Shankaracharya Arrest Case - Full Coverage - http://www.indiacause.com/Cause/C30_Shankaracharya.htm

Pro-Sankaracharya demonstration held in New York

Indian-Americans have demonstrated in front of the Indian Consulate General seeking the immediate release of Sankaracharya of the Kanchi Kamakoti peetham. About 150 people, braving cold weather, raised slogans and held placards. Nearly 30 organizations were represented in the two-hour demonstration held yesterday afternoon. "No justice for Hindus in India," "Hindu saints in jails, criminals in government" and "He should be treated innocent till proven guilty" were some of the slogans raised and written on placards. A few leaders such as Dr. Narinder M. Kukar, former head of the trustees' board of the Association of Indians in America; A. V. Raghunath, an individual closely associated with the Sankaracharya Mutt and based in neighboring Long Island; and Uma Mysorekar, head of the Ganesh temple in the Flushing neighborhood of Queens, were among the speakers. The demonstrators submitted a memorandum to Consul General P. Rath on the occasion. "The state government of Tamil Nadu and the central government should heed carefully the growing discontent and anger of the global Hindu community," Narain Kataria, main coordinator of the protest demonstration, said. "This is not secularism; it is simply anti-Hinduism," he charged. The demonstrators also said the law should take its own course and a "trial by (news) media should not be held." Organizers claimed up to 250 people not only from across New York but also from neighboring states attended the gathering.

(source: Pro-Sankaracharya demonstration held in New York - hinduismtoday.com).

Names of various supporting organizations

The sidewalks of the prestigious Fifth Avenue near Central Park, right in the heart of New York City, reverberated with the slogans: "Santon Ka Apmaan -- Nahin Sahenge, Nahin Sahenge", "Hindu Persecution -- No More, No More", "Enough is Enough", and "Release our Shankaracharya -- Right Now, Right Now".

Alliance of Sindhi Associations- American Institute of Yoga and Arts, New Jersey. American Telegu Association (ATA) - Arya Samaj of New York - Bharat Sevashram Sangh of N.A., New Jersey - Chinmaya Mission -DISHA, N.J.- Divya Dham, Queens, New York
Indian American Friendship Council - Indian American Intellectuals Forum - International Center for Cultural Studies (ICCS) - International Federation of Bangladeshi Hindus & Friends - International Hindi Association, New York -Foundation for the Advancement of Arts and Sciences from India, Inc. (ARSI) - Gayatri Samiti, New Jersey -Gujarat Foundation, New Jersey - Hindu Center of New York - Hindu Garjan -Hindu Sevika Samiti -Hindu Students Council -Hindu Swayamsevak Sangh -Hindu Temple Society of North America -HinduUnity.Org. - Kanchi Kamakoti Seva Foundation -Kerala Hindus of North America -Hindu Interfaith Council Against Defamation (HICAD) - Mahagauri Balagokulam, Queens -Malyali Hindu Mandalam - Natraj Cultural Group - Overseas Friends of BJP -Om Kriya Yog, N.J.- Overseas Sindhu Sabha -Satya Narayan Mandir -Sikh Sangat of America -Sindhi Circle -U.P. Association of Mid-Atlantic (UPAMA) - Vishwa Hindi Samiti -Vishwa Hindu Parishad of America -Yogakshema America, Inc.

The Protest was attended and addressed by prominent physicians, college professors, and other heads of cultural and religious organizations. The atmosphere was charged and electrifying. The emotional outburst was seen to be believed. All the present community as well as religious leaders unequivocally condemned the illegal and shocking confinement of a Shankaracharya, one of the highest and the most revered seats of the Hindu Dharma.

(source: Hindu Unity.org).

Protests in NY against Kanchi seer's arrest

Expressing "outrage" over the arrest of Kanchi Sankaracharya Jayendra Sarswathi, several Hindu religious and political organisations and the Sikh Sangat of America held a demonstration near the Indian consulate in New York demanding the seer's release.

"Hindus believe that the arrest of the Sankaracharya is motivated by a sinister design to demoralise them in general and to frighten and terrorise seers into submission," the demonstrators told reporters on Tuesday during the two-hour protest. The demonstration was led by Vishwa Hindu Parishad of America and 'friends of BJP'. In a memorandum addressed to consul general Pramathesh Rath, the demonstrators said Hindus in America are "deeply disturbed and shocked" at the "disrespectful and legally suspect" manner in which Jayendra Saraswathi was summarily arrested and remanded to prison.

Swamiji's arrest, it said, is symptomatic of a "multi-pronged attack" soon to spread against potentially all Hindu leaders espousing the cause of Hindutva. "This is a sinister attempt to frighten and terrorise other Hindu pontiffs into submission," it added. The manner in which the Tamil Nadu police and the public prosecutor have tried to portray the Sankaracharya as a "professional killer" smacks of political partisanship. It said.

(source: Protests in NY against Kanchi seer's arrest - indianexpress.com).

25 organisations in California protest Acharya's imprisonment

More than 25 Bay Area organizations came together at the Town Hall meeting, an initiative taken by the Hindu Swayamsevak Sangh (HSS), Sunnyvale Hindu Temple and the Vishwa Hindu Parishad of America (VHPA) at the Sunnyvale Hindu Temple on Sunday (November 21) afternoon to condemn the recent arrest and the unlawful detention of the respected Shankaracharya of Kanchi Kamakoti Pitham, His Holiness Sri Jayendra Saraswati Swamigal.

Representatives from the various supporting religious, social as well as cultural organizations expressed utter shock and dismay over the targeted attack on the very edifice of the Hindu religion. "No historical person has ever exercised a deeper and a stronger influence on the Indian thought and spirituality than the Shankaracharya and the recent developments in India are nothing less than shameful," said a visibly upset Deepa Murti, one of the 300 plus people who attended the meeting.

(source: 25 organisations in California protest Acharya's imprisonment - orgaiser.org).

HAF Expresses Distress over the Arrest of the Sankaracharya of Kanchi

The Hindu American Foundation - HAF expresses great distress over the arrest of one of the most widely admired and respected Hindu spiritual leaders, the Sankaracharya of Kanchi, Pujya Shri Jayendra Saraswati. The Sankaracharya has been an inspiration and guide to Hindus throughout the world. Further, he has led important reforms in India and within Hinduism, particularly in uplifting socially and economically depressed communities and in expanding the role of the Sankara Mutt to encompass education and healthcare across India. The callous disregard for the Sankaracharya's personal health, his spiritual duties and his standing among Indians and Hindus worldwide is shocking and reprehensible. Various reports that his ill-treatment by local officials was politically motivated are disturbing.

HAF is distressed by demands from some political leaders that the state government of Tamil Nadu assume management of the Kanchi Mutt, similar to its management of most major Hindu temples in the state. This inequitable treatment of Hindu institutions, a policy that has never been applied to institutions of other religions in India, is fundamentally flawed and in need of reform. The Kanchi Mutt must be allowed to maintain its autonomy during this crisis and beyond. HAF calls on the government of the state of Tamil Nadu to ensure a fair and independent judicial process that treats the Sankaracharya with the dignity he deserves for his years of selfless service to all of the people of India. HAF will continue to closely monitor these events and stands united with organizations representing numerous spiritual and religious traditions worldwide that have voiced their collective agony over these events.

(source: HAF Expresses Distress over the Arrest of the Sankaracharya of Kanchi - hinduismtoday.com).
---
India is secular because the Hindu is secular.
'Divided' Hindu Keeping India together is a matter of pride
The lack of a popular reaction among Hindus following the Kanchi Sankaracharya's arrest has made "Hindu passivity" a fashionable phrase among the commentariat again. Depending on their ideological proclivity, commentators have either been wistful or snide about the majority community not taking to the streets or even conducting agitated conversations in drawing rooms. Both sides have noted the "fragmentation" of Hindus along caste and region;
That Hinduism is not a monotheistic religion and that it is as much cultural, and therefore susceptible to many near-independent variations, as a religious one, have also been noted. In fact, while a pan-Hindu reaction informed by religiosity is rare, Hindu subsets can react strongly to "attacks" on their specific cultural iconography. But this "divided" Hindu society should not be a target of hand wringing or sneering.
Given this, Hindu-majority India is a wonderful exception. Wonderful because this is not a rich country. Wonderful because we do not have the long history of state's steady advance against organised religion as in Europe. Wonderful because this is true despite pandering to organised minority vested interests that Jawaharlal Nehru started and has been carried on ever since. And this is possible because Hinduism is not a proselytising, evangelical, let's-kill-for-god kind of religion. It is possible because although most Hindus are social conservatives, they feel private space is big enough to practice their religious and cultural rituals. Hindus do not in general like preaching, they do not in general like being preached to — and thank god, or rather, thirty three millions gods (the number of deities said to be in the Hindu pantheon) for it.

There's a dogged liberal, individualistic streak in this religion so full of orthodox rituals. So, Hindus don't protest en masse because one of their religious leaders has been arrested. That may not have been the case had the shoe been on another denomination. That makes it even more important that the Hindu is what he is.
India is secular because the Hindu is secular.
(source: 'Divided' Hindu Keeping India together is a matter of pride - thestatesman.org).
---
Did Man Reach The Moon Thousands Of Years Ago? - By John Winston
Indications of the reality of ancient space travel do come from widely separated parts of the world. Written and oral tradition is widespread - and, it seems, reliable.
There is a tendency in scientific circles nowadays to regard ancient documents and even mythology and folklore - as sources of history. Anthony Roberts expresses it this way: "Legends are like time-capsules that preserve their contents through ages of ignorance." In regard to some of the chronicles cited hereafter, internal evidence will carry its own proofs of authenticity. My first source is an old manuscript described by James Churchward, the English scholar who wrote decades before people spoke of artificial satellites and spaceships. (For more refer to chapter on Glimpses V).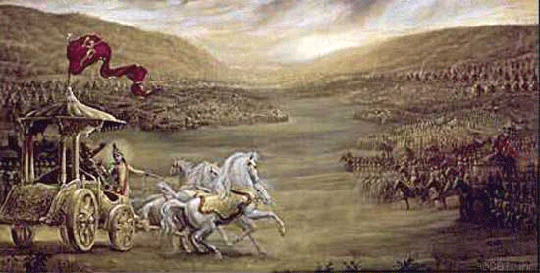 The Mahabharata describes "two storey sky chariots with many windows, ejecting red flame, that race up into the sky until they look like comets . . . to the regions of both the sun and the stars."

(For more refer to chapter on Greater India: Suvarnabhumi and Sacred Angkor).

***

1 - India: Vehicles that could revolve around the earth (i.e., satellites): "Their fuel is drawn from the air in a very simple and cheap way. The motor is something like a modern turbine: it works from one chamber to another and does not stop or stall unless switched off. If nothing happens it continues to function. The ship in which it is built could revolve as long as it liked around Earth, only falling when the parts of which it is made were burnt up.

2 - India: Philosophers and scientists who orbited the earth "below the moon and above the clouds" are spoken of in the ancient Surya Siddhanta.

Giant satellites made of shiny metal and turning about an axis are described in detail in ancient Sanskrit texts, right down to their dimensions and interiors, as well as smaller craft that fly between them and the earth.

The Mahabharata describes "two storey sky chariots with many windows, ejecting red flame, that race up into the sky until they look like comets . . . to the regions of both the sun and the stars."

Other references speak of:

* Pushan sailing in golden ships across the ocean of the sky


* Garuda (a celestial bird) carrying Lord Vishnu in cosmic journeys
* Aerial flights "through the region of the sky firmament which is above the region of the winds"


* The Ancients of Space Dimensions.

(source: Did Man Reach The Moon Thousands Of Years Ago? - By John Winston - For more refer to chapter on Vimanas and War in Ancient India).
---
Their Other "Dirty" Linen: Evangelism's Quest to Conquer the World

Each year Americans contribute millions of dollars through corporate-giving campaigns and Sunday tithes to support the "faith-based" humanitarian work of overseas Christian missions. Though most private donors and corporate sponsors are unaware of it, overseas missions in certain parts of the world have long been embroiled in scandals involving allegations of predatory behavior towards the vulnerable.
Their outrage, vented from halfway across the globe, rarely reaches English-language media at all.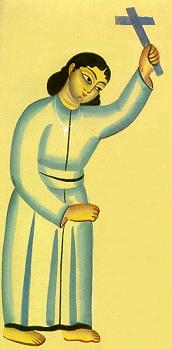 Evangelism is waged in earnest in a large swath of the underdeveloped world spanning from North Africa to East Asia. Missionary strategists call this region the "Unreached Bloc" or the "Last frontier." In the rural backwaters and isolated tribal hamlets of countries like India, missionaries routinely peddle the fruits of generosity--food and medicine--as "inducements" for conversion to Christianity. When these allurements fail, more-aggressive means may be employed, not barring fraud and intimidation. As we shall see below, in India at least, "harvesting" souls has become an end that justifies almost any means.

This subordination of humanitarian service to proselytizing is a matter of theology--evangelical Christians believe they hold a divine mandate, their "The Great Commission" from God, to spread their creed. But it is also a matter of policy. During his 1998 visit to India, for example, Pope John Paul II bluntly stated that the Christianization of Asia is "an absolute priority" for the Catholic Church in the new millennium. He openly likened the Vatican agenda for that region to its conquest of the Americas in the sixteenth and seventeenth centuries. His language, says Sanal Edamaruku, founder of New Delhi-based Rationalist International, leaves little room for interpretation, even among secular and progressive-minded Indian citizens. "It is, in fact, not the fantasy of [Hindu nationalists]," he states, "but hard reality ... nothing less than the conversion of ... the Hindus of the world is targeted."

In India, considered one of the richest "harvest grounds" in the Unreached Bloc, the methods employed by missionaries like Paul have stirred seething bitterness and resentment among the "heathen" public. Perhaps no mission tactic galls more bitterly than the intentional targeting of any society's most vulnerable members--its children.

Catholic priests had been instructed to learn something of medicine in order to gain access to the bedsides of sick Hindu (and Muslim) children. There, on the pretext of administering medicine, the priests secretly baptized the children before they died. What is troubling are the reports that this practice continues today, with formulas of baptism whispered and holy water sprinkled surreptitiously over non-Christian patients even in the hospices of such well-known orders as the Missionaries of Charity.

Both Rome and its Protestant competitors have been particularly aggressive in efforts to convert the tribals. Exploiting customs that make female children economic burdens on their families, missionaries reportedly induce tribal mothers to relinquish baby girls shortly after birth. Often the mothers are promised that rich Westerners will adopt their daughters and they will live a "much better life." The mother is typically paid about $70 for her child, which is then adopted by Western parents for a "donation" of $2,500.

There is an irony to the notion of tribal "orphans," according to Arvind Neelakandan, a volunteer with the Vivekananda Kendra (VK), a Hindu nonprofit that works among the tribals. In most tribal communities, Neelakandan explains, "Orphans as we know them are nonexistent"; parentless children are typically cared for by their extended family. But, he explains, missionaries will "fleece money from their foreign donors by projecting these very same children as 'orphans'" in fundraising campaigns. The practice of allurement, or providing "inducements" to the poor in return for their conversion to Christianity, is quite common, and one that many missionaries readily admit using. It is also nothing new. In the days of the Portuguese invaders, the Jesuits simply paid Hindus by the hundreds to participate in mass baptisms. Today's methods are more subtle.

The tribal village of New Tupi lies in a deep, forested valley in the northeastern state of Arunachal Pradesh. It also borders the district of Nagaland, where a guerilla war between Naga separatists and the Indian government has ground on for years. A Protestant missionary started a primary school in New Tupi and actively evangelized there for a number of years. Response to his ministry was lukewarm, however, and villagers report that their pastor was feeling pressure to move on to greener "unreached" pastures. Failing to uproot the people from their traditional Vaishnavite faith (a monotheistic branch of Hinduism) apparently became a prestige issue with him, so as a last resort he played what could be called his "trump card."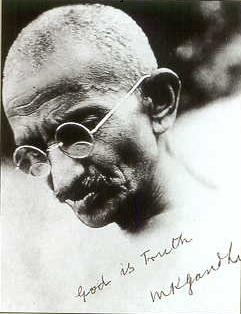 The pastor of New Tupi began preaching a new sermon. According to villagers, he told them to "get converted within one and a half months," or else "everybody will be in trouble." In his warning he allegedly invoked the name of the National Socialist Council of Nagaland, or NSCN, the gun-toting insurgents in nearby Nagaland who, as locals know well, indulge in kidnapping and extortion. The people of New Tupi clearly got the pastor's message: Convert to Christianity now, or terrorists may soon arrive at your doorstep. Sadly, this is not solely the behavior of a few renegade clergy.

Displaying the "neurosis of the converted," as V. S. Naipaul terms it, many ex-Hindu converts seek to demonstrate their faithfulness to their new creed by affecting open hostility toward the faith they abandoned. This hostility is usually expressed through contemptuous labeling: calling Hindus "heathens" and Hinduism "demonic" or "evil." Too often, contempt manifests as physical aggression: disrupting Hindu festivals, harassing recalcitrant family members or neighbors, and desecrating Hindu temples and relics.

The notion of conversion as such is alien to Hinduism. Recognizing this, Mohandas Gandhi criticized the practice in no uncertain terms: "I strongly resent these overtures to utterly ignorant men," he once protested, criticizing missionaries who, in order to gain converts, "dangle earthly paradises in front of them [dalits] and make promises to them which they can never keep."

It is not widely advertised in the West that Gandhi, that icon of compassion and self-sacrifice, detested proselytizing. In his Collected Works, he states categorically that "the idea of conversion ... is the deadliest poison which ever sapped the fountain of truth." If missionaries could not conduct service for its own sake, he said, if the price of their charity was conversion, he preferred that they would quit India altogether.

(source:

Their Other "Dirty" Linen: Evangelism's Quest to Conquer the World - By S R Welch - secularweb.org). For more refer to chapter on Conversion and Missionaries in India - By Arun Shourie and Adi Deo Arya Devata. A Panoramic View of Tribal-Hindu Cultural Interface - By Sandhya Jain and Religious freedom for Bush and for Christian missionaries – by Krishna

- sulekha.com and Crisis in the Catholic Church - Pope's Contradictions – By Hans Kung

- Spiegel.de

and Harvesting Our Souls: Missionaries, their design, their claims - By Arun Shourie).
---
South Korea's Ayodhya (Ancient India) connection

What's South Korea's Ayodhya connection? To get the answer, pay a visit to the picturesque banks of river Saryu in the holy city. Here one will find a monument in memory of an Ayodhya princess who is believed to have 'mothered' a dynasty in South Korea.
It has been an affair that resurfaced after a lapse of almost 2000 years in the year 2001. Mayors of Ayodhya and Kim-Hae city in South Korea had signed a Sister City Bond in March 2001.

The origin of the historical ties can be traced back to the middle of the first century AD. According to Sam Kuk Yusa, the ancient history of Korea, Queen Huh, wife of legendary King Suro, who founded the Karak Kingdom, was born in Ayodhya.

Queen Huh was a princess of the kingdom. Her father, the king of Ayodhya, on receiving a divine revelation, sent her on a long sea voyage to the Karak kingdom in southern Korea to marry King Suro, states the lines inscribed on the plaque at the monument in Ayodhya.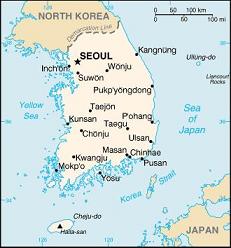 The monument in memory of Hwang Huh is built in Korean tradition using a three-metre high stone weighing 7,500 kg, specially shipped from South Korea.
The clan that descended from the Ayodhya princess Huh and South Korean King Suros, today known as Kim-Hae-Kim clan, has a little over six million Huh descendants in the Republic of South Korea.
The Kim-Hae-Kim clan has countless illustrious members including many presidents and premiers.

The memorial site in Ayodhya has become a place of pilgrimage for members of the clan. While unveiling the monument Bong Ho-Kim, president of the clan society, Republic of Korea had said: "Ayodhya being birthplace of our great Queen Huh, has acquired the status of a place for pilgrimage to over six million descendants."
(source: South Korea's Ayodhya connection - timesofindia.com).
According to a history book written in the 11th century in Korean language, "History of Three Kingdoms", in the year 48 AD, an Indian princess by name Hur Hwang-ho (her Korean name), came to Korea from Ayodhya and married King Kim Suro of the ancient Korean Kingdom of Kaya which is now the Kimhae city. Kimhae City is the birthplace of this kingdom and thus has a historical link with Ayodhya. The clan of Kimhae Kims wants to perpetuate this memory.
(source: Festivities organized to honor Indian princess).
In 48 AD, Queen Suro or Princess Heo Hwang-ok is said to have made a journey from Lord Ram's birthplace to Korea by sea, carrying a stone which calmed the waters. The stone is not found anywhere in Korea and is now a part of crucial evidence that the princess belonged to the city of Ayodhya in India.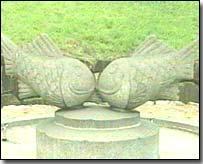 "This stone is only found in India, proof that it came from there to Korea," said Song Weon Young, city archeologist of Kimhae, a city near the big industrial town of Pusan. People of Kimhae were so fascinated by these links that they started research on it several years ago.

They also ran into a symbol of the Kaya Kingdon with two fish kissing each other, similar to that of the Mishra royal family in Ayodhya. The Princess is said to have given birth to 10 children, which marked the beginning of the powerful dynasty of Kimhae Kims. Kim Dae Jung, a former President also belongs to the same family name.

But even at the centre of these links lies a strong sense of commercial exchange between Korea and India.

The stone represents Kaya's cultural heritage which did not stay in one place, and the stone indicates that commercial exchange has been on since the Queen came from India.

Thousands of miles away from Ayodhya, the stone is a small piece of history. The people in the city seem quite proud of their links with India, especially because Queen Suro gave rise to the Kim dynasty, a powerful family name in the country.

(source: Carved stones: Historic India-Korea links discovered - ndtv.com).

South Koreans may have Indian genes

- A genetic discovery in South Korea has claimed that Koreans could have an Indian ancestor 2000 years ago.

The findings have gained interests in the backdrop of the popular romantic legend of an Indian princess married to a Korean king of the Great Gaya dynasty. According to the legend, the Korean king from Southeast Korea, Kim Su-ro, married an Indian princess, Heo Hwang-ok, from the ancient Indian kingdom of Ayodhya.

The stories say that Heo travelled by ship to Korea. The Great Gaya dynasty ruled Southeast Korea till 562 AD. In fact, Heo is still a common family name in Korea.

The researchers now say that the myth could turn out to be true, according to the daily. More studies are in the offing. The genetic study at Gimhae tomb focused on the mitochondrial DNA in the human remains.

(source: South Koreans may have Indian genes - economic times.indiatimes.com). (For more refer to chapter on Greater India: Suvarnabhumi and Sacred Angkor).
---
Ancient Sanskrit Pictograph near Sedona, Arizona?
Gene Matlock, author of India Once Ruled the Americas and who has written books and articles on the possibility of an ancient Indian presence in the Americas, visited my web site and was amazed at the resemblance of the pictograph to characters in ancient Indian Sanskrit literature. He too saw these red markings as eastern symbols. And in correspondence, Gene points to a possible Sanskrit origin of this pictograph.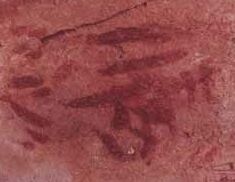 Although its exact birth date is controversial, many scholars agree that Sanskrit may be one of the oldest languages and systems of writing on earth. Even if we consider the later date attributed to "classical" Sanskrit (1000 B.C.E.) it becomes apparent that the dating of Sanskrit or its Indo-Aryan predecessor language could possibly coincide with the appearance of the Sanskrit look-alike pictograph at Palatki. If Sanskrit is actually much older, then the written language may have been established in the world before the appearance of the pictograph at Palatki. Either way, a traveler from the Indian subcontinent who may have made his/her way to Arizona and Palatki, could have had an awareness or knowledge of Sanskrit or pre-Sanskrit symbols. Native peoples who established contact with such visitors may then have acquired knowledge of-or at least familiarity with-Sanskrit spiritual symbols such as this, the AUM represented at Palatki. Perhaps they would have included these symbols in pictographs at a spiritually important site such as Palatki as they would other powerful symbols. Or perhaps this symbol was contributed by the ancient visitors themselves.
(source: Ancient Sanskrit Pictograph near Sedona, Arizona? - Lost Civilization and Hidden mysteries).
---
Abrahamic Monopoly over God ?
To some, God is private property

Christians, Jews and Muslims claim to "own" God (though not all members of these religions make this claim). Native Americans, though, seem not to have this sense of ownership of God and the earth. Rather, they tend to feel "owned" by God, even as they "owe" the earth for their existence. Two widely divergent worldviews.

"People who think of God as a warrior may become warriors themselves, whether in a Christian crusade, a Muslim jihad, or an apocalyptically oriented militia. People who think of God as righteous are likely to emphasize righteousness themselves, just as those who think of God as compassionate are likely to emphasize compassion. People who think God is angry at the world are likely to be angry at the world themselves." - says Author Marcus Borg, The God We Never Knew.

If religion turns some men into beasts, what have we done to prevent these beasts from usurping the power of the State to promote their dire objectives? Very little. For about fifteen hundred years, these 'beasts' kept Europe in darkness. Thanks to Christian dogmatism, it was a felony for a professed Christian to question the tenets of his faith. The Reformation, the Renaissance and the Age of Reason finally broke the spell of religion in Europe. "Thou shalt not kill," commands the Old Testament. With what result? Christians killed the Pagans. And the Muslims killed the kafirs. All through history, the most 'sanctified' form of murder has been of those who refused to convert. "What has degraded religion to a theatre of cruelty and barbarity," says Valson Thampu, an Indian Christan leader, "is the ownership mentality of the devotees vis-a-vis their respective gods. Yet the truth is that a God owned exclusively by a segment of the human species is no God," he asserts.

In his book, Perennial philosophy - Aldous Huxley indeed gives due respect to Hinduism, Buddhism and Taoism stating clearly that History centric religions indeed are driven by conquest mentality and hence potential for violence exists all the time because of " Market share " and conversion mentality.

The Transcendentalists influenced by eastern religions, particularly Hinduism, they looked beyond Christianity and the Bible. The Transcendentalists, as they were called, believed in the direct experience with the divine in each individual, unity with nature, and a duty for religious individuals to provide prophetic witness to the social issues of the day. Ralph Waldo Emerson articulated these beliefs in his Harvard Divinity School address in 1839.

(source: http://www.godquest.org/quotes.htm and To some, God is private property - By M.S.N. Menon - organiser.org and http://www.cucw.org/uudev.htm).

A Profound Arrogance?

Missionary theology is explicitly based on the assumption of superiority of Christianity over the religions of the world. Since Christianity is the only way to salvation, all deviants are cast into the fires of everlasting hell. The world is polarized into saved and sinner, free and condemned. Hence the imperative to convert to save. Even the usually liberal Vatican Council II has arrogated to itself the authority to assign to Hinduism a mere ray of truth, reserving for itself the full truth. Thus the council declares: All must be converted...all must be incorporated into Him by baptism and into the Church which is His body.

The fact is that missionary Christianity has been so obsessed with its own truth, it has failed to recognize even the possibility that others may have their truth. It has been so engrossed in proclaiming, announcing and sending that it seems to have permanently lost the compassion and love to listen and receive. In its profound arrogance it anointed itself the teacher of humanity and has steadfastly refused to learn from others. In the more than 150 years that Hindus have lived in this region, has Christianity learned anything from Hinduism? Hindus have been important only as objects of evangelism. Hinduism is still an "area of darkness" to many.

(source: Christianity and Hinduism: Domination or Dialogue? - Swami Aksharananda - peopleunitedforreligiousfreedom.org/ and Crisis in the Catholic Church - Pope's Contradictions – By Hans Kung

- Spiegel.de

.

Clash of Abrahamic Faiths?

History-Centric religions are necessarily exclusivist and cannot really accept other religions as valid. The world is being drawn toward universal conflict by the competing History-Centric stories of Christianity and Islam. They cannot both be right, and their answer is to do their best to destroy their competitor. The results will become progressively more catastrophic as time goes on.

Emerson, Whitman and Thoreau wanted to replace these History-Centric faiths with an a-History-Centric belief system that was exemplary rather than emissary. Doing so on a wide scale is the only hope for a way out of the clash between the Abrahamic traditions. I am very surprised to learn that there are ANY who deny history-centrism in Christianity. It seems patently obvious. There may be some liberals who advance a non-history-centric interpretation of Christianity, but even they would have to admit that their's is an interpretation at odds with that professed by most believing Christians.' This raises the following question: Why are liberal Christians in denial of the History-Centrism of Christianity without which their system collapses?

(source: Myth of Hindu Sameness - By Rajiv Malhotra - sulekha.com).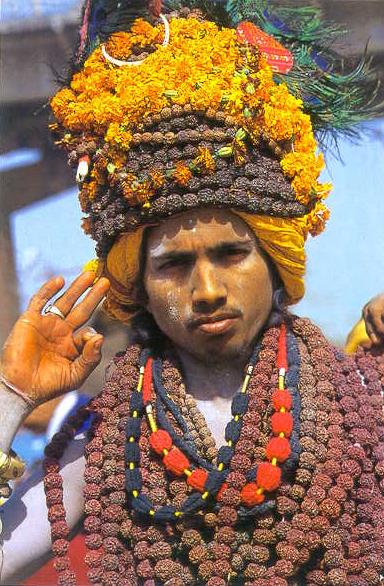 The Transcendentalists influenced by eastern religions, particularly Hinduism, looked beyond Christianity and the Bible. The Transcendentalists, as they were called, believed in the direct experience with the divine in each individual, unity with nature.
(For more refer to chapter on Greater India: Suvarnabhumi and Sacred Angkor).
***
How to deal with Pesky Evangelicals: 'Who's That Knocking on the Door?
A Buddhist's (and Hindu) Guide to Evangelical Christianity - By Ven. Shravasti Dhammika from Australia.
We reproduce this extract below via courtesy of Buddhist Times:

"About six months ago there was a knock on my door and I opened it to find two evangelicals Christians there. I knew they were evangelicals because they had that fake friendly smile on their faces, which all evangelicals have when they are trying to convert someone.



This was the third time that month that evangelists had come knocking on my door and disturbing me so I decided to teach them a lesson. 'Good morning' they said. 'Good morning' I replied. 'Have you heard about the Lord Jesus Christ'? They asked. 'I know something about him but I am a Buddhist and I'm not really interested in knowing more' I said. But like all evangelists, theytook no notice of my wishes and proceeded to talk about their beliefs.

So I said, 'I don't think you are qualified to speak to me about Jesus'. They looked very astonished and asked, 'Why not'? 'Because', I said, 'you have no faith'. 'Our faith in Jesus is as strong as a rock' they insisted. 'I don't think it is' I said with a smile. 'Please open your Bible and read the Gospel of Mark, chapter 16, verse 16, 17 and 18' I said and while they flicked through their Bibles I went quickly inside and came out again.

One of them found the passage and I asked him to read it out loud. It said, 'He who believes and is baptized will be saved but he who does not believe shall be condemned. And these signs will follow those who believe in my name. They shall cast out devils, they shall speak in tongues, they will handle snakes and if they drink poison it will not hurt them and they will lay hands on the sick and they will recover'.

When he finished I said, 'In that passage Jesus says that if you have real faith you will be able to drink poison and not die'. I took a bottle of Lankem from behind my back, held it up and said, 'Here is some poison. Demonstrate to me the strength of your faith and I will listen to anything you have to say about Jesus'.

Evangelical Christians are often predicting that the world is going to end very soon and Jesus is going to come again. When I was 18, I remember very distinctly that the Jehovah's Witnesses came to our house and told me that the world was going to end in 1975. If you find any old Watch Tower or Awake magazines from that period you will see many articles about the world ending in 1975. Of course they were wrong, just as they were wrong when they predicted that the world was going to end in 1895 and again in 1914. In the 1990's many churches were claiming that the world was going to end in 2000.

Some naive and impressionable people were frightened enough to believe this nonsense and converted to Christianity.

One day I met three young men who told me that they were doing part time work for a man on the 5th floor. One day as we sat having lunch together the subject got on to religion and they told me that their boss believed that the world was going to end in 2000.
One of them was obviously a little frightened by this possibility and asked me what I thought about it. 'It is complete nonsense' I said. 'I don't believe it and I guarantee that your boss doesn't really believe it either.' 'Oh but he does' the three boys said. They told me that he had books on the subject and he had showed them passages in the Bible proving that the world was going to end in nine years. 'I tell you, your boss doesn't really believe that', I said. I laughed at him. 'You Christians are so confused and lacking in awareness that you don't know what you believe' I said. 'You have no right to doubt the depth of my faith' the man said, now a little annoyed. I said, 'I can prove that you don't really believe the end of the world and Jesus' return. 'Prove it then'! I challenged. 'Absolutely'! said the man. 'The Bible predicts it and I believe it will happen'. 'Okay' I said. 'I have a friend who is a lawyer. I will ask him to come here tomorrow and you and I will draw up a proper legally binding contract in which you will agree to give me all your property - your house, your business and all your assets - in the year 2001. Do you agree to do that'?

The man was flabbergasted. He didn't know what to say. 'Come on', I said. 'If you are right, and you insist you are, in 2001 I will be in hell and you will be in heaven with Jesus where you wont need all your worldly goods'. 'This is just silly' said the man now very flustered.

(source: A Buddhist's Guide to Evangelical Christianity - By Ven. Shravasti Dhammika - saag.org). Refer to Ven. Dhammika's latest work is entitled ' Who's That Knocking on the Door? A Buddhist's Guide to Evangelical Christianity and to the chapter on Conversion). (For interesting article refer to to Bush's Conversion Agenda for India: Preparing for the harvest andReligious freedom for Bush and for Christian missionaries – by Krishna

- sulekha.com and Eastward, evangelical soldiers! By Vijay Prashad - frontline.com and Their Other "Dirty" Linen: Evangelism's Quest to Conquer the World - By S R Welch - secularweb.org and Religious Conversion – Is it Anti-National? and Crisis in the Catholic Church - Pope's Contradictions – By Hans Kung

- Spiegel.de

and The Conversion Agenda - By Rajiv Malhotra).
---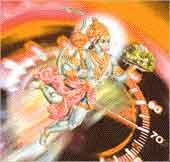 Hanuman flew at 660 km per hour in the Epic of Ramayana
According to Berkeley professor Robert P Goldman, who is professor of Sanskrit at the University of California at Berkeley, said the Sanskrit scholars, who lived between 1200 and 1800 AD, were not "prepared to swallow anything" and went through the texts carefully. In a lecture in New Delhi titled aptly, "How fast do Monkeys Fly? How Long do Demons Sleep?" where he read commentaries on Sanskrit epic poetry, Goldman said ancient scholars like Nagoji Bhatta, Govindaraja, Maheshwara Teertha, Satyateertha and Madhava Yogendra tried to "track down the narrative" and explain through "scientific reasoning" the seeming exaggerations in the works.
Reciting extracts of Sanskrit couplets in a singsong manner from the works of these scholars, Goldman explained the meanings and the finer nuances of the language to the audience at India International Centre.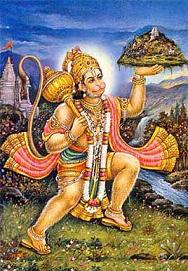 According to him, the commentators have painstakingly chronicled day-to-day events of the Battle of Lanka, the 6th book of the Ramayana. They have done meticulous calculations of the lunar calendar to explain how many hours could have elapsed between the slaying of Kumbhakarna to the vanquishing of Meghnad, or even if the war with Ravana lasted just one night or 'sapta ratras' (seven nights).

One important question that these scholars raised was how long could Hanuman have taken to fly to the Himalayas - to the Mahodaya mountain to fetch the life-giving herb for Lakshmana - from Lanka, where the battle was raging?

"How fast do monkeys fly? It was a matter of scholarly reasoning for the commentators," said Goldman. Some of them worked it down to a speed of roughly 660 km an hour considering Hanuman first brought the mountain to Lanka and then flew back all the way to put it back in its place. "Hanuman was quite ecologically conscious," said Goldman.

He said, the Ramayana and Mahabharata are "living texts" since they are part of the Indian way of life - they are shown on TV, the "Ramlila" is enacted every year and on Dussehra, the effigies of Ravana, Kumbhakarna and Meghnad are burnt.

(source: Hanuman flew at 660 km per hour - timesofindia.com and How fast do monkeys fly - in Ramayana?

- hindustantimes.com. For more refer to chapter on Vimanas and War in Ancient India). For more on R P Goldman refer to chapter on Quotes341_360). (For more refer to chapter on Greater India: Suvarnabhumi and Sacred Angkor).
---
Arabic Vedic roots?
Note: A recent archeological find in Kuwait unearthed a gold-plated statue of the Hindu deity Ganesh. A Muslim resident of Kuwait requested historical research material that can help explain the connection between Hindu civilisation and Arabia.Glancing through some research material recently, I was pleasantly surprised to come across a reference to a king Vikramaditya inscription found in the Kaaba in Mecca proving beyond doubt that the Arabian Peninsula formed a part of his Indian Empire.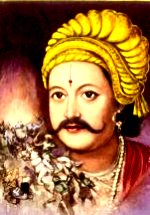 The text of the crucial Vikramaditya inscription, found inscribed on a gold dish hung inside the Kaaba shrine in Mecca, is found recorded on page 315 of a volume known as 'Sayar-ul-Okul' treasured in the Makhtab-e-Sultania library in Istanbul, Turkey.
Rendered in free English the inscription says:
"Fortunate are those who were born (and lived) during king Vikram's reign. He was a noble, generous dutiful ruler, devoted to the welfare of his subjects. But at that time we Arabs, oblivious of God, were lost in sensual pleasures. Plotting and torture were rampant. The darkness of ignorance had enveloped our country. Like the lamb struggling for her life in the cruel paws of a wolf we Arabs were caught up in ignorance. The entire country was enveloped in a darkness so intense as on a new moon night. But the present dawn and pleasant sunshine of education is the result of the favour of the noble king Vikramaditya whose benevolent supervision did not lose sight of us - foreigners as we were. He spread his sacred religion amongst us and sent scholars whose brilliance shone like that of the sun from his country to ours. These scholars and preceptors through whose benevolence we were once again made cognisant of the presence of God, introduced to His sacred existence and put on the road of Truth, had come to our country to preach their religion and impart education at king Vikramaditya's behest."
For those who would like to read the Arabic wording I reproduce it hereunder in Roman script:
"Itrashaphai Santu Ibikramatul Phahalameen Karimun Yartapheeha Wayosassaru Bihillahaya Samaini Ela Motakabberen Sihillaha Yuhee Quid min howa Yapakhara phajjal asari nahone osirom bayjayhalem. Yundan blabin Kajan blnaya khtoryaha sadunya kanateph netephi bejehalin Atadari bilamasa- rateen phakef tasabuhu kaunnieja majekaralhada walador. As hmiman burukankad toluho watastaru hihila Yakajibaymana balay kulk amarena phaneya jaunabilamary Bikramatum".
(Page 315 - Sayar-ul-okul).
[Note: The title 'Saya-ul-okul' signifies memorable words]
A careful analysis of the above inscription enables us to draw the following conclusions:
1. That the ancient Indian empires may have extended up to the eastern boundaries of Arabia until Vikramaditya and that it was he who for the first time conquered Arabia. Because the inscription says that king Vikram who dispelled the darkness of ignorance from Arabia.
2. That, whatever their earlier faith, King Vikrama's preachers had succeeded in spreading the Vedic (based on the Vedas, the Hindu sacred scriptures)) way of life in Arabia.
3. That the knowledge of Indian arts and sciences was imparted by Indians to the Arabs directly by founding schools, academies and cultural centres. The belief, therefore, that visiting Arabs conveyed that knowledge to their own lands through their own indefatigable efforts and scholarship is unfounded.
(source: Vedic Middle East - http://www.salagram.net/VWHMid-East.html and http://www.hinduism.co.za/kaabaa.htm. For more refer to chapter on India and Egypt).
---
Hindu News Service Launched

November 6, 2004: Sarve Samachar was formally launched today online at "source." Sponsored by the Viraat Hindu Sabha, the site is the first automated Hindu news portal available on the internet, delivering content from over 30 online newspapers, news agency and other sources. The site uses technology similar to Google News to automatically crawl and index fresh content every 30 minutes. In addition, the site employs a unique metric based on the popularity and date to highlight only the most relevant and interesting content. Besides aggregation of news headlines, the site also collects the latest articles, columns, editorials from across the web.

(source: Hindu News Service Launched - hinduismtoday.com).

Top of Page
---
Toile - India's design"Les Indiennes" inspired the style
Toile, is the subtly elegant printing technique that tells stories in engraving-like detail. Pronounced twal, is an abbreviation of toile de Jouy. The name comes from Jouy-en-Josas, France, where the first plant to commercially produce this type of printing was established in 1760.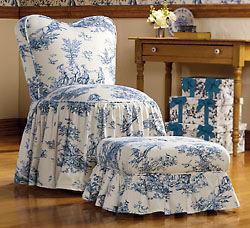 In medieval and early modern France, people [of rank and wealth] wore fabrics such as silk and velvet that were rarely printed. During the sixteenth century, Portuguese navigators opened the trade routes to India and introduced Europe to Indian painted cottons. By the end of the seventeenth century, the Indiennes - brightly printed Indian cotton fabrics that were lighter than velvet, and washable - were famous and widely used for clothing.

In 1686 Colbert's mercantilist and protectionist policies forbade the import of foreign fabrics, with highly prejudicial results for the French fabric industry. This embargo lasted for 73 years, but it was unable to stop the success of the Indiennes.

Although we think of it as French, toile's founding father was Francis Nixon of Ireland, who, inspired by printed fabrics from India, created the first toile fabric in 1752. His techniques quickly spread to England and then France -- the country that gave the style its name and assured its place in design history.

The mother of all toiles is Toile de Jouy -- the brain-child of Christophe Philippe Oberkampf who established a manufactory for printed cottons in Jouy-en-Josas (a town near Versailles) in 1760. The idea was to emulate the printed cottons of India while keeping the process (and profits) at home in France. And it was an unbridled successIn 1806, the Emperor and Empress, Napoleon and Josephine, one day surprised Oberkampf with a visit to the factory, nor did Napoleon fail to ask a thousand questions after his usual manner. So pleased was the Emperor that he made of Oberkampf a member of the Legion of Honor, supplying him with the decoration which he detached from his own coat. Napoleon came again—this time with the new Empress, Marie Louise.

(source:

http://www.w-w-d.com/toile.html and http://www.oldandsold.com/articles06/draperies-19.shtml

and http://www.fabricmuseum.org/toiles_intro.html ).

Chintz

The painted cloths from India were rich in color, and full of ancient tradition in design. The manner of making them was intricate, requiring not only talent but infinite patience and the employment of several arts. And these charming exotics that were spread before those lovely ladies of Europe in the Seventeenth and Eighteenth Century, are the ancestors of the mountains of chintz that fill our shops today.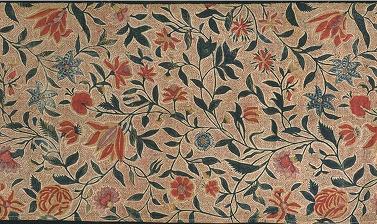 Palampores, or bed covers, they called the oblongs from India, and at this time the most favored design for these was the Tree of Life, a straying meander of slender branches all aflower with blooms of many kinds, the tree-trunk small and planted in a pyramid of rocks. But its exquisite tones and shades were impossible to describe, also the symbolism of the border which reaches back to far antiquity. In France as in England the first imported cottons from India arrived in the second half of the Seventeenth Century and awakened at once the desire for possession in the breast of every person of wealth or social consequence. The more they bought, the more the returning ships brought to them. And the greater the consumption of this artistic novelty, the less was the demand for French silks and woolens.
It became therefore the pleasure and duty of domes-tic print weavers to protest, and of the State to pass laws of prohibition. Between 1686 and 175o no less than thirty decrees were issued in France in restraint of the use of printed cottons. But prohibition fails to exclude. There is a naughtiness in human nature, a half-humorous rebellion that makes us snatch at things denied. All the well planned restrictions of France failed to abolish the use of printed cottons.
Indian prints were ever very high in price. All who appreciated could not afford them. Thus it came that French textile workers set about making an imitation to sell at low cost. The origin of chintz is a Hindu word which signified colored or flowered—chint. In the time of Samuel Pepys it was so spelled ("bought a chint for my wife"), and only later was an s added which time changed to z.
(source: http://www.oldandsold.com/articles06/draperies-19.shtml).
---
Guru-varsham 150: The year of Sree Narayana Guru

(1856 - 1928).

The apostle of social equality, the Guru had preached 'One caste, one religion and one God for mankind.' SNDP Yogam is the social arm of the powerful Ezhava community, who were the first to be awakened by the teachings of Sree Narayana and to be inspired into a spirit of mass militancy to eradicate their social disabilities.

This was partly because the great Guru was born in that community and partly because the Ezhavas constituted the largest single community among the downtrodden masses in Kerala.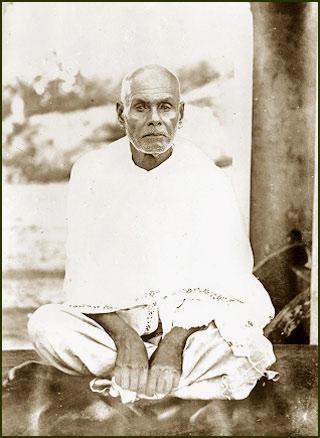 So who was Sree Narayana Guru? Here's a short introduction to this personage, the preamble from a brief biography I wrote. The Guru ought to be much better known than he is. His message, of the remarkable renaissance and reformation that is possible in Hinduism, is of great merit at this time when the sanatana dharma is under withering attack.

Today, a bare one hundred years later, it is truly unbelievable that this was what Kerala -- or to be more precise, the princely states of Travancore and Cochin -- were like at one time, within living memory. Today Kerala is a model of egalitarianism, perhaps the only place in India where overt casteism and discrimination are completely absent. A mass movement forced the Maharaja of Travancore to make an epoch-making 'Temple Entry Proclamation' on November 12, 1936, throwing open all temples to all Hindus.

What had changed was the mindset of the masses. They realised the evils of casteism. This metamorphosis required a true revolution. And this revolution was inspired and catalysed by a most unlikely revolutionary: a traditional Saivite vedantin, a practicing ascetic and monk who composed innumerable devotional songs in Sanskrit, Tamil and Malayalam. That great revolutionary was Sree Narayana Guru.

When one talks about the Guru, one is forced to use superlatives, and to compare him with a galaxy of notables. The greatest Hindu reformer to come out to Southern India since the incomparable Adi Sankara. The greatest and most successful champion of the rights of oppressed Hindus in the twentieth century, more successful than the much better known Mahatma Gandhi and Babasaheb Ambedkar.

The one who overturned the entire social system of Kerala, but without creating severe animosities and reverse oppression as E V Ramaswamy Naicker did in Tamil Nadu. The radical reformer whose clarion call of self reliance and self improvement strikes a chord in the oppressed anywhere in the world. The man whose ideals inspired the great Malayalam poet Kumaran Asan's clarion call:

mattuvin chattangale! allenkil mattum
athukalee ningalethan!



Reform, change the rules!
Else those very Rules will be your downfall!

The Guru brought to the oppressed of Kerala the same realisation: that they were human beings, worthy of respect and consideration.

And the fact that Sree Narayana Guru was able to do this entirely within the framework of Hinduism is truly remarkable. One of Hinduism's greatest strengths has always been its capacity for renewal, renaissance, reform: and in this instance, the power of the personality of one great saint was enough to cleanse Kerala's Hinduism of the accumulated dross of centuries.

This has its own great lesson for India: the ancient civilization of our nation, the oldest and greatest of all civilisations, perhaps the only one that has survived more or less intact the attacks of determined outsiders, is indeed sanatana, eternal. Whenever the civilisation is under great stress, individuals arise who, by the power of their personalities, are able to revitalise society and renew it.

It is remarkable that Hinduism, alone amongst the world's currently numerically dominant religions, is susceptible to reform. It can be reformed, and indeed it may need to be reformed periodically. It is astonishing that in historical times, every 1,200 years or so, with amazing regularity, Hinduism has indeed reformed itself. Extrapolating from the past, it is now time for yet another Golden Age for the sanatana dharma, after it has been cleansed of a millennium's excrescences.

(source: Guru-varsham 150: The year of Sree Narayana Guru - By Rajeev Srinivasan - rediff.com). For more refer to chapter on Caste System).
---
For Hindus an alarming growth of minority population

The demographics of politics
When the Muslim vote bank frowns, politicians get into a frenzy. Reacting with alacrity to Muslim ire at Census revelations of the community's steep growth rate, the UPA Government reverted Commissioner JK Banthia to his parent cadre for not consulting the Union Home Ministry before releasing data on religious demography. Congress president Sonia Gandhi jumped into the fray, promising an inquiry into so-called statistical errors, and the message heard loud and clear across the country was that there is be no public space for the legitimate concerns of the Hindu community.
Certainly the "adjusted" figures have a higher comfort value. They show that instead of the decadal growth rate of Muslims increasing by 1.5 per cent in 2001, it actually fell by 3.6 per cent. Yet these figures surely hide the true extent of India's Muslim population, as both Jammu & Kashmir and Assam are States with a high Muslim population. Hence, when the figures for both States are added, we will have to admit having a much higher total Muslim population in the country, and a higher percentage of Muslims to the total population. This reality cannot be evaded.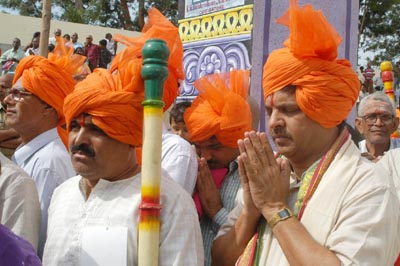 Hindus have long had a latent fear that the Muslim community will exterminate it from its homeland through demographic aggression in the form of over-breeding and illegal immigration. There is a secret dread, articulated by former Director General of Police, Mr R K Ohri (Long March of Islam, 2004), that Hindus in India will meet the fate of the Christians in Lebanon and parts of the Balkans, where sharp demographic changes over a span of a few decades reduced the majority community to minority status. The warning is not without merit. The population of indigenous religious groups in the country has steadily fallen in percentage terms over the past 110 years, from 1881 to 1991, and this trend has accelerated after Partition. The present controversy over Islamic injunctions against family planning has only added to Hindu discomfort.

The Census 2001 statistics have attracted so much attention partly on account of the security and economic implications of illicit immigration from Bangladesh, and partly because the growth rate of most native religious groups has stagnated or declined. The Muslim community scored poorly on development indices such as literacy and employment, and virtually confined its contribution to the national kitty to demographics. This has understandably frightened the Hindu majority, especially since the Minister of State for Home, Mr Sriprakash Jaiswal, went so far as to demand a ban on release of population figures of different religious groups. Some politicians even foolishly asked the rationale behind collecting such figures.

Actually, as Dr JK Bajaj of the Centre for Policy Research, Chennai, has pointed out, this is not the first time that the Census has released data on the relative population of different religious groups. Right from the first Census of 1871, data regarding religious demography has been made public and is in fact, the most keenly awaited census data.

Since independence, Hindus as a community have been declining in percentage terms. In 1951, Hindus comprised 85 percent of the population. By 1961 itself they had fallen to 83.4 per cent; they were 82.7 per cent in 1971 and 80.5 per cent in 2001. In sharp contrast, the Muslim community stood at 9.7 per cent of partitioned India's population in 1951, but rose steadily to 10.7 per cent in 1961, 11.2 percent in 1971 and 13.4 per cent in 2001. The missing censuses of Jammu & Kashmir (1991) and Assam (1981) hardly detract from this trend. The situation is especially alarming when we look at particular States. In Kerala, Muslims comprised 17.9 per cent of the population in 1961, but were a formidable 24.7 per cent by 2001. In Assam, Muslims comprised 25 per cent of the population in 1961, but were 30.9 per cent in 2001. In West Bengal, Muslims rose from 20 per cent in 1961 to 25 percent in 2001. In Maharashtra, they marched from 7.6 per cent in 1961 to 10.6 per cent in 2001. These increases in percentage are unlikely to be reversed in the coming decade. Conversely, the proportion of Hindus has declined in each state.

(source: The demographics of politics - By Sandhya Jain - dailypioneer.com - September 20 2004).
---
In Shiva's temple, pillars make music
Shiva is the Destroyer in the Hindu trinity. But here he is Lord Nellaiyappar, the Protector of Paddy, as the name of the town itself testifies — nel meaning paddy and veli meaning fence in Tamil. Prefixed to nelveli is tiru, which signifies something special — like the exceptional role of the Lord of Rhythm or the unique musical stone pillars in the temple.
Temples often have columns portraying dancing damsels or musicians playing their instruments, but rarely do the mute pillars themselves make music. In the Nellaiyappar temple, gentle taps on the cluster of columns hewn out of a single piece of rock can produce the keynotes of Indian classical music.
"You can hear the saptha swarangal (the seven basic notes) come like a wave as it were from the stone pieces," says a senior priest. "Hardly anybody knows the intricacies of how these were constructed to resonate a certain frequency. The more aesthetically inclined with some musical knowledge can bring out the rudiments of some rare ragas from these pillars," he adds. The Nelliyappar temple chronicle, Thirukovil Varalaaru, says the nadaththai ezhuppum kal thoongal — stone pillars that produce music — were set in place in the 7th century during the reign of Pandyan king Nindraseer Nedumaran.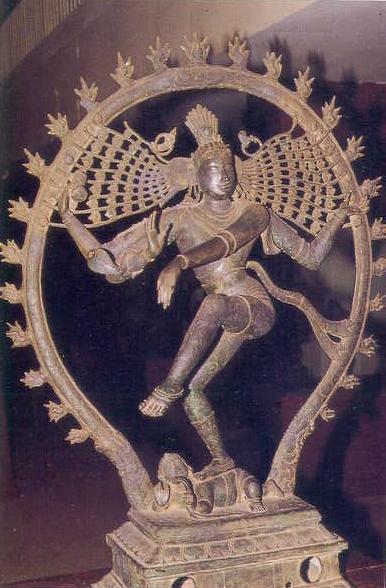 Shiva is the Destroyer in the Hindu trinity. But here he is Lord Nellaiyappar, the Protector of Paddy, as the name of the town itself testifies — nel meaning paddy and veli meaning fence in Tamil. Prefixed to nelveli is tiru, which signifies something special — like the exceptional role of the Lord of Rhythm or the unique musical stone pillars in the temple.
(For more refer to chapter on Greater India: Suvarnabhumi and Sacred Angkor).
***
Archaeologists date the temple before 7th century and say it was built by successive rulers of the Pandyan dynasty that ruled over the southern parts of Tamil Nadu from Madurai. Tirunelveli, about 150 km south of Madurai, served as their subsidiary capital. The rulers following Nedumaran made some additions and modifications, but left the 10 musical stone pillars in front of the main Shiva shrine untouched. Each huge musical pillar carved from one piece of rock comprises a cluster of smaller columns and stands testimony to a unique understanding of the "physics and mathematics of sound", temple authorities said. In all, there are 161 such small pillars that make music in the Nada Mani Mandapam before the main shrine of Lord Nellaiyappar, the chronicle says. Two equally impressive musical pillars adorn the shrine dedicated to Goddess Gandhimathi Ambal in the temple complex spread over nearly 14 acres.
To pilgrims, as awe-inspiring as the deity are the isai thoongal, meaning musical pillars in Tamil.
In the South though, several temples boast of such pillars, like those at Azhavar Thirunagari, Tenkasi, Kalakaadu, Kuttralam, Shenbagarama Nallur, Suseendaram near Kanyakumari, Thiruvananthapuram and Madurai.
But the pillars of Tirunelveli stand out.
"What is unique about the musical stone pillars in the Tiruelveli Nellaiyappar temple is the fact you have a cluster as large as 48 musical pillars carved from one piece of stone, a delight to both the ears and the eyes," says the chronicle, citing local Tamil poet Nellai M.S. Shankar. The first is called Shruti pillar as it can produce the basic notes — the swaras on the basis of which the Theavarm (collection of devotional hymns) and the Vedas would be rendered. Second is the Gana thoongal, which can generate basic tunes that make classical ragas like Harahara Priya. The third variety is the Laya thoongal, pillars that produce taal (beats) when tapped. The pillars at the Nellaiyappar temple are a combination of the Shruti and Laya types, Shankar said.
"This is an architectural rarity and a sublime beauty to be cherished and preserved," he adds.
(source: In Shiva's temple, pillars make music - By M. R. Venkatesh - The Telegraph Date: July 26, 2004).
---
When US votes, Desis have a say...





Droves of Indian American political activists have campaigned feverishly to get the South Asian vote out and make a difference in the presidential elections on Tuesday.

The activists - both Democrats and Republicans - have made a pitch especially in swing states like Ohio, Florida and Pennsylvania as well as in Michigan.

Kumar Barve, majority leader in the Maryland State Assembly, was last seen in Michigan and Ohio rallying Indian Americans to vote for Kerry.

"I can tell you there is a sharp increase in the number of South Asians that are voting this time around," Barve said.

Ramesh Kapur, chair of the Indo-American Leadership Council of the Democratic National Committee, is in Ohio in his last ditch effort to bring in the vote in this crucial swing state for both candidates.

" There are 50,000 Indians in Ohio and 80 per cent of them are registered and I believe 75 per cent are going to vote for Kerry. They are fed up with the Iraq war and the double standards on democracy when it comes to Pakistan. They think President Bush is putting the Christian Coalition front and centre, and they don't like (Attorney General John) Ashcroft," said Kapur, who lives in Kerry's home state of Massachusetts. "

Regardless of who wins the US presidential election on Tuesday, it is a historic one because it is expected to bring so many hitherto apathetic Americans to the polling booths. Notorious for being one of the lowest voting democracies in the world, the US is now going to witness what many observers think is going to be the largest turnout in recent history. That's historic not just for the country, but for the numerous minorities that go to make up the diverse social fabric in deciding who occupies the White House.



(source: When US votes, desis have a say - timesofindia.com). For more refer to The Rise of the Religious Right in the Republican Party and Religious freedom for Bush and for Christian missionaries – by Krishna

- sulekha.com and Crisis in the Catholic Church - Pope's Contradictions – By Hans Kung

- Spiegel.de

and The Republic Of Fear: Xenophobia forced the white American to endorse Christian fundamentalism - outlookindia.com and 'Religious bullying' at US academy

- BBC and Eastward, evangelical soldiers! By Vijay Prashad - frontline.com.

Also refer to Why aren't more Indians Americans Republicans? - By Amitabh Pal).

***

" Life on Earth is just a side show, only a small part in a larger Cosmic act."

Christian Fundamentalism?

A Hindu priest from Parma, Ohio, delivered the opening prayer to the House in conjunction with Indian Prime Minister Atal Bihari Vajpayee addressing a joint meeting of Congress. The guest of Rep. Sherrod Brown, D-Ohio, Venkatachalapathi Samuldrala was the first Hindu ever to give the House invocation.

Reaction of the Religious Right: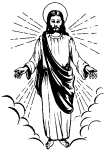 "While it is true that the United States of America was founded on the sacred principle of religious freedom for all, that liberty was never intended to exalt other religions to the level that Christianity holds in our country's heritage. Our Founders expected that Christianity -- and no other religion -- would receive support from the government as long as that support did not violate peoples' consciences and their right to worship. They would have found utterly incredible the idea that all religions, including Paganism, be treated with equal deference. As for our Hindu priest friend, the United States is a nation that has historically honored the one true God. Woe be to us on that day when we relegate him to being merely one among countless other deities in the pantheon of theologies."

- Family Research Council - Culture Facts Newsletter - 9/21/2000 (commenting on a Hindu priest giving the opening prayer in the House of Representatives). Bridget Fisher, spokeswoman for Rep. Brown, noted that there are 1.4 million Indian-Americans in the country and it is ``unfortunate that the Family Research Council interprets the Constitution to say that religious freedom means Christian supremacy.''

(source: Christian Extremism - atheism.about.com and The American Religious Right and Jesus is Lord and Hindu Prayer in Congress Criticized - beliefnet.com). Also refer to Our Founding Fathers and Christianity and Quotes from the US Founding Fathers and Religious freedom for Bush and for Christian missionaries – by Krishna

- sulekha.com and Crisis in the Catholic Church - Pope's Contradictions – By Hans Kung

- Spiegel.de

and Religious Right Group's Attack on Hindu Prayer in Congress 'reeks of religious bigotry' says AU and Spiritual adultery: A case of infidelity in the public square - By Timothy Lamer and The Deist Roots of United States of America).

For interesting articles refer to Bush's Conversion Agenda for India: Preparing for the harvest and Religious Conversion – Is it Anti-National? and Eastward, evangelical soldiers! By Vijay Prashad - frontline.com and The Conversion Agenda - By Rajiv Malhotra and My Brush with Evangelists - By Savita Sarvate. Refer to Attacks on Christian Churches are Self-Inflicted - By Sarath Bulathsinghala).

***

Coming to pray and demolish your temples

Those happy outside Bangalore for being spared the shenanigans of Benny Hinn's so-called 'faith healing', better watch out. Another rabidly communal Christian team is touring India these days. Its mission? To visit prominent Hindu temples in India and pray for its destruction.

Sounds too radical? Well, the missionaries of Southern Baptist, who are behind this mission, are always.

The website of the International Mission Board (IMB), a branch of the infamous Southern Baptist Convention, has called for American Southern Baptist missionaries to visit Hindu temples in India and pray for its destruction.

The mission assignment entitled 'Jericho Prayerwalk' (The missionary assignment can be viewed online at: http://going.imb.org/vim/Step_1/Details.asp?JobID=74546 has called for missionaries to visit 'one of the holiest temples' once a day (at differing times) to walk around the complex praying specifically that the walls will collapse like the walls of Jericho in Joshua. In other words, missionaries should pray that all the local Hindus convert to Christianity and that their temple will be destroyed.

In the past, the Southern Baptist Convention distributed 30,000 copies of a handbook just before Deepavali (in 1999), stating that 'Hindus seek power and blessing through the worship of gods and goddesses and the demonic powers that lay behind them.' The missionaries are set to arrive in India by 31 January. The whole programme will continue till 31 December. Obviously, these people are prepared for a long-drawn mission. So, from next week, if you find some firangi type praying in a temple, you can understand that his intention is anything but holy.

(source: Coming to pray and demolish your temples - newstodaynet.com). http://going.imb.org/vim/Step_1/Details.asp?JobID=74546
---

Indian American Scientists Account for 16% of DOD Research
Indian immigrants in America account for less than 0.75% of the U.S. population but their contribution to U.S. Department of Defense (DOD) research is more than twenty times their population base -- according to a survey conducted October 2004 for Indolink.
The survey, involving a detailed analysis of awards from Small Business Innovation Research (SBIR) programs announced for fiscal year 2004, and funded by agencies such as the Army, Navy, Air Force, DARPA (Defense Advanced Projects Research Agency), and BMDO (Ballistic Missile Defense Office), revealed that 75 out of 470 research projects, or 16% of the total research effort, was by scientists and engineers of Indian origin. A similar survey of the Small Business Technology Transfer (STTR) programs funded by the DoD for 2003 showed that Indian Americans were involved in 25%, of the research programs for the Missile Defense agency.
Overall the study reveals that Indian American scientists are playing key roles in transforming the US military into a smarter force for the 21st century. This is the first time that the Indian American contribution to U.S. defense-related research has been quantified.
In most instances the Indian American researchers we've monitored are academic scientists, with small business enterprises of their own, and utilizing the services of younger post-doctoral fellows and graduate students, also of Indian origin, for their research efforts.
Working in areas ranging from homeland security to missile technology, advanced ceramics and munitions, while at the same time linking with other university-based researchers, these scientists are forging ahead in both classified as well as unclassified research to help maintain America's superiority in military technology.
(source: Indian American Scientists Account for 16% of DOD Research - indolink.com).
---

Ethnic Cleansing of the Hindus?
Apocalypse (Almost) Now

If the latest in the "Left Behind" series of evangelical thrillers is to be believed, Jesus will return to Earth, gather non-Christians to his left and toss them into everlasting fire:

These are the best-selling novels for adults in the United States, and they have sold more than 60 million copies worldwide. The latest is "Glorious Appearing," which has Jesus returning to Earth to wipe all non-Christians from the planet. It's disconcerting to find ethnic cleansing celebrated as the height of piety.

People have the right to believe in a racist God, or a God who throws millions of nonevangelicals into hell. I don't think we should ban books that say that. But we should be embarrassed when our best-selling books gleefully celebrate religious intolerance and violence against infidels. That's not what America stands for, and I doubt that it's what God stands for.

If America's secular liberals think they have it rough now, just wait till the Second Coming.

The "Left Behind" series, the best-selling novels for adults in the U.S., enthusiastically depict Jesus returning to slaughter everyone who is not a born-again Christian. The world's Hindus, Muslims, Jews and Agnostics, along with many Catholics and Unitarians, are heaved into everlasting fire: "Jesus merely raised one hand a few inches and . . . they tumbled in, howling and screeching."

Tim LaHaye and Jerry Jenkins, are the co-authors of the series "Left Behind"

(source: Apocalypse (Almost) Now - nyorktimes.com and Jesus and Jihad - nytimes.com). For more refer to chapter on Conversion

(Note: The End-of-Time is coming, which is a precisely defined and predetermined event: Christ will return to Earth and will take back to Paradise all those who have Saved themselves as per the procedure indicated above. All others will suffer the most unimaginable atrocities from Christ, which are described in gory details in Biblical canons such as Apocalypse. - History-Centric Faiths http://www.sulekha.com/expressions/column.asp?cid=305972).

***

Saudis to fund 4,500 new madrasas in South Asia

The Saudi royal family has cleared plans to construct 4,500 madrasas in India, Bangladesh, Nepal and Sri Lanka at a cost of $ 35 million to promote "modern and liberal education with Islamic values", and the Saudi embassy in New Delhi is pushing this somewhat tentatively with the Union HRD ministry and Minorities Commission. The money is proposed to be canalised through nine Jamaat Ulema organisations in the four countries, and the project is targeted to take off in February 2005, although Saudi diplomats could not explain how teaching "liberal Islam" in India or the other South-Asian countries would alter negative European and generally Western thinking about the religion. Saudi Arabia but particularly the ruling family has come for severe attack in the West, with a class-action suit filed against for 9/ 11, while the Nobel laureate, V.S.Naipaul, has called for the destruction of the kingdom for promoting jihad.

(source: Saudis to fund 4,500 new madrasas in South Asia - indiareacts.com).

***

Pastor to spread the Gospel throughout India and save 1 Billion souls from Damnation!





Know Jesus or go to Hell says Pastor Paul Crouch.

Pastor to spread the Gospel throughout India and save 1 Billion souls from Damnation!


***

Pastor Paul Crouch looked into the camera and told his flock that Trinity Broadcasting Network needed $8 million to spread the Gospel throughout India and save 1 billion souls from damnation. Crouch, head of the world's largest Christian broadcasting network, said even viewers who couldn't afford a $1,000 pledge should take a "step of faith" and make one anyway.


The Lord would repay them many times over, he said. "Do you think God would have any trouble getting $1,000 extra to you somehow?" he asked during a "Praise-a-thon" broadcast from Trinity's studios in Costa Mesa. The network's "prayer partners" came through once again, phoning in enough pledges in one evening to put Christian programming on 8,700 television stations across India. TBN was not short on cash. In fact, it could have paid for the India expansion out of the interest on its investment portfolio. But at TBN, the appeals for money never stop. Nor does the flow of contributions.

(source: Pastor's Empire Built on Acts of Faith, and Cash - yahoo.com). For interesting article refer to to Bush's Conversion Agenda for India: Preparing for the harvest and Manifest Destiny and The Bible Slavery Quiz - Landoverbaptist.org and Religious Conversion – Is it Anti-National? andReligious freedom for Bush and for Christian missionaries – by Krishna

- sulekha.com and Eastward, evangelical soldiers! By Vijay Prashad - frontline.com and Crisis in the Catholic Church - Pope's Contradictions – By Hans Kung

- Spiegel.de and Their Other "Dirty" Linen: Evangelism's Quest to Conquer the World - By S R Welch - secularweb.org and The Conversion Agenda - By Rajiv Malhotra). Refer to Attacks on Christian Churches are Self-Inflicted - By Sarath Bulathsinghala).

Note: Conversion essentially stems from fanatical views of proprietary ownership of God and the right path to him.

***

A Tiny Christian minority - The Church is the second largest land owner in India?

Tens of billions of dollars worth of land in India is owned by the Church, and in Mumbai, the Church is the second largest land owner, the largest being the Indian military. Most of this land was given under land grants by the British to the Church, and by subsequent Indian governments. Such generosity to a minority religion followed by only 2.5% of the Indian population has gone unreported. Given the foreign controlled nexus of the various Churches, this is tantamount to giving billions of dollars to subsidiaries of foreign entities that are engaged in social re-engineering of Indian society. The US government has never contemplated such generosity towards minority religions, especially those controlled from overseas.

(source: The Axis of Neocolonialism - By Rajiv Malhotra - sulekha.com). For more refer to chapter on Conversion

***

NLFT - The Christian Al-Qaeda

The Baptist Church of Tripura was initially set up by proselytizers from New Zealand 60 years ago. Despite their efforts, even until 1980, only a few thousand people in Tripura had converted to Christianity. Then the Church used one of its most efficient and time-tested weapons of evangelisation -- creating racial and ethnic divide among the people. In the aftermath of one of the worst ethnic riots, engineered by the Church, the NLFT was born -- but not without the midwife role of the Baptist Church. From its very inception, the NLFT has been advancing the cause of Christianity through armed persuasion. Every trace of indigenous culture is being eliminated through violent means. Every resisting group is made to bleed its way to extinction.

The NLFT has been an active partner of the Baptist Church in winning converts to the Christian creed. They have killed tribal priests to threaten communities and effect mass conversions. But those tactics have obviously backfired. In 2001 alone, the NLFT killed more than 20 Hindus who refused to 'accept the love of Christ'. They also torched to death a Hindu family sleeping in a hut6. In 2001, community chiefs and religious heads of 19 tribes formed the 'Tribal Culture Protection Committee' to counter the threat posed by the NLFT. Despite the NLFT taking all possible steps to enforce conversions, the conversions are still slow. Frustrated, the NLFT has now begun an all out war against Hindu tribals. They have issued fatwas against infidel activities. These fatwas prohibit people from celebrating festivals like Durga Pooja and Makar Sankranthi, listening to Indian music, watching Indian TV channels and films, and prohibit women from wearing bangles or sporting bindis, etc. Just a year before the NLFT started all these atrocities in India, the Southern Baptist Church of the United States of America had given a clarion call to bring the light of the gospel to "millions of Hindus and Jews lost in the darkness" of their religions."

(source: NLFT - The Christian Al-Qaeda - By S Aravindan Neelakandan - sulekha.com). For more refer to chapter on Conversion. Refer to Attacks on Christian Churches are Self-Inflicted - By Sarath Bulathsinghala).

Of magic boxes
Christian Missionary activities in the North East

"Christian missionaries have set up a number of churches in the area. Hmar militants belonging to the Hmar People's Convention harass the Hindu Dimasas of the region forcing them to convert to Christianity." According to a senior police official in Agartala, the Christian-dominated National Liberation Front of Tripura (NLFT) has been responsible for fomenting trouble between the tribals and non-tribals of the state. The Indigenous Faith and Cultural Society of Arunachal Pradesh (IFCSAP) has meanwhile sought the government's intervention to stem the "severe threat" of mass conversions threatening the identity of the indigenous people of the state.

Taba Hare alleged that Christian missionaries were organising the mass conversion of innocent tribals through offers of money, education imparted at missionary schools, and even at gun-point with the help of certain underground outfits

These, however, are the symptoms of a malaise that has spread through the region. A brand of aggressive Christianity is at work taking recourse to the oldest tricks of missionaries. Some churches in Itanagar-among the latest areas where the missionary has laid siege-often install for example what are called "miracle boxes", where those in need deposit slips of paper stating whatever they require: A pucca house, clothes, food, a child's school fees. Often, within a few weeks their needs are met, their prayers answered by the cash-rich church.

"Sometimes you see whole families convert after this. Within months you may see the entire village completely taken in by the church and its generosity," says a resident. It is the tried and tested system of the missionary.

It is an irony that though it is the church which is perceived as the harbinger of western influence, it is also the body with the resources, personnel and infrastructure to battle the menace. The rate at which the use of harmful drugs is spreading in these regions could soon lead to the community of rich drug-runner-militants calling the shots in their areas of operation.

(source: Of magic boxes - By Surajit Talkudar - dailypioneer.com - November 20 2004 0 Op-ed

). For more refer to chapter on Conversion and

Religious freedom for Bush and for Christian missionaries – by Krishna

- sulekha.com and Crisis in the Catholic Church - Pope's Contradictions – By Hans Kung

- Spiegel.de

.

and Their Other "Dirty" Linen: Evangelism's Quest to Conquer the World - By S R Welch - secularweb.org and National Liberation Front of Tripura (NLFT). Refer to Attacks on Christian Churches are Self-Inflicted - By Sarath Bulathsinghala).
---
Om sweet Om: More people reaching out to Yoga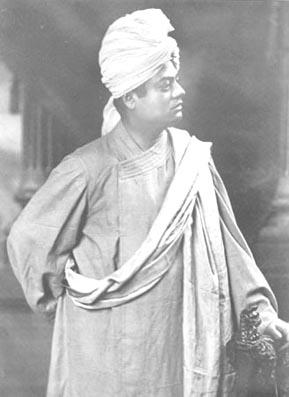 "Fitness" and "yoga" were rarely mentioned in the same breath in 1893 when Calcutta-born yoga scholar Swami Vivekananda addressed a world religions conference in Chicago and yoga gained its first following in America. Yoga never grew in popularity until the Vietnam War era, when the counterculture of the '60s embraced Eastern influences. Suddenly, yin-and-yang symbols were everywhere, and yoga was cool among the rebellious. But yoga couldn't keep pace with the Fitness Revolution, says Harvey Lauer, president of American Sports Data, a New York research firm. By the new millennium, a "new, kinder and gentler world of physical fitness" was emphasizing stretching, flexibility, balance and relaxation, says Lauer. Mind-body practices such as tai chi, Pilates and yoga fit the bill.

Next, yoga went Hollywood. In 1998, Madonna released the CD "Ray of Light" with a Sanskrit chant, touting her devotion to yoga. Two years ago, supermodel Christy Turlington appeared in Vogue to introduce her sexy line of yoga clothing. Yoga became a regular mention in celebrity interviews, from Gwyneth Paltrow to Metallica. By last summer, 15 million Americans were practicing yoga, 28.5 percent more than the year before, according to a Harris poll conducted for Yoga Journal. In 1998, Lauer says, the number was just 5.7 million. With the masses comes big business - trendy yoga clothing with labels such as L.L. Bean, Old Navy, Nordstrom, Land's End and the Gap, meditative music, books and videos. Yoga researcher Trisha Lamb, associate director of the International Association of Yoga Therapists, in Manton, Calif., estimates people are spending $20 billion annually on yoga.
Basically, yoga future looks bright. At Gaiam, one of the nation's biggest makers of yoga products, sales have grown 41 percent over five years - despite giants such as Nike and Reebok entering the market. According to Barnes & Noble, five or six new yoga books are published practically every month. "Yoga is such a huge category in terms of people's interest," says editor Stephanie Tade at Rodale Press, which last year paid a seven-figure advance for world rights to yoga master B.K.S. Iyengar's new book, "Light on Life" (due out October 2005). If you still need evidence that yoga has struck a nerve in Middle America: Wal-Mart and Target now carry hefty lines of instructional videos, books and paraphernalia.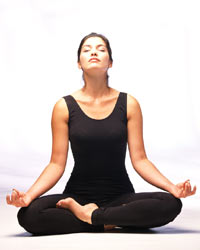 Yoga Journal's circulation has more than tripled, from 90,000 to 310,000. In the past year, the magazine's national advertising has increased 35 percent - including new advertisers such as Target, Kellogg, Ford, Johnson & Johnson, Pfizer and General Mills.

"Yoga is mainstream," says Macy, "and they want to reach the demographics of our reader - female, twenties, thirties and forties, high median household income."Yoga intersected with Madison Avenue when it expanded from incense-scented studios to sweat-scented gyms, around 2000. Last year, 2.2 million Americans were practicing yoga at commercial health clubs, up from 400,000 in 1998, says Bill Howland, director of public relations and research at the International Health, Racquet & Sportsclub Association, a trade group in Boston. Eighty percent of clubs now offer yoga classes - twice that of six years ago.
(source: Om sweet om: More people reaching out to yoga - washingtonpost.com). For more refer to chapter on Yoga and Hindu Philosophy.
---
Nine Indians in MIT's list of top 100 innovators

Indian innovators are holding their own in America's frontiers of science and technology. The prestigious MIT Technology Review this year features as many as nine Indians in its list of top 100 innovators, all of them under 35. They include Srinidhi Varadarajan, who conceived and built the world's third fastest supercomputer earlier this year. Director of Terascale Computing Facility at Virginia Polytechnic Institute, the 31-year-old Varadarajan worked with a cluster of 1,100 Apple Macintoshes and his creation cost a mere $5 million. Other supercomputers of this class cost $100 million or more. "The TR 100 represent the diversity of those using technology to transform the world around us," says the Technology Review. The handpicked ones are all "developing technologies that defy easy classification, often fusing recent advances in computing, medicine and nanotech".

Chaitali Sengupta, a systems architect at Texas Instruments, has been recognised for her work on communications chips used in advanced cellular systems now coming to market. These chips let multimedia cell phones more easily handle Internet access, videoconferencing and mobile commerce. Another Indian at Texas Instruments to make it to TR 100 is Anuj Batra. A systems engineer, he leads one of the industry's top teams advancing ultrawideband wireless technology that provides high transmission speeds needed for streaming media applications while consuming little power.

Others recognised for their innovations include: Smruti Vidwans, a postdoctoral fellow at University of California, for developing a new approach to develop anti-TB drugs. Vikram Sheel Kumar, cofounder and CEO of Dimagi in Boston, who has developed an interactive software that motivates patients to manage chronic diseases such as diabetes and AIDS. Ananth Natarajan, CEO of Infinite Biomedical Technologies in Baltimore, Maryland, for developing a technology that will enable implantable cardiac devices to detect incipient heart attacks. Ramesh Raskar, a research scientists at Mitsubishi Electric, for building large computer display systems that seamlessly combine images from multiple projectors and for image-processing and graphics research that may lead to new applications in entertainment and image-guided surgery. Mayank Bulsara, co-founder and chief technology officer of AmberWave Systems, for developing strained silicon that makes computer chips run faster and consume less power. Ravi Kane, an assistant professor at Rensselaer Polytechnic Institute, for developing a highly potent anthrax treatment.

(source: Nine Indians in MIT's list of top 100 innovators - hindustantimes.com).
---
Christian Evangelism: Whither Decency?

- By Harendra De Silva
Wiping out World Cultures

The world (or more correctly, the west) appears infatuated with "Muslim fanaticism." We are told over and over again that Islam preaches fanaticism, and that Muslims are allegedly violent and have a blind hatred of non-Muslims. But really, how true are these vacuous claims? They are stories made to justify violent attacks on the Muslim community around the world, and take attention away from those who really harbour ill-will against followers of other religions. The media has not given enough attention to the insidious campaign that is taking place this very minute to reduce and wipeout Hinduism, Buddhism, Islam and the various other religious traditions that are followed by large sections of humanity.

When I look around, the only people I see trying to wipe out other religions and other peoples' belief systems are the Christian evangelists and their loud supporters. I have never ever encountered a Buddhist, Hindu or Muslim preacher barging in on my privacy and pushing their holy books in my face, nor have I seen Buddhists, Hindus or Muslims set up organizations purely for the sake of converting others through hook and crook. Despite having a similar religious heritage, we can clearly see that it is the Christian evangelists who are the real religious extremists, and not the Muslims as loudly claimed by various sections of the media.

Christian evangelism today does not appear to have any respect for cultural and religious diversity. Its aim is to wipe out all non-Christian cultural and religious traditions and replace them with Christianity - more often than not the western version of it, which has very little in common with the country or society it is targetting. Many tribal societies across the world have lost their heritage and are in the process of losing them due to the activities of these evangelists. In refusing to see the good in other religions and other ways-of-life, Christian evangelists take on an extremely fundamentalist position that is an affront not only to non-Christians, but to moderate Christians as well.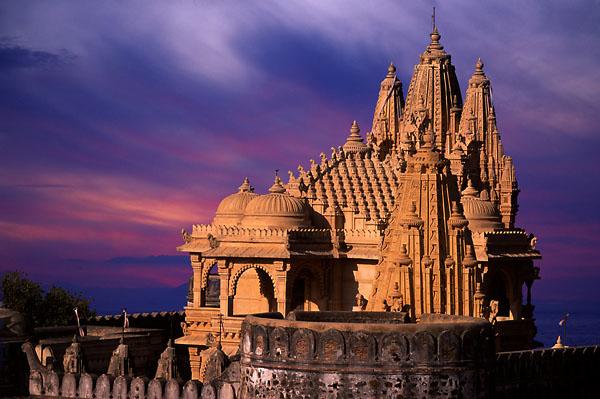 For these Christian misionaries, the sooner all the non-Christian "pagan" and "Satan-inspired" religions perish or are annihilated, the better the world will be; a rather fanatical, nazi-esque position if there ever was one.

(For more refer to chapter on Greater India: Suvarnabhumi and Sacred Angkor).

***

I am often quite amazed and plainly shocked at the fanatical zeal shown by these Christian evangelists, who wish to convert the entire world to Christianity through whatever means necessary. Entire organizations, or more correctly enterprises, have been set up with the sole purpose of "harvesting souls for God," and there are many individuals whose job in life is to convert non-Christians to Christianity, and they are paid handsomely to do it. No expense is spared in this task of trying to bring every single person on planet earth to the "light of Jesus Christ," and no thought whatsoever is given to the religious and cultural diversity that makes this world such a wonderful place.

For these extremists, the sooner all the non-Christian "pagan" and "Satan-inspired" religions perish or are annihilated, the better the world will be; a rather fanatical, Nazi-esque position if there ever was one. By sending evangelist teams around the world and setting up shop in non-Christian majority countries, these evangelist organisations work to destroy the pillars of religious coexistence and tolerance and erect their own pillars of religious supremacy and intolerance in those countries. And Sri Lanka is just another one of their many targets - yet another country "infested with evil pagans" who need to be brought to the "light of Jesus Christ." And to them, all is fair in war. Encouraging new converts to smash statues of the Buddha and Hindu gods and godesses, burn pictures of the Buddha and Hindu gods and godesses, burn Dharma books and renounce "pagan" cultural activities are all considered suitable methods of propagating Christanity. It is no wonder that many Buddhists, Hindus, Muslims and moderate Christians are simply apalled at the way the evangelists carry out their proselytism, and are extremely worried about the impact it will have on religious harmony in this country. It can already be seen that the provocative activities of Christian evangelists have led to the destabilsation of peace and harmony among the various religious communities, and if these evangelists continue with their unethical and iconoclastic methods of proselytism the situation is bound to get worse.

(source: Christian Evangelism: Whither Decency?- By Harendra De Silva). For more on Destruction of Native Cultures - refer to chapter on India on Pacific Waves and Criminal History of Christianity - By Prof Karl-Heinz Deschner and Manifest Destiny and Thanksgiving- a National Day of Mourning

and The Stolen Generation and Destruction of the Maoris of New Zealand. For interesting article refer to to Bush's Conversion Agenda for India: Preparing for the harvest and Religious freedom for Bush and for Christian missionaries – by Krishna

- sulekha.com and Crisis in the Catholic Church - Pope's Contradictions – By Hans Kung

- Spiegel.de

and Religious Conversion – Is it Anti-National? and Their Other "Dirty" Linen: Evangelism's Quest to Conquer the World - By S R Welch - secularweb.org and The Conversion Agenda - By Rajiv Malhotra). Refer to Attacks on Christian Churches are Self-Inflicted - By Sarath Bulathsinghala).
---

Biases in Hinduism Studies in the US - By Abhijit Bagal
The texts on Hinduism developed by Western scholars dwell lavishly upon a certain set of topics that are a big turn off to students interested in Hinduism – These topics are Caste Discrimination, Tantric Sex, Animal Sacrifices, Dowry Deaths, Polytheism, Hindu Fascism, Cult of Kali, naked Naga Sadhus etc. -- which tend to give a biased view of Hinduism as a tribal, primitive, misogynist cult that has imprisoned millions of human beings. To add to this, many anti-Hindu texts are prescribed reading in introductory classes on Hinduism. A search on the Internet shows that there are some introductory Hinduism classes in American Universities where even books like "Why I am not a Hindu" by Kancha Illiah are prescribed reading!
Will anyone recommend Ibn Warraq's "Why I am not a Muslim" in an introductory course on Islam? Or how about Bertrand Russel's "Why I am not a Christian" in an introductory course on Christianity?
RISA (Religion in South Asia) scholars often hold the Hindu Diaspora in the United States in utter contempt. It appears that the Indologists and RISA scholars often have a problem relating to India and Hindus in general. They seem to suffer from some kind of bias or phobia that prevents them from portraying Hindus and Hinduism in a praiseworthy, sensitive or a sympathetic manner. There seems to be this fear that if Hindus or Hindu organizations are presented sympathetically, the author might be perceived as a New Ager, a closet supporter of Hindu Fascists and so on. Contrast this with the attitude of Professors on Islamic studies. Even after the September 11 attacks, there is no dearth of scholars who rush to absolve Islam of any wrong doing, or trying to understanding the psyche of Islamic societies and their suffering under 'Western Imperialism'.
Another student who took a class in Stanford University in 2002 comments: "I took a class in Indian history at Stanford last year. After discussing the Ramayana, the instructor showed one film: "We are not your monkeys" by Anand Patwardhan. I found myself in the strange position of criticizing a film that I admire. I asked the instructor if he would consider showing the Robert Mapplethorpe sculpture (the Crucifix immersed in urine) in an introductory course on Christianity as the only example of Christian art. Needless to say, he dubbed me a BJP sympathizer."
Amongst RISA studies and discussions, there is an overt emphasis on the so called Hindu 'F' word -- Hindu-Fundamentalism, Hindu-Fascism, and Hindu-Fanaticism. RISA scholars and other academics (turned into political commentators) read selective literature by Marxists, Liberals, Pseudo-Secularists, and other political commentators and churn out articles and books by hundreds every year on this phenomenon. The parties, organizations, and individuals criticized are obviously never given a fair portrayal, and their supposed misdeeds are described through critical secondary publications by committed Hindu bashers and scholars with their own political agendas. Any act of self assertion of Hinduism, or even a questioning of some paradigms of South Asian Studies or Indology is enough to draw the wrath of RISA scholars with epithets like 'Hindutva Oppressor', 'RSS supporter', 'Caste Exploiter', 'Hindu Nazi', 'Bride Burner' etc.
(source: Biases in Hinduism Studies Part I-IV - By Abhijit Bagal - indiacause.com). For more on Biased Indology refer to chapter on First Indologists).
(For more refer to chapter on Greater India: Suvarnabhumi and Sacred Angkor).
---
Shri 108 & Other Mysteries
The number 108 is very auspicious for Hindus. It is the number of beads of a rosary and of many other things in Indian cosmology. But why is this number considered to be holy?
The answer to this mystery may lie in the fact that the ancient Indians took this to be the distance between the earth and the sun in sun-diameter units and the distance between the earth and the moon in moon-diameter units.
Two facts that any book on astronomy will verify :
Distance between earth and sun = 108 times sun-diameter
Distance between earth and moon = 108 times moon-diameter
Indian thought takes the outer cosmology to be mirrored in the inner cosmology of the human. Therefore, the number 108 is also taken to represent the 'distance' from the body of the devotee to the God within. The chain of 108 'links' is held together by 107 joints, which is the number of marmas, or weak spots, of the body in Ayurveda.
We can understand that the 108 beads of the rosary must map the steps between the body and the inner sun. The devotee, while saying beads, is making a symbolic journey from the physical body to the heavens.
108 is a number which resonates throughout the universe, as this shows. There are also several other numbers which are repeated throughout creation.

The reason why we do our mantra jap 108 times is because its a symbol of our journey towards our higher/spiritual self (sun) from our material self (earth).
(source: Shri 108 & Other Mysteries - By Subhash Kak - sulekha.com and http://www.cycleoftime.com/articles_view.php?codArtigo=58 ).
---
On Cultural Re-engineering of Indigenous History and Sacred Lore
In all the lands that were ravaged by Imperialism, the Church tried very hard for centuries (and also managed) to destroy records. They did this in Armenia, Azerbaijan, turkey and the middle-east, and then merged the local history into Biblical angles. As many of you will be aware, it is documented history, that the church destroyed historical records and sacred lore in these lands, on the grounds that they were non-Christian.
The records that were not destroyed (like the cuneiform records of Mesopotamia) were reinterpreted in with non-original pronunciations. As you may be aware, cuneiform records had been deciphered by allotting biblical monikers to the signs indicating Mesopotamian king names. This means that all the cuneiform records of the Middle-East have only been interpreted biblically. The entire Mesopotamian history is therefore suspect (especially the names of the kings) - having been gleaned only from the biblical perspective. All Assyrian king names are interpreted to match Assyrian history mentioned in the Bible. To be sure, even the word "Assyrian" is Biblical - the Assyrians called themselves Asuras, but historians insist on referring to them by biblical monikers. The Asuras play a prominent part in Indic lore, and yet no historian has interpreted the cuneiform records in a non-bibliocentric perspective, taking Indic lore into account. This merely points to a huge bias towards historical validation of biblical myths, while completely disregarding non-biblical sacred lore, even when it is very pertinent. Even original Persian names were Hellenized and changed from their original pronunciations, and forced down the throats of the Persian populace. For example, original Persian names of Cyrus and Darius are Kuroush and Darayush - very different from their westernized avatars. Again, all historians (as well as many Zoroastrians themselves) continue to refer to these kings by Western pronunciations.
If you noticed, there have even been attempts to change the spelling of Krishna to Chrishna, etc., to induce a subliminal connection between Krishna and Christ, when there is none. This may be understandable in a strait-jacketed, narrow-minded age, where only biblical history was considered valid, and when Galileo was considered evil to suggest things that were not mentioned in the Bible. However, even then, a large corpus of historical epics escaped such cultural re-engineering, by an ingenious oral documentation method invented by Brahmin priests. This is an absolutely fascinating saga of human history.
Now, prima facie, Fahrenheit 451 is supposed to be science fiction. But in reality, it is the hidden story of how the Church destroyed physical records everywhere (and effectively usurped local history everywhere), and yet the Indic literature and history survived in-toto, by a method of precise oral documentation, devised by the Brahmin priests, down the generations, lasting for thousands of years. Hence, all of the original Vedic literature in India comes from precise oral transmission.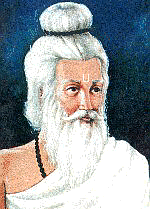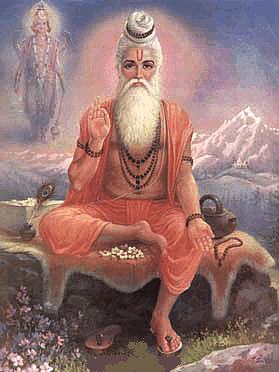 And that, in short, is how Indic literature has resisted distortion to a great degree from Eurocentric or biblio-centric scholars with an agenda.

(For more refer to chapter on Greater India: Suvarnabhumi and Sacred Angkor).

***

Entire volumes of Sanskrit literature (the four Vedas, the Mahabharata, which is the world's largest epic-poem, and the Puranas were memorized in-toto by Brahmin priests, in a highly defined and accurate manner, and then passed on to their children and grandchildren. Thus, there were Brahmin families who had memorized either one veda, or two vedas or three or four vedas and these families were accordingly named (Dwi-vedi, Tri-vedi, Chatur-vedi, etc). It was considered a sacred duty of these families to preserve this ancient literature, and they have preserved it accordingly, within their neural networks, even in very extenuating circumstances of persecution, often at the cost of their lives. (In fact, the Hindus have the unique distinction of having an entire mountain range named after Hindu genocide - the Hindu-kush mountains - meaning, the place of "Killing of Hindus").

Thus, there was no physical literature for the Cultural re-engineering hit-men to burn or distort. Nor could they check the transmission of this literature. The pronunciation of a word in Sanskrit will be exactly the same as it was 3000 years ago - there is no other linguistic system in this world that has this kind of a built in accuracy. It may be noted that phonetic sounds are the toughest thing to preserve in historical archiving, and ancient Sanskrit literature managed even that, for thousands of years.

It means this - a Brahmin from southern India who has never even stepped out of his village will be able to recite the Rig-veda with exactly the same words, pronunciation, accents, and meter, as another Brahmin from northern India, who has also never stepped out of his village. Hence the accuracy of oral transmission of sacred literature in India is unprecedented and can be cross-checked at any given time from Vedic scholars, due to the huge number of undistorted backups, preserved accurately within the neural networks of Hindu Scholars. And that, in short, is how Indic literature has resisted distortion to a great degree from Eurocentric or biblio-centric scholars with an agenda.

(source:

On Cultural Re-engineering of Indigenous History and Sacred Lore - sulekha.com). For more refer to chapter on FirstIndologists.
---
Monotheists clamor for Tribal harvest - By Sandhya Jain

Europe's civilian revolt against the stranglehold of the Catholic Church was won by resurrecting its Pagan heritage as exemplified in Greek philosophy and Roman law. The resultant duality of religious and secular authority provided space for individual liberty, science, and material progress. Hindu society, despite civilizational stresses from hostile invasions, managed to preserve its cosmic worldview and to resist imposition of a mono-source of political and religious power. Islam has been consistent in its advocacy of a single religio-political authority.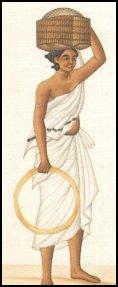 Of the three traditions, I consider the White Christian the most treacherous because the First World, despite wrestling personal freedom from the pulpit, uses the Church as an instrument of imperialism. Secularism placed Church aspirations for dominion under non-religious leadership, which is why Western regimes aggressively promote proselytization and the decimation of non-Christian faiths and cultures. The US State Department, as the Vigil public forum rightly points out, views religious freedom an integral part of its foreign policy, which makes evangelization a political agenda.

In my view, Western secularism resulted, not in separation of religion and politics, but in Church subordination to politics. The White Christian world is thus far more lethal than Islam, which is openly against non-Muslims.

From this perspective, the All India Christian Council's agitation at the rising stature of the Vanvasi Kalyan Ashram in the tribal belt spanning Gujarat, Rajasthan, Madhya Pradesh, Chhatisgarh, Jharkhand and Orissa, makes perfect sense. Ghar Wapsi has succeeded to the extent that conversions have virtually stopped and the 'homecoming' movement is gathering momentum.
The All India Christian Council has also picked up a quarrel with the Chairman of the National Commission for Minorities, Mr. Tarlochan Singh, for having asked Delhi Archbishop Vincent Concessao to refrain from evangelization among the Sikh community.
The Archbishop smugly reiterated the Church's old ideological deceits that conversion is an adult choice of a chosen way of life; that nobody can convert another person; one can only present a way of life to another person, who is then free to decide his response.
If this is indeed true, conversions to Christianity should normally occur in driblets of one and two, and not in the form of the mass conversions that accompany sustained pressure from evangelists. More often than not, the neo-converts have little idea of Christian theology and its anti-Jewish bias, the schisms and purges caused by fanatical Popes and Bishops, and the myriad changes wrought in the Holy Bible due to the political exigencies of prevailing elites. Conversion of the illiterate and uninformed does not meet my standard of a "free interaction between God and man in the sanctuary of an individual's conscience," as the Archbishop so loftily claims.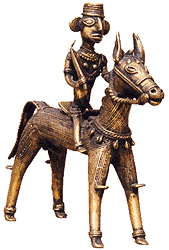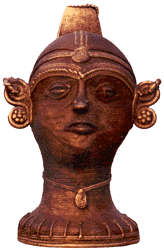 Tribal art of India - Cast metal sculptures

***

That tribals on their own have little time for Christ or the pious missionary can be seen from the fact that the merciful exit of Mrs. Gladys Staines (widow of Australian missionary Graham Staines) from India led to a massive homecoming of converted tribals. In Orissa's Mayurbhanj district, seventy-five Christians returned to the Hindu fold last month and more are slated to re-embrace their native faith. The cognoscenti would be aware that acute resentment at Graham Staines' conversion activities had resulted in his sensational murder some years ago.

(source: Monotheists clamor for Tribal harvest - By Sandhya Jain - dailypioneer.com - October 18 2004). http://www.saag.org/BB/view.asp?msgID=8349). Refer to Bush's Conversion Agenda for India: Preparing for the harvest and The Moloch: A Critical History of the U.S.A. - By Prof Karl-Heinz Deschner and Their Other "Dirty" Linen: Evangelism's Quest to Conquer the World - By S R Welch - secularweb.org and Religious Conversion – Is it Anti-National?

).

Refer to Attacks on Christian Churches are Self-Inflicted - By Sarath Bulathsinghala).
Tribal origins of Hindu dharma - By Sandhya Jain
The British claimed that India's Adivasi population lay beyond the pale of mainstream Hindu society. Yet even a cursory mapping of the spiritual-cultural landscape reveals a deep symbiotic relationship between tribals and non-tribals, which is amply reflected in the ancient literature and in inscriptions. Indeed, it was also noted by colonial anthropologists and ethnographers (mainly British officials), who deliberately delinked tribals from Hindu society through imposition of racial categories and Census classifications.
Tribals have made an enormous contribution to India's civilization; all major gods of the Indic tradition have tribal links. Shiva was worshipped by forest-dwelling communities in large parts of the country, as were Vishnu's incarnations as Varaha (boar) and Narasimha (lion). Vishnu in fact evolved out of several distinct deities, notably Vasudeva, supreme lord of the Vrishni/Satvata tribe; Krishna of the Yadava clan; Gopala of the Abhira tribe; and Narayana of the Hindukush mountains. Similarly, Gautama Buddha hailed from the Sakya tribe; Vardhaman Mahavira was a scion of the Jnatrikas.

There is to this day a close relationship between the Kurumba, Lambadi, Yenadi, Yerukula and Chenchu tribes and Shri Venkateshwar of Tirupathi. Lord Ayyappam in Kerala and Mata Vaishno Devi in Jammu also appear to have tribal links. All these gods and temples, as also that of Jagannath in Puri, enjoy preeminent status in the classical Hindu pantheon. Mahatma Gandhi insisted that tribals are an inalienable part of Hindu society.
(For more refer to Adi Deo Arya Devata. A Panoramic View of Tribal-Hindu Cultural Interface - By Sandhya Jain).
---
Christian Churches in Kerala Adopt Hindu Ceremony
Making it more palatable for Hindu Converts?

HPI note: The following is an example of what the Christians call "inculturation," the adoption of Hindu customs, beliefs and practices into a Christian setting in order to make the church as a whole more palatable to possible Hindu converts.

St. George Orthodox Syrian Church in Thiruvananthapuram conducted Vidyarambham or the ceremony to initiate children into the world of letters over the weekend. It is essentially a Hindu tradition, which this Thirvananthapuram church started following last year. This time many Christian and non-Christian parents took part in the ceremony with their children. "The Hindus take their children for this ceremony. So we were also keen to get this ritual done through a church leader," says Bindu, a parent. "We believe that if it's done in the name of Jesus, the children will be disciplined, they will respect their parents and listen to their teachers," says another parent G K Soman. When this church began the ceremony last year, it was opposed by a section of the congregation who alleged the "Hinduisation" of the church.

But this time the church Vicar got the backing of the Church general body. The Vicar insists the church is adopting a Malayalam tradition rather than a Hindu ceremony. But he admits it could help soothe communal tension, specially since the Kerala Christian community has been increasingly attacked by right wing Hindu groups in the recent past. "Surely it will lead to communal harmony. That is the main aspect. That's why we are conducting it," says Father Geevarghese Erakkath, Vicar. Taking a cue from the Thiruvananthapuram church, two more churches and a mosque organized similar functions in the State. Although Vidyambham is a traditional Hindu ceremony, the church leaders here view it as an integral part of Kerala's rich cultural heritage. They say they have set a precedent for other Christian denominations to follow to strengthen the secular fabric of our country.

(source: Christian Churches in Kerala Adopt Hindu Ceremony - hinduismtoday.com). http://www.christreview.org newwindow]www.christreview.org and http://www.saag.org/BB/view.asp?msgID=8575)

Refer to Attacks on Christian Churches are Self-Inflicted - By Sarath Bulathsinghala).
---
Svetoslav Roerich - The Russian artist who loved India's soul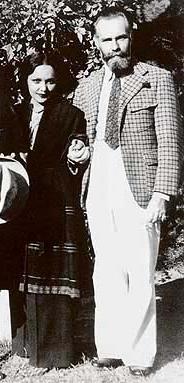 Few foreigners imbibed the spirit and ethos of India, especially of life in the mountains, the way the Roerichs, father Nicholas and son Svetoslav, did. They lived in India at a time of political, social and cultural ferment. E. B. Havell, Sister Nivedita, Helena Blavatsky and Ananda Coomaraswamy, among others, were reviving and projecting the spirit of Indian art and cultural heritage to the West. They believed in replacing western influence with a romantic indigenous style inspired from the traditions of Ajanta and Mughal schools.
Born on October 23, 1904 in St. Petersburg, Russia, Svetoslav Roerich received his early schooling in his own country as well as in Sweden. In 1918, he went to England where he studied art for about two years, followed by a stint in the USA, first at Columbia University and later at the Harvard School of Architecture.
Svetoslav's paintings were first exhibited in India in 1936-37 in Lucknow. Nicholas Roerich was a mystic. Dedicated to the Himalayas, he painted them as no one has. Svetoslav was a romanticist to the core. His landscapes offered glimpses of poetic India. They vividly brought alive the spring in the Kulu valley, autumn trees and murmuring rivers as visions of joy. In 1945, he married Devika Rani, the first lady of Indian cinema and grand-niece of Rabindranath Tagore, a sublimely beautiful woman. The people of Kulu celebrated the wedding. All 365 devtas of the valley sent their representatives to meet Devika. The locals sang and danced and threw flowers on to the palanquin on which Devika was carried. Devika comes across in many of his paintings depicted with flowers in her hands. Svetoslav prepared many of his basic colours himself, based on his knowledge of Himalayan plants.
Svetoslav adopted the tradition of Indian miniatures in applying striking colours to evoke human moods. The Ragmala series of painting inspired his spirit of romanticism, against the backdrop of nature, season and human moods. His best-known paintings, the series of The Sacred Flute, have their source in Krishna art. Representation of the mortal shepherd boy and the immortal Krishna, symbolically unifies man and nature with its synthesis of expression and music.
After a journey to Tibet and Mongolia, the Roerich family had settled down at Naggar in Kulu, which became their Indian home. When Nicholas Roerich died in 1947, his elder son Yuri went back to Moscow to join the Institute of Oriental Studies of the USSR Academy of Sciences. The younger son, Svetoslav, who had inherited his father's passion for the art and history of India, decided to stay back. He dedicated himself to India and drew from this world the subject matter for his canvases. He considered Shiva's temple at Bajaura as a unique example of creativity in the Himalayas. Svetoslav Roerich passed away on January 30, 1993.
(source: Svetoslav Roerich - The artist who loved India's soul - tribuneindia.com).
---

Asians facing racism in America
Having been born and raised in apartheid-ridden South Africa, I am no stranger to racism. In clusters, on student campuses and in dorm rooms, we discussed the devastating consequences of racism all the while looking at America as the model for a new social order. Little did my idealistic counterparts or I realize that racism was alive and well in America.
Little did I realize that racism in South Africa was politically and socially recognized, while racism in America was far more insidious. Racism here prevailed at all levels -- only, it was disguised by a veneer of political correctness. Also, I quickly learnt that while I was a non-European in South Africa, which, for all intents and purposes, translated into being Black, in America, I was a non-entity.
Popular television shows like 'Seinfeld' and others portray Asians in a negative light, mimicking accents and stereotyping the race. I shudder to think of what my child goes through in school to overcome these stereotypes. While Blacks and Hispanics have challenged stereotypic portrayals of their race, Asians have yet to develop the political or legal clout to make similarly successful challenges.
Are we going to raise a nation of ignoramuses who view people from other cultures and countries as inferior? These are the challenges we face as we go forward in the new millennium where the faces of those in power are changing color and the cultures that are considered third world are dominating high-tech fields.

(source: Asians facing racism in America - By Dr. Praveena Singh Kaw).

Top of Page
---
Kalidas - India's greatest Sanskrit poet and dramatist
Kalidas, the greatest poet, writer and the literary figure of his time, living a pious life and sincerely devoted to his scholarly work, was one of the nine gems of King Vikram's court.
Kalidas is considered one of India's greatest Sanskrit poets and dramatists. Known to be an ardent worshipper of Shiva, he wrote his plays and poetry largely based around Hindu philosophy. He was one of the so-called nine gems of Vikramaditya's court in Ujjain. The earlier claim pointing to his existence around 1st century BC, is supported by his play on the Sunga king Agnimitra who belonged to that period. It is very unlikely that he would have made this obscure king the hero of his play unless he belonged to that period. The Vikrama calendar also begins with 58-57 BC. However, not much is known about his personal life and background, though there are several legends and tales about his life.
Three famous plays attributed to Kalidas are Malavikaagnimitra (Malavikaa and Agnimitra), Vikramorvashiiya (Pertaining to Vikrama and Urvashi)and Abhigyaanashaakuntala (The Recognition of Sakuntala). The work listed last is his most famous play, and was the first of his to have been translated to English and German.
Kalidas is also known for his famous poems. His two famous epic poems are Kumaarasambhava and Raghuvamsha (The Clan of Raghu), and two famous lyrical poems are Meghaduuta (The Cloud Messenger) and Ritusamhaara (The Exposition on different seasons).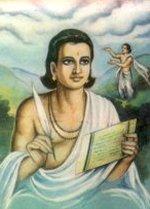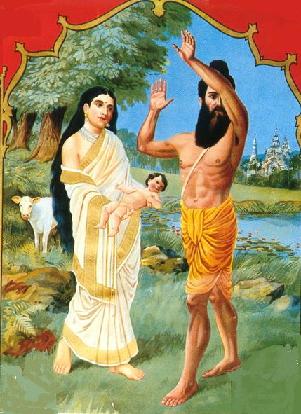 Kalidasa made a distinct and glorious contribution to the sumptuous Sanskrit literature. His works are an intellectual treat to thinkers and common readers alike.

One of the lyrics, Meghaduta (The Cloud Messenger), influenced the German dramatist Friedrich von Schiller's drama Maria Stuart (1800), and Shakuntala provided the idea for the prologue to the German poet Johann Wolfgang von Goethe's Faust (first part, 1808; second, 1832).

(image source: Art and Nationalism in Colonial India, 1850-1922 - By Partha Mitter).

(For more refer to chapter on Greater India: Suvarnabhumi and Sacred Angkor).

***

His best-known play, Abhigyana Shakuntala, named after its heroine, is based on a romantic story from the Mahabharata. Kalidasa was also a master of the epic poetry form called kavya. In this tradition, literary style and form tend to assume more importance than the theme of the story. Kalidasa's narrative poem Meghaduta (The Cloud Messenger) describes how a cloud acts as a go-between for two separated lovers. It contains many elaborate descriptions of love and nature.

Professor Sylvain Levi, French scholar (1863-1935) Orientalist who wrote on Eastern religion, literature, and history. He said:

' Le nom de Kalidasa domine la poesie indienne et la resume brillamment. Le drama, l'epopee savante.'

A poet who has made a distinct and glorious contribution to this sumptuous Sanskrit literature is Kalidasa. He has pictured in his works the beauty in life and pondered upon how we can give pleasure to others by generous and graceful behavior. His portrayals are vivid and heart- warming; his word power is unique. In a few words he is capable of bringing out the entire meaning intended. His writings touchingly show up a noble, meaningful mode of life for the people to pursue. His works are an intellectual treat to thinkers and common readers alike.

(source: Kalidas - India's greatest Sanskrit poet and dramatist - wikipedia.org). For more on Kalidas refer to chapter on Sanskrit).

China installs Kalidas statue in Shanghai

Shanghai now has a statue of Sanskrit poet Kalidas on one of its most important streets, something that few Indian cities can boast about. A bronze bust of the poet was un­veiled at the Shanghai Theatre Academy on a street called the 'Shanghai theatre way', which is being developed as the cultural and artistic hub of the eastern metropolis. Shanghai is one of the few world cities outside India, if any, to sport a statue of the great 5th century poet. The statue of Kalidas is the first to be set up. He may be the only Asian literary figure to be given this honour as the other statues will depict writers and poets from non-Asian countries, sources said.

(source: After Gandhi, China installs Kalidas statue - By Saibal Dasgupta).
---
The Kalidas Festival
Ramtek's glorious Heritage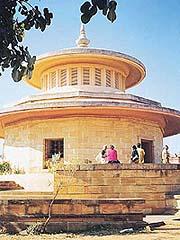 Ramtek is a small tehsil town that is well known for a number of reasons: it is a place of pilgrimage and tourist attraction; its orchards produce high-quality betel leaf; it is known for its sprawling lakes and scenic grandeur; and, above all, it is venerated as the birthplace of a great literary work, for it was here that Kalidas wrote his masterpiece Meghdoot. On the first day of Ashad, the monsoon month, lovers of literature gather at the Kalidas memorial, built recently on Ramgiri mound, to pay their homage to the great poet.
Meghdoot has an uncanny quality of leaving the reader mesmerised as much by the delicacy of its romantic theme as by the sheer beauty of its sensuous imagery. The cloud's journey from Ramgiri to Alkapuri, mapping the terrain from central India to the northern most area in the Himalayas, is also a travelogue forging the geographical unit of India. When Yaksha stands enchanted on a hilltop and, looking wistfully at the dark, bulbous clouds, weaves his magic web, the reader is transported to a different world and wonders where could Kalidas have written this work? Is the description imaginary or does such a place exist on this earth?
Indeed, it is at Ramgiri, a dwarf hill standing at about 500 ft above the town (Ramtek), where the poet stood and gazed longingly at the sky and thought of Ujjaini and his beloved. The first four lines of Meghdoot give a clear indication of Yaksha living in Ramgiri after his exile. Ramgiri and Ramtek towns have a long historical past. Ramgiri signifies "the hill of Ram" and the name Ramtek means both the hill (tekri in Marathi) of Ram or the place where Ram rested for a while before proceeding down south. It is also believed that Ram killed Sambuk here. Older names of the area are 'Sinduragiri' (the vermilion mount) and Tapogiri (the hill of penance); and both these have been found on an inscription on the 14th century Lakshmana temple. According to the legend, Vishnu, in his Narsimha incarnation, had slain the demon Hiranyakashyap whereby the stones on the hill were coloured red by his blood. Whatever the myth, it is a geographical fact that the rocks and stones appear almost blood red in the sunlight.
Now a significant question arises how and why Kalidas went to Ramtek from Ujjaini? There is little doubt that the exiled Yaksha is Kalidas himself and Alkapuri is Ujjaini and that Kalidas is pining for his beloved.
History has it that during Emperor Chandragupt Vikramaditya's time Nagpur and the adjoining area, which is now known as the Vidarbha region of Maharashtra, was under the Vakatak dynasty and Rudrasen was ruling over the kingdom with his capital at Nandivardhan, now called Nagardhan. In 395, King Rudrasen got married to Chandragupt Vikramaditya's daughter Prabhavati. Historians aver that the marriage was solemnised in Ujjaini with great pomp and show and that Kalidas's Malvikagni Mitra was first staged on this occasion. Unfortunately, Raja Rudrasen died in 405 AD, in a military exploit, leaving the young Prabhavati with two sons to look after. However, instead of going back to her mighty father, she decided to stay on and manage the kingdom till the sons matured. It was at this time of trial that Emperor Chandragupt Vikramaditya thought of sending a few experienced and trusted courtiers to help his daughter. Kalidas was one of them. Another version is that jealous of Malvika's love for Kalidas, Vikramaditya banished the poet-lover to Ramgiri. Nandivardhan is just five km from Ramtek. It is possible that the poet often trekked nostalgically to Ramtek, drawn by its religious aura, serenity, the cool huge lakes, thick jungles and verdant valleys, and struck upon the plot of Meghdoot there.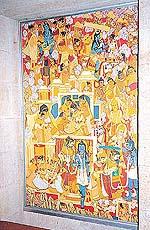 The Kalidas festival is held at Ramtek, Nagpur in the month of November for two days. Ramgiri, or Ramtek as it is popularly known today, is the place that inspired Kalidas and its beauty features predominantly in his literary work.

The Kalidas Festival brings back memories of the golden period of the Vidarbha region

Some of the greatest exponents of music, dance and drama perform in the picturesque setting of Ramtek, celebrating its glorious heritage.

The nearby hills of Ramgiri are steeped in legends. As you drive up you are surprised to see vast silver patches shimmering in the sun. These are the lakes that abound in Ramtek. Your first stop is at a round structure known as Kalidas Smarak. It is simple and pleasantly coloured. You have to take off your shoes to go in. Inside, scenes from plays of Kalidas are painted on the walls. One can recognise Shakuntala with her deer and Yaksha watching the clouds.

A furlong or so away from the memorial, a flight of steps leads you atop a huge but crumbling citadel. Here are a number of temples dedicated to Dhumreshawar Mahadev, Rama, Lakshmana, Raja Dashrath as also to Varah (Vishnu in his incarnation as a boar). This figure is referred to in the inscription as "The Primeval Boar". Visitors try to slide under its belly and if one successfully comes out, one is considered lucky. Monkeys play tricks to amuse you as go up the steps. At the top there is an eyelet called Ram Jharokha, which gives a panoramic view of the surroundings. The Bhosles of Nagpur, during their rule, took good care of the fort and maintained it well but it is in a dilapidated condition at present.

(source: Ramtek — Where Kalidas wrote Meghdoot and The Kalidas Festival).
---
Chronicling Krishna's life - to the last second
Ahmedabad, Sep 10 (IANS) It was Feb 18, 3102 B.C. Friday at 02 hours, 27 minutes and 30 seconds in the afternoon when the Hindu god Krishna left his earthly body for his heavenly abode - or so claims an ascetic after intensive calculations.
Swami Gyananand Saraswati of the Varanasi-based Adi Jagadguru Shankaracharya Vedic Research Institute also claims to have calculated exactly how many hours Lord Krishna spent on earth and his precise age when the epic battle Mahabharata ended.
He says Lord Krishna, one of the prime deities in the Hindu pantheon, spent 125 years on earth and departed for his heavens precisely 5,106 years ago.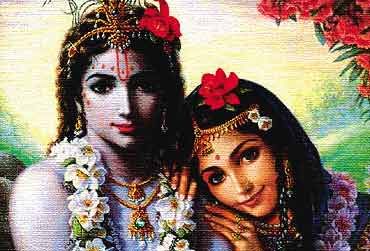 The ascetic scholar presented a detailed timeline of the life of the blue-skinned god before a gathering of scholars at Somnath temple in Prabhas Patan, 350 km from this Gujarat city. He says his calculations are based on the study of various Indian scriptures, including Skand Purana, Shrimad Bhagawat Purana, Shri Vishnu Mahapurana, Matsya Parva and the epic Mahabharata.

He also referred to the astrological treatise Bhrigu Samhita for dating various events in Krishna's life.

(Artwork courtesy of The Bhaktivedanta Book Trust International, Inc. www.krishna.com).

He fed the data into a computer and used a special software to determine the longitude and latitude of various places mentioned in the texts. He says Krishna died 36 years after the war of Mahabharata.

"His age on the last day of the war was 89 years, two months and seven days. That tallies with the estimate of 125 years," Saraswati asserts. He claims that Krishna was born the 22nd day of the fourth month of the 863,874th year of Dwapar Yug, which was the eighth day of the second half of the Hindu calendar month of Shravan, the day Janmashtami, or the birth of Krishna, is celebrated.

Saraswati, who is at the Somnath temple complex for a traditional four-month sojourn of Chaturmas, declared his findings Tuesday to coincide with Janmashtami celebrations.He has also worked out a chronology of the temple, one of the Dwadasha Jyotirlingas or the 12 most important temples of Lord Shiva. The temple has been reconstructed many times in its history. The present temple was constructed in 1951 at the behest of Sardar Vallabhbhai Patel, the first home minister, and the idols were installed by India's first president Rajendra Prasad.

(source:

Chronicling Krishna's life - to the last second

- yahoo.com

).
---
Alexander the bloody brutal ?

In Alexander the Great: The Hunt for a New Past - Paul Cartledge exposes the Macedonian as an uncultured gangster whose genius lay in luck.
The appeal, of course, is infinitely romantic. An amazingly young, amazingly brilliant warrior king conquers the world and, in myth at least, becomes godlike. Mary Renault and Valerio Massimo Manfredi write bestselling novels about him. Leonardo DiCaprio signs up to play him in yet another screen version. His victories are the serious stuff of military history. But the question lingers, sourly insistent among so much sweet adulation: was he Alexander the Great - or Alexander the Rather Appalling?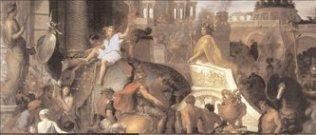 He was unnaturally ruthless, even psychotic, from the start. He may well have had his father assassinated. He assuredly bumped off a formidable array of erstwhile friends and possible rivals. Brutality marched with him every step of the journey. He could have saved the glory that was Thebes; instead, he burnt it to the ground and slaughtered its inhabitants. There was no mercy on display when he captured fellow Greeks who had fought against him. The Indus was yet another river of blood.

Alexander ruled by fear and intimidation. He may have left a few quasi-democratic satraps behind on his headlong march, but that was realpolitik not conviction. Left to himself he would always put his foes to the sword. Some of his biographers have seen a touch of Napoleon or Hitler in his make-up, but put that the other way round. let the rancid stew boil merrily. He was an appalling human being. The lust for conquest seemed insatiable. The art of compromise was lost on him. Diplomacy, at best, involved marrying the daughter of some hapless monarch and adding her to his collection. My old chemistry teacher used to lecture us lads about the virtue of having 31 ties, one for every day of the month, so they never wore out. Alexander kept 365 women in his harem but never stood in any danger of wearing any of them out; he preferred boys anyway.

There is, in short, very little to be said for him. Unreasoning ambition drove him on, but he left nothing by way of philosophy behind him. The spread of the Greek way owed nothing to Alexander. He defeated the Athenians and rolled them into his tatty domain. He was a gangster, a hoodlum, a thug: much less creative than his dad.

(source:

Alexander the bloody brutal ? - guardian.co.uk - For more refer to chapter on India and Greece).
---
African American converts at ISKCON find solace

For years, an African American, now called Murari Caitanya Das, had been in search of salvation. He says he has finally found answers to his spiritual quest at the International Society for Krishna Consciousness (Iskcon).
Born into a Lutheran family, the former high school teacher is now the assistant administrator of the Iskcon temple here.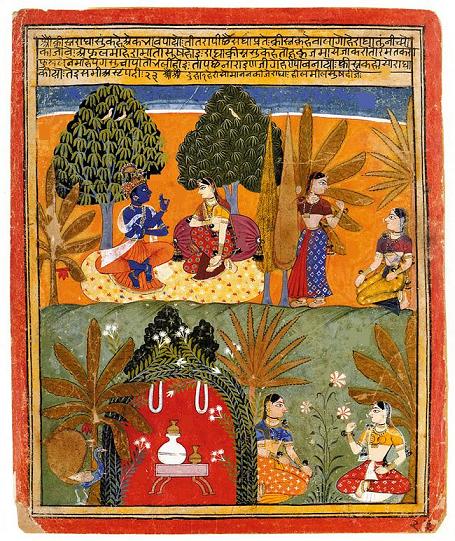 "I found the Bhagavad Gita answered all the questions I had been asking all my life," he says.
The Hindu concepts of karma and reincarnation also attracted him.
(For more refer to chapter on Greater India: Suvarnabhumi and Sacred Angkor).
***
After trying transcendental meditation, new age spiritual ventures and tarot cards to quench his spiritual thirst, Caitanya chanced upon the Bhagavad Gita, one of Hinduism's popular scriptures, at a library.
"I found the Bhagavad Gita answered all the questions I had been asking all my life," he says.
Caitanya is not the only American at the temple. Increasingly, more and more Americans, even Hispanics, are thronging the temple that was first opened in a Chicago suburb in 1971 before moving to its current location in 1979.
Another enthusiastic convert to the Iskcon movement is Sunil Madhav Das, now the president of Chicago centre. According to Sunil, the four basic tenets of the sect - no meat, no intoxication, no illicit sex and no gambling - is "not easy" to follow. "To follow these principles in our society is very difficult," Sunil says."All your associates (in the outside world) eat meat, drink or gamble. Those of us who are here have the support of the congregation." There are 20 full time devotees residing in the temple - three Americans, six Hispanics and the rest Indians. They all follow a strict regimen - getting up before sunrise for prayer rituals. Sunil says he chants the beads 16 times every day. "The chanting focuses the mind on god. Otherwise one could be easily caught in 'maya' (material world)."
The administrator of the temple, Abhimanyu Das, is an American who converted from Christianity in 1978. Abhimanyu says he was attracted by the teachings of Swami Prabhupada, founder of the Iskcon movement. "I found his message of 'You can change your life' more compelling than the biblical message -'As you sow, so shall you reap'," he says.
The Hindu concepts of karma and reincarnation also attracted him.
"When we have been given the opportunity to serve god in this life, we should take it. After all, there is no guarantee that one will be born as a human in the next life. I want to liberate myself from the material world in this life itself." Abhimanyu, who looks after the temple gift shop and assists in fund-raising, says he is impressed with the Indian American professionals' "ability to balance their spiritual life with the demands of materialism".
(source: African American converts at ISKCON find solace - Indo-Asian News Service - Chicago, September 21
).
---
The Magnificent temple of Pashupatinath of Nepal
Skanda Puran the ancient holy text of the Hindu religion, describes the fame of Nepal as -"in the Himalayas there is a most auspicious blessed place, where Shanker (the giver of joy) in the form of Pashupatinath resides."
***
The magnificent temple of Lord Pashupatinath about 5 kms north-east of Kathmandu, is situated amidst many other temples on the right bank of the river Bagmati. Pashupathinath is the guardian spirit and the holiest of all Shiva shrines in Nepal.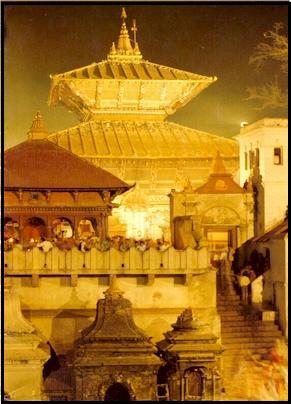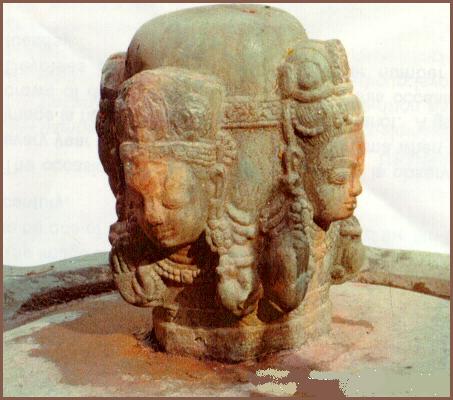 Lord Shiva is known by many different names; and Pashupati is one. Pashupati is the master of all living beings of the universe. This is how lord Pashupati is eulogized in the Vedas, Upnisada and other religious books.
(For more refer to chapter on Greater India: Suvarnabhumi and Sacred Angkor).
***
Lord Shiva is known by many different names; and Pashupati is one. Pashu means leaving beings, and Pati means master. In other words Pashupati is the master of all living beings of the universe. This is how lord Pashupati is eulogized in the Vedas, Upnisada and other religious books.
Legends are numerous as to how the temple of Lord Pashupatinath came to existence here. As stated in chronicles, the image of Lord Shiva in the form of Jyotirlinga was covered with earth over the years, and soft green grass sprouted over it. Further, as the legend goes, a cow used to come here mysteriously every day and offer her milk to this holy but hidden Linga of Lord Shiva. When the Gwala (owner) saw that the cow had stopped giving milk since the last few days he started keeping eye on her; and finally came across the place where the cow used to offer her milk. With a natural curiosity to know the importance of the place, where his cow used to make offering of her milk, the gwala dug the place and found the Jyotirlinga of Lord Shiva. After this number of gwalas gathered to worship this Linga according to religious conformity, starting the tradition of worshipping this Linga. As the time passed Lord Pashupatinath started gaining more and more popularity and reverence of the devotees as a guardian spirit and gradually the temple of Lord Pashupatinath became a great place of pilgrimage.
The rulers of Nepal, over centuries made contributions in enriching and beautifying this holy temple. According to Gopalraj Vamsavali, the oldest ever chronicle in Nepal, this temple was built by Supus Padeva, a Linchchhavi King who according to the stone inscription erected by Jayadeva 11 in the courtyard of Pashupatinath in 753 AD happened to be the ruler 39 generation before Manadeva (464-505 AD). Yet, there is another chronicle which states that this temple was in the form of Linga shaped Devalaya before Supus Padeva constructed a five storey temple of Pashupatinath in this place. As the time passed, the need for reparing and renovating this temple arose. It is learnt that this temple was reconsturcted by a mediaeval King named Shivadeva (1099-1126 AD). It was renovated by Ananta Malla adding a roof to it.
As described in the history, this temple was attacked and badly destroyed by Sultan Samsuddin of Bengal in the mid 14th Century. This plunder caused so much damage to the temple that it needed reconstruction. It was only after ten years, in 1360 AD, that it could be reconstructed and renovated by Javasimha Ramvardhana. Another renovation work here after was taken up by Jyoti Malla in 1416 AD.

The present architectural nature of Pashupatinath temple came into existence as a result of renovation by queen Gangadevi during the reign of Shivasimha Malla.

Being one of the most important Hindu temples, it was declared a World Heritage Site by UNESCO.

***

The present architectural nature of Pashupatinath temple came into existence as a result of renovation by queen Gangadevi during the reign of Shivasimha Malla (1578-1620 AD). Pashupati area is regarded as one of the most important places of pilgrimages for the followers of Hinduism. Thousands of devotees from within and outside the country come to pay homage to Pashupatinath every day. And on special occasions like Ekadasi, Sankranti, Mahashivratri, Teej Akshaya, Rakshabandhan, Grahana (eclipse), Poornima (Full moon day) people congregate here in far greater number.

Being one of the most important Hindu temples, it was declared a World Heritage Site by UNESCO. The temple roofs are gilded and the four doors are made of silver and intricate carvings cover the windows. Many Hindu pilgrims from India as well as from other Asian countries also visit Pashupatinath temple every year. The temple complex has countless shrines and images along with ghats, resthouses and parks that dazzle all those pilgrims who come here to visit. There are also hundreds of Shivalayas, many sadhus and statues all around the temple. Nobody knows the actual number of statues in Pashupatinath temple area.

All ancient Hindu religious text has described Himalayas as the abode and activity of Lord Shiva in which Nepal remained the nucleus.

To the west coast of river Bagmati, which arises from a sprout in the Himalayas, is the revered seat of Lord Pashupatinath. It is said that a holy bath in the Bagmati river at this spot, praying with hymns of 'Rudri Mantra', followed by worshipping Pashupatinath Lingum with Panchamrita - curd, ghee (purified butter) sugar, honey and milk, will render the person free from the cycle of births.

So is the magnanimity of Lord Pashupatinath in the minds of Hindus the world over.

(source: The Magnificent temple of Pashupatinath of Nepal - http://www.pokharel.com/pashupatinath_temple.htm

and http://members.tripod.com/nepalee/pashupatinath.html and http://www.nepal-traveller.com/mayjun2001/pashupatinath.htm and http://www.shripashupatinath.org/thelegend.asp
---
Sanskritised tribals of Chhattisgarh
Besides Sanskrit, the Samaaj is introducing English in these five tribal schools of Chhattisgarh. "Sharanam. Aham Tav Abhivadanam Karomi." Clad in white dhoti and kurta with a long tilak on forehead and nicely combed hairs, students of Samarbar Sanskrit Vidyalaya enthral the newcomer by greeting them in Sanskrit.

The tribal dominated village Samarbar in Raigarh district has this Sanskrit school where small children converse in Sanskrit with each other. What is more astonishing is that these kids are not Brahmin but tribal. Years ago an enlightened tribal person, Swami Rameshwar Kanwar, known popularly as Gahira Guru, began to change the tribal world by spreading spirituality.

Having read many ancient scriptures, Gahira Guru used Ramcharit Manas, written by Goswami Tulsidas, as a mean to teach people the essence of 'Sanatan Dharma'. Gahira Guru used to meditate everyday at Kailash Gupha (Kailash cave) at Samarbar, which is now a place of tourists' delight.

Later Gahira Guru formed a group of 20 persons to start his organisation Sanatan Dharma Sant Samaaj at Gahira to elevate the standard and intellect of tribal people and change the way they were living in for centuries. In turn, this group constituted the Sanskrit Vidyalaya at Samarbar and Gahira where small kids frequently talk in Sanskrit, but within the school premises.

Gahira Guru's son Chintamani, who has been appointed as the chairperson of the Chhattisgarh Sanskrit Board says, "Sanskrit is a sweetest language and one who practices it, can never behave in an uncultured manner. We have heard of Kannada speaking villagers of Mattur in Karnataka speaking in Sanskrit and we want to bring Sanskrit in routine."

Chintamani showed a hilly Korava tribal boy, a student of this school, who recited aloud the Sanskrit prayer. Koravas are the most backward community in Chhattisgarh. The Sanatan Dharma Sant Samaaj has five Sanskrit schools at Gahira where Gahira Guru was born, Kailash Natheshwar Gupha in Raigarh district where Gahira Guru used to meditate, Samarbar — the place chosen by Gahira Guru to change the tribal world, Srikote and Ambikapur, both in Sarguja districts. Besides Sanskrit, the Sanskrit board is now introducing English in these Sanskrit schools to keep pace with the latest trends in the world. Recognising the works done by the Sanatan Dharma Sant Samaaj, this year the BJP government awarded this organisation with Gahira Guru Samman. At least one can say that if things go on in the same pace, a miracle is going to happen soon at Samarbar and adjoining areas to dazzle the world.
(source: Sanskritised tribals of Chhattisgarh - Deccanherald.com).
---
Ancient Martial arts form of Kalaripayattu and Phillip B. Zarrilli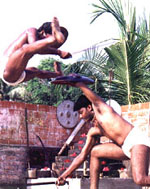 After a seven-year stint on the sub-continent, Phillip B. Zarrilli developed a system of actor training from the ancient martial arts form of kalaripayattu. In 1977, a young American went to India to train alongside boys as young as nine years old at the Kerala school of kalaripayattu master Gurukkal
Theatre director Phillip B. Zarrilli, who was 29 at the time, was the first Westerner to immerse himself in the 800-year-old South Indian martial and healing arts form. He would go on to experience a culture shock more profound than that of the lack of television sets in 1970s Kerala.
Used to the straightforward aggression of American football, which he had played in high school, he struggled to relax his mind and centre his energies - processes crucial to mastering the graceful yet potentially lethal martial arts form. Now 57 and based in Britain where he is professor of drama at the University of Exeter, Zarrilli executes kalaripayattu's (pronounced kalaree-payater) complex acrobatic combinations of steps, kicks, turns and leaps with serpentine fluidity. Reputed in international theatre circles for having developed a system of contemporary actor training from the exercises and techniques of kalaripayattu, Zarrilli is here at the Jurong campus of the Theatre Training and Research Programme (TTRP) to steer its latest production, The Water Station.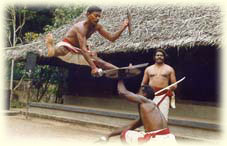 Once a rising Minneapolis director working in the conventional American repertory style of auditions and rehearsals leading directly to theatre productions, Zarrilli's life and work changed after going to India.

The reason for turning East, he says, was a dissatisfaction with the dominant psychologically-based acting style in the West,

A year after he began intensive formal training in kalaripayattu, he won his teacher's confidence and permission to teach the art.

No other Westerner since has received training in the art form direct from an Indian guru, or achieved the kind of regard Zarrilli has both in Asia and the West.

(source: A passage from India - straitstime.asia.com). http://www.kalari-koeln.de/ and http://www.kalaripayattu.org/). For more refer to chapter on War in Ancient India and Hindu Culture).
---
The art of Nail drawing in Ancient India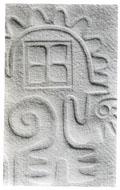 Art has many dimensions. Every artist tries his level best to express his aesthetic sensibility by using some particular medium. One such medium is called nail-art. Nail-art, known since the time of legendary Kalidasa is the casual art of drawing on paper by using fingernails in place of a pencil, brush, pen, or any other conventional tool. This art technique is being practised in parts of Karnataka, Andhra Pradesh, Kerala, Tamil Nadu, and Madhya Pradesh.

Nail-drawing is an ancient art which is now lost in antiquity. Possibly, it was practised in many civilisations in different eras. Kalidasa referred to it as nakshta in his famous drama, the Abhijnanasakuntalam (Recognition of Shakuntala)."

Abhijnan-asakuntalam, where the playwright Kalidasa depicts a picture in which Shakuntala, the heroine of the play, is shown using her forefinger to scratch when the hero Dushyanta, after knowing that Shakuntala is daughter of damsel Menaka, describes her beauty. He says: "Indeed, could such a rare beauty be mortal? Can the radiance of the tremulous lightning, ever spring upward from the womb of the earth?" And, Shakuntala makes a reproving gesture with her forefinger.

The art of nail-drawing was passed on from generation to generation in an isolated manner, and people nurtured it more as a pastime rather than as a serious aesthetic endeavour. That is why it could not come out of its rudimentary stages; it was practised on leaves until paper came into existence.
(source: The art of Nail drawing in Ancient India - organiser.org).
---
Indian virtues pre-date 'secularism'! - By Chinmay Bajekal

Swami Vivekananda at the Parliament of Religions in Chicago (1893) mentioned in his speech that he was proud to belong to a nation that gave safe refuge to several persecuted communities of the world. In history we find examples of the Jews, Syrian Christians, Zoroastrians, and in recent times, the Tibetan Buddhists who after being driven out of their homeland sought safe refuge in India. The native Indians backed them—the Hindus not only accommodated these refugees but also gave them the freedom to practice their respective faiths.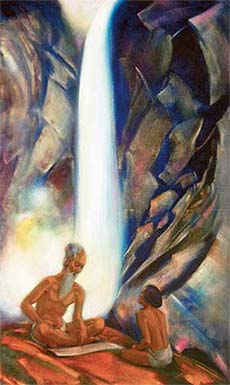 Long ago, even before the birth of the Greek and Roman Empires, our Vedic seers had declared 'vasudaiva kutumbakam'—'the world is one family". Long before the modern world came out with the concept of 'universal welfare' our Vedic prayer throughout the ages has been 'loka samastha sukinau bhavantu'—'may the entire world attain bliss'. Even the modern concept of freedom of thought is respected in the Vedic verse, 'ekam sat vipraha, bahudha vadanti'—'truth is one, the wise call it by various names'. The verse expresses a mature understanding of the human mind that the ancient thinkers of India possessed.

Centuries ago when sects like Buddhism, Jainism and Sikhism came as reformist movements to correct what their founders perceived as wrong or unwanted in the society, the Hindus did not suppress these reformers but gave them the freedom and space to grow. Sri Adi Shankaracharya brought many back to the Hindu fold not through force, coercion, incentives or threat but by preaching in the form of debates.

Thus, Indian virtues like 'pluralism', 'tolerance', 'freedom of thought' and 'universal welfare' pre-date the arrival of the 'secular' concept in India. This point needs to be emphasised as in today's India 'secularism' is unjustifiably credited for all these Indian virtues and the term is being misused to suppress the movement of 'national renaissance', also known as Hindutva that aims at preserving the very culture which actually deserves credit for these age-old virtues of India.

Secularism originated in Europe centuries ago when the kings revolted and overthrew the theocratic hegemony of the Pope from over their kingdoms and established their own rule. But India has never known such a conflict; thus the Western concept of secularism was never relevant for India. However, today many Indians perceive 'secularism' to be a synonym of 'pluralism' and 'tolerance'; they also perceive the very culture that blessed the Indian society with these noble features from the Western perspective of being a 'religion'.

The pseudo-seculars in India who swear by secularism would like to have us believe that any threat or challenge to the concept of secularism in India would endanger the age-old pluralism of the country. Little do these self-proclaimed defenders of secularism realise that wherever in the Indian sub-continent Hinduism declines, with it declines the support for secularism too (whichever kind of secularism that may be). Pakistan and Bangladesh, two of our neighbouring countries, were formed out of the same territory and people of undivided India, yet they are far from being secular.

The need of the hour for India is the recognition of the fact that India does not owe its great virtues of pluralism, diversity and tolerance to any Western concept or ideology, but to the influence of Vedic culture and philosophy over India. And also to be understood is the fact that India's age-old virtues shall not be endangered by questioning the relevance of secularism to the world's oldest and most pluralistic civilisation.

India has always been a country that has welcomed reforms and encouraged new ideas. It has never resorted to prejudicial behaviour. Unfortunately, the manner in which the self-proclaimed seculars in India spew venom over the movement of 'national renaissance' and call for 'de-saffronisation' is in reality an act that is 'de-Indianising', as it does not go well with the ethos of our ancient country which tolerated different views.
(source: Indian virtues pre-date 'secularism'! - By Chinmay Bajekal - indiacause.com).
(For more refer to chapter on Greater India: Suvarnabhumi and Sacred Angkor).
---
We are in denial - By Sri Sri Ravi Shankar
If you come across a Communist, with a Hindu name, and ask him about his identity, he will deny being a Hindu. Yet, a Muslim Communist often claims his identity without hesitation. One wonders what causes this difference in attitude.
It is interesting to probe into the psyche of identity, which often is a source of security, insecurity, conflict and comfort. Perhaps the following reasons would answer the identity crises of the Hindus. The broadmindedness of Hinduism, its inherent inclusiveness and secularism, makes Hindus feel guilty about claiming their identity, as it is embedded in their philosophy that it is wrong to exclude others. Claiming a religious identity makes them feel they are excluding others and so they shy away from doing so.
Hindus have been traditionally groomed by the Vedanta to drop all identities. This has deeply influenced the Hindu psyche. Hindu philosophy is woven around egolessness. Let alone their religion, some sadhus don't even say their name; they would say, "What's in a name?" Sanyasis are even shy to talk about their parentage. A renowned ascetic in Rishikesh would meet with everybody, but not his own mother and family. When asked, he would say, "I am Vedanti; once I have taken sanyasa, I have dropped all my identities."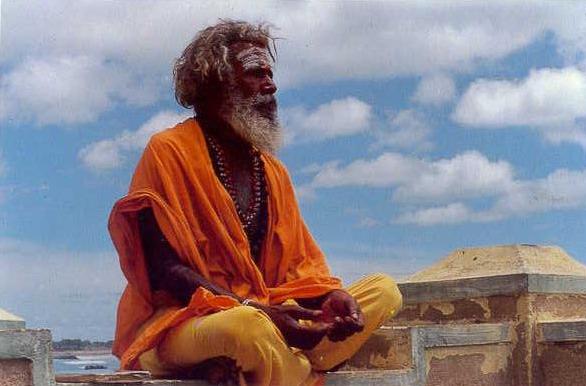 Hindus feel ashamed of the ills of Hinduism — its superstition, untouchability, and practices like sati are usually highlighted in the media, rather than its unparalleled philosophy and scientific temperament. Thus, for several centuries Hindu bashing has been a fashion.

(For more refer to chapter on Greater India: Suvarnabhumi and Sacred Angkor).

***

Hindus feel ashamed of the ills of Hinduism — its superstition, untouchability, and practices like sati are usually highlighted in the media, rather than its unparalleled philosophy and scientific temperament. Thus, for several centuries Hindu bashing has been a fashion.

The media seems to have given the prerogative of Hindu identity to the RSS and VHP and secular-minded Hindus would not like to associate with these two organisations. As a result they shy away from their own identity. Within India itself, we witness a great deal of ignorance about the Hindu religion and its scriptures. Although Hindus form 80 per cent population of India, there is still only one university which teaches Hinduism — whereas there are five which teach Islam, five which teach Christianity, two which teach Sikhism and one that teaches Jainism. You would find every Muslim would know a couple of verses from the Quran; you can hardly find a Christian who has not read the Bible.

But Hindus who know Sanskrit or a few shlokas are rare. Most educated Hindus know the Bible; they know Christmas carols. When they know nothing about their religion, how can they take pride in it?

There are 1.25 billion Hindus in the world, a little over one-sixth of the world's population, but you hardly find a single Hindu lobby at international forums. You will find a Christian lobby, a Muslim lobby or a Jewish lobby, but you can't find a Hindu lobby. Just 12 million Jews in the world are such a powerful voice. Buddhists also have a voice and make their presence felt at world forums. In countries of south and central America and in Europe, although they are secular democracies, they are not shy to proclaim their allegiance to Christianity. You will find the religious symbol of the Cross placed in their parliaments; chaplains offer prayer before every official dinner. While associations like YMCA (Young Men's Christian Association) have gained wide acceptance. Why then is it that Hindu associations are viewed with scepticism?

An identity is related to an action. Denial of identity will dump you in inaction, sloth and lethargy and hence Krishna reminds Arjuna of his Kshatriya identity even while giving "Brahma gyan" to remind him of his duties and responsibilities. Otherwise while giving this High knowledge of the Self, why would Krishna remind him again and again of his limited identity. The limited identity in no way contradicts the universal one. A policeman cannot perform his duties — steer the traffic — if he fails to acknowledge his identity. Similarly, if a businessman shies away from his identity, he cannot function. The same is the story of Hindu identity. India cannot make a distinct mark on the world if it ignores its religious and spiritual heritage.

(source: We are in denial - By Sri Sri Ravi Shankar - indianexpress.com).

For more on Sri Sri Ravi Shankar refer to chapter on Quotes.
---
Secular brigade and the National anthem
After the issues of tricolour and Veer Savarkar, the Bharatiya Janata Party has stumbled upon another 'anti-national' issue of 'deletion' of word 'Gujarat' from the national anthem in State Council of Educational Research and Training (SCERT) textbooks in Kerala. "For two consecutive years, the Kerala government has omitted mention of 'Gujarat' from the national anthem printed in school textbooks,"

"It is not an isolated case but is a part of a definite vilification campaign, which has reached such a perverse level where they can even distort the national anthem," He added a message is being sent out that even 'nationalism is not sacrosanct'.

The issue is being linked with Uma Bharti case of hoisting tricolor and removal of Savarkar's quotations from Andaman Cellular jail.
Incredibly, till yesterday, it seemed it was the national anthem's turn to fall prey to the 'secular' brigade's programmatic iconoclasm. The Kerala Education Department had omitted "Gujarat" from the anthem printed in school textbooks for two consecutive years. Last year, Standard V English textbooks carried the jarring line: "Punjab, Sindh, Maratha, Dravida, Utkala, Banga..." Agitation over Gujarat's omission at the time died down after assurances on the required rectification.
For, here was a controversy that suggested that even sacrosanct symbols of national identity were not immune to vengeful point-scoring.
Rabindranath Tagore's Jana Gana Mana is a patriotic celebration of unity-in-diversity. That the song-first sung in the Indian National Congress's Calcutta session in 1911- should have appeared to become a tool in the hands of political axe-grinders seems an assault on all that Indians hold precious. Habitual BJP-bashers may have thought Gujarat's exit could be forced from India's collective consciousness by turning it into an unsung cipher. But Gujarat, as part of the soil the anthem sacralises, preceded its latter-day denigrators. The "land of the Mahatma" will also outlive them.
(source: Secular brigade and the National anthem - Editorial – dailypioneer.com - Sept 18 2004).
(For more refer to chapter on Greater India: Suvarnabhumi and Sacred Angkor).
---
Jews flock to Moses and Jesus tomb in Kashmir

Srinagar, Sept. 11: Israeli citizens seem to be ignoring the caveat issued in Jerusalem in August on Jammu and Kashmir and are flocking to see the graves that some believe are that of Jesus Christ and Moses.

More than 100 Israeli tourists have arrived here after Israel instructed its citizens to leave Kashmir immediately. Only a few of the visitors were unaware of the edict, say the officials looking after the foreign tourists. With the increase in Israeli arrivals, a number of houseboats on Srinagar's Dal and Nagin Lakes have put up boards and menus in Hebrew.

Official statistics show that more than 1,500 Israeli tourists visited the Valley in 2003 while 1,623 Israelis spent their holidays in Kashmir in the first eight months of the current year alone. A sizeable number of Japanese, Korean, Malaysian and other Sout-heast Asian tourists, besides Britons and those from the continent, figured prominently in the list of over 12,000 foreign arrivals so far this year.

The main attractions in the Valley for the Israelis are two graves, believed by some to be that of Jesus Christ and Moses. The tomb said to be that of Jesus is located in Rozabal locality in central Srinagar, and Moses' near Bandipore town in North Kashmir.

(source: www.deccan.com/home/homedetails.asp and http://p081.ezboard.com/fhinduunityhinduismhottopics.showMessage?topicID=21243.topic).
---
Angreziyat or Whiteness Study - By Rajiv Malhotra
Demise of Non Western Cultures?
What Marco Polo observed in the late CE 1250s (Travels of Marco Polo) as cited in his observations from the "province of Maabar" seems to be holding even today in most villages of Kerala and Tamil Nadu...."In this province the natives, although black, are not born of so deep a dye as they afterwards attain by artificial means, esteeming blackness as the perfection of beauty. For this purpose, three times every day, they rub their children over with oil of sesame. The images of their deities they represent black, but the devil they paint white and assert that all the demons are of that color".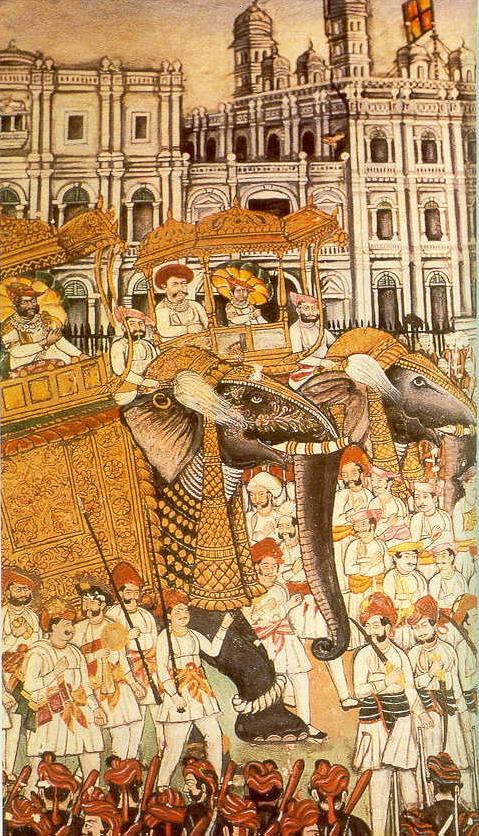 Indian royalty.
(For more refer to chapter on Greater India: Suvarnabhumi and Sacred Angkor).
***
Angreziyat was a local manifestation (in India) of global western cultural dominance just as whiteness is a local manifestation (in the US) of global western cultural dominance. These two concepts are definitely related.
The importance of western cultural studies (whether you call it locally Angreziyat or Whiteness studies) is undeniable not just because of western dominance in science, technology and economy for about 200 years. It is absolutely essential to study it because it is the only culture that has systematically studied and passed judgments on every single other culture in the world and has tried to influence and reshape every other culture in the world. The only other culture that has tried to do something like that is Islam. Islam did reshape entire North Africa and parts of the Indian subcontinent culturally. It's effect, however, pales in comparison to the western effort. Western culture is the only culture in the history of man to dissect and even to destroy (if possible) every single non-Western culture with a ferocity and relentless that is without parallel. It has tried and is trying even now to uproot the thought patterns of non-western cultures. When Pope wants Christianity to reap a rich harvest in Asia in this millennium, he is merely carrying on that particular western tradition.
What makes people from this culture behave like that? What makes this undeniably great and probably the first global culture tick? What can non-western cultures do to get their place in the Sun in view of the relentless, ferocious, pity less onslaught of the western culture? It is for seeking these answers that study of western culture (Angreziyat or Whiteness or Westology) is so important and in fact essential. The very survival of non-western cultures depends on knowing the answers to these questions.
(source: Dialog on Whiteness - By Rajiv Malhotra - sulekha.com). Also refer to Myth of Hindu Sameness - By Rajiv Malhotra - sulekha.com).
---
Hindus of Kerala - A race destined to be refugees in its native land
By Dr C. I. Issac

That the Hindus of Kerala are getting to be a minority community in their native land is not a secret any more. When India became a republic, the Hindus of this land had a population share of 61.5 per cent. Today it has progressively and gradually declined to reach the level of 55 per cent. This numerical decline in the Hindu community cannot be treated as an inadvertent phenomenon.

If it is the state of the art of economic condition of the Hindus, it is too pathetic and disastrous considering the challenges they are facing in the cultural scenario of Kerala. The cultural domain of Kerala is fast getting Christianised as well as Islamised. Most of the visual and print media of the state is either directly under the ownership/control of minority communities or under their influence. This state of affairs is favourable to create an atmosphere in favour of the minorities in the cultural scenario. As a result, in the State School Youth Festival, certain items of exclusive minority art with little cultural value were included and non-Muslim students were prohibited from participating in the State Arabic Youth Festival. These are the best examples of the threat that the Hindus are facing.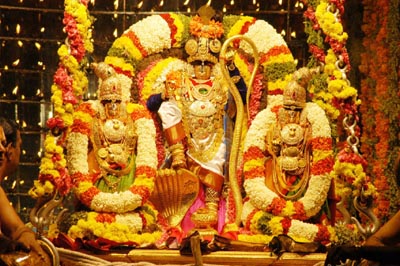 The cultural domain of Kerala is fast getting Christianised as well as Islamised.
Through generations, Hindus have been worshipping the cow. The only state in India which legitimises cow slaughter is Kerala. According to official data available with the government, 5,00,000 cows were slaughtered in the state during 2002 and 2,49,000 tonnes of beef was sold (see The New Indian Express, Kochi, August 13, 2003). In reality the real statistics of cow slaughter are far from the official accounts. It is true that a conspiracy is going on to force the younger generation of Hindus to become beef-eaters. In the name of friendship, the minorities are compelling Hindu boys to share beef preparations with them. All these are indications of Hindu alienation and distancing from its cultural domain.
(source: Hindus of Kerala - A race destined to be refugees in its native land - By Dr C. I. Issac - organiser.org). Refer to Attacks on Christian Churches are Self-Inflicted - By Sarath Bulathsinghala).

Top of Page
---
Afghanistan and It's Vedic Culture
"Indian history is based on a strong foundation and I do not think its fundamentals will ever be altered. New information will only confirm what we have always believed" - Historian R C Majumdar (1888 -- 1980)
.
Afghan"isthan" was once center of Vedic Culture. The Indo Aryans definitely lived in that region before migrating further either upwards or downwards. For the Aryans Afghanistan was the land of the Gandharvas or the celestial beings. The Gandharvas were depicted in the Vedic scriptures as celestial beings, skillful in music, with magical powers, and beautiful forms. In status they were not equal to the devas, but regarded as higher beings with divine powers, mischievous at times, but mostly friendly and reliable.


In ancient times, the valleys of Afghanistan must have resonated with the sounds of many caravans crisscrossing the country. The Indus valley people conducted their overland trade with Mesopotamia through Afghanistan. Their caravans carried a variety of goods that included rare and precious stones, minerals, food grains, resins, gold, silver and bronze, incense, Pistachios and more. After the expansion of the Vedic culture and the decline of the Indus valley civilization Afghanistan was invaded and occupied by the Persian army headed by Darius, the Great, (522 to 486 BC). We have little information as to who were ruling Afghanistan at that time. Probably it was part of an Indian kingdom from the Punjab region or was ruled by local chieftains.
When Alexander marched towards India, he passed through the mountainous territories of Afghanisthan and had to subdue many native tribes in the region. In the course of multiple battles he fought with them, his army was put to enormous strain and loss. Since his army was not familiar with the territory and his soldiers were not that skilled in mountain warfare, his army was literally exhausted by the time they reached the Indian borders and lost much of their motivation to fight further and march deeper into the subcontinent. The tired and frustrated soldiers insisted Alexander to return to their homeland. On their way back, Alexander had problems once again in the region and had to remain cautious till they crossed the borders of Afghanistan.

Alexander appointed Seleucus I as the viceroy of the Asian territories he conquered, which comprised of a vast area that stretched from the northwestern borders of India to most of Anatolia and parts of Syria-Phoenicia. Selucus I was not able to maintain his hold on the region for long. A few years after he took over the reign, about 303 BC, Chandragupta Maurya, the founder of the mighty Mauryan Empire from eastern India waged a war with Seleucus and defeated him.

As a part of the agreement, Seleucus I gave his daughter in marriage to Chandragupta Maurya and also ceded him Afghanistan and surrounding areas. For a few centuries from then on, Afghanistan remained under the control of the Mauryan Empire and enjoyed some degree of stability. During the Mauryan rule, Buddhism spread into Afghanistan and became a dominant religion there.

The Mauryan emperor who made this possible was Ashoka. He was the son of Bimbisara and the grandson of Chandragupta Maurya. During his reign the Mauryan empire reached its zenith. (See the Map). Perhaps under no other ruler before him or after him, so much of the country owed allegiance to one power.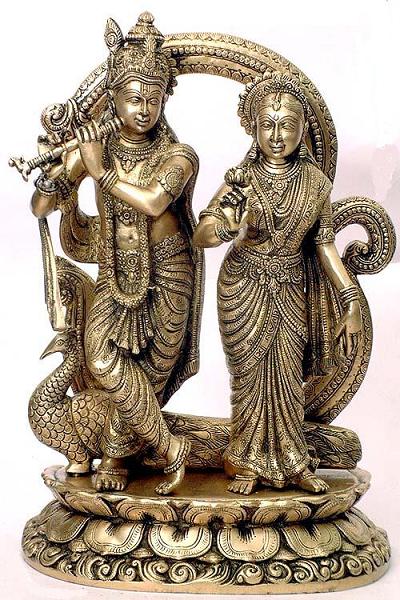 Radha Krishna
Afghan"isthan" was once center of Vedic Culture. The Indo Aryans definitely lived in that region before migrating further either upwards or downwards.

(For more refer to chapter on Greater India: Suvarnabhumi and Sacred Angkor).

***

Ashoka had a special relation with Afghanistan. When he was still a young prince, his father Bimbsara appointed him as the viceroy of this region, with Taxila (Org.SK. Takshasila, currently located in Pakistan near Rawalpindi ) as his headquarters. Taxila was then a great religious and trade center. It was a great seat of Vedic learning, where flourished the study of Vedic scriptures, many arts, crafts and ancient sciences. With the emergence of Buddhism in the region this region started attracting Buddhist scholars too.

Originally a cruel king, who allegedly ascended the throne after killing nearly a hundred of his own brothers, Ashoka underwent a life transforming experience at the height of his career. In the course of his conquests, which were many, he waged a bitter and bloody war against the people of Kalinga. This kingdom existed in those days in south eastern India, comprising the present day Orissa. The people of Kalinga were equally ferocious and stubborn people. Hence a bloody battle ensued in which there was a huge bloodshed on both sides and thousands of innocent people were killed, while materially nothing much was gained. The tragedy of the war and the ruin it brought upon so many people disturbed the emperor severely and changed his thinking forever. From a ruthless and ambitious ruler, he became converted to Buddhism and the ideals of compassion and non violence it preached. With in a few years after the war, he developed a philosophy of his own called the law of piety or dhamma, which was a hotch potch of Buddhist philosophy, Vedic dharma and the prevailing social and moral values of his times.

He spent the rest of his life in pious activities and spreading his dhamma, which he got carved into stone inscriptions in the form of edicts. He appointed a task force to get those edicts planted all over India as a reminder to the people of the moral life he cherished them to follow. Encouraged by his patronage and protection, the Buddhist monks traveled to various parts of India and outside also to spread the teachings of the Buddha and bring people to the path of righteousness.

The Mauryan empire declined after Ashoka and for sometime Afghanistan was left to itself. But it came into lime light once again with the invasion of the Bactrian Greeks. They invaded the subcontinent during the second century BC and established their power from the Oxus river in the west upto the Punjab in the east. Afghanistan was under their control. Not much is known about these new rulers. But we know that in matters of religion and social life they adopted some local practices. While some rulers turned to Hinduism for spiritual solace, some became devout Buddhists and patronized Buddhism.

(source: http://www.afghanhindu.com/vedic.asp

and http://www.india-forum.com/forums/index.php?showtopic=2&st=150

). Refer to My People, Uprooted: "A Saga of the Hindus of Eastern Bengal" - By Tathagata Roy
---
Indian Christians to become Hindu again
Dozens of former Hindu families in India are to be converted from Christianity to back to Hinduism by Hindu nationalists. The conversions are occurring today in an area where a murdered Australian missionary lived with his wife.
Australian Christian missionary Graham Staines spent 30 years of his life living and working with lepers in Baripada, in the eastern Indian state of Orissa, before he and his two sons were burned to death in their car by a hardline Hindu mob in 1999. Today, under the guidance of the World Hindu Council known as the Vishwa Hindu Parishad or VHP, dozens of converted Christian families are to be reconverted to Hinduism.
The VHP's State Secretary Gouri Prasad Rath has said that it would be "wrong to describe is as re-conversion". "We call it homecoming," he said. Christian activists in India oppose the reconversion ceremonies, claiming that people are pressured into reverting to Hinduism.
(source: http://www.abc.net.au/news/newsitems/200409/s1202306.htm).
---
Iowa Town Booms On Eastern Ways - By Kari Lydersen
Vedic City, Iowa -- When Eric Schwartz decided to move his financial services business from Silver Spring here to southeastern Iowa so he could join other practitioners of Transcendental Meditation in 1992, he worried that clients and colleagues might think he was a little crazy.
"Some people think TM (Transcendental Meditation) is some kind of cult or devil worship," he said. "I thought it might be negative for my business, that customers would freak out."

Things turned out just the opposite. Many other people in Vedic City and neighboring Fairfield feel the same way. The community founded by followers of the Maharishi Mahesh Yogi, the Beatles' meditation guru, has become an entrepreneurial mecca of the Midwest. Followers began flocking to Fairfield after the establishment of the Maharishi University of Management in 1974, and Vedic City just outside the limits of Fairfield was incorporated in 2001, the first new Iowa city to be incorporated since 1982. Residents estimate that one-fourth of the 10,000 people in Fairfield and Vedic City practice TM.
Vedic is a Sanskrit word meaning "totality of knowledge." Residents live in spacious homes designed with entrances facing east, small onion domes called kailashes on top and rooms oriented to correspond with the cycles of the sun and moon. Practitioners of TM generally meditate for 20 minutes twice a day.
Mario Orsatti, a Philadelphia native who studied with the Maharishi in Europe and moved to Fairfield in 1978, noted that the growing acceptance and popularity of alternative medicine and Eastern philosophy are also key to the area's success.
"It was a lot different 30 years ago," he said. "There was a lot of suspicion of things that are foreign, things from India. Today lots of people are doing yoga and meditation, looking at our tradition and saying, 'That is so cool.' Lots of small midwestern towns are dying, but Fairfield and Vedic City are thriving. People are moving here instead of moving away. Iowa would love to see this happening everywhere."
(source: Iowa Town Booms On Eastern Ways - washingtonpost.com).
---
Beyond the legend ... A badge of identity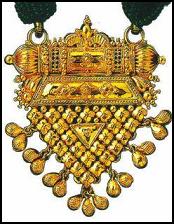 When he was Deputy Prime Minister, Morarji Desai visited the Gulistan Palace in Iran and stood before the fabled Darya-i-Noor diamond. It was the glittering prize of the fabled collection of jewels in the Shah of Iran's treasury that included at the far end of an underground museum the even more exotic Peacock Throne. As the delegation of Indians stopped at each one of the glass displays, each person could only feel a sense of exalted pride and intense sorrow.
"These are treasures that really belong to us," was the general feeling. "This is part of the wonder that was India." In case after case, emeralds, rubies, gorgeously made items of enamelware in gold, daggers and swords hilts, even the Shahbanu's favourite crown with its pink diamonds had originally been in India, taken for the most part by Nadir Shah during his sack of Delhi in 1739.
Indeed, in most of the jewellery displays around the world, whether at the Tower of London, where the Kohinoor is displayed in the Crown jewels of the Queen of England, or at the Smithsonian in Washington, where the blue tinged Hope Diamond beckons the visitor with the full mystery of its curse still intact, among other pieces that once formed part of the French "Emperor" Napoleon's collection, it's difficult for most Indians not to exhibit a sense of intense nostalgia.
The Rig Veda mentions the custom of using coins as ornaments. Or as Usha T. Bala Krishnan records in her gorgeous compendium on "Indian Jewellery Traditions" (Dance of the Peacock. Jewellery Traditions of Indian, with Meera Sushil Kumar) the Mahabharatha mentions, "an ornament for both men and women a round piece of gold tied at the neck in a string or chain, at times several such pieces strung into a necklet".
The famous Dancing Girl of Mohenjadaro wears a piece of string around her neck on which dangles three leaf-shaped pendants. Even today, whether among the tribal communities who might use silver coins or the richer strata of people, this necklace, or chain made up of coins (with each coin strung together with a decorative clasp) is one of the most popular forms of jewellery.
Of course the fabled mineral wealth of the country was a good reason why there were so many visitors in the first place, as the many stories of plunder and looting by famous invaders testify.
Just as the legends of serpent kings and nagas living at the foothills of impregnable mountains, in secret temples hidden in dark forests, guarding a precious gem might still be said to hold the imagination of the public in the many types of ornaments that are fashioned in the form of serpent coils and serpent heads, or nagapadams. Obviously, many of the legends were meant to deter people from plundering wealth from ancient temples and fortresses.
Or as Oppi Untracht who has written the most exhaustively examined account of Indian jewellery traditions, ("Traditional Jewellery of India") observes in the book, "Rarely is an Indian ornament simply decorative and devoid of inherent meaning or symbolic value".
He also goes on to comment, "At the same time, jewellers of the Western world fed upon the creative design concepts of the Indian jewellery and created a synthetic Indo-Western style by adapting several of its characteristic elements. Once these entered the lexicon of the Western design resources, their Indian origin was often unacknowledged or over-looked".
(source: Beyond the legend - hindu.com). For more refer to chapter on Islamic Onslaught and European Imperialism).
---
Yarn of the priceless pearl carpet that has vanished
Indian princes were well-known for their exotic jewels and treasures. But, even among such potentates, the pearl carpet, once owned by the Maharaja of Baroda, was a rare item, and it ranks with the Peacock Throne as a symbol of fascinating India.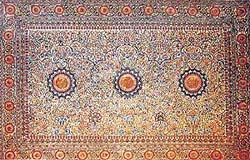 In the early 1860's, Maharaja Khande Rao of Baroda, who owned fabulous diamonds like the Star of the South, became possessed with a strange desire, that he must offer a priceless pearl carpet at the shrine of Prophet Mohammad in Medina. We do not know as to what made him take this vow. It appears that he wanted a pearl carpet, or chaddar, as it is reverentially called, to be gifted by him and spread over the Prophet's tomb in the mosque at Medina in Arabia, just like the pearl carpet which was spread over the tomb of Mughal Empress Mumtaz Mahal in the famous mausoleum of Taj Mahal at Agra. But, this idea of a grand gift to an Islamic shrine by a Hindu sovereign was not liked by his palace officials and other courtiers. After all, Baroda was a Hindu state. But the Maharaja was adamant and by 1865 the carpet was ready. But after Maharaja Khande Rao died, the pearl carpet was not sent to Medina, and was retained as a state treasure in Baroda.

It was a carpet made of diamonds, pearls, rubies and emeralds and measured, roughly, seven and half feet by six feet. In 1879, Sir George Birdwood, the eminent connoisseur of Indian jewellery, called it "The most wonderful piece of embroidery ever known." Composed entirely of wrought pearls and precious stones disposed in Arabesque patterns, it was valued at Rs 6 million when made in 1865. Although the richest precious stones were worked into it, the effect was harmonious. When spread out in the sun, it seems suffused with an iridescent glow, as gratifying to the eyes as were the exquisite forms of its Arabesques. Its base was made of deerskin and silk stitched together. The design is mostly made of pearls with a restrained effect and with dignified, classic Arabesque-Mughal-derived designs".

The last time the public saw it was during the Delhi Durbar of 1903, when the then Maharaja of Baroda, Sir Sayaji Rao Gaekwad, allowed it to be displayed, as a mark of respect for the British sovereign. This pearl carpet was in India till the early 1940's. One does not know, as to when it was taken out of the country. But till 1947, the maharajas were free to take their treasures in and out of India during their frequent trips to Europe and America. In 1943, the then Maharaja of Baroda, Sir Pratap Sinh Gaikwad, married a beautiful woman known as Sita Devi, who became his second maharani. Sita Devi took up her residence in Europe and soon, most of the Baroda treasures were transferred to her mansions in Monte Carlo in southern Europe. But in 1947, the state of Baroda was merged with India. Outraged by the anti-India activities of the Maharaja, the Government of India deposed him and forced him to return to India some of the most precious items, like the seven-strand diamond necklace and the fabulous seven-strand pearl necklace. But the pearl carpet continued to be in the possession of Sita Devi.

Her marriage with the Maharaja ended in a divorce in 1956 and the Gaikwad himself died in London in 1968. Sita Devi survived him by 18 years. By then the fabulous Baroda treasures had been dissipated. But, it appeared, that the pearl carpet was intact, and it was thought to have been kept in a bank vault in Geneva. Eminent Indologist Stuart Welch, in his book, Indian Art A.D. 1300 to 1900, ascribes the picture of the pearl carpet in the book to "Sita Devi collections".

The treasure's history was updated in January, 1994, when a news item appeared in Indian and Arabian newspapers, describing the Baroda pearl carpet as a 400-year-old prayer rug. A report quoted a Saudi-based agent, Hisham-al-Baroodi, as saying that he was currently negotiating with relevant Saudi officials to take the rug to the kingdom, where he was confident of funding a buyer. The account described the rug as being decorated with three shining diamonds in the middle, laced with pure gold and surrounded by blue, red and turquoise-blue pearls. According to eminent Mumbai jewellers, this Indian national treasure has now vanished into the vaults of one of the multi-billionaire Arab oil magnates, and the outside world may not see it again.

(source: Yarn of the priceless pearl carpet that has vanished - tribuneindia.com).
---
Muslims Join in Durga Festival in Germany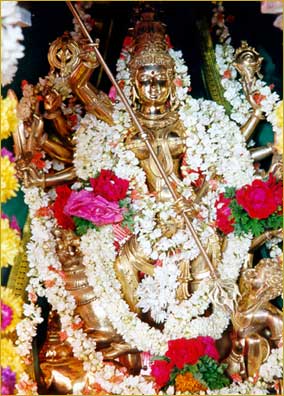 Cologne, Germany, October 22, 2004: This year's Durga Puja festival, celebrated here by the Germany-based Bengali community with much fanfare and devotion, has turned into a veritable show of Hindu-Muslim amity. Many Muslims are taking part and lending a helping hand in the organization of the Oct 19-23 festivities at the Buergerzentrum Chorweiler - the local town hall - of this city on the banks of the river Rhine. The festival has been held under the aegis of the Indischer Kulturverein - or the Bharat Samiti - a Cologne based Indian cultural association dominated by people of Bengali origin, though it also claims other Indians and even Muslims from Bangladesh amongst its members.

Association president D.K. Bannerjee, a businessman, said the festival reflected the "true spirit of reconciliation and brotherhood among people of all faiths." "We have had Muslim volunteers from Bangladesh helping out in our kitchen and cooking food for five days on a voluntary basis," he told IANS. Many of the volunteers have taken leave of absence from their work for several days to help in organizing the program. The organizers have set up huge icons of Durga, as well as of Laxmi, Saraswati and Kartika, on an elevated pedestal at the Buergerzentrum Chorweiler.

As part of the festivities, the organizers have arranged for Indian classical music and dance performances, as well as modern Indian dances and music in the evening, besides serving free food to the guests, who usually number between 300 and 400 each evening. Many Germans have also been present at the Durga Puja celebrations. "Our German guests are impressed by the dazzling colors, the food and culture but, more importantly, they are interested in the philosophy of Durga's fight against injustice and the evils in this world," Bannerjee explained. Peer Steinbrueck, minister-president of the state of North Rhine Westphalia, in which Cologne lies, is the patron of the Durga festival.
(source: Muslims Join in Durga Festival in Germany - hinduismtoday.com).
---
Mother Teresa was used by India: says Author
Dr Gezim Alpion
In what many are calling a controversial revival of a 30-year-old debate about the diminutive nun's real worth, Teresa's compatriot, Dr Gezim Alpion, tries to find out why she was supported by nearly all Indian governments after 1950.
This, despite her being a white western Catholic female and despite India's minuscule Christian population totalling just two per cent, points out Alpion, in his forthcoming volume, 'Biased Discourse: The Case for Mother Teresa'.
Alpion insists he is less carping critic than bemused admirer of his fellow Albanian who was hailed worldwide for her selfless work among the sick and poor in contemporary Calcutta's black holes. "How come we don't know much about Mother Teresa when she wasn't in India; her 'sainthood' started in Albania," he told TOI on Friday. He claimed that the nun was "used" by the Indian government to promote an image of unity in diversity, after India's recent, bitter experience of Partition. "The Indian establishment felt, we have a white, European, Catholic".
Alpion's study, the first by someone of Mother Teresa's ethnicity, offers an interesting twist in the nun's extraordinary saga. It says the world's media deliberately refused to recognise her Balkan roots, after Malcolm Muggeridge discovered Mother Teresa in 1968. He says it's time to take an informed and impartial look at how the tiny nun went on to become an iconic image embraced by royalty and rough-sleepers alike. There could have been no Mother without the media. Her myth was carefully crafted over the years by the Roman Catholic Church, numerous Indian governments and several White House administrations, he declares. Somewhat controversially for the nun's legions of admirers worldwide, he adds that Teresa was hardly passive in this international image-making process. She always had a say in what should and should not be said about her.
(source: Mother Teresa was used by India: says Author Dr Gezim Alpion - By Rashmee Z Ahmed/TNN - The Times of India Date: October 16, 2004).
Mother Teresa of Calcutta was a powerful propaganda machine and public relations guru who manipulated the media to mould her public image, a Birmingham academic claimed today. Dr Gezim Alpion, an English and Cultural Studies lecturer at the University of Birmingham, argues that the image of the Albanian-born nun, who died in 1997, was carefully crafted by the Roman Catholic Church.
(source: Mother Teresa 'was a PR guru'

- icbirmingham.co.uk. For more refer to chapter on Conversion).

Top of Page
---
Dalits: Kanchi leads the way - By Sandhya Jain
The Shankaracharya of Kanchi, Swami Jayendra Saraswati, broke a critical stalemate in the current controversy over the merits of the Tamil Nadu ban on conversions by force, fraud or inducement, by offering worship at a Dalit-run temple in Madurai (The Hindu, 12 Nov. 2002). The Veerakali Amman temple, which serves the religious needs of eighteen villages and has a Dalit priest, lies in the Melur region where 250 Hindus were converted en masse by a Canadian priest of the Seventh Day Adventists on 25 August 2002. Previously, about fifteen hundred Hindus were converted in the neighbouring areas in January 2001. By giving the villagers an unexpected darshan, the Shankaracharya gracefully shattered several myths and assumptions about inequality and divisiveness in Hindu society.

Speaking with his legendary forthrightness, the seer told the gathering what many of us have always known, namely, that Hindu dharma does not promote or envision discrimination and regards people of all sections of society as equals. He rightly stressed that Hindus have an age-long tradition of living amicably as a "family", as brothers and sisters. Candidly accepting that there are always differences in society, he advised the people not to foster discrimination on this count, as unity has ever been the hallmark of the dharma.

The Shankaracharya has truly led by example, with a view to blunting the criticism of evangelizing faiths that social discrimination compels Dalits to embrace other faiths. Swami Jayendra Saraswati, however, has risen above this cacophony to remind us that we cannot seek refuge in such specious arguments, and that it is our duty to uphold the principle of the brotherhood of man in our own lives. It is now enjoined upon each one of us to be worthy followers of a worthy leader. Tamil society in particular must rise to the occasion and accord the Dalits the personal dignity they crave for; a beginning must be made by doing away with the degrading two-glass system at village dhabas. In this regard, it may be worth noting that the Swamiji's choice of temple was singularly apt. The Veerakali Amman temple attracts devotees from all castes and is also a locally renowned symbol of communal harmony as Muslims regularly join the celebrations of its annual festival in January.

What is most exciting about this new call from the bastions of the mainstream tradition is that it cannot be set aside lightly as a maverick or fringe movement. Swami Jayendra Saraswati followed up the Madurai initiative at Tirunelveli by categorically asserting that Dalits have the right to enter any temple across the State, individually, and offer prayers. This may not make sense to many urban citizens. But what it means is that at many important temples, Dalits from outside the region do enter anonymously along with other pilgrims, but local Dalits who might be recognized would be barred or beaten for entering the precincts.
Now an orthodox Hindu leader with unparalleled knowledge of the shastras has ruled that "appropriate action" would be taken against those trying to prevent a Harijan from entering a temple. And as the cosmic vision of the Hindus does not envisage the shallow separation of religion and the public sphere, as Mahatma Gandhi had intuitively understood, the Shankaracharya has rightly asserted that religious leaders must increasingly participate in public life to foster a social renaissance
Nonetheless, much water has flown under the bridge, and communities have grown to the point that many individuals wish to stake claim to a larger Indic heritage. Hindu tradition is by definition inclusivist rather than exclusionary, hence deference to the sentiments of non-Hindu devotees would be highly appropriate. The present move is the result of the hurt felt by many at a perceived injustice to celebrated singer K.J. Yesudas, a great bhakta of Guruvayurappan, who has been denied temple entry on account of being born in a Christian family. The poet Yusufali Kecherry, who has written some of the best songs in honour of Lord Krishna, has also been excluded from Guruvayur because of his Muslim origins.
(source: Dalits: Kanchi leads the way - By Sandhya Jain - daily pioneer. com - November 19 2002).http://www.hvk.org/articles/1102/135.html
(For more refer to chapter on Greater India: Suvarnabhumi and Sacred Angkor).
---
UN and Religious Proselytization Petition
Stop the destruction of Indigenous cultures.

The petition is at: http://www.petitiononline.com/unchr900/petition.html

Hindu Council launches anti-conversion petition

The Hindu Council UK is spearheading a campaign for people to sign an anti-conversion petition to be presented to the UN High Commission for Human Rights and the United Nations General Assembly. The petition will request that proselytization must be eliminated in the interest of promoting world peace and harmony and respectful coexistence of all religions.

Addressed to Soli Sorabjee, Chairman, UN Sub-Commission on Promotion and Protection of Human Rights, Louise Arbour, UN High Commissioner for Human Rights, Kofi Annan, Secretary-General, United Nations and Heads of States of all Secular Nations, the petition says there are deep concerns about inter-religious conflicts fomented by the proselytizing activities of certain sects.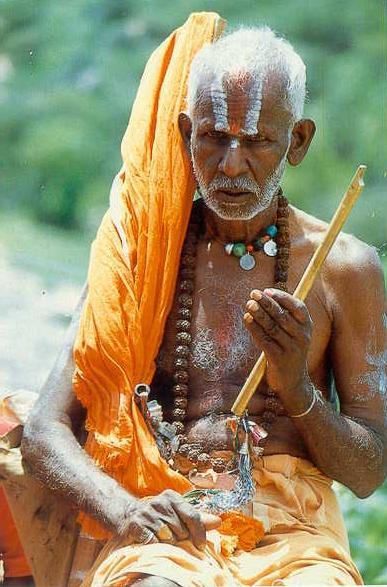 "We are troubled by the likelihood of major clashes of civilizations resulting from the exclusive truth claims of monotheistic religions. We also anticipate such conflicts will weaken the social fabric of many countries by pitting religions against one another and destroying indigenous cultures."
(For more refer to chapter on Greater India: Suvarnabhumi and Sacred Angkor).
***
It points out that large majority of Muslims and Christians do not harbour such grand aspirations and are opposed to the proselytizing schemes. It says: "We are troubled by the likelihood of major clashes of civilizations resulting from the exclusive truth claims of monotheistic religions. We also anticipate such conflicts will weaken the social fabric of many countries by pitting religions against one another and destroying indigenous cultures."

"Further, we are firmly convinced that we should act now to prevent all inter-religious conflicts and the occurrence of greater misery, death and destruction than what we have witnessed thus far in the course of human history, most brought about by the evils of proselytization."

(source: UN and Religious Proselytization Petition. For more refer to Bush's Conversion Agenda for India: Preparing for the harvest and chapter on Conversion and Their Other "Dirty" Linen: Evangelism's Quest to Conquer the World - By S R Welch - secularweb.org). Refer to Attacks on Christian Churches are Self-Inflicted - By Sarath Bulathsinghala).
"Conversions are objectionable because they invariably involve loss of identity. This is unavoidable because the religions that proselytize are those that have aggressively destroyed the heritage and roots of the societies whose adherence they won, usually by violence. A cursory glance at the European, African, North and South American and Australian continents will testify to the veracity of this statement." says columnist Sandhya Jain.
---
Hindus in Arabia : The Durjas Tribe ?
Then 65 years ago and now. The world today is quite familiar with the presence of expatriate Indians in large numbers in the Islamic countries of West Asia. Naturally, a large proportion of the repatriates comprise of Hindus.

That, in 1940 itself, there had been a precedent for such a presence may come as something of a surprise to our readers today. More so, when those Hindus were reported to have been present in Arabia for some centuries then!

Extracts from a communication sent to this newspaper by Shri T.S. Vinayaka Rao, an advocate of Madras:

Hindus in Arabia

"At this juncture, when the war threatens to spread to the Near East, it will be interesting to learn that a community of people who are Hindus, and who are idol-worshippers, have been existing in Arabia for several centuries. They live surrounded by Muslim tribes.

"This Hindu community, which is well-organised, almost on the patterns of a little tribal state, was originally under the rule of Turkey. But, after the Great War of 1914, it came to be held under the mandate of France...

"The people of the above Hindu community speak Arabic, and they call themselves the 'Durjas'. Their full name in Arabic is 'Davil Dal Duruj' which means 'people of the Durja'.

"The Durjas are divided into two notable classes, one group comprises those who wear the orthodox tuft, and those who do not do so. Those who do not wear the tuft are in greater number... The Durjas are worshippers of Siva and Ganapati and they have idols installed in temples for their worship. Some of their shrines are actually built very much on the lines of Hindu temples in India. Many others have adopted the pattern of mosques. Whatever the construction of the shrines, they all have priests who perform sequences or rituals including that of arati.

"The religious books of the Durjas are found to be in Arabic script. They are written in the form of poetical lines and the priests have committed most of the books to their memory. Both the men and the women have modelled themselves on the Arab tribes and therefore display extremely war-like qualities and manners. Hence, repeated efforts over several centuries to convert them to Islam have failed. Similarly, strenuous efforts by the Muslims to exterminate them altogether have also been frustrated... A significant difference marking the Durjas out is the refusal of their women to wear purdah. The survival of this freedom from their ancient Hindu origins is another surprising fact."

(source: The Hindu, August 5, 1990) http://www.saag.org/BB/view.asp?msgID=6321
---

Did You Know?
Stamp Issued to Honor Sanskrit Grammarian Panini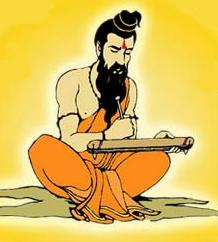 Panini was an Indian grammarian who was believed to have flourished around. c. 400 B. C. His AshtAdhyAyI [eight books] (tr. 1891) is one of the earliest works of descriptive linguistics and is also the first individually authored treatise on Sanskrit. He was born: about 520 BC in Shalatula (near Attock), now Pakistan Died: about 460 BC in India .
Panini's Sanskrit grammar, produced in about 1300 B. C. E. is the shortest and the fullest grammar in the world. Panini composed a Sanskrit grammar called the Ashtadhyayi. In 4,000 short verses, it revealed the inner mechanics of Sanskrit - how the language worked and how new words evolved.
Sir Monier-Williams (1819-1899) Orientalist, professor of Sanskrit at Oxford in 1860. He made a lengthy and learned introduction to his monumental work: Sanskrit-English Dictionary. He wrote:
"The Panini grammar reflects the wondrous capacity of the human brain, which till today no other country has been able to produce except India."
"The grammar of Panini is one of the most remarkable literary works that the world has ever seen, and no other country can produce any grammatical system at all comparable to it, either for originality of plan or analytical subtlety."
Walter Eugene Clark writes in The Legacy of India, p. 339-340:
"Panini's grammar is the earliest scientific grammar in the world, the earliest extant grammar of any language, and one of the greatest ever written.
Delhi, India August 30, 2004: The Department of Posts has released a postage stamp today in commemoration of India's Heritage in Grammar and Mathematics which was influenced by the accomplishments of Panini, one of the greatest grammarians of all time whose work revolutionized the use of language not only in India but also in the rest of the world. The stamp is in the denomination of Rs. 5. Panini, whose lifetime was believed to be between 520 BC and 460 BC, was born in Shalatula, a town near Taxilla on the Indus river in the present-day North-West Province in Pakistan. Panini's brilliant account of the structure of the Sanskrit language seeks to provide a complete, maximally concise and theoretically consistent analysis. It unfolds a theory of human language where the infinite language is generated by finite grammar which modern linguistic acknowledges as the most complete, generative grammar of any language yet written.
(source: http://www.pib.nic.in/release/release.asp?relid=3583). For more on Panini refer to chapter on Sanskrit).
(For more refer to chapter on Greater India: Suvarnabhumi and Sacred Angkor).