Before the whining drowns it out, Listen to the New India - By Arun Shourie
Arun Shourie, India's Union Minister for Disinvestment, Communications & Information Technology, tells us why we need to listen to the New India.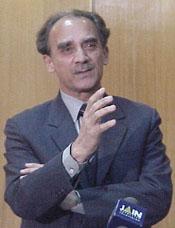 Twenty to twenty-five years ago, even 10 years ago, few of us had heard of Information Technology. Today, exports from this industry are worth $10 billion — that is, over Rs 45,000 crore a year. That figure is 20 per cent of our total exports.

In spite of the fact that each of the markets to which we supply IT software and solutions has been in the trough of recession for years, IT exports have grown by 26 per cent this year.

Infosys had not even been born 25 years ago. Wipro was a company selling vegetable oil. Indeed, other than the ''Tata'' in Tata Consultancy Services, there is scarcely a name in the IT industry that was known then.

And guess what the average age is in the industry? Just 26 and a half! These 26/27-year-olds have changed the world's perception of India.

It's not just a country of snake-charmers, it's a country against which protectionist walls have to be erected. Of course, we can also charm snakes.

And these 26-year-olds are changing India's perception also of itself: that India can; that, therefore, we should face the world with confidence.

At a moment's notice, my friends Amit Mitra of FICCI and Tarun Das of CII send me particulars of firm after firm, in sector after sector, that has broken new ground. A sample:

• Fifteen of the world's major automobile manufacturers are now obtaining components from Indian firms.
• Just last year, exports of auto-components were $375 million. This year they are close to $1.5 billion. Estimates indicate they will reach $15 billion within six to seven years.
• Hero Honda is now the largest manufacturer of motorcycles in the world—with an output of 17 lakh motorcycles a year.
• One lakh Indica cars of the Tatas are to be marketed in Europe by Rover, one of the United Kingdom's most prestigious auto-manufacturers under its — that is, Rover's — brand name.
• Bharat Forge has the world's largest single-location forging facility — of 1.2 lakh tonnes per annum. Its client list includes Toyota, Honda, Volvo, Cummins, Daimler Chrysler. It has been chosen as a supplier of small forging parts for Toyota's global transmission parts' sourcing hub in Bangalore.
• Asian Paints has production facilities in 22 countries spread across five continents. It has recently acquired Berger International, which gives it access to 11 countries, and SCIB Chemical SAE in Egypt. Asian Paints is the market leader in 11 of the 22 countries in which it is present, including India.
• Hindustan Inks has the world's largest single stream, fully integrated ink plant, of 1 lakh tonnes per annum capacity, at Vapi, Gujarat. It has a manufacturing plant and a 100 per cent subsidiary in the US. It has another 100 per cent subsidiary in Austria.
• For two years running, General Motors has awarded Sundaram Clayton its 'Best Supplier Award'; the volumes it sources out of India are growing every year.
• Ford has presented the 'Gold World Excellence Award' to Cooper Tyres.
• Essel Propack is the world's largest laminated tube manufacturer. It has a manufacturing presence in 11 countries including China, a global manufacturing share of 25 per cent, and caters to all of P&G's laminated tube requirements in the US, and 40 per cent of Unilever's.
• Aston Martin, one of the world's most expensive car brands, has contracted prototyping its latest luxury sports car to an India-based designer. This would be the cheapest car to roll out of Aston Martin's stable.
• Maruti has been the preferred supplier of small cars under the Suzuki brand for Europe. Suzuki has now decided to make India its manufacturing, export and research hub outside Japan.
• Hyundai Motors India is about to become the parent Hyundai Motors Corporation's global small car hub. In 2003, HMC will source 25,000 Santros from HMI's plant in India. By 2010 HMI is targeted to supply half a million cars to HMC. It was only in 1999 that HMI got its first outsourcing contract and already, in 2003, 20 per cent of its sales will be what it supplies as an outsourcing hub. It is exporting cars to Indonesia, Algeria, Morocco, Columbia, Nepal, Sri Lanka and Bangladesh.
• Ford India got its first outsourcing contract in 2000. Within 3 years outsourcing accounts for 35 per cent of its sales. Ford India supplies to Mexico, Brazil and China. The parent Ford is sourcing close to $40 million worth of components from India, and plans to increase these in the coming years.
Ford India is already the sole manufacturing and supply base for Ikon cars and components. These are being exported to Mexico, China and Africa.
• Toyota Kirloskar Motors chose India over competitive destinations like Philippines and China for setting up a new project to source transmissions as this option proved more economical.
• Europe's leading tractor maker, Renault, has chosen International Tractors (ITL) as its sole global sourcing hub for 40 to 85 horsepower tractors.
• Tyco Electronics India bagged its first outsourcing contract in 1998-99. So successful has it been that components and products others have contracted from it already account for 50 per cent of its total sales. It supplies to the parent, Tyco Europe.
• TISCO is today the lowest cost producer of hot-rolled steel in the world.
• TVS Motor Company has been awarded the coveted Deming Prize for Total Quality Management. Many of the largest of organisations, even American ones—like GE—have not managed that recognition yet!

India's pharmaceutical industry has come to be feared as much as its infotech industry. It is already worth $ 6.5 billion and it has been growing at 8-10 per cent a year. It's the fourth largest pharmaceutical industry in terms of volumes and 13th in value. Its exports have crossed $2 billion, and have increased by 30 per cent in the past five years. India is among the top five manufacturers of bulk drugs. Even more telling is another figure. We are always being frightened, ''Multinational drug companies are about to takeover.'' In 1971 the share of these MNCs in the Indian market was 75 per cent. Today it's 35 per cent!
There's another feature we should bear in mind: India's strengths are becoming evident across the technology spectrum:
• We are among the three countries in the world that have built supercomputers on their own, the US and Japan being the other two: two months ago, the fourth generation PARAM super-computer was inaugurated in Bangalore.
• We are among six countries in the world that launch satellites. We launch some of our own satellites of course; we have launched satellites for others too, among them such countries as Germany and Belgium. We have the largest set of remote sensing satellites. Our INSAT system is also among the world's largest domestic satellite communication systems.
At the other end:
• India is one of the world's largest diamond cutting and polishing centres. CLSA estimates nine of every 10 stones sold in the world pass through India.
• Trade of Indian medicinal plants has crossed Rs 4,000 crore.
Our foreign exchange reserves are at an all-time high—$82 billion. We have announced that we will not be taking aid from a string of countries.
• We are giving aid to 10 or 11 countries.
• We are pre-paying our debt.
• We have just ''loaned'' $300 million to the IMF!
How distant the days when we used to wait anxiously for the announcement about what the Aid India Club meeting in Paris had decided to give us.
(source: Before the whining drowns it out, listen to the new India - By Arun Shourie and When sky is the limit - By Arun Shourie - indian-express.com August 15, 16 and 17).
In a 3-part provocative series, India's Union Minister for Disinvestment, Communications & Information Technology, tells us why we need to listen and act. For more on Arun Shourie refer to The Arun Shourie Site.
---
Hindu Temple lays beneath the Ayodhya structure
In what could be a turning point in the Ayodhya dispute, the Archaeological Survey of India (ASI) has reported to the High Court here that its excavations found distinctive features of a 10th century temple beneath the Babri mosque site even as the Sunni Central WAQF Board termed the report as "vague and self-contradictory".
The report said there was archaeological evidence of a massive structure just below the disputed structure and evidence of continuity in structural activities from the 10th century onwards upto the construction of the disputed structure (Babri mosque).
Among the excavation yields it mentioned were stone and decorated bricks as well as mutilated sculpture of divine couple and carved architectural members including, foliage patterns, Amalaka, Kapotapali, Doorjamb with semi-circular shrine pilaster, broke octagonal shaft of black schist pillar, lotus motif, circular shrine having pranjala (watershute) in the north and 50 pillar bases in association with a huge structure.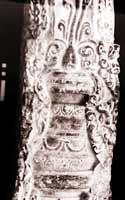 Among the excavation yields it mentioned were stone and decorated bricks as well as mutilated sculpture of divine couple and carved architectural members.
For more images refer to chapter on GlimpsesVIII).
Watch History of Ayodhya - videogoogle.com.
The archaeological evidence and other discoveries from the site were indicative of remains which are distinctive features found associated with the temples of north India, the ASI report said.
The ASI report said there is sufficient proof of existence of a massive and monumental structure having a minimum dimension of 50x30 metres in north-south and east-west directions respectively just below the disputed structure.
In course of present excavations nearly 50 pillar bases with brick bat foundation below calcrete blocks topped by sandstone blocks were found, the report said.
(source: Hindu Temple lays beneath - dailypioneer.com - August 26 2003).
***
Rampant Negationism : The Indian Marxists
- By Koenraad Elst
One should know that there is a strange alliance between the Indian communist parties and the Muslim fanatics. Marxism dehumanizes people to impersonal pawns, or "forces" in the hands of god History. The Marxist historians had the field all to themselves, and they set to work to "decommunalize" Indian history-writing, ie. To erase the importance of Islam as a factor of conflict.
In Communalism and the Writing of Indian History, Romila Thapar, Harbans Mukhia and Bipin Chandra, professors at Jawaharlal Nehru University (JNU, the Mecca of "secularism" and negationism) in Delhi, write that the interpretation of medieval wars as religious conflicts is in fact a back-projection of contemporary religious conflict artificially created for political purposes. They explicitly deny that before the modern period there existed such a thing as Hindu identity or Muslim identity. Conflicts could not have been between Hindus and Muslims, only between rulers or classes who incidentally also belonged to one religious community or the other. It is of course a fact that in the Jewish ghetto in Warsaw the Nazis employed Jewish guards: this does not disapprove Nazi-Jewish enemity. Time and again, the negationist historians (including Bipan Chandra, K N Panikkar, S. Gopal, Romila Thapar, Harnans Mukhia, Irfan Habib, R S Sharma, Gyandra Pandey, Sushil Srivastava, Asghar Ali Engineer, as well as the Muslim fundamentalist politician Syed Shahabuddin) have asserted that the tradition according to which the Babri mosque forcibly replaced a Hindu temple, is nothing but a myth purposely created in the 19th century. To explain the popularity of the myth even among local Muslim writers in the 19th century, most of them say it was a deliberate British concoction, spread in the interest of the "divide and rule" policy. They affirm this conspiracy scenario without anyhow citing, from the copious archives which the British administration in India has left behind, any kind of positive indication for their convenient hypothesis – let alone the rigorous proof on which a serious historian would base his assertions, especially in such controversial questions.
Personal Attacks on Opponents
In December 1990, the leading JNU historians and several allied scholars, followed by the herd of secularist pen-pushers in the Indian press, have tried to raise suspicions against the professional honesty of Prof. B B Lal and Dr. S P Gupta, the archaeologists who have unearthed evidence for the existence of a Hindu temple at the Babri Masjid site. Rebuttals by these two and a number of other archaeologists have received minimal coverage in the secularist press.
I have been thinking of the behavior of our Marxist friends and historians, their unprovoked slander campaign against many collegues, hurling abuses and convicting anyone and everyone even before the charges could be framed and proved. Their latest target is so sober and highly respected a person as Prof. B B Lal, who has all his life never involved himself in petty politics or in the groupism so favorite a sport among the so-called Marxist intellectuals of this country. But then slander is a well-practised art among the Marxists."
(source: Negationism in India - By Koenraad Elst p. 37 -41). Refer to My People, Uprooted: "A Saga of the Hindus of Eastern Bengal" - By Tathagata Roy. Watch History of Ayodhya - videogoogle.com.
***
Grave allegation to lob against a reputed body
Marxist historian Irfan Habib trashed the Archaeological Survey of India's (ASI's) report submitted to the Allahabad High Court at a press conference organised by the Safdar Hashmi Memorial Trust on Friday. He said the ASI's excavations actually proved the Babri Masjid was built on the ruins of a mosque. But he couldn't explain why a mosque would have been razed to build a new one.
***
But the likes of Habib and Suraj Bhan don't seem to have the patience to wait. They have sought to disparage the ASI's competence.

Actually, the hostility goes back to the very beginning of the ASI exercise. When the Allahabad High Court ordered the excavation, Habib and Bhan insisted there was no need to do so. In their opinion, nothing lay beneath the former site of the Babri Masjid. They also questioned the competence of Tojo Vikas, which had reported anomalies beneath the surface after an imaging survey. After the excavation, Habib and Bhan objected to horizontal digging as it would destroy the flooring of the mosque, pretending this had historical value. They ignored that in the event of reconstruction of the mosque, the flooring would in any case have to removed.
Later, when unannotated interim reports from the ASI were submitted to the court, Habib and his friends started interpreting them to mean no temple structure existed beneath the mosque. When one of the interim reports suggested an anterior structure beneath the mosque, they concluded it was an earlier mosque, constructed during the Sultanate period. They ignored that there was no corroborative evidence of a mosque preceding the Babri Masjid. No such Sultanate mosque was ever mentioned in contemporary writings.
Glazed ware has been found used as early as the Kushan period. Lime and mortar were used in the Sanchi stupa, second century BC, as well as in the Gupta period. Such material was also used in Sarnath in the 11th and 12th centuries.
Eminent scholars as they are, Habib and Bhan ought to know antiquity of a structure is determined not by tiles, lime and mortar but by carbon dating of organic substances. This was reportedly undertaken by the ASI.
If animal bones found by the ASI date the structure to at least the 10th C, it can be safely concluded the structure was pre-Islamic. Animal sacrifice was common enough in Hindu temples. That apart, it is not understood how Habib and Bhan ignored numerous terracotta figurines and divine sculptures, suggestive of Hindu origin. Their silence in this regard is baffling. It would appear that the two scholars have a political agenda, of prejudicing public opinion against the ASI report even before judicial scrutiny. Should the court ratify the ASI report, Indian Muslims have no reason to be apologetic for what Babar, an invading outsider, may have done 500 years ago.
(source: Temple and the truth - By Bulbul Roy Mishra - indianexpress.com).
Considering that only 15 per cent of all the archaeological excavations undertaken in India since Independence are properly published, the submission of a full report on any excavated site in the country should be a matter of great rejoicing among archaeologists.
To cast a slur on the findings of what is undoubtedly the best and most dependable professional archaeological organisation in the country is an act of pure political expediency. Whatever we can accuse the ASI of, conscious falsification of data cannot be one of them.
(source: It's the archaeology, stupid! - by Dilip K. Chakrabarti August 29 2003). For more on Eminent Marxists JNU historians refer to ICHR's The Eminent Entrepreneurs!

- By Arun Shourie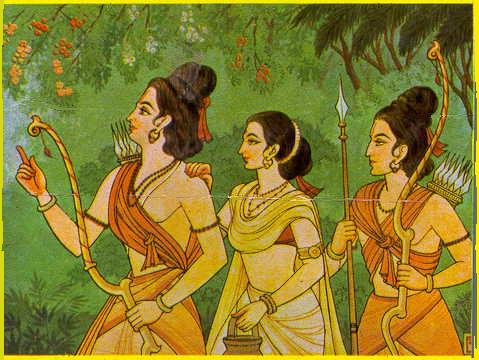 Lord Ram, Sita and Laxshman.

Watch History of Ayodhya - videogoogle.com.

***


Slinging mud at a respected national institution, one that has earned international praise for its competence in the field- Angkor Vat's conservation in Cambodia is only one of its celebrated achievements. Charges of the report being "doctored" are even more unbecoming when lobbed by 'secular' academics, on the specious ground none of the interim reports had mentioned a temple.

(source: Ayodhya - What lies ahead

- dailypioneer.com - Editorial August 27 2003

).

Nayanjot Lahiri, a leading archaeologist in the country, who has gone through the ASI report, thinks that some of the points raised by Habib are "themselves very questionable". Lahiri, Reader in Delhi University's history department, finds the charge baseless and points out that it was the Allahabad High Court which had ordered the ASI to excavate the site to attest the anomalies mentioned in an earlier ground penetrating radar (GPR) survey report. "The ASI was simply covering the area the GPR survey had covered," she said. Lahiri's most serious charge against the ASI's critics is that they are "communalising artefacts along religious lines".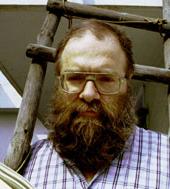 Koenraad Elst (1959 -) Dutch historian, born in Leuven, Belgium, on 7 August 1959, into a Flemish (i.e. Dutch-speaking Belgian) Catholic family. He graduated in Philosophy, Chinese Studies and Indo-Iranian Studies at the Catholic University of Leuven. During a stay at the Benares Hindu University, he discovered India's communal problem and wrote his first book about the budding Ayodhya conflict - Ayodhya and After: Issues Before Hindu Society.

He writes: "While the true fanatics led by Marxist Historian Irfan Habib simply ignore the new evidence as they have ignored the old, we see the slightly more cautious secularists retreat to the next line of defence. They use these fanatics as a counterbalance to the scientific findings, which they in turn conflate with the "Hindu chauvinists", to create a semblance of even-handedness with themselves in the reasonable middle position between two fanatical parties, one of these in effect including the ASI. This way, they can still maintain that there is no conclusive proof for the temple, as if Habib's dogmatic denials are equal in value with the scientific findings of a team of top archaeologists.

The BBC correspondent (and following her, most of today's European newspapers) claims that the issue remains unresolved. But if you read on, you find that this only means that some of the long-standing evidence deniers merely keep on denying the evidence. So yes, there are still two positions: those who stand by the evidence and those who deny it or explain it away with contrived and totally ridiculous stories.

But no fair reporter would treat those two positions, science and anti-science, as being of equal validity or equal seriousness in any other controversy."

(source: Hindu Unity.com).

For more on Koenraad Elst refer to chapter Quotes201_220).

Dr. N S Rajaram said the facts that emerged from the recent excavations were already known during ASI's investigation 20 years back. "The facts released decades back have been already used by me for my book on the issue 'Profile in Deception- Ayodhya and the Dead Sea Scrolls' which was published in 2000. The new report reveals nothing different. These facts have been known for decades,'' Dr Rajaram said.

Dr Rajaram has appealed to the people to accept the existence of the 10th century old temple at the site. "It was already known that the Ram Janmabhoomi temple was on the Ayodhya site. Previous excavations have shown this. The government should first accept this reality before it frames its policies on the matter.''

(source: Accept temple existed at Ayodhya, says historian - timesofindia.com).

Sir V S Naipaul has supported the Ram Janmabhoomi movement and the idea to build a temple at Ayodhya and expressed his sympathy for Hindu Revivalism.

For more about Ayodhya refer to V S Naipaul - chapter on Quotes251_270 and Islamic Onslaught).

A Civilisational failure among our elite

It reveals a civilisational failure among our elite, an unwillingness, or inability, to grapple with fundamental issues of identity and ethos that are fast crystallising in the nation as a whole. These issues will not subside, not least because a religion-inspired terrorism is undermining the very secular state that protects its right to exist. None but the most obtuse can fail to see that this contradiction must give way, sooner or later. Nothing encapsulates the twin issues of national identity and civilisational ethos like Ayodhya. The ASI's unearthing evidence of an ancient Hindu temple is a powerful vindication of the millions of Ram bhakts who kept alive the memory of the God's birthplace through centuries of displacement and disempowerment.

The nation owes a deep debt of gratitude to Dr Hari Majhi, Dr BR Mani and their colleagues, who submitted their professional honour and credibility to constant hostile scrutiny through five months of excavations, and maintained a dignified silence in the face of patently false media reports about the findings, which intended to intimidate them from making a definitive statement about the nature of their discoveries. Thus, there is credible evidence that a temple/structure was demolished and a mosque built. Other findings include stone and decorated bricks, a mutilated sculpture of a divine couple, carved architectural members including foliage patterns, amalaka, kapolapali, doorjamb with semi-circular pilaster, broken octagonal shaft of black schist pillar, lotus motif, circular shrine with a pranala (water-chute) in the north, 50 pillar bases, all of which are distinctive features of North Indian temples.

(source: A civilisational failure among our elite - By Sandhya Jain - dailypioneer.com - September 8, 2003).
---
Secular spoilers and Ayodhya - By MC Joshi
Amongst these, Hindu secular fundamentalists are more loyal than the king. They have made it a habit of blaming and interrogating only their own community. They insist the dispute be seen only from 1992, not from 1526. While they go thousands of years back to dig out cases of oppression by Hindus, they want Hindus to forget the history of 800 years of oppression at the hands of Muslim invaders and rulers.
The status of Ayodhya as the birthplace of Lord Ram and its sacred association for Hindus are beyond question. Nobody can deny that Babar's men built the disputed mosque in Ayodhya. In spite of the historical background, many Hindus openly condemn the demolition of the mosque. These 'secularists' do not even accept that Ayodhya, Kashi and Mathura did not and do not bear any legitimate significance for Muslims.
They are only laid claims to as symbols of Hindu humiliation. There was no other reason mosques were built at the sites of three of the holiest Hindu shrines by Muslim rulers.
There have been other moderate Muslim voices that have used the Western media to say no mosque exists in Ayodhya presently and Muslims know that-even if a court verdict goes in their favour-no power in the world could enable them to build a mosque at the site. In contrast, while reacting to the suggestion that a solution may emerge if Muslims take the lead in 'give-and-take' by offering the disputed site to Hindus, a Hindu journalist has said that breaking the impasse without a court verdict would initiate similar demands in villages across the country. Virtually questioning the existence of a Ram temple at the site, he said even the most well-known Ram-bhakt, Tulsidas, made no mention of it. It is such illogic that makes reconciliation impossible. Tulsidas was neither a journalist nor a historian. His literature dwelt on the lifetime of Lord Ram, thousands of years before the birth of Islam.
There can, of course, be an amicable settlement if Muslims do make a grand gesture on Ayodhya and Hindu organisations respond by abandoning all further attempts to right "historical wrongs", as suggested by Mr Mitra. But that does not seem to suit the 'secular' spoilers.
(source: Secular spoilers and Ayodhya - By MC Joshi July 28 2003).
---
Hindu Kush - Hindu Holocaust
Learning from History - By Francois Gautier
Like the Jews, Hindus too have suffered a terrible Holocaust, probably without parallel in human history. Take the Hindu Kush, for instance; probably, one of the biggest genocides in the history of Hindus. There has practically been no serious research on the subject or mention in history books. The Hindu Kush is a mountain system nearly 1,000 miles long and 200 miles wide, running north-east to south-west and dividing the Amu Darya valley and the Indus valley. The Hindu Kush has over two dozen summits of more than 23,000 feet and historically its passes, particularly the Khyber, have been of great military significance, for they provide access to the northern plains of India. Most foreign invaders have used the Khyber Pass: Alexander the Great in 327 BC, Mahmud of Ghazni, in 1001 AD; Timur Lane in 1398 AD; and, Nadir Shah in 1739 AD.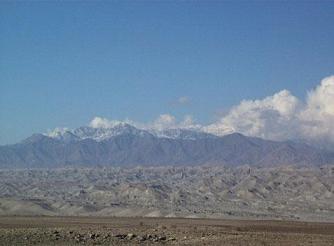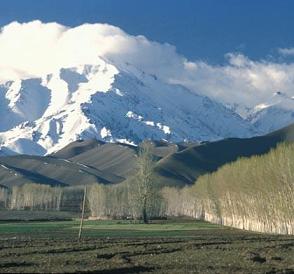 Hindu Kush mountains and valley

Hindu Kush: "The name means literally 'Kills the Hindu', a reminder of the days when Hindu slaves from Indian subcontinent died in harsh Afghan mountains while being transported to Moslem courts of Central Asia."

Refer to chapter on Islamic Onslaught

***

Yet, in the first millennium before Christ, two major Hindu kingdoms, those of Gandhaar (Kandahar) and Vaahic Pradesh (Balkh of Bactria) had their borders extending far beyond the Hindu Kush. The kingdom of Gandhaar, for instance, was established by Taksha, the grandson of Bharat of Ayodhya, and its borders went from Takshashila (Taxila) to Tashkent (corruption of Taksha Khand) in present day Uzbekistan. In the later period, the Mahabharat speaks of Gandhaari as a princess of Gandhaar and her brother, Shakuni, as a prince and later as Gandhaar's ruler (the last Hindu Shahiya king of Kabul, Bhimapal, was killed in 1026 AD).

Then came, in 3rd century BC, Buddhist emperor Kanishka, whose empire stretched from Mathura to the Aral Sea (beyond the present day Uzbekistan, Tajikistan, and Krygzystan) and under his influence Buddhism flourished in Gandhaar. The two giant Buddha sandstones carved into the cliffs of Bamian, which were destroyed by the Taliban, date from the Kanishka period. In Persian, the word 'Kush' is derived from the verb 'Kushtar' - to slaughter or carnage. Encyclopaedia Americana says of Hindu Kush: "The name means literally 'Kills the Hindu', a reminder of the days when Hindu slaves from Indian subcontinent died in harsh Afghan mountains while being transported to Moslem courts of Central Asia."

Encyclopaedia Britannica on its part mentions "that the name Hindu Kush first appears in 1333 AD in the writings of Ibn Battutah, the medieval Berber traveller, who said the name meant 'Hindu Killer', a meaning still given by Afghan mountain dwellers". Unlike the Jewish holocaust, the exact toll of the Hindu genocide suggested by the name Hindu Kush is not available. "However, writes Hindu Kush specialist Srinandan Vyas, "the number is easily likely to be in millions."

, "1,500,000 residents perished". "Thus," writes Vyas, "it is evident that the mountain range was named as Hindu Kush as a reminder to the future Hindu generations of the slaughter and slavery of Hindus during the Muslim conquests."

Why does not the Government of India tell Indian children about the Hindu Kush genocide?

The horrors of the Jewish holocaust are taught not only in schools in Israel and the US, but also in Germany, because both Germany and Israel consider the Jewish holocaust a "dark chapter" in the history. Yet, in 1982, the National Council of Educational Research and Training (NCERT) issued a directive for the rewriting of school texts. Among other things, it stipulated: "Characterisation of the medieval period as a time of conflict between Hindus and Muslims is forbidden." Thus, denial of history, or negationism, has become India's official "educational" policy. Fortunately, the present Government of India has initiated a rewriting of History school books, although this policy has come under attack as "a dangerous saffronisation" of history.

(source: Learning From History - By Francois Gautier - dailypioneerc.om - September 2, 2003). For more on Hindu genocide refer to chapters - Islamic Onslaught and European Imperialism). For more visit Francois Gautier and Afghan Hindus and Sikhs).

Afghanistan was a full part of the Hindu cradle up till the year 1000, and in political unity with India until Nadir Shah separated it in the 18th century. The mountain range in Eastern Afghanistan where the native Hindus were slaughtered, is still called the Hindu Kush (Persian: "Hindu Slaughter"). It is significant that one of the very few place-names on earth that reminds us not of the victory of the winners but rather of the slaughter of the losers, concerns a genocide of Hindus by the Muslims.

(source: Ayodhya and After - By Koenraad Elst Voice of India SKU: INBK2650 p.278).
---
Lolarkakhund - Ancient Sun shrines
in Benares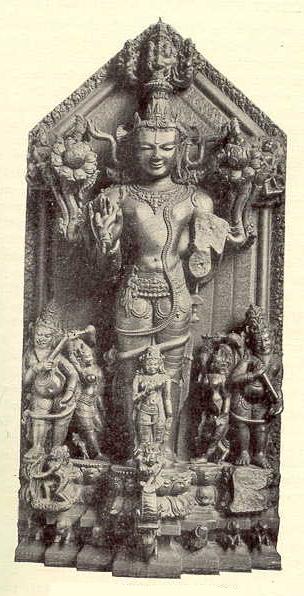 Surya, the god of sun, worshipped daily by millions in the Gayatri Mantra. Surya has his festival twice a year at Lolarkakhund
.
***
One of the most ancient sites in Benares. Three giant stairways lead steeply down to a well which was in the shape of a keyhole. Sheer walls enclosed the barrel part, which from the top looked like any other well.
First mentioned in the Rig Veda. This is the most southerly of the twelve sun shrines along the Ganga at Benares. It's incredible that the ancient Indians could have exercised such scientific precision.
Each of the twelve marks the exact spot of the cusp between one zodiacal sign and the next – a time which in India is considered highly potent a and auspicious. Recent astronomical observations have shown the setting to be absolutely correct. In June the sun is directly overhead the middle of this well, and that is the most sacred time for this Surya shrine. Surya, the god of sun, worshipped daily by millions in the Gayatri Mantra. Surya has his festival twice a year.
(source: Travels Through Sacred India - By Roger Housden p. 124).
---
Akshardham Temple attack was planned in Riyadh (Saudi Arabia)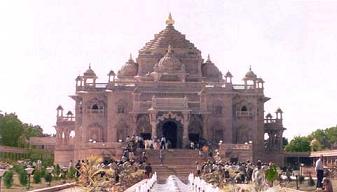 In a startling development, the Ahmedabad city crime branch arrested five people, claimed to conspirators and executors of the terror attack on the Akshardham temple on September 24 last year which killed persons. Two of those arrested are Muslim clerics,who ran relief camps in Ahmedabad after the riots, and it is believed that they were picked up much earlier the week even though the police claimed that they were picked up on Thursday night.
They settled for Akshardham, because it was a crowded venue and a soft target". The terrorists, armed with AK 56 assault rifles, explosives and rations, entered the temple complex right opposite the VIP enclave in Gandhinagar and started a gunbattle that claimed 33 lives, and lasted until they were finally killed by NSG commandos. Police commissioner KR Kaushik told press conference that the crime branch picked up Salim Hanif Shaikh, a resident of Dariapur who now works in Riyadh, late on Thursday evening, which led to the arrest of four others through the night. He said Salim provided logistic support to the two terrorists who had come from Pakistan.
"Preliminary interrogation and investigation reports suggest that the attack had been a joint operation of Jaishe-Mohammad (JeM) and Lashkar-e-Toiba (LeT) with support from the ISI. The plot had been hatched in Saudi Arabia and discussed at Hyderabad (Andhra Pradesh) after last year's communal violence," asserted Kaushik.
(source: Akshardham attack was planned in Riyadh - timesofindia.com). For more on Akshardham Temple refer to chapter Glimpses IV).
---
Shyamji Krishna Verma (1857 - 1930) - Noted freedom fighter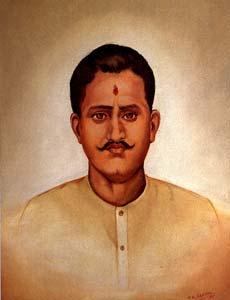 The important personality in the revolutionary movement for freedom of india, Shyamji Krishna Verma was born on 4th Oct. 1857 in village Mandwa. Maharishi Dayanand inspired him to go abroad for study and was the first indian graduate from Oxford University. He held important jobs like minister and chief minister at Ratlam, Udaipur and Junagarh states. In 1905 he established India Home Rule Society to work for freedom of india. He inspired Bhai Parmanand, Lala Hardayal and veer Savarkar for revolutionary struggle for freedom. Shyamji Krishna Verma expired on 31st March 1930.

A contemporary of Madame Bhikaji Cama and Sardarsingh Rana, he inspired leaders like Bhai Parmanand, Lala Hardayal and Veer Savarkar. Verma is said to have arranged Netaji Subhash Chandra Bose's secret submarine passage from Germany to Japan during India's freedom struggle.

Verma had raised the voice of India for Independence in the last decade of the 19th century, a full 25 years before Gandhiji came onto the Indian scene. It is regrettable that even 50 years after Independence, the nation did nothing to honour this great Indian whose scholarship and political activism are universally recognised.

In fact, even the idea of satyagraha came from him much before Gandhiji developed it into political action. He wrote in 1905: "It is not necessary for Indians to resort to arms for compelling England to relinquish its hold on India... If the brown man struck work for a week, the Empire would collapse like a house of cards... If anyone refused to buy or sell any commodity, or to have any transaction with any class of people, he commits no crime known to the law. It is, therefore, plain that Indians can obtain emancipation by simply refusing to help their foreign master without incurring the evils of a violent revolution."

Thus there is no doubt that it was Shyamji who first advocated non-violent means of getting rid of the British and using withdrawal of cooperation with the colonial administration as the most effective weapon for this purpose. Gandhiji built on this and evolved satyagraha as a tool to oust the British much later.

(source: Independence Initiative

- By Balbir Punj - timesofindia.com).

Modi brings ashes of Indian revolutionary back from Geneva

It's unfortunate that no earlier government tried to fulfill Verma's wishes," Modi, the chief minister of Verma's home state of Gujarat said. Hundreds of supporters turned out for the urn's procession through Bombay, chanting "Long live Verma!" The urn will be taken around western India before being interred in December in Verma's hometown Mandvi in Gujarat.

(source: http://www.gujaratindia.com/Events/1714(1).htm ).
---
Masada and Ancient India
Israel - A Natural ally
On the 15th of Xanthicus (roughly, April), AD 74, Eleazer ben Yair, the son of Judah the Galilean and leader of a Jewish community besieged by invading Romans in their rock fortress of Masada, rose to address his people. He had a simple message: There would be no surrender. They would all have to die, kill each other, with the last man killing himself.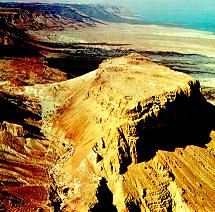 Eleazer's listeners demurred. Sensing their fear, the charismatic leader rose again, to deliver a final exhortation. Eleazer's pulsating tour de force was not about Israel, the Jewish faith and the barbarians at the gate.

It was, the historian Josephus was to later record, an evocation of the Hindu rite of passage, of seeing death in the flesh as just another milestone on the soul's immortal journey. ''Are we not,'' Eleazer asked, ''ashamed to have lower notions than the Indians? And by our own cowardice?''

"We, therefore, who have been brought up in a discipline of our own, ought to become an example to others of our readiness to die. Yet, if we do stand in need of foreigners to support us in this matter, let us regard those Indians who profess the exercise of philosophy; for these good men do but unwillingly undergo the time of life, and look upon it as a necessary servitude, and make haste to let their souls loose from their bodies; nay, when no misfortune presses them to it, nor drives them upon it, these have such a desire of a life of immortality, that they tell other men beforehand that they are about to depart; and nobody hinders them, but every one thinks them happy men, and gives them letters to be carried to their familiar friends [that are dead], so firmly and certainly do they believe that souls converse with one another [in the other world]. So when these men have heard all such commands that were to be given them, they deliver their body to the fire; and, in order to their getting their soul a separation from the body in the greatest purity, they die in the midst of hymns of commendations made to them; for their dearest friends conduct them to their death more readily than do any of the rest of mankind conduct their fellow-citizens when they are going a very long journey, who at the same time weep on their own account, but look upon the others as happy persons, as so soon to be made partakers of the immortal order of beings. Are not we, therefore, ashamed to have lower notions than the Indians? and by our own cowardice to lay a base reproach upon the laws of our country, which are so much desired and imitated by all mankind?"

For more refer to Wars of the Jews - By Flavius Josephus

(source: Hail Mogambo

- By Ashok Malik - indianexpress.com and Josephus: Wars of the Jews., Book VII, Chapter VIII, section vii). For more refer to chapter on Greater India: Suvarnabhumi and Sacred Angkor
---
Queen's Bravery at Chittor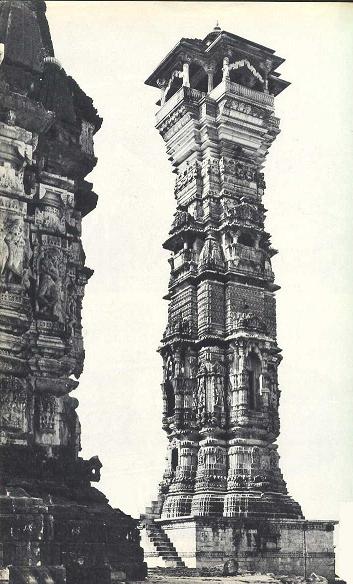 The Rani Padmini and her entire entourage of women, slid their farewells, and singing ancient hymns, boldly entered the mahal and performed jauhar.
Refer to chapter on Islamic Onslaught
***
Sacks of Chittor: In 1303 Allauddin Khilji, Sultan of Delhi, intrigued by tales of the matchless beauty of Padmini, Rani of Chittor, of her wit and charm, decided to verify this himself. His armies surrounded Chittor, and the sultan sent a message to Rana Rattan Singh, Padmini's husband, to say that he would spare the city if he could meet its famous queen. The compromise finally reached was that the sultan could look upon Padmini's reflection if he came unarmed into the fort. Accordingly, the sultan went up the hill and glimpsed a reflection of the beautiful Padmini standing by a lotus pool. He thanked his host who courteously escorted Allauddin down to the outer gate-where the Sultan's men waited in ambush to take the rana hostage.
There was consternation in Chittor until Padmini devised a plan. A messenger informed the sultan that the rani would come to him. Dozens of curtained palanquins set off down the hill, each carried by six humble bearers. Once inside the Sultan's camp, four well-armed Rajput warriors leaped out of each palanquin and each lowly palanquin bearer drew a sword.In the ensuing battle, Rana Rattan Singh was rescued-but 7,000 Rajput warriors died. The sultan now attacked Chittor with renewed vigor. Having lost 7,000 of its best warriors, Chittor could not hold out. Surrender was unthinkable. The rani and her entire entourage of women, the wives of generals and soldiers, sent their children into hiding with loyal retainers. They then dressed their wedding fine, slid their farewells, and singing ancient hymns, boldly entered the mahal and performed jauhar.
(source: Bravery at Chittor - http://www.rajasthaninfoline.com/rinfo/chittorgrahh.htm).
---
The Battle for Indonesia
Distance from Islam's Arab heartland, in time as well as space, imbued Indonesia's version of the religion with an eclecticism absent in converted lands closer to the first flush of Arab power.
As the anthropologist Clifford Geertz has said: "In Indonesia, Islam did not construct a civilization, it appropriated one."
Preceded by nearly a millennium and a half of Hinduism and Buddhism, Islam evolved here as a mélange of core Islamic beliefs and older Hindu-Buddhist customs that bore little resemblance to the desert faith of Yemenis, Iraqis or Syrians. In "The Year of Living Dangerously," set in the mid-1960s, the dwarf photographer Billy Kwan explains this to his colleague, an Australian journalist fresh off the boat: "Spiritually, this place is still a colony -- not of Holland, of Hindustan. It's the old Hindu kingdoms that are most real here."
By the mid-'80s, Arab names began to edge out their Sanskrit predecessors in kindergartens. (Note that Megawati, the president's name, is Sanskrit for "Lady of the Clouds." Indonesia is the only Muslim country in which a pre-Islamic nomenclature stubbornly survives,. Underlying all this is the cultural cringe of the convert, most acutely documented by V.S. Naipaul in his "Beyond Belief: Islamic Excursions Among the Converted Peoples." Indonesian Islamists who wax lyrical about Muslim Spain fall silent when it comes to the grandeur of Indonesia's own (pre-Islamic) Majapahit empire.
(source: The Battle for Indonesia - By Sadanand Dhume - Wall Street Journal - August 11 2003).
***

Ancient Ganesh in Indonesia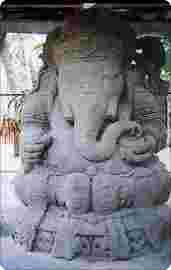 Ganesh Chaturthi is one of the biggest festivals held every year in Maharashtra. The Ganesh itself that makes this festival a mammoth one. A journey to ancient Hindu-influenced parts of this world which almost all of them reside in Southeast Asia reveals the fact.
Just like in Cambodia, Vietnam, and some other Southeast Asian countries, Hinduism was a big part of the beliefs of Indonesians. Decrepit and remnants of more than 300 years (some are more than 1000 years) aged temples found and excavated in Indonesia. There located prominent Ganesh statues. Most of them are still intact and preserved in museum and some are still on their places where they were placed more than one hundred decades ago. There are at least more than 15 spots all over Indonesia where Ganesh statues were found.
Ganesha was extremely popular in the art of Indonesian islands, especially of Sumatra and Java and compare favorably with the eighth-century Ellora caves, in images, style and iconography. At Candi Sukuh in central Java, a remarkable fifteenth century relief shows three figures, with a dancing Ganesha in the centre.
There are paintings and stone sculptures of the deity found in China, apart from the textual references to Ganesha in the Chinese Buddhist canon.
The worship of Rishi Agastya, the sage responsible for the diffusion of Hindu culture in Java, the frequent occurrence of Ganesha images, the organization of rural economy and village administration, the shadow and puppet plays and Vedic hymns and rituals of Bali, all point to the extension of Indian religious and cultural influences of these islands. A statue of Agastya is found at Candi Banon - early 9th century Batavia)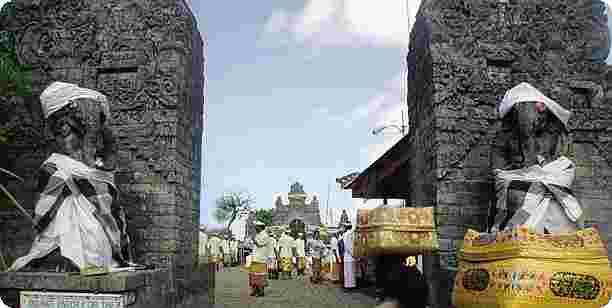 Ganesha Statues at Pura Luhur Uluwat in Bali
***
(source: Ancient Ganesh in Indonesia - esamskriti.com). For more refer to chapter on Greater India: Suvarnabhumi and Sacred Angkor
---
Jews chant Hare Rama Hare Krishna on Janmashtami
Harish (Israel): Janmashtami has been celebrated with much fanfare in this small town in the north of Israel, with devotees thronging the place from all parts of the country chanting Hare Krishna, Hare Rama.

The small township has attracted the attention of the devout, who have formed a small community and settled down here in isolation from the mainstream. All the followers are Jews, most of whom came in touch with the Vaishnava ideals during their visit to India and have started practicing them rigorously.

On the occasion of the birth of the lord they staged plays revolving around stories of Krishna's childhood, besides singing and dancing late into the night just like the bhaktas in India. They also served 108 delicious dishes, a number that has come to be attached with the faith.

The followers of the group also frequent Vrindavan and Mayapuri, in India every year.
First secretary, Subrata Das, present on the occasion called the occasion "another manifestation of the strengthening Indo-Israeli cultural ties".
(source: Jews chant Hare Rama Hare Krishna on Janmashtami - newindpress.com).
---
Murderous Monday - Twin Blasts in Mumbai
Bomb blasts rip through Mumbai in replay of 1993. It was a horrifying reprise of 1993. Now, as then, the murderous bomb blasts which rocked Mumbai on Monday seemed to be well-planned and co-ordinated to inflict maximum damage on the city's symbols of civic pride and financial power. Is it merely coincidental that the attacks have taken place at a time when the Indian stockmarkets had entered a bullish phase for the first time in two-and-a-half years? The targets chosen were Zaveri Bazar, the gold and diamond bourse which is close to the Mumba Devi temple from which the city derives its name; and the Gateway of India. These densely populated areas were obviously chosen so as to ensure maximum number of casualties.
Police put the death toll at 46, but hospital officials said 48 had died. At least 153 people were wounded, according to hospital officials. The carnage shocked even to those accustomed to bloodshed. "I have never seen anything so horrible," said S. Manoj, a doctor at Bombay's J.J. Hospital. "It was just body parts, some with their abdominal organs hanging out, some with no faces at all. The bodies were all burnt."
100 detonators found near Nasik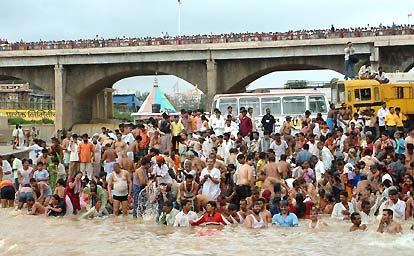 100 detonators found near Nasik.
***
Hours after twin car bomb blasts in Mumbai killed 46 people, more than 100 detonators were recovered from a railway track at a place about 60 km from here just an hour before an express train carrying mostly Kumbh pilgrims was to pass, senior police and railway officials here said. Hours later, nine mine detonators were found on a railway track on a major line 85 kilometers (about 50 miles) north of Mumbai at Kafara, said Chhagan Bhujbal, provincial home minister. The detonators were planted on a line to the city of Nashik, where a major Hindu festival is under way through Wednesday.
World condemns Mumbai blasts - Bombings 'senseless and cowardly': US

The United States has publicly condemned the twin bomb blasts in Mumbai that killed 46 people and injured over 150 as 'senseless and cowardly terrorist attacks'. US, Britain and Germany on Monday strongly condemned the car bombings in Mumbai and expressed their firm determination to fight the scourge of international terrorism. US Secretary of State Colin Powell, on vacation on Long Island, New York, called External Affairs Minister Yashwant Sinha and expressed his "outrage at these senseless and cowardly terrorist bombings".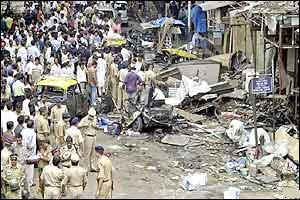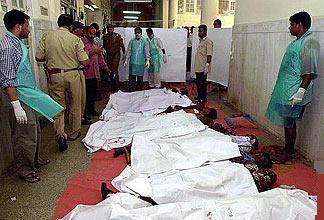 There is a tendency, distressingly familiar among the global fraternity of liberals, to shy away from facing awkward realities. India is no exception to this escapism.
***
There is a tendency, distressingly familiar among the global fraternity of liberals, to shy away from facing awkward realities. India is no exception to this escapism. In the aftermath of the two bomb blasts that killed at least 50 people and injured another 160 in the center of Bombay -- India's largest city and the nerve center of its entrepreneurial culture -- there are some self-serving explanations doing the rounds. The first is that Monday's explosions constitute the militant Muslim reaction to the riots in Gujarat in March 2002. More bizarre is the suggestion that they coincided with the release of a report by the Archaeological Survey of India suggesting that a 10th century Hindu temple predated a 16th century mosque demolished by Hindu activists in 1993.
Compelling as these theories are, they willfully skirt a grim phenomenon -- the expansion of Islamist terror networks into the heart of India. Monday's fierce explosions in Bombay were not isolated occurrences. They were preceded by five blasts, the first on Dec. 2 last year, that have killed 17 people and injured 189.
(source: Islamist Terror Comes To India's Streets - By Swapan Dasgupta - Wall street Journal - August 27, 2003). Refer to Kashmir Holocaust http://www.hinduhumanrights.org/kashmirspecial.pdf. Refer to My People, Uprooted: "A Saga of the Hindus of Eastern Bengal" - By Tathagata Roy
***
Alex Perry of Time magazine justified the attack by saying:
"As Bombay suffers the latest in a string of deadly bomb blasts, suspicions focus on domestic Muslim terrorists enraged by Hindu nationalism. The same years old anti-India attitude, The same justifying promotion of "Jihad" as "response, reaction" to "Hindu-nationalism" under the phrase "domestic Muslim terrorists enraged by Hindu nationalism" (Do terrorists have right to be enraged by a nationalism?).

(source: Indiacause.com).
Columnist Talveen Singh writes: "Because most of us of the secular, liberal, mainstream media do not dare say the words Islam and terrorism in the same breath.
In the wake of the Mumbai blasts, a great deal of poorly informed 'analysis', both in the Indian and the international media, sought to link the incidents to proximate triggering events including, among others, the Gujarat riots last year and the disclosure of a report by the Archaelogical Survey of India, on the very morning of the twin explosions in Mumbai, which claimed that 10th century temple lay under the foundations of the disputed Babri Masjid (mosque) site in Ayodhya, Uttar Pradesh. These analyses fail to comprehend the sheer enormity of the Islamist enterprise in South Asia, the continuity of motives that underlie a long succession of incidents, and the complexity and number of cells and networks that have been established across the country to secure a sustained and subversive strategic agenda'. I could not agree more. On account of political correctness and some bizarre idea that you become anti-secular if you criticize anything Islamic we in the media rarely have the courage to admit that nearly every act of terrorism on Indian soil in the past ten years has been Islamist. We also rarely have the courage to admit that the worldwide Islamic jehad has India, second only to America and Israel, as "enemy number one".

(source: Subversive acts on Indian soil - By Talveen Singh). Watch History of Ayodhya - videogoogle.com. Refer to Kashmir Holocaust http://www.hinduhumanrights.org/kashmirspecial.pdf
---
If we rationalise terror, can we fight it?

"Islamic terror comes to the streets of India." This is how Swapan Dasgupta captured the latest terror attack in Mumbai in Wall Street Journal. The attack has claimed 52 lives. The wounded may still swell the list of dead. In ten terror strikes on Mumbai in last one year more than 100 persons have perished. Yes, Pakistan wants India destabilised, even dismembered. Not just that. Last week, a BBC analyst said that Pakistan's agenda is not limited to a part of Kashmir. Or even the whole of it. It aims at larger India, targets at Islamising it.

Look at our public discourse. Even naming Pakistan as the terror merchant is seen as politically incorrect. Some `intellectuals' even say it is not Pakistan, but, the oppression of minorities in India by VHPs which activates terror against India! How reckless? Why then does Islamic terror strike at Pakistan, at the US, at Russia, at Indonesia, and at the rest and even at Saudi Arabia where no VHP is inviting them to strike? Yet, they counsel, terrorists are not to blame. No terror, just the angry acts of the oppressed, they conclude. This is secular politics. In short, they rationalise terror itself. If we rationalise terror, can we fight it. We cannot. That is why we do not.
(source: If we rationalise terror, can we fight it? - By S Gurumurthy - newindpress.com).
---
Hindu Cowardice and Gandhian Non-Violence
The famous quotation of Mahatma Gandhi on Hindu cowards and Muslim bullies deserves to be read in full: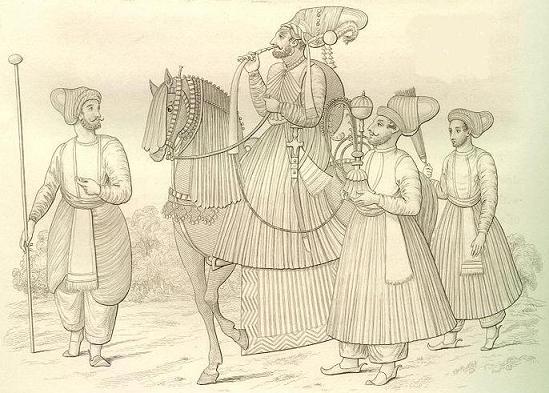 Maharana Sheer - King of Rekah

(image source: Annals and Antiquities of Rajasthan: or the Central and Western Rajput States of India - By Colonel James Tod).
***
"There is no doubt in my mind that in the majority of quarrels the Hindus come out second best. But my own experience confirms the opinion that the Mussalman as a rule is a bully, and the Hindu as a rule is a coward. I have noticed this in railway trains, on public roads, and in the quarrels that I had the privilege of settling. Need the Hindu blame the Mussalman for his cowardice? Where there are cowards, there will always be bullies. They say that in Saharanpur the Mussalmans looted houses, broke open safes and, in once case, a Hindu woman's modesty was outraged. Whose fault was this? Mussalmans can offer no defence for the execrable conduct, it is true. But I, as a Hindu, am more ashamed of Hindu cowardice than I am angry at the Mussalman bullying. Why did not the owners of the houses looted die in the attempt to defend their possessions? Where were the relatives of the outraged sister at the time of the outrage? Have they no account to render themselves? My non-violence does not admit of running away from danger and leaving dear ones unprotected. Between violence and cowardly flight, I can only prefer violence to cowardice."
(source: Hindu-Muslim Tension: Its Causes and Cure - Young India - 29/5/1924; reproduced in M. K. Gandhi: The Hindu Muslim Unity p. 35-36 and Bharatiya Janata Party vis-a-vis Hindu Resurgence - By Koenraad Elst p. 44).
***
Gandhi and Israel
Israel and India have in common: two ancient cultures that bucked British rule at about the same time (1948 and 1947) and founded democratic islands in oceans of authoritarian regimes.
Mahatma Gandhi himself was opposed to the creation of the state of Israel.
"Why should [Jews] not, like other peoples of the earth, make that country their home where they are born and where they earn their livelihood?" he argued in 1938.
(source: India and Israel vow to fight terrorism - BBC News.com). For more on Gandhi and the Jews refer to chapter GlimpsesVI).
---
Seek India's support - says Jerusalem Post
"India, America, and Israel are all targeted by the terrorist scourge, and ought to develop "multilateral mechanisms to counter it... Such an alliance would have the political will and moral authority to take bold decisions in extreme cases of terrorist provocation... It would not get bogged down in definitional and causal arguments about terrorism."
They powerfully contrast with the equivocation exhibited by Western Europe. It's against this backdrop that Ariel Sharon sets off on Monday on the first state visit to India by an Israeli premier. The visit is regarded as a milestone both here and in India the first of its kind since the establishment of full diplomatic relations in 1992. It will mark the achievement of a new dimension in bilateral relations, now coming to full bloom, turning India into one of Israel's main allies.

The 1991 Gulf War reduced Arab clout and led to a dialogue with Israel. On January 29, 1992, Prime Minister Narasimha Rao overruled objections and normalized relations with Israel. Close ties have proved mutually beneficial, underscored by the fact that both countries boast ancient cultures and vibrant democracies. There has long been a minuscule Jewish presence in India, happily encountering no anti-Semitism. Finally, both countries face the ongoing threat from fanatic Muslim fundamentalism and terrorism. In absolute numbers more Indians have been murdered in terrorist atrocities than in any other country.
(source: Seek India's support - Jerusalem Post. For more on Indian Jews refer to chapter GlimpsesVI).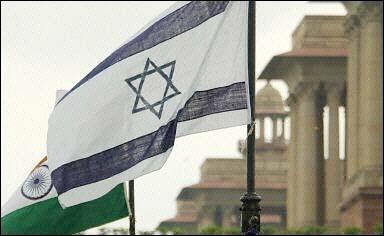 Israel supported India during the 1962 conflict with China and then again during the 1965 war with Pakistan at a time when no formal diplomatic relations, other than a sole Israeli consulate in Mumbai, existed between the two countries. Despite the compulsions of Cold War and the intense pressure from Arab quarters, Indira Gandhi ensured its continuity.

Israel earned big points with New Delhi when, during Kargil, it sent over the laser-guided missiles that allowed India's Mirages to bust Pakistan's bunkers. Jason Isaacson, who heads the American Jewish Committee's Washington office, described India and Israel as democracies surrounded by "hostile neighbours, well armed and numerous." He said it made sense to jointly work on issues where both countries stood to benefit.

Indo-Israeli give and take - By Ashok K Mehta

India cannot expect to win the war against terror by simply importing technology and techniques. It has also to produce a stock of political will and killer instinct, the stuff which is not in the Indian genes and without which terror can only be fought without hurting the enemy.

(source: Indo-Israeli give and take - By Ashok K Mehta - dailypioneer.com Tuesday September 9' 2003).

Why India and Israel joined forces

Shimon Peres is the traditional torchbearer of the India flame. Peres shared the belief of Israel's founding father, David Ben-Gurion, that what Indians thought of Jews would be crucial to the Jewish race's future.

(source: India seduces warrior Sharon - By Pramit Pal Chaudhuri - hindustantimes.com September 11, 2003).

Monday Israeli Prime Minister Ariel Sharon is due in India for a brief official visit, the first by an Israeli prime minister. It is a visit Israeli officials could only dream of during their country's first 40-odd years. Both countries won independence from Britain within nine months of each other. India became independent on Aug. 15, 1947, and Israel on May 15, 1948. Both are relatively stable, democratic states in an area that is not known for democracy, nor political stability. Both face Muslim enemies, and both have large Muslim minorities.

Pakistan -- India's nuclear neighbor -- has warned the growing alliance between Israel and India carries "dangerous consequences," saying that the trip to intensify defense cooperation with its nuclear rival could destabilize the region.

Secular establishment and their cheer leaders in the Muslim fundamentalist sections oppose Sharon's visit

"They should explain why comrade Jyoti Basu visited Israel. Deve Gowda, who had high level interactions with Israel in Davos should explain why he is opposing prime minister Sharon's visit," he said.

(source: Why India and Israel joined forces - By Joshua Brilliant - United Press International and Sharon begins historic visit to India - cnn.com and Leftspeak: Visit Tel Aviv, but slam Sharon trip - economictimes.com).
---
US seeking new ally in Hinduism, claims scholar

After September 11 attacks in the US, Christian groups in the West are keen on an alliance with Hindu forces, claims an Indian scholar teaching in Florida. Director of the Bangalore-based International Sanskrit Research Academy, BV Venkatakrishna Sastry who teaches "spiritual linguistics" at the Hindu University of America in Orlando, Florida, claimed that there was a growing awareness of Hinduism in the "administrative circles" in the US.

"The evangelical Christian movement, the driving force of the US administration, is looking at what kind of allies they should have for a regional and administrative balance," Sastry, 49, said.

"After the attacks, it is felt that those with an Islamic faith background will not suit the administrative approach of the US. So, the driving thrust is on Judaism, because of the situation in Palestine, and on the Asian side, Hinduism."

Noting the two predominant religions in Asia, Hinduism and Buddhism, he said that since a large number of Buddhists are from China they are ruled out as American allies because of ideological, cultural and economic differences. "That leaves Hinduism, which is more acceptable because of several factors."

Further, English is spoken everywhere in the subcontinent and communication with the US poses no problem.

"Technology wise too, India has a leading edge," Sastry said. " IIT graduates are feeding intellectual research abroad. Besides, Indian legacies such as yoga and ayurveda are widely regarded as alternative medicines and sources of spiritual healing."

(source: US seeking new ally in Hinduism, claims scholar - hindustantimes.com).
---
Indian diamond traders unseating Jews: Wall Street Journal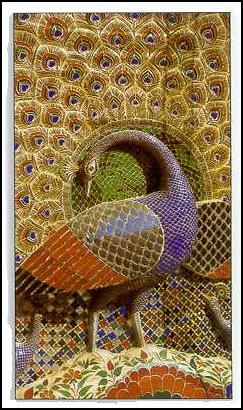 Indian diamond traders are progressively displacing the Jewish community that dominated this trade in Belgium's diamond city - Antwerp, and are now calling for better representation on Antwerp's High Diamond Council, the powerful regulatory body in the trade, according to the Wall Street Journal.
The lower cost production in Mumbai and Gujarat has helped Indians takeover the trade that was once the preserve of Antwerp's Jewish neighbourhood.
The Journal ran a lengthy feature article entitled "Indians Unseat Antwerp's Jews As the Biggest Diamond Traders", a colourful piece that shows how Indians (mainly Gujaratis) in Armani suits haggling with Hasidic Jews in long black coats and side curls, have the same business traits and practices and have come to trust each other in the market for the precious stones.
"Hoveniersstraat, a street once celebrated for its kosher restaurants, now offers the best curry in town," notes the Journal, as versatile Indian businessmen who are famous for changing with the times and breaking into markets that have been strongholds of other communities.
"Indians are among the world's most successful newcomers. They have reinvigorated the jewellery districts in New York and Hong Kong and revived the US motel industry; they are among the programmers of choice in Silicon Valley and Berlin. In the global diamond world, Indians have been so successful that they are challenging Jewish dealers, even in Tel Aviv. About 80 per cent of all polished diamonds sold worldwide pass through Indian hands," notes the Journal.
Indians hold 65 per cent of the $26 billion business while Jews have been reduced to holding 25 per cent of it where once they controlled 70 per cent of revenues.
Instead of the air of a traditional Jewish village, the trading area seems more and more like Mumbai, the Journal says. But at heart, say some Indian traders, the Jain and Jewish cultures share many qualities.
"Both value kinship, hard work and cross-border networking, useful qualities in a global industry that depends on wheeling and dealing."
While Indians sent their rough diamonds to be finished in family-owned factories in Mumbai and elsewhere, the Jews did not search out the cheaper alternatives. India also has a long history of diamond trading. "India, where the world's first diamonds were discovered in 800 BC, provided most of the world's supply until the 18th-century diamond rushes in South Africa and Brazil."
(source: Indian diamond traders unseating Jews: WSJ - timesofindia.com May 29 2003).
---
The Knowledge of Brahman - By Sri Ramakrishna
Brahman is beyond vidya and avidya, knowledge and ignorance. It is beyond maya, the illusion of duality. The world consists of the illusory duality of knowledge and ignorance. Good and evil apply to the jiva, the individual soul, as do righteousness and unrighteousness. But Brahman is not at all affected by them.
One man may read the Bhagavad Gita by the light of a lamp, another may commit a forgery by that very light. The lamp is unaffected. The sun sheds its light on the wicked as well as the virtuous. What Brahman is cannot be described. In Samadhi one attains the knowledge of Brahman, one realizes Brahman. In that state reasoning stops altogether, and man becomes mute. He has no power to describe the depth of the Brahman.
(source: The Knowledge of Brahman - By Sri Ramakrishna - The Spirit of Modern India - Edited by Robert A McDermont and V. S. Naravane p. 15-16).
---
Om Ganesya Namah

This festival is celebrated in the month of avani on chaturthi (4th) day (31-8-2003) which comes after the new moon. It is celebrated all over India. People celebrate this day in a variety of ways. For anything to go well, we pray Lord Vinayaka. He is the first to be worshipped whenever we start anything. He relieves us from all our difficulties. He solves our problems.
Lord Vinayaka has got an elephant face and human body. He is worshipped by many names like Vinayaka, Ganesha, Pillayar, Vigneshwara, Gajanana, Ganapathy, Mooshika Vahanaa, Modhaga priya etc. He rides on an animal called mooshika(a large kind of rat).
In our houses we celebrate this pooja in a grand manner. We decorate the floor with kolams using rice flour. On that day we buy a new Vinayaka idol(made of clay). We also buy a decorated umbrella to place behind the idol. On a wooden plank, plantain leaf is placed and raw rice is spread over it. We place the idol on this and decorate with flowers and perform pooja.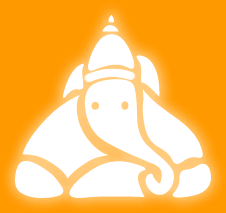 Vinayaka likes a dish (appam) called mothagam. So different varieties of appams are prepared and offered to the lord on this day. It is the special item on this day.
On the next day, punar pooja is done. This is the pooja which acts as an ending to the festival. After this we remove the idol from its place. On the next day after punar pooja, we immerse the idol in water in the sea, well or pond.
In cities like Mumbai, Chennai etc. large Ganesha idols (a bout 6 ft) are placed in common places and pooja is performed in a very grand manner. People all around worship the lord. Prasadams (Dish offered to the lord) are distributed to the people. After the pooja is over, the idol is taken in a grand procession and immersed in the sea.
For this pooja, different flowers are used. Erukkampoo(calotropis), thumbaipoo(white small flowers and arugampul( a type of grass name karuka) is very special for the lord. Different varieties of fruits are also offered.
(source: Om Ganesya Namah - Contributed by M P Bhattathiry).
It was in Pune that Lokmanya Bal Gangadhar Tilak gave life to the concept of sarvajanik (community) Ganeshotsav.
Ganpati Bappa Morya (Farewell O Lord Ganpati!)
Gheema ladu choriya (Who avails laddoos soaked in ghee)
Pudcha varsi laukariya (Return in haste next year)
Bapa Moriya re, Bapa Moriya re (O Lord farewell, O Lord farewell...)
---
Crusader for a river

From learning Hath yoga to alleviate his childhood ailments to campaigning for Europe's last preserved natural river — Vistula — Jacek Bozek has come a long way. Jacek, now 43, believes that his life's course has indeed been wayward.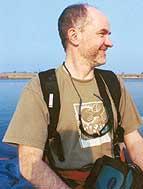 As he grew up in his hometown Bielsko-Biala in southern Poland, Jacek started finding ways to tackle his sickness. He chanced upon books on Hath yoga and even as a young boy of 14, he found them interesting. He started practicing the postures described and over a period of time, he mastered them to perfection. His physical and mental faculties became strong.

Besides books on Hath yoga, Jacek also read books on Indian spirituality. "Vivekanand and Ramakrishna impressed me a lot," says Jacek. He adds, "For me, Indian spirituality was very interesting because it was profound but at the same time very clear and simple." From the teachings of the Hindu spiritual leaders, he realised that he had a duty to perform. He opened his eyes to the injustice and confusion around him. His "understanding of life" developed

He felt that Ganga can also be depolluted like the Vistula. While on his third visit to India with his wife Beata, Jacek, who incidentally is a vegetarian, gave a mantra to save Ganga: Make use of Ganga's spiritual connotations. He admitted that India's path to clean Ganga river is much more easier that it was to clean Vistula. "We do not have such deep spiritual connections with river like people in India have. Ganga is regarded as a mother and goddess in India as if it is a living entity. So, why not make use of these religious sentiments to purify Ganga once again," Jacek emphasises. Is anybody listening?

(source: Crusader for a river - By Tirtho Banerjee

- Tribuneindia.com).
---
Take a bow, Mother India!
Two separate events made me swell with pride over the past week.
One, Prime Minister Atal Bihari Vajpayee's eight day trip to Germany, Russia and France. Particularly the last two nations. And two, India's decision to pre-pay Rs 7,490 crores worth of external debt over this fiscal year and the next....A nuclear power. A burgeoning economy, strong enough to actually reject aid. The political confidence to differ with and talk to the world's sole superpower as an equal, rather than as a client state. And the courage and conviction to chart and carve its own route.
This is an India no one could have dreamt of a decade ago.
(source: Take a bow, India - by Ramananda Sengupta - rediff.com).
---
The Matrix of Indian philosophy Reloaded - By Nikita Doval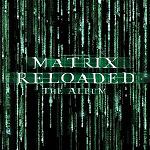 Imagine. The world is an illusion. The universe is composed of computer codes... a virtual fantasy force fed to us. The most over-analysed film since film critics were invented, The Matrix: Reloaded abounds with theological references. Christianity, Hinduism, Buddhism... all jostle for space, even as a hefty dose of Greek philosophy is also added. But the very premise on which the movie is based – the illusory world versus the real world – recalls the concept of 'Maya' in Hinduism.
"Maya has several levels of which illusion is one level. The basic foundation on which The Matrix trilogy is based assumes that ours is a computer-coded world – an illusion. In this regard, there's a parallel," says sociologist Ashish Nandy.
The Vedas state that whatever is happening all around is Maya, a dream which Lord Vishnu sees as He sleeps. Maya shields the truth or Brahman from the self or Atman. Because Maya veils the truth, the Atman misconstrues both the world and itself as different from the Brahman.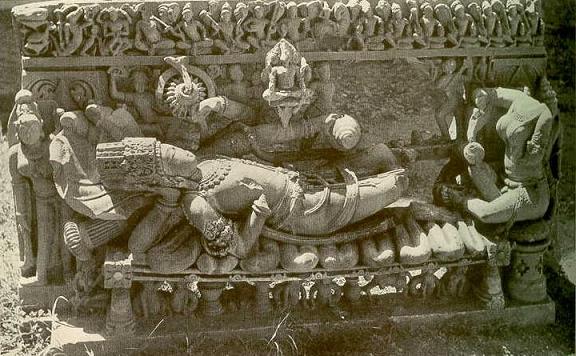 The Vedas state that whatever is happening all around is Maya, a dream which Lord Vishnu sees as He sleeps.
***
"Maya, as a concept, is both fluid and unstable. It exists but, at the same time, it is fictitious," says Imtiaz Ahmed, professor of sociology at JNU. This explanation is analogous to The Matrix philosophy, which states that we live in an illusory world and only an unplugged world is real. In both The Matrix and The Matrix: Reloaded, Neo, Morpheus and Trinity leave the real world behind and, by computer wizardry, enter the Matrix. But it is their mental projection that fights all the battles.
This recalls the Vedanta concept of mithya, the belief that only the Almighty is real. The Vedantas say that humans live in a world of illusion and, when we comprehend this reality, we realise that man and the Almighty are one. It is then that man realises that his earthly entity is just his imagination, a reflection of what he thinks he is.
"Acceptance of the 'real world' can be linked to the concept of Brahman — the supreme consciousness. Sankara asserts that the individual Atman and the universal Brahman are one and the same and the concept of a creator who is distinct from the creation is a cosmic illusion," says Sudarshanacharya Maharaj.
Moreover, Neo's realisation that the world is a computer programme is compared to attaining nirvana. In a scene in The Matrix, a boy bends a spoon by sheer will-power and then tells Neo, "To bend the spoon, you need to realise that there's no spoon. The spoon doesn't bend, you yourself bend.'' When Neo realises the truth of the illusion, he becomes omnipotent. As a consequence, he is even able to stop bullets!
"Hinduism propounds a similar belief. It talks about nirvana and how, when man attains divine knowledge, he conquers all fear, all difficulties, all pain; he experiences eternal peace, eternal knowledge and happiness,'' says Sudarshanacharya Maharaj.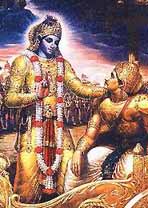 Moreover, as with Arjuna in the Mahabharata, Neo is caught in a dilemma at the hour of reckoning — of having to choose between saving the world and saving Trinity. Neo chooses the latter, deviating from his 'duty' as interpreted by Krishna in the Gita. However, his prior exchange with the Oracle is insightful. "You already know what choice I will make. How is it a choice then? What if I do not choose?" he asks her. "Even that is making a choice," she says. "Knowledge is power — the power to make a choice. And it is this power which helps good in its fight against evil – be it in Mahabharata or The Matrix," says TKV Subramaniam, dean of social sciences at DU.
Behind the metaphoric blitzkrieg perforating The Matrix: Reloaded is the unwritten word of Indian philosophy, which has influenced man and mankind since time immemorial. Ironically, it has taken the box-office success of a blockbuster movie based on illusion to reload a universal truth once again.
(source: The Matrix of Indian philosophy Reloaded - By Nikita Doval - timesofindia.com).
For more refer to chapter on GlimpsesIX). For more refer to chapter on Greater India: Suvarnabhumi and Sacred Angkor
---
Vatican summit aims to combat threat of 'alternative' religions
Catholics from more than 25 countries are in Rome this week to hammer out a strategy for combating the threat posed to Christianity by "New Age" religions and fads.
"Astrologers believe that the Age of Pisces - known to them as the Christian age - is drawing to a close," explained an exhaustive report on the New Age produced by the Catholic church last year. And as priests around the world watch their congregations dwindle through boredom or plain disbelief, the Church believes that the moment has come to fight back.
Monsignor Peter Fleetwood, one of the authors of the report, said those at the closed-door conference include priests and lay people from Latin America "worried that they can be pushed out by something that has come from abroad", and from Asia where "a lot of traditional religions are reviving".
This is an enemy with dozens of heads: the version of the Jewish kabbalah espoused by Madonna, the Enneagram personality-reading cult, ancient Egyptian occult practices, Sufism, the lore of the Druids, Celtic Christianity, medieval alchemy, Renaissance hermeticism, Yoga, Zen Buddhism, and many more.
(source: Vatican summit aims to combat threat of 'alternative' religions - By Peter Popham - news.independent.co.uk). for more refer to chapter on Conversion).
---
European sadhus too seek 'moksha'
Nashik: ' Moksha' is not the prerogative of Indians alone. It is proved by these European sadhus who are seen with their 'jata', 'rudraksha' and 'kamalmandelu'.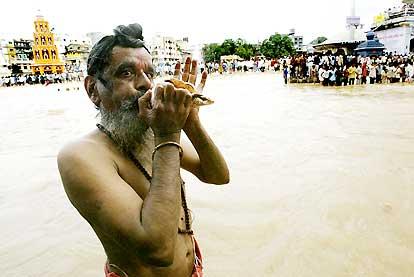 Nashik - Kumbh Mela.
***
Dattabharati, a German sadhu, who has come all the way from Germany on a bicycle has seen three 'Kumbh Melas' earlier, through the 'Simhastha' at Nashik is his first. Dattabharati left Germany about 24 years ago and settled in Australia.

Three years ago, he witnessed the 'Mahakumbh' at Allahabad and decided to take 'sanyas' (monk's order). He became a disciple of Digambar Haribharati, who christened him Dattabharati. He stays in Himachal Pradesh of the Northern India, and plans to remain in Nashik till September.

Parmahans Sanat Sanatandas Maharaj, who also hails from Germany, converted to Hinduism. He is also the president of ISKON branch in Pandharpur, Maharashtra and chief of ISKON 'Kumbh Mela' Committee. He is highly educated and can quote from the Bhagwat Gita.

Taylor Jason Naihurt has come all the way from Washington, US to Nashik to study the three 'Kumbh Parve' (auspicious bathing days) for his thesis 'Role of Sadhus in modern India'. He came has three years ago under the rotary exchange programme. He is fluent in both oral and written Marathi.

A five-person team of Canada's Quebec University, including its Principal, too has come here to do the study of Kumbh Mela and its effects on the public.
(source: Manoramaonline.com).
---
Shoddy reporting in Indian newspapers
If you had been in India in late 1998 early 1999, and the English-language "national" newspapers had been your source of information about what was going on, you would have concluded that an extensive, well-coordinated pogrom was on, that maniacal Hindu groups were going round raping nuns, attacking missionaries, burning down churches.
Newspapers and TV channel reported nine sets of incidents. The one that most blackened the name of the country initially was the rape of four nuns in Jhabua, Madhya Pradesh. The Madhya Pradesh Government completed investigations some months ago, and arrested the suspects. It turns out that there are as many Christians in the wretched lot as non-Christians, and that the nuns had been assaulted not because of any religious hatred or impulse, but because of local animosities – two groups contending with each other. Not one of the organizations and publications which had pasted the rapes of Hindu fundamentalists had done anything – not the rapes on Hindu fundamentalists has done anything – not the littlest thing – to ensure that the accused are tried swiftly.
"Jhabua re-enacted in Jhajjar," proclaimed a four-column headline of The Hindustan Times in regard to the second incident. It reported – on the authority of one of the chief propagandists of Christian organizations, he also doubles up as an editor of an afternoon paper in Delhi. No one was molested. Neither the propagandist-Editor nor The Hindustan Times returned to the story they had played up so much.
The third incident originated in a story put out by Associated Press. An American doctor, Dr. John Sylvester, working in Allahabad has been attacked by Hindu fundamentalists, the agency reported, he has had to seek shelter in a Baptist Church, his clinic has been broken up….And the facts? Sylvester is not a medical doctor, he has a Ph.D in Economics. He is not an American, his wife is. He has no clinic, instead he runs two schools. Neither he nor his wife, nor their schools had ever been attacked. But the assault was the talk in atrocity-circles: in the papers, on Internet.
(source: Harvesting Our Souls: Missionaries, their design, their claims - By Arun Shourie p. 7 - 8 ASA pub ISBN:81-900199-9-6).
---
Nobody has right to convert: Supreme Court of India
New Delhi: There is no such thing as a fundamental right to convert any person to one's own religion and the government can impose certain restrictions keeping in view public order, the Supreme Court has ruled.
The court's ruling came while dismissing a petition challenging an Orissa law requiring police verification of all religious conversions. Citing the SC's landmark 1977 ruling in Rev Stanislaus vs Madhya Pradesh, a Bench of Chief Justice V N Khare and Justice S B Sinha said that ''what is freedom for one is freedom for the other, in equal measure''.

At dispute was a 1999 provision added to the Orissa Freedom of Religion Act, 1967, stipulating that a person wanting to convert to a particular religion must make a personal declaration which would be verified by the police also. Petitioner's counsel Janardhan Das said this provision was unwarranted as it makes a person wanting to convert to a religion of his choice a suspect in the eyes of law. As early as 1976, the Orissa High Court had struck down as unconstitutional the Orissa Act. It quashed all criminal proceedings against those who were alleged to have resorted to conversion through inducement or by ''force'' or ''fraud''.

It had also held that the Act violated Article 25 (1) of the Constitution which guarantees propagation of religion and conversion — something the petitioners had argued ''is a part of the Christian religion''. On appeal, however, the SC in 1977 overturned the decision. Recalling that judgment by a Constitution Bench headed by the then Chief Justice A N Ray, the apex court said on Tuesday: ''What Article 25(1) grants is not the right to convert another person to one's own religion, but to transmit or spread one's religion by an exposition of its tenets.''

Thus, the court said, it must be remembered that Article 25(1) guarantees ''freedom of conscience to every citizen, and not merely to the followers of one particular religion''. It said: ''The Article postulates that there is no fundamental right to convert another person to one's own religion because if a person purposely undertakes the conversion of another person to his religion, that would impinge on the freedom of conscience guaranteed to all the citizens of the country alike.''

(source: Nobody has right to convert: Supreme Court of India - timesofindia.com).

Refer to Religious Freedom Report as a Political Weapon - According to the report, there seems to be mainly one discriminated minority in India : the Christian missionaries. Refer to Persecution complex - Evangelical lawmakers behind creation of USCIRF
---
India's pharmaceutical industry
India and Brazil are good at making cheap copies of life-saving drugs. Now they are allowed to export them too
India's pharmaceutical industry, in particular, is a wonder of the third world, making high-quality, low-cost copies of the latest drug innovations. Thus far, the industry has catered mainly to the domestic market, taking advantage of longstanding holes in India's patent laws. When those holes are plugged in 2005, Indian companies plan to move aggressively into the American and European markets, selling cheap versions of drugs whose patents have expired and challenging patents that haven't.
(source: The right fix? - economist.com).
---
Patriot games and resident non-Indians

NRIs or Non-Resident Indians are frequently targeted by RNIs, primarily because, with the wisdom that distance brings, NRIs have seen through RNI propaganda. Non-Resident Indians, being abroad, are also not subjected to the daily brainwashing of the Indian public that RNIs specialize in.

RNIs use Orwellian terminology and nomenclature terrorism. According to them, war is peace and terrorists are poor, oppressed, misunderstood minorities. If RNIs call something 'x', you can be sure that thing is 'not x'. A most undemocratic East Germany called itself the German Democratic Republic. A most totalitarian country calls itself the People's Republic of China. Similarly, RNIs call themselves 'secular progressives' whereas they are neither secular nor progressive: a more truthful description would be 'regressive fundamentalists'.

Therefore, I can understand that some RNIs' hearts bleed when Pakistani terrorists are killed in India. But their hearts do not bleed for the victims of Pakistani terrorists. Why, I wonder, do they not worry about the human rights of the innocent pilgrims massacred by Pakistani terrorists at the Akshardham temple in Gujarat? On the Amarnath trek? In Godhra? Or Hindus massacred in Nadimarg? Or at Marad? One possible answer: extreme ideological stasis. Another possible answer: thirty silver coins, Judas-style.

A case in point: the recent fuss over golfers Vijay Singh and Annika Sorenstam. Singh, a Fijian of Indian origin, merely said that a woman might find it difficult to play against men because she lacks upper-body strength. Racists in the American media immediately launched an attack on India, Hindus, Vijay Singh's ancestors, Indian culture, alleged misogynism therein, bride-burning, and so forth; yet none of the RNIs or even the resident American comrades of Indian origin raised a peep. None of them came to the defence of what they claim is their culture. I am not surprised: for, like the snatched ones in Invasion of the Body Snatchers, they only appear to be Indian.

(source:

Patriot games and resident non-Indians - By Rajeev Srinivasan - rediff.com).

For more on riots refer to Anti-Sikh riots a pogrom: says Khushwant Singh- rediff.com - Celebrated writer and journalist Khushwant Singh on Wednesday, deposing before the Nanavati Commission, probing the anti-Sikh riots of 1984 after the assassination of then Congress prime minister, Indira Gandhi by her two Sikh bodyguards, said that the police were mute spectators while rioting was on.

Refer to Sonia's Apology Lip-Service, Say '84 Riot Victims - by Gaurav C. Savant and Refer to Kashmir Holocaust http://www.hinduhumanrights.org/kashmirspecial.pdf
---
Buddha's ashes to be accessible for darshan
Nearly fifty years after their discovery, Lord Buddha's ashes - now in virtual confinement in a safe of a Vadodara university - will at last be accessible to devout Buddhists and others for darshan.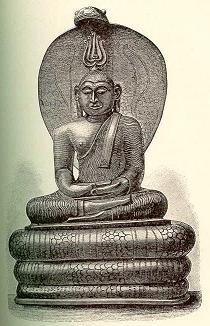 The story of this remarkable discovery of the 2500-years old sacred ashes dates back to 1960. Excavations being carried out by the Department of Archaeology and Ancient History of MS University, Vadodara in Dev-ni-Mori in Gujarat's Bhiloda Taluka region threw up a surprise, uncovering a Buddhist settlement dating back to the 4th century. The excavations also revealed a small casket, made of local (schisd) stone, darkish grey in colour. It's ordinary appearance bellied the casket's immense religious significance as explained by the writing on the casket. The casket contained Lord Buddha's ashes. 'Dashabala Shareera Nillaya' (part of the body) was written in Brahmi on the casket. Now, if the Gujarat Tourism department has its way, Lord Buddha's ashes will be on display for visitors and be the prime attraction to target Buddhist tourists, especially from Japan and China. It is reliably learnt that large Japanese corporations have been approached to raise funds so that the ashes of the Lord Buddha can be displayed in a proper manner, and both the archaeology wing of MS University and the Gujarat tourism department hope to attract investment from Japan to develop this as a place of pilgrimage.
Lord Buddha, born prince Siddhartha to a royal family in Nepal in 563 BC, renounced his kingdom to discover the meaning of life and later preached non-violence. It is believed that Buddha did not wish any special significance be given to his mortal remains. But his disciples went against his wishes and cremated his body after seven days, dividing the ashes into eight portions, around which stupas were built. Legend has it that the ashes regenerated and spread to other areas, and thus propagated Buddhism.
(source: Buddha's ashes to be accessible for darshan - dailypioneer.com - August 19 2003). For more refer to chapter on Greater India: Suvarnabhumi and Sacred Angkor
---
Hindu epic as Chinese opera: Malay in lead role
Fifteen year old Fa'izah Samsudin, a Bukit Panjang Government High Secondary 3 student, was a lead actress in her school concert recently.
Nothing unusual, except that she was taking part in a Chinese opera performance of a Hindu epic, the Ramayana. The concert, staged by the school some two weeks ago, was part of its efforts to promote multiracialism. Fa'izah was one of the 11 non-Chinese students in the cast of 33.
(source: Hindu epic as Chinese opera: Malay in lead role - straittimesasia1.com).
---
Sparkle of diamonds beckons De Beers
The State of Jharkhand could well be a golden bird, say geological experts. The State, which is rich in mineral resources, has large deposits of gold and diamonds in it's womb, experts feel.

De Beers and other diamond companies have approached the Jharkhand government to explore the possibility of diamonds in the state. According to Dr Nitish Priyadarshi, a geologist associated with Ranchi University, if diamonds are mined in Jharkhand, it will "certainly change the fate of the state." Historical records reveal that active diamond mines existed near Rajadera in Ranchi district, near Simah in Palamau district in the Sankh river and in Sadni falls - the originating point of Sankh river in Jharkhand.

There is also the possibility of large Gold deposits in Jharkhand.

According to Sinha evidence of gold mining has also been found in Sonepat area of Ranchi, where gold was found in nugget form. According to P K Sinha, a retired director of GSI (Geological Survey of India), the presence of gold in mines of Jharkhand is much higher than in Australian mines. "It is possible that gold could be found at seven grams per tonne (GPT) in one tone against the presence of one to three GPT in Australian mines," Sinha says.

Geologists claim that in some parts of Jharkhand, local people extract gold from river sediments.

(source: Sparkle of diamonds beckons De Beers - dailypioneer.com - August 19 2003).
---
Goodbye America, Hello India - By Roger Mitton
The Indian IT boom is luring skilled expats away from the US, where the bubble has burst.
Silicon Valley (California) - In an astonishing reversal, Indian technology experts are returning home from the United States to work in India. The reason is simple. After the dot.com bubble burst, the US software industry took a steep dive from which it has yet to recover. In India, by contrast, a boom in the computer sector continues apace. The country's growth rates are second only to China's. During the latter half of the 1990s, India registered a 45-per-cent growth rate in its IT industry and 54 per cent in its software sector.
Over the past three years, there has been growth of 35 per cent in the IT industry despite the bubble bursting in the US. Indian expatriates, who only a few years ago fought to win lucrative jobs in Silicon Valley, are now heading back to more fruitful prospects at home. It is all so different to how it was a couple of years ago. Between 1997 and mid-2001, the valley boomed. Said Mr Nagarajaiah: 'Life was very good then. 'So good that California attracted the highest number of Indians in the US. Indeed, India overtook China as the second-largest source of legal migration into the US after Mexico.In 2000, there were 314,819 expatriate Indians in California alone, the vast majority working in the IT sector - most of them in Silicon Valley.
That trend may now slow down or even be reversed if America's IT industry does not start to improve soon. The jobs will stay in India, especially in the technology sector where Indian skills are strong.'
(source: Goodbye America, hello India - By Roger Mitton - straitstimesasia1.com).
---
Step by Step guide to convert Indian-Americans to Christianity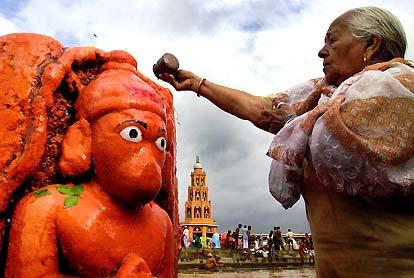 Rajendra Pillai, a Indian Christian writer explains how to do it?: Pillai of Clarksburg, Md., is founder and director of Turning Point, an organization dedicated to equipping and inspiring Christian writers. Portions of this article were adapted from Pillai's new book, "Reaching the World in Our Own Backyard."
Most Asian-Indians yearn for community. Coming from a collectivist society, they have a tough time adjusting to the American individualistic culture. This is where Christians can step in, and the church can become the community they are seeking.

One thing that turns off many Asian-Indians is when Christians in this country just share the Gospel but are not interested in them in any other way. So if they say "no" to the Gospel, the same Christian friends and acquaintances disappear from their lives. Christian Asian-Indians who used to be Hindus say the most convincing argument for following Christ came through the love Christians showed toward them.

(source: Outgoing, yet careful witness can reach Asian-Indians in U.S. - Baptist News).
---
Time for some soul-searching - By Balbir Punj

Delhi Police, acting upon a court's intervention, recorded a victim's statement in an FIR registered five years ago against the Principal of St Martin's School. The latter was accused of molesting a kindergarten student. The case was registered in August 1998 by the mother of the victim, who was too young to record her statement. The victim now studies in a different school and has identified the 68-year old accused as the perpetrator in camera before a magistrate.

When Nagesh Kuknoor's film, Rockford (1999)-revolving round life in a boarding school-showed young priests indulging in the heinous practice, it wasn't merely out of malice. It is important to observe here that the accused sought permission of the court to call the Archbishop of Delhi to appear in his defence and it was granted. Fr Melvin D'Souza was arrested last October for sodomising residents of St Martin School, Bhawani Kheda village, Nasirabad (Rajasthan).

Fears have arisen about whether or not the Church poses a threat to civil society in India, even though the Christian population stands at a meagre 2.32 percent.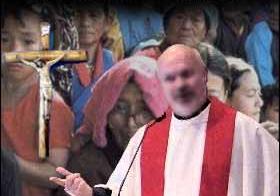 Many believe the Church is no longer an institution where one can feel nearer to divinity. In sharp contrast to Jesus Christ who lived and died in poverty, the Church is fabulously opulent. Its business of 'harvesting souls' is run like a giant multinational corporation. Assumptions that Christian religious expansion was over with the end of colonial rule are naive and misplaced. It is true that, for over 20 centuries, Christians have announced 1,500 global plans to evangelise the world. Most failed, while 250 plans focussed on the year 2000 fell massively short of the stated goals. But from three million in AD 1500, evangelists have grown to 648 million worldwide, 54 per cent being non-Whites.
As Christianity loses its numerical base and popularity in the West, its survival as an industry is dependent on overseas proselytisation
.
The Pope was quite matter of fact in his November 1999 speech in New Delhi where he called for evangelisation in Asia in the 3rd millennium AD, on the lines of Europe in the 1st and America in the 2nd millennium.
Another grey zone of Church activities in India warranting an immediate full-scale probe are scandals involving its huge estate. Land donated to religious bodies is legally public property and cannot be sold or given on lease to a private party. But there are so many cases sub-judice in different courts of India involving rampant violation. An increasing number of allegations hint that a section of Church functionaries in India is sinking into the morass of avarice, sleaze and luxury in a manner that is a trenchant betrayal of their congregation.
(source: Time for some soul-searching - By Balbir Punj - dailypioneer.com - August 29 2003 - For more on refer to chapter on Politics of Conversion).
---
Motorola to make India its research hub
US telecoms group Motorola is to hire more people in India to make it a research and technology hub, a report said
"I see a saving of a billion dollars each through engineering effectiveness, procurement and the very cost of poor quality. I want to achieve these goals by 2005," said Zafirovski. "I am vigorously driving this and I am sure a part of this can be outsourced from India. Research and development is obviously headed here."

"India is a crouching tiger. In 1999, it had a wireless subscriber base of a million people. From what I hear it added over a million subscribers in July (alone)." "India's phenomenal growth makes it the most exciting place to be. We are planning to significantly increase our presence here," Zafirovski said. Warrier, a chemical engineer from the Indian Institute of Technology in Delhi, told the same conference that Motorola's research centres in Delhi and Gurgaon were coming out with products not only for India but the global market. "Motorola's Indian labs are designing sophisticated chips used in our GSM mobile technology. We view India as a source for creating technology for the world," said Warrier.
(source: Motorola to make India its research hub - Dailytimes.co.pk).
---
In India, a Muslim's passion to protect temples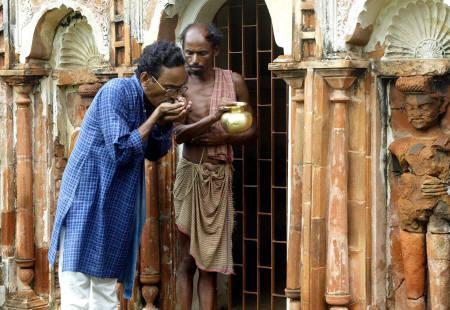 Mohammad Yeasin Pathan has paid a high price for his devotion to history. Muslims have shunned him, Hindus have punched him and anonymous callers have threatened to kill him. But none of this has dimmed the Muslim school clerk's determination to work to preserve a collection of 18th-century temples in eastern India.

"I passionately respect history. Everyone should, and it does not matter whether one is a Hindu or a Muslim," said Pathan, speaking amid the terracotta-and-brick temples in the Hindu-dominated village of Pathra west of Calcutta. Pathan's volunteer efforts over the last two decades to preserve the 34 temples at Pathra. "Some Muslims still call me kafir."

At Pathra, dotted with temples mostly dedicated to Shiva and Vishnu, most Hindus welcome Pathan.

Due to the committee's efforts, the government-run Archaeological Survey of India (ASI) has agreed to consider declaring Pathra's temples -- built by feudal landlords between 250 and 300 years ago -- as monuments of national importance and taking over their upkeep. The ASI has already restored five temples, filling in cracks and putting in bricks in gaps created by stolen ones. But a number are covered with vegetation, with figurines of Hindu gods and goddesses crumbling on their tan-coloured facades. "Pathan's efforts in protecting the temples are all the more commendable as he is a Muslim," said Bimal Bandopadhyay, a senior ASI archaeologist. For Pathan, history is also about learning. "It is great to learn from history. You can learn from its glory and its mistakes. One lesson is the need to live in peace."

(source: In India, a Muslim's passion to protect temples - yahoonews.com).
---
Reflections on life East and West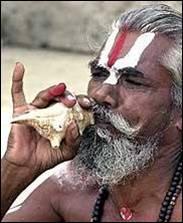 "You live in time; we live in space. You're always on the move; we're always at rest. Religion is our first love; we revel in metaphysics. Science is your passion; you delight in physics. You believe in freedom of speech; you strive for articulation. We believe in freedom of silence; we lapse into meditation. Self-assertiveness is the key to your success; self-abnegation is the secret of our survival. You're urged every day to want more and more; we're taught from the cradle to want less and less. Joie de vivre is your ideal; conquest of desire is our goal. In the sunset years of life, you retire to enjoy the fruits of your labor; we renounce the world and prepare ourselves for the hereafter.
(source - Reflections on life East and West - By Hari N Dam. Ensign Magazine 1971).
---
Ram katha in Rainforests a hit with Brazilians - By Saurabh Shukla
India and Brazil may have more in common than the story of the historical error made by Portuguese explorer Pedros Alvares Cabral, who sailed from Lisbon in 1500 for India but landed in Brazil.
Now the two countries, on board the IBSA tri-lateral initiative, may discover a 'Shri Ram' connection in their ties. Amazon rain forest in Brazil was the venue recently of a Ram Katha by Sant Murari Bapu that drew followers from all over the globe including Brazilians who danced to the tune of Jai Shri Ram, rather than Samba.
The famous Amazon resort, Aryau Towers, which has a hotel with tree-top rooms, even turned vegetarian for 10 days and welcomed the Ram bhaktas with Sri Ram T-shirts, with even the hotel staff turned out in saffron.
It is no surprise then that the Ministry of External Affairs has promptly planned a Festival of India in Brazil. Ram Katha may be on the menu.
(source: Ram katha in Rainforests a hit with Brazilians - By Saurabh Shukla - hindustantimes.com).
---
A Western View of Krishna - By George W Russell
I paused beside the cabin door and saw the King of Kings at play,
Tumbled upon the grass I spied the little heavenly runaway.
The mother laughed upon the child made gay by its ecstatic morn,
And yet the sages spake of It as of the Ancient and Unborn.
I heard the passion breathed amid the honeysuckle scented glade, And saw the
King pass lightly from the beauty that he had betrayed.
I saw him pass from love to love; and yet the pure allowed His claim To be the purest of the pure, thrice holy, stainless, without blame...
And yet He is the Light of Lights whose blossoming is Paradise, That Beauty of the King which dawns upon the seers' enraptured eyes.
I saw the King of Kings again, a miser with a heart grown cold, And yet He is the Prodigal, the Spendthrift of the Heavenly Gold, The largesse of whose glory crowns the blazing brows of cherubim,
And sun and moon and stars and flowers are jewels scattered forth by Him.
I saw the King of Kings descend the narrow doorway to the dust With all his fires of morning still, the beauty, bravery, and lust.
And yet He is the life within the Ever-living Living Ones, The ancient with eternal youth, the cradle of the infant suns,
The fiery fountain of the stars, and He the golden urn where all The glittering spray of planets in their myriad beauty fall.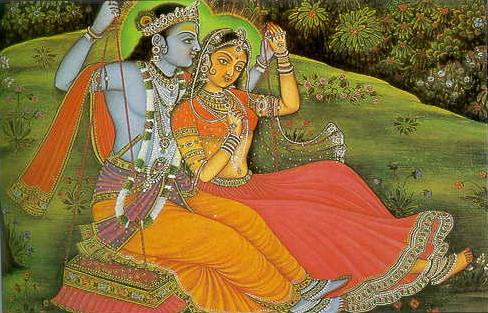 George W Russell also known A E Russell (1867 - 1935) the Irish poet, essayist, painter, Nationalist leader, mystic, and economist; a leader in movement for cooperation among Irish farmers; editor The Irish Statesman 1923-30.
(source: A Western View of Krishna - By George W Russell). For more on Russell refer to Quotes41_60).
---
Religion in villages of India
Each village had its own priest. Religion was regarded as an essential part of social life and there was not a community that did not have a temple dedicated to God. The priest played an important part in the social life of the community as did the teacher. Both were almost synonymous. The village had its bard and poet, who sang to the people religious and sacred lore of the land. The national literature of India was much appreciated by the people. Describing this phase of the home life Professor Gilbert Slater remarks:
"In every peasant home a member of the family reads the stories from the Puranas to other inmates in the vernacular. All the people listened with rapt attention and sometimes engaged in a lively discussion. The chief member of the house was expected to know by heart some of the sacred lore which he recited every morning, and evening and during the leisure hours of noon. Even the illiterate peasants of India in a village had something of the philosophy of life, as given in Hindu culture, transmitted to him through the agency of the family."
(source: India: A synthesis of cultures – by Kewal Motwani p. 160-161).
---
Five Ways to Fight Bad Historians - By Dnana Raman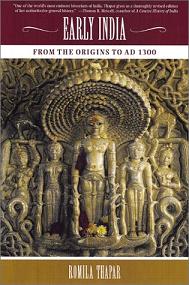 How Can I fight Historians? I Am Not a History Major…

So how does an engineer, a computer programmer, a writer, or whoever-else get involved in the study of history? Isn't this a "specialization" that requires years of vigorous study? To be sure, there are sub-areas like archeology and linguistics which require a good deal of specialization and study. But most "historians" are people like you. The only difference being they read translations of Hindu books, write a few irrelevant papers, publish some mediocre books and adopt titles that read "Professor of Sanskrit Studies" or "Professor of Indology."

I know some of you are probably thinking: "Wait a minute, they can't be like me." You're right – they are people who could never get into an Indian engineering school or successfully establish themselves in any competitive career. Their IQ ranges between that of a dyslectic ring-worm and a malformed dung-beetle. I'll admit I misspoke; they aren't exactly people like you and me.....

(source: Five Ways to Fight Bad Historians - By Dnana Raman - swaveda.com - A Forum for Hindu Studies). For more refer to Call For An Intellectual Kshatriya

- by Rajesh Tembarai Krishnamachari.

***

NCERT brings out book to counter 'Ifran Habib & Co'

If the Indian History Congress (IHC) produced a tome Index of Errors on the new NCERT textbooks, the NCERT has come up with a counter publication equally huge (246 pages) on Fallacies in the IHC Report rubbishing the Errors as ''nitpicking by old school masters''.

Authored by Makhan Lal, Meenakshi Jain and Hari Om — the NCERT's new historians of ancient, medieval, modern and contemporary world — the book released by HRD Minister Murli Manohar Joshi rebuts the history of ''Habib & Co''.

Director R.S. Rajput writes in the introduction: ''There is no need to be apologetic for foreign invaders like Mahmud of Ghazni or Alauddin Khalji or Babur...The specious plea that Muslim sentiments will be hurt if some foreign invaders are shown in their true colours, actually constitutes an insult to our Muslim brothers and sisters...,'' he is quite straight forward.

80 per cent of the errors pointed out by Irfan Habib, Suvira Jaiswal and Aditya Mukherjee in the IHC report can be traced back to Romila Thapar and R.S. Sharma. The errors appear in the extracts/quotes the new authors used from the old NCERT texts of Thapar and Sharma.

Similarly, Meenakshi Jain's expresses surprise that Habib has objected as the points being debated were picked up from his own books/articles and that of his Leftist friends.
---
Spiritually hooked on to India

Dennis Roman was spiritually hooked on to India long before i-flex Solutions' senior management made a secular pitch to him — to join them as chief marketing officer for the Americas and Japan, and establish the i-flex brand there.

Roman's 15-year Indian connection goes back to his guru Gurumayi Chidvilasananda. Introduced to her in 1987 by his wife, who works in the fashion industry in New York, he was sold for life. The Romans are now regulars to Gurumayi's Ganeshpuri ashram near Mumbai — their daughter's spent a year there. "I follow Indian traditions in my house," says Roman, adding it's got "a meditation room with all the gods and goddesses."

(source:

Spiritually hooked on to India - economictimes.indiatimes.com).
---
Frescos of Hindu gods whitewashed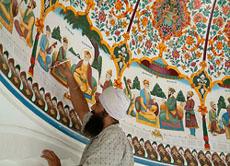 Wall paintings of Hindu gods including Lord Rama and Lord Krishna, which were unique specimens of Sikh school of art, have disappeared from the upper storey of Sri Darbar Sahib here founded by fifth Sikh Guru, Guru Arjan Dev in 1597 A.D. It is learnt that the frescos of Hindu gods were erased during the 'kar seva' being carried out by Baba Jagtar Singh at the behest of the Shiromani Gurdwara Prabandhak Committee.
The frescos were unique specimens of Sikh school of art, completed in the year1824, during the regime of Maharaja Ranjit Singh. According to Sikh history, Maharaja Ranjit Singh got the gold-plating and interior decoration of the Darbar Sahib completed by taking personal interest.
(source: Frescos of Hindu gods whitewashed - tribuneindia.com).
---
Israeli guns to guard Tirupati deity
Tirupati: Security at the Tirumala temple here is all set to go hi-tech. Plans are afoot to import lightweight pistols from Israel to guard the Lord. The weapons would be similar to the ones being used by the special protection group (SPG), which provides security to VVIPs.
Negotiations are still under way as each pistol is priced around $1,500. Chief vigilance and security officer E Damodar refused to reveal the number of units likely to be imported. The move is part of the increased security measures being enforced in the temple premises. Godrej officials have assessed the feasibility of providing bulletproof glass enclosures in front of the queues leading to the temple and at the mahadwaram. Special bulletproof booths have also been planned.
The Tirumala Tirupati Devasthanams (TTD) has already inducted a bomb disposal unit and special scanners. It has also set up an exclusive communication network for officials on duty, at a cost of Rs 18 lakh.
(source: Israeli guns to guard Tirupati deity - timesofindia.com).
---
NCERT scoffs at historians' against textbook errors
The NCERT has dismissed eminent historians' allegations that its new history text books are "saffronised". Adopting a combative stance, the HRD Ministry body described the Indian History Congress (IHC)'s recently published critique as biased.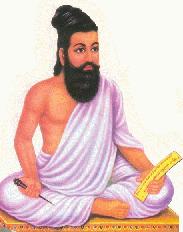 JS Rajput, the NCERT director, said on Wednesday that the IHC's Index of Errors is "the work of scholars with insufficient and coloured knowledge whose only purpose is to reduce young Indians' respect for their glorious past. They want us to forget that there was a time when we Indians were world leaders in science, medicine and astronomy.
The IHC had blasted the new NCERT texts, which replaced those authored by the likes of Marxist historians, Romila Thapar, Satish Chandra and Irfan Habib. The Index of Errors highlighted factual mistakes, which allegedly proved that NCERT was implementing the Sangh Parivar's agenda of spreading jingoism and communal hatred through falsification of history.
Ifran Habib describes as "wooly headed fantasy" the NCERT text's claim that ancient Indians knew the sphericity of the earth or had advance knowledge of Pythagoras's theorem.
Rajput defended the lines by pointing out that Dick Teresi, the internationally reputed scholar, has written the same things in Lost Discoveries: The Ancient Roots of Modern Science, a book published in the United States last year. .
Mandsor inscription found in south India dated 436 AD mentions silk workers' guilds. Manuscript from India found near Yarkend, Central Asia, dated 5th Century AD.
(source: NCERT scoffs at historians' against textbook errors - hindustantimes.com). Watch History of Ayodhya - videogoogle.com.
***
Pythagoras's theorem discovered in India in 800 BC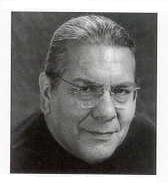 Pythagoras's theorem discovered in India in 800 BC according to renowned historian Dick Teresi. author and coauthor of several books about science and technology, including The God Particle. He is cofounder of Omni magazine and has written for Discover, The New York Times Magazine, and The Atlantic Monthly.
"Two thousand years before Pythagoras, philosophers in northern India had understood that gravitation held the solar system together, and that therefore the sun, the most massive object, had to be at its center."
"Our Western mathematical heritage and pride are critically dependent on the triumphs of ancient Greece. These accomplishments have been so greatly exaggerated that it often becomes difficult to sort out how much of modern math is derived from Greece and how much from...the Indians and so on.
"Our modern numerals 0 through 9 were developed in India. Mathematics existed long before the Greeks constructed their first right angle. On the other hand George Cheverghese Joseph (author of The Crest of the Peacock: Non-European Roots of Mathematics) points out that the early Indian mathematics contained in the Sulbasutras (The Rules of the Cord) contain their own version of the Pythagorean theorem as well as procedure for obtaining the square root of 2 correct to five decimal places. The Sulbasutras reveal a rich geometric knowledge that preceded the Greeks."
(source: Lost Discoveries: The Ancient Roots of Modern Science - By Dick Teresi p. 32 ).
Soviet historians, K. Antonova, G. Bongard-Levin, and G. Kotovsky, authors of A History of India, Moscow, Volume I and II 1973, have spoken highly of scientists of ancient India and their high originality:
"In the ancient period and in the early Middle Ages lived the outstanding mathematicians Aryabhatta (5-6th centuries), Varahamihira (6th century) and Brahmagupta (late 6th and early 7th centuries), whose discoveries anticipated many scientific achievements of modern times. Aryabhata knew that pi equaled 3.1416. The theorem known to us as Pythagoras' theorem was also known at that time. Aryabhata proposed an original solution in whole numbers to the linear equations with two unknowns that closely resembles modern solutions.
"The ancient Indians evolved a system for calculation using zero, which was later taken over by the Arabs (the so-called Arabic numerals) and alter from them by other peoples. The Aryabhatta school was also familiar with sine and cosine.
"Scholars of the Gupta period were already acquainted with the movement of the heavenly bodies, the reasons for eclipses of the Sun and the Moon. Aryabhatta put forward a brilliant thesis with regard to the Earth's rotation on its axis."
(source: A History of India - By K. Antonova, G. Bongard-Levin, and G. Kotovsky Moscow, Volume I and II 1973). For more refer to chapter on Greater India: Suvarnabhumi and Sacred Angkor
Sir William Jones firm belief in the Vedas is challenging and at the same time illuminating: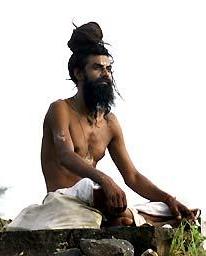 "The six philosophical schools, whose principles are explained in the Darsana Sastra, comprise all the metaphysics of the old Academy, the Stoa, the Lyceum; nor is it possible to read the Vedanta, or the many fine compositions in illustration of it, without believing that Pythagoras and Plato derived their sublime theories from the same fountain with the Sages of India." "We are told by the Greek writers that the Indians were the wisest of nations, and in moral wisdom, they were certainly eminent."
Professor Edward Washburn Hopkins (1857-1932) Indologist, Chair of Sanskrit Studies of Yale, says:
"Plato is full of Sankhyan thought, worked out by him, but taken from Pythagoras. Before the sixth century B.C. all the religious-philosophical idea of Pythagoras are current in India (L. Schroeder, Pythagoras). If there were but one or two of these cases, they might be set aside as accidental coincidences, but such coincidences are too numerous to be the result of change. "
Sir William Wilson Hunter wrote: "The Hindus attained a very high proficiency in arithmetic and algebra independently of any foreign influence."
The Surya Siddhanta is based on a system of trigonometry. Professor Wallace says: "In fact it is founded on a geometrical theorem, which was not known to the geometricians of Europe before the time of Vieta, about two hundred years ago. And it employs the sine of arcs, a thing unknown to the Greeks." The 47th proposition of Book I of Euclid, which is ascribed to Pythagoras was known long ago to the Hindus and must have been learnt from them by Pythagoras.
(source: Indian Culture and the Modern Age - By Dewan Bahadur K. S. Ramaswami Sastri Annamalai University. 1956 p. 67).
Professor H. G. Rawlinson writes: " It is more likely that Pythagoras was influenced by India than by Egypt. Almost all the theories, religions, philosophical and mathematical taught by the Pythagoreans, were known in India in the sixth century B.C., and the Pythagoreans, like the Jains and the Buddhists, refrained from the destruction of life and eating meat and regarded certain vegetables such as beans as taboo" "It seems that the so-called Pythagorean theorem of the quadrature of the hypotenuse was already known to the Indians in the older Vedic times, and thus before Pythagoras
(source: Legacy of India - Edited by G. T. Garrett 1937, p. 5).
Professor Maurice Winternitz is of the same opinion: "As regards Pythagoras, it seems to me very probable that he became acquainted with Indian doctrines in Persia." (Visvabharati Quarterly Feb. 1937, p. 8).
Ludwig von Schröder German philosopher, author of the book Pythagoras und die Inder (Pythagoras and the Indians), published in 1884, he argued that Pythagoras had been influenced by the Samkhya school of thought, the most prominent branch of the Indic philosophy next to Vedanta.

(source: Eminent Orientalists: Indian European American - Asian Educational Services. p.11).(source: In Search of The Cradle of Civilization: : New Light on Ancient India - By Georg Feuerstein, Subhash Kak & David Frawley p. 252).
---
Vedic Arabs and Vedic Druids?
Arabia was not free from the influence of the followers of Vedic Dharma (the Aryans) – the people who migrated after Mahabharata war nearly to all corners of the world. Some of them reached the tract where they found speeding horses of good breed. They named it Arvansthan meaning the land and abode of horses because arvan is the Sanskrit word for 'horse' of good quality. Gradually Arvansthan changed to Arvasthan then to Arbansthan and later to Arabstan. In due course and over a number of years it got shortened to Arab. When the English became powerful in the world they anglicized it to Arabia.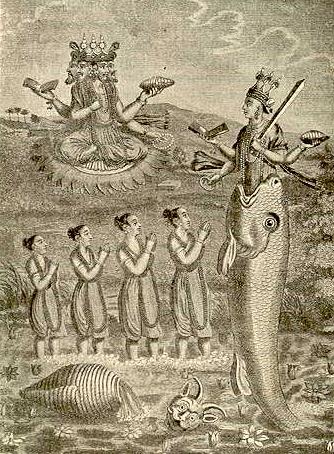 ***
Another section of the migrants who happened to be more learned in the Vedic scriptures reached the Isles of Britain (Brittany) and came to be known as Druids which again is a distortion of the Sanskrit word Dravid which is derived from two Sanskrit roots dra meaning a 'seer' and vid meaning the learned and knowing. The Dravida of yore were highly cultivated people well versed in all branches of Vedic literature, learning and practices. The Druids of England practice even to this day many a Vedic ritual. "The Asiatic origin of the Druids has long been an acknowledged point in the world of antiquities.
Reuben Burrow, author 'A Proof that the Hindoos had the Binomial Theorem', Asiatic Researches vol. ii: 388-395; First published 1790, the great practical astronomer of India, was the first person, who after a strict examination and comparison of their mythological superstitions and their periods directly affirmed them to be a race of emigrant Indian philosophers. Again: "These priests (the Druids), Brahmins of India spread themselves widely through the northern regions of Asia even to Siberia itself, and gradually mingling with the great body of Celtic tribes (Kolotaya people to the south of Kashmir) pushed their journey to the extremity of Europe and finally established the Druid that is the Brahmin system of superstition in ancient Britain – This I contend was the first Oriental colony settled in these (British) islands."
(source: The Hindu? - By Krishna Vallabh Paliwal and Brahm Datt Bharti p. 46 - 47).
Thomas Maurice (1754-1824) who was inspired to address in one of the volumes of his 'Indian Antiquities' the issue it raised of the relationship between Druids and Brahmins. Introducing 'A Dissertation on the Indian Origin of the Druids and on the Striking Affinity which the Religious Rites and Ceremonies, Anciently Practiced in the British Islands, bore to those of the Brahmins', Thomas Maurice referred to Burrow's earlier work as having established the fact that the genesis of Druidry was found in Asia (Maurice 1812: iv-v).
---
On Colonial Experience and the Indian Renaissance: A Prolegomenon to a Project - By S N Balagangadhara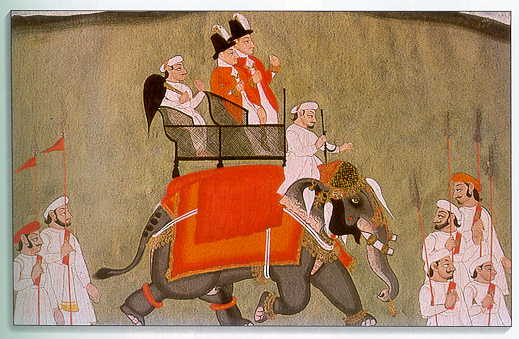 The British criticized the Indian 'religions', the Indian 'caste system', the Indian education system, practices like 'sati' and 'untouchability', and so on and so forth.
***
One of the striking things about the British colonial rule is its success in developing certain ways of talking about the Indian culture and society. The British criticized the Indian 'religions', the Indian 'caste system', the Indian education system, practices like 'sati' and 'untouchability', and so on and so forth. They redrew the outlines of Indian intellectual history as indigenous responses to some of the ills they saw in the Indian society and culture: for example, 'Buddhism', as it emerged out of their reconstruction, was a revolt against 'Brahmanism' and 'the caste system'
(source: On Colonial Experience and the Indian Renaissance: A Prolegomenon to a Project - By S N Balagangadhara
Colonialism is not merely a process of occupying lands and extracting revenues. It is not a question of encouraging us to ape the western countries in trying to be like them. It is not even about colonizing the imaginations of a people by making them dream that they too will become 'modern', developed and sophisticated. It goes deeper than any of these. It is about denying the colonized peoples and cultures their own experiences; of making them aliens to themselves; of actively preventing any description of their own experiences except in terms defined by the colonizers."
(source: yahoo.groups.com). For more on the British refer to the chapter on European Imperialism).
---
How the West has distorted Indian history
He is a Frenchman on a mission: to correct distortions in Indian history. "The Aryan invasion may never really have happened," says Francois Gautier. He has lived in India for 34 years and studied the country from a journalist's viewpoint as political correspondent for international newspapers like Le Figaro and Le Journal de Geneve. Bangalore Times asked Gautier, who is visiting Bangalore for his show on Kashmir, to give incidents in history that are otherwise perceived to be true.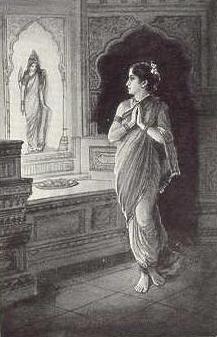 Laxshmi puja

Indian history has been projected from a Western viewpoint, Francois points out. "When the British still lived in caves, Indians had a civilisation. But the British wanted to show that civilisation as we know it came from the West. For instance, the Mutiny was barbaric, we're told, but actually it was simply a spontaneous uprising. What was barbaric was the way the British took revenge after it was over," he says. "Max Mueller dated the Vedas at 1500 BC, whereas they're much older. If this theory is wrong, history should be rewritten," he says. British callousness is also evident in the non-documentation in Indian history of the Great Famine, when millions of Indians died of starvation between 1820 and 1920, he says. "The British broke the Indian systems in place at the time. The agricultural system, the bartering system in the villages were destroyed to impose their own system of taxes. They impoverished the soil and broke up the land, so famine naturally followed."

According to Gautier, "The Ramayana and Mahabharata, epics written when there were no religious divides, show the greatness of Indian literature. Kalidasa's works are extraordinary even today. Indian children should study their own literature, not Milton and Shakespeare."

Indian expertise in areas like computer science, according to Gautier, has a historical basis. "The Indians invented zero, and had the most elaborate astronomical system, but this isn't reflected in Indian history books. It's time Indians became proud of their own culture." And how did Gautier come to the conclusion that Indian history is not what we were taught to believe? "I realised that what I read didn't correspond with reality. It was an image fashioned by British historians to suit their own purposes."

(source:

How the West has distorted Indian history - By Ruma Singh - timesofindia.com). For more refer to chapter on Greater India: Suvarnabhumi and Sacred Angkor
---
Reverse colonization?
How are the Brits surviving India? By getting the hell out of London
Because as immigrants are coming in, substantial numbers of white British middle-class people are moving out of Britain. One way of surviving us is to leave us if we don't leave them.
Last year about a quarter of a million people moved into Britain; about as many moved out. A good many arrivals were from India. Those moving out are white British middle-class people, to Spain, to the south of France, to Canada. Take that incoming quarter-million with the outgoing quarter-million, place them against a population more or less constant, and you see why a senior academic produced a report saying white British people will become a minority by the end of this century. The face of Britain is changing fast, and the face looks more Indian all the time.

There were more white people in London at the end of the Second World War, when the whole population was much less, than there are today. White Brits are leaving London for an immigrant-free countryside, and for those quaint little towns that are still English. The census shows 1.2 million Indians, some half million in London.
To cap this, the Indian, the Indian with the British passport that is, will cheer till he's hoarse if India can beat England at cricket. The usual English approach with these signs is to let be. That approach is now straining at the edges. More and more signs of irritation are beginning to get past the stiff upper lip; the particularly high pitch of the media campaign against once high-fliers like Laxmi Mittal, the Hindujas, even Keith Vaz. The slow abandonment of English civility in the face of the foreigner. Now not just the loss of jobs to Indians in Britain, but loss of more jobs through outsourcing to India.
Indian success with the curry could be indulged. Indian success in software is proving harder to accept. It is flattering to be this kind of nuisance, but the British are far more accustomed to stealing into other markets than have others steal into theirs. And it does not help that India is doing a far better job surviving the IT crash than Britain. Indian professionals in Britain are seen to work for smaller wages than the British have come to expect; and in India for even less. This is probably the current top of the irritants.

(source: Ol' Blighty, My Pind - outlookindia.com).
---
A BBC rendition of The Ballad of East and West

Humphrey Hawksely, reporting India's IT revolution on BCC 2's Newsnight last week, decided to use the occasion to educate us on the country's social and economic history. After a brief concession attesting to the quality and prowess of India's technological might, he was at pains to establish for the viewers a non-existent relation between India's resurgent IT growth and the nature of its democracy and acknowledged capacity for procreation. For his laboured denouement, Hawksley visited a photogenic slum and proclaimed, standing smugly clad in a clean shirt and perfectly creased trousers, with naked children prancing in the frame, that 'it's vast, it's appalling, and it's pretty unforgivable'.

This conceptual glue that once contained the Raj also bound the fabric of the BBC, and other elements of the establishment. From such a perspective arose ideas that characterised, and often justified, the notion of empire. The colonisers constructed the history of the colonised from their vantage point, 'seeing them as subjects whose fate is to be decided not by them but by what distant administrators think is best for them'.

Today the sun has forever set on the British Empire. However, despite the wholesale disintegration of the colonial apparatus, the vestiges of a colonial mindset persist in the subconscious obscuring any understanding of the clock of history coming full circle. If the imperial subjugation of India in the 18th century fueled the growth of an industrial Manchester, it is now the turn of a decadent Manchester to give way to a blustering Mumbai. Literature does not record a better example of poetic justice and it is in the poetry of the evolving history that the final redemption of the gulf that divides the colonised and the coloniser lies: India's IT revolution is the bridge that spawns the divide separating the two. To see it any differently, Mr Hawksley, is to myopically hark back to the days of colonial rule that remain confined and consigned to the pages of British history.

But, of course, the western view of the Orient contains no such provisions!

India continues to pose a further problem, for not only does it break the ranks of subordination, it flaunts the audacity to poke fun at its former masters.

A more economical Indian workforce is winning jobs from all over the western world adding to growing unemployment in economies that are struggling under the specter of war and a prolonged recession.

(source: A BBC rendition of The Ballad of East and West - hindustantimes.com).
---
Bajirao Peshwa: 'More to forgotten hero than Mastani saga'
There are gaping holes in history where his name should have been. Bajirao, one of the greatest military minds of the Maratha Peshwas may now have ignited Bollywood's imagination, but the very city which this great Maratha gave an identity to, seems to be forgetting its hero.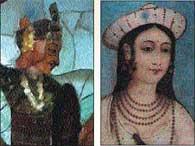 According to K V Peshwa, the ninth generation direct descendant of the greatest of all Peshwas, Bajirao's legend has been ignored for too long. Monday marked the 303rd birth anniversary of the Brahmin-warrior and apart from the routine Government functions and the traditional garlanding of his statue, there was little else to remind the people of their celebrated heritage/
Not content to wait and watch are a group of concerned Pune residents, including the only two descendants of Bajirao Peshwa, who have come together to form the Marathi Rajya Smriti Pratishthan trust, which is actively involved in seeking due recognition for the warrior king. The group has now written to director Sanjay Leela Bhansali, whose mega-project Bajirao Mastani, has sent the Bollywood beehive buzzing even before the script is finalised, asking him to keep his facts on the Peshwa, correct.
"There are only anecdotes regarding the legend of the romance between Bajirao and Mastani. We know the film will be grand and opulent, but there is a great likelihood of facts getting distorted in order to make it glitzy for the Box-Office," said a member of the group." There is more to the Bajirao saga than the heady romance with Mastani," say members of this group, and they wonder if the Box-Office formula factory is listening.
Bajirao's descendants, along with a small group of concerned citizens, are now mobilising support to seek the installation of a statue of Bajirao Peshwa in Parliament.
According to K V Peshwa, a geologist, now devoting time to the legacy of his forefather Bajirao, the city of Pune itself has disappointed him. As it is Bajirao Peshwa finds a bare mention whenever the history of the Marathas has been told, and little effort has been made to rectify that, but to add insult to injury, Bajirao has been neglected by Pune also. "There should at least be a statue of Bajirao in Parliament. Also, his residence Shanivarwada must be put on the heritage map of India," he said.
(source: Bajirao Peshwa: 'More to forgotten hero than Mastani saga' - By Karuna M John - Daily Pioneer.com August 20 2003).


Top of Page
---
Hinduism is mankind's oldest spiritual declaration
Hinduism is unique among the world's religions. To begin with, it is mankind's oldest spiritual declaration, the very fountainhead of faith on the planet. It is the only religion, to my knowledge, that is not founded in a single historic event or prophet, but which itself precedes recorded history.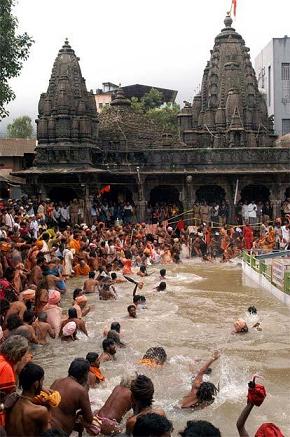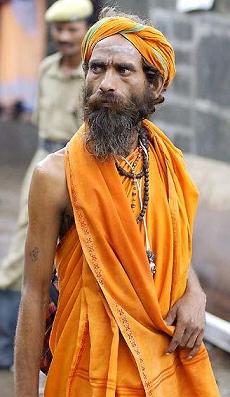 Hinduism is mankind's oldest spiritual declaration.
***
Hinduism has been called the "cradle of spirituality" and "the mother of all religions," partly because it has influenced virtually every major religion.
This is possible because Hinduism looks compassionately on all genuine spiritual effort and knows unmistakably that all souls are evolving toward union with the divine, and all are destined, without exception, to achieve spiritual enlightenment and liberation in this or a future life.
Hinduism is also the world's only religion that allows scientific experiment with -- and questioning of -- the existence of God. Unlike any other religion, it does not have a traditional dogma. In fact, the only dogma it has is that it must not have one. It is the only religion that fosters diversity in a true sense. If you have a faith, any faith, you are already a Hindu.
In Hinduism, the divine can be conceived as a feminine form -- another uniqueness. While people of some prominent religions are fighting for the superiority of their gods through brute force, in a demonstration of catholicity and respect for diversity, the Hindu seekers declared nearly 8,000 years before Christ: Ekam sat, vipra bahuda bedanti (truth is one, sages call it by various names).
Spoken in mathematical context, the search for ultimate truth was started by the Hindus through a method analogous to the solution of a transcendental equation where unknown cannot express as an explicit function of the known, requiring a trial-and-error solution.
Implicit in the approach is the fact that while the solution is unique, the path to the solution is not. A seeker assumes a model, focuses on it as a god, and eventually discovers that it is not God. The seeker then takes the opposite approach, eliminates what is not God, and eventually transcends to the ultimate truth. In seeking ultimate truth from both directions, the Hindus discovered the null, later on called zero.
Hinduism has a great diversity among its many sects. That diversity is itself a strength, showing how broad and encompassing Hinduism is. It does not seek to have all devotees believe exactly alike. In fact, it has no central authority, no single organized institution that could ever proclaim or enforce sameness. There is an immense inner unity, but the real strength and wisdom of Hinduism is its diversity, its variety.
Each sect may be said to be a full religion in its own right, with all the increments of faith, with no necessary part missing. Therefore, each sect works for the individuals within it completely, and each tolerates all the other sects. It does not totally divorce itself from the other sects, denying their beliefs, but simply separates to stress or expound upon a limited area of the vast philosophy, apart from all others, to be understood by the limited faculties of man.
Tapas K. Das, a chemical and environmental engineer at the Department of Ecology, is a member of The Olympian's Diversity Panel.
(source: Hinduism is mankind's oldest spiritual declaration - By Tapas K. Das).
For more refer to chapter on Greater India: Suvarnabhumi and Sacred Angkor
---
Kashmir pashmina may go the Basmati way - Fake products are being sold as traditional pashminas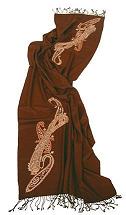 One of the worst impacts of the 12 years of militancy in the Kashmir valley has been on the exquisite traditional pashmina shawls. Chinese machine-made yarn and shawls have swamped the markets, edging out the hand-made local pashmina.

A range of fakes from China, Nepal and our own powerlooms in Punjab are being passed off as pashmina from Kashmir. With pashmina being produced in bulk on powerlooms, prices have dropped to an all-time low. The cost of the pashmina stole or small shawl in London was initially $200 a piece. Now the adulterated product is being sold in flea markets of Europe for just $15 to $20.

While some amount of blame can be put on the turmoil in the valley, the sad fact is that the Indian pashmjina has no patent.

Neither the authorities in the valley nor those in Delhi realise the importance of a patent. So spurious shawls are being marketed abroad as cashmere or pashmina. Most buyers are not discerning enough to see the difference in quality and are easily taken in by the brand names. It may be too late already to save the Kashmir pashmina. So the exquisite pashmina, whose history dates back to the days of Mohenjadaro, (the soft fine fabric draped around the statue of a woman found at Mohenjadaro was probably pashmina from the valley) may go the way of Basmati, neem and haldi.

Brands are protected by copyright laws. There are laws for design regulation too but no one is enforcing them, says Asif Ali. However, under the Prime Minister's recently announced package for Jammu and Kashmir, the Development Commissioner for handicrafts at the Centre is trying to bring some order into the mess created in the pashmina trade.

(source: Kashmir pashmina may go the Basmati way - By Usha Rai - tribuneindia.com).
---
Tamil Literature and Sangam writers
Srinivas Shastri has rightly paid tribute to the Sangam writers:
"the Sangam writers were concrete, alive with the play of thought and these poems present a vivid picture of material civilization. Apart from the intrinsic poetical, they are also an inexhaustible source book of early social history of the Tamil land." Two epical works 'Silpapadikaram' and 'Manimekhlai' Tamil literature achieved a new apex. They have been compared with Ramayana and Mahabharata.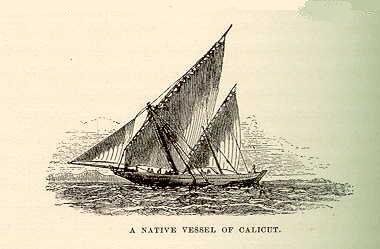 Both the works abound in tales of foreign voyages and possess the sublimity of a work of art. Tamil literature received fresh impetus from the Nayanmars and Alvars who composed highly devotional songs which echo intense devotion and deep wisdom:
"Should men live on hundred years as the Vedas say,
One half will be wasted in sleep; the fifty remaining
Will be likewise wasted
In childhood, boyhood, sensuality, hunger, disease and old age,
O dweller in Sriranga temple! I desire birth no more. -- Tondardipodi
In this glorious tradition, Tiruvallur was the most acclaimed poet.
(source: India Rediscovered - By Dr. Giriraj Shah p. 46 - 47 Abhinav Publications New Delhi 1975).
---
Summer of discontent in the Western world?
It has been, literally, a summer of discontent for what we call the "Western world". High temperatures, disease, pestilence and, worst of all, power outages; for the Biblically-inclined, these are the modern version of the four horses of the Apocalypse, the portents of the coming doomsday.
All the difficulties we associate with the third world have visited upon the highly developed first world in a matter of weeks. Europe got hit by a heat wave that could rival anything in the dry plains of Bihar and Uttar Pradesh. And, while our annual tally of deaths in summer run into dozens, over 11,000 people died in France alone because of the unprecedently high temperatures, a scandal by any standards. Most of them were old, unable to look after themselves and their deaths have exposed the poor condition of hospitals and old-age homes.
Canada, said to be one of the best places in the world to live in, has been hit by a triple whammy: First SARS (Toronto was the only non-Asian city to be quarantined), then the mad cow disease and, finally, a huge power outage that crippled an entire province. In New York, whose chutzpah was shaken by 9/11, the power failure immediately raised the spectre of another terrorist attack. But the culprit turned out to be more mundane and closer to home: Badly maintained and overstrained infrastructure which had not been updated for decades. Britain, not to be left behind its continental cousins, had a mini-power breakdown of its own, and the city of London came to a standstill for 40 minutes at peak hour.
The hapless third-worlder can be forgiven for chuckling, even gloating over the misery of the more advanced nations. In our own Capital, where power outages are more frequent than changes of government in Uttar Pradesh, the first reaction was: Now they'll know how the rest of the world lives. The more nationalistic among us, who get touchy about Westeners criticising Indian failures, pointed out that the West must first gets its own house in order before trying to fix the developing world. And certainly, it does seem to be a fair response, given that mass deaths due to boiling heat, unheard of diseases which take lives and infrastructural collapse are all part of the third world experience. It is to escape these very things that people, migrate to the West; otherwise, why not stay at home, where at least you have the support of friends and family?
But this smug and superior attitude needs to be tempered.
True, a country (France) that lets 11,000 of its old people die just because the temperature goes up a few degrees or one that issues "travel advisories" to its citizens to take all manner of vaccinations before going to disease-ridden Asian nations while becoming a hotbed of SARS do not have the right to moralize.
(source: West side success story - By Sidharth Bhatia - dailypioneer.com September 2 2003).
---
Now they slip further: 'Om' symbols on socks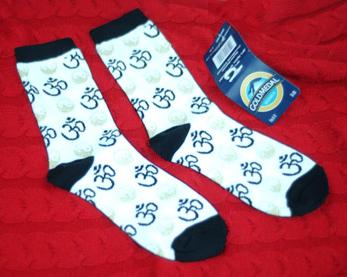 First it was a toilet seat. Then it was humble slippers. If you thought that things couldn't any lower, then you are wrong.
Now a US company has pictured traditional 'Om' symbol on socks.
Westerners who talk themselves hoarse about valuing customs and traditions of other religions, apparently don't really seem to care about Hindus and their religious symbols. Understandably the socks issue has outraged the Indian community in the US.
'We are outraged seeing such repetitive insults and attack on Indian culture,' IndiaCause coordinator Sanjeev Dahiwadkar said. IndiaCause is an outfit that takes up issues pertaining to India abroad
Gold Medal Hosiery in New York is the company that has distributed the offending socks. The label on the socks says the product has been made in South Korea. They have been designed by New Yorker Linda Maddocks.
Dahiwadkar said in the recent past there had been at least three instances where India and Indian culture were attacked.
Earlier, he said, images of Lord Ganesh and goddess Kali were offensively used on toilet seats, an article depicted a muscleman beating up an image of Mahatma Gandhi and Ganesh images were used on slippers. We have seen the images of the socks. We are trying to gather the information about the company and the US distributor,' Dahiwadkar has been quoted as saying.
IndiaCause is planning to send letters to US distributors and manufacturers about how such products affect the feeling of Indians in general. The company may withdraw the offending product. But there is no guarantee that another company would feature another Hindu symbol in its product, which, for all we know, may be an undergarment.
(source: IndiaCause and Now they slip further: 'Om' symbols on socks).
---
Cher chants Gayatri mantra at her concerts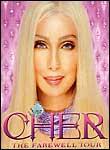 Just after she swaggers through the thumping disco anthem 'Song for the Lonely' and right before she makes a dramatic en­trance atop a giant, gaily painted mechani­cal elephant, chart-topping diva Cher gets spiritual -to the calming tones of the Gaya­tri Mantra.
It seems the ancient Sanskrit chant is a favourite of the 57-year-old pop music queen, who first heard it dur­ing a yoga class as performed by the German new age singer Deva Premal. "My favorite CD to do yoga is Deva Premal's The Essence," Cher's performance of the Gayatri Mantra can also be seen on the just-released DVD, The Farewell Tour. Cher performs the chant, as arranged by Deva Premal, during her Living Proof Farewell Tour.
The sellout tour, which has entertained an estimated 1.5 million fans across North America already, hits the Concord Pavilion in Northern California on Friday, the ARCO Arena in Sacra­mento Sept. 6 and other cities.
(source: Cher chants Gayatri mantra at her concerts - By Lisa Tsering - The Times of India September 5, 2003).
---
India en route for grand highways
Smooth, pristine roads; traffic flowing at over 100km/h; emergency medical teams on standby for accidents.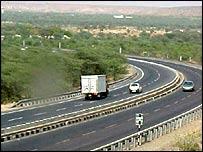 It is not an image many would associate with the Indian road network. But India is changing at last. The country is witnessing one of the world's largest road building projects, worth more than $12bn.
With roads up to six lanes wide covering nearly 14,000 kilometres (8,750 miles), Indian officials say the country is finally gearing up to take on its Asian economic rival, China.
In October 1998 Prime Minister Atal Behari Vajpayee promised the people of India world-class roads connecting the whole country. An extra rupee on every litre of petrol or diesel was levied to fund the project. The scheme, which is regarded as Mr Vajpayee's dream, has also received the backing of the World Bank and other financial institutions. Often, such huge projects in India are ill-conceived. They lack planning, meet bureaucratic hurdles and invariably result in time and cost overruns. Nearly five years later, 80% of the first phase of the project has been completed, say officials. It connects India's four big cities - Calcutta, Madras, Delhi and Bombay, also known as Mumbai.
Work on the second phase connecting Srinagar in the north to Kanyakumari in the south and Silchar in the east to Saurashtra in the west is due to begin shortly. The deadline for completing the whole project is 2007. But officials say the speed at which the project is progressing and the professionalism of those involved could mean it is completed ahead of schedule.
India's Surface Transport Minister BC Khanduri told the BBC he has adopted unusual methods to ensure the project runs to schedule. "I brought the completion date forward with a view to activate and energise. I told the contractors to complete the first phase by 2003. I knew it was difficult," he says. "We started giving bonuses. For completing the project one month ahead of schedule we would give 1% bonus and a months' delay could result in a 1.5% penalty."
(source: India en route for grand highways - BBC news.com).
---
Belief in Rebirth - By S. Gurumurthy
Today's Bible is an edited Bible, discovers a US Doctor.
Recently, I read a book titled 'Many Lives, Many Masters' written by Dr. Brian Weiss. This was first printed in 1988, after which it was reprinted 12 times, and totally 10 lakh copies were printed. It was mentioned on the wrapper of the book that it contained the personal experiences of a Psychiatrist, Dr. Brian Weiss (working in Miami of Florida District) in U.S. who failed in his normal methods to cure a psycho patient and gave her hypnotic treatment; that yielded a wonderful experience. The patient, Katherine, began talking about her previous births, and the more she talked about her previous births, her mental derangement was set right. This wonderful experience changed the basic view of life of Dr. Weiss also.
On reading the book, I realized that there is a great secret underlying Hindu way of life. I also understood how Dr. Weiss learnt that only Hindu beliefs reveal the secrets of life. "My way of life so far did not prepare me for such an experience. I was astounded. There is no scientific explanation for this experience. I learnt that there are certain things which are beyond science and our purview. Truth of previous birth experience is now clear to me. Scientists have now started research on this." says Dr. Weiss.
In the Epilogue of the book, Dr. Weiss mentions that 12 more patients received treatment from him in the same way and that they also had the same experience. As a logical effect after the treatment of Catherine, Dr. Weiss says that the basics of his life had changed. He explains his transformation thus: His whole life has undergone a metamorphesis. Humanitarian consideration increased. Greed for amassing wealth was vanished. Fear of death disappeared. He engaged himself in Meditation which was so far practiced by Hindus and old Californians. He feels that while science is necessary, we should not lose ourselves in science, and one should feel the experience of Religion.
This is a book which everyone should read.
(source: Belief in Rebirth - By S. Gurumurthy - Hindu Vivek Kendra).
---

Did You Know?
Here lived Ved Vyasa

Situated on the bank of the river Brahmani, 9 kms away from Rourkela. A small notice board at the mouth of the cave says in Oriya — ''Vyasa deva lived here.''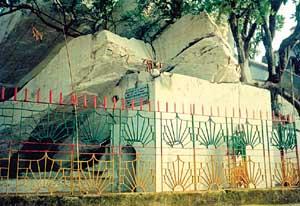 Vyasa deva? The author of the 'Mahabharata'? I ask nobody in particular. The young priest who also doubles as a guide nods, quoting a 'sloka' in broken Sanskrit which he later translates — ''To the west of the river Brahmi, in the midst of a deep jungle was the 'ashram' of Vyasa. Every morning the saint took bath in the waters of the Saraswati and offering paeans to Lord Vishnu, sat in meditation".

The crowds listen as they peep reverentially into the cave. "Brahmi" is taken to refer to the Brahmani River in western Orissa. And therefore the inference that this ruined cave, situated west of that river, must have once been sage Vyasa's 'ashram'.

So did the sage Vyasa really live here? The pilgrims firmly believe so and it is a 'tirthasthal' also because it is at the confluence of three rivers — the Koel, the Sankh and the Saraswati.
I look for the young priest. He is regaling the crowd with the popular legend that the great saint Parashara, Vyasa's father, lived near this place in a village that was known as 'Parasharmunda'. Whenever he wanted to cross the river a boatman used to ferry him across. Once when the boatman was not there, his daughter 'Matsyagandha' offered to ferry Parashara across the river. Parashara fell in love with the girl and Vyasadeva was the result of that union. The name "Vedavyasa" originates from the fact that it was Vyasa, a great Vedic scholar, who divided Vedas into different parts.

The devotees come to Vyasadeva all year long, bathing in the river with prayers for help and blessings in their hearts. I shut my eyes and imagine the cool, dark inside of a cave that, so many hundreds of years ago, saw the birth of one of the greatest books ever written...
(source: Here lived Vyasa - newindpress.com). For more refer to chapter on Greater India: Suvarnabhumi and Sacred Angkor